It's quite uncommon to be pleasantly surprised at a restaurant that deviates so significantly from the beaten path. Nestled just a stone's throw away from the French National Assembly, in an ultra-luxurious setting adorned with marble, leather, wood, and travertine, Hémicycle sets aside the temptation of classicism on the plate to embrace boldness. Hungry lawmakers finally have a unique neighboring dining destination that doesn't compromise the codes of excellence.
An Inspired Chef in the Kitchen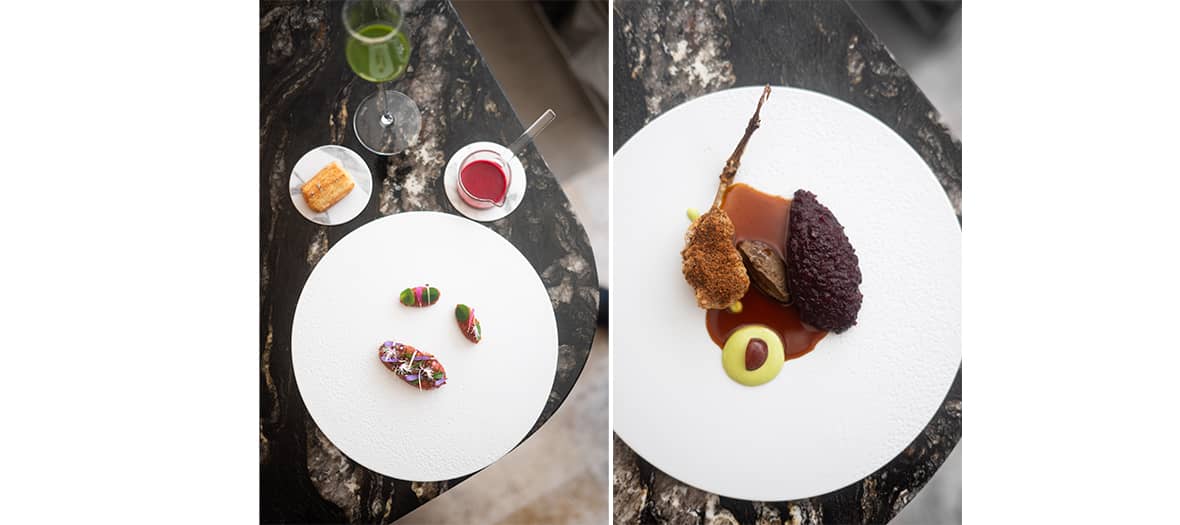 From his open kitchen, the young Italian chef Flavio Lucarini (formerly of Bistrot Flaubert) plays with acidity, the condiment that awakens deep within the palate, and the secret sauce concealed beneath. While à la carte options are available, we recommend the adventurous to begin with the 4-course menu at €85 (which turns out to be even more with the solid amuse-bouches and petite nibbles after dessert).
The offerings are diverse: San Marzano tomato glazed with tonka bean, roasted tomato and fermented carrot condiment, pink ginger concentrate, sorrel smoothie (€28), sea trout with preserved cucumber, green peppercorn emulsion, and lemon tree leaf (€28), smoked eel stuffed with Paris mushrooms, marjoram, tamarind syrup, and mustard (€42)… Enthusiasts of 3.0 cuisine rejoice, while the steak-frites traditionalists ponder. As part of the in-between team, we applaud the chef's audacity and the splendid harmony of flavors. Here's a tip: reserve the high tables facing the brigade for a total immersion experience!
On the sweet side, prepare to be surprised! It's the chef's beloved, the talented Aurora Storari (also a loyal member of Stéphane Manigold's Éclore group behind Liquide, Contraste, and Braise), who orchestrates a performance that is both surprising and comforting. Our evening favorites? The baba with yellow wine and chocolate mousse, caramel, maple syrup, umeboshi, coffee-smoked sauce, chocolate granita, and almond cream (€20). We can't get enough!
Opening Hours: Tuesday to Saturday, from 12:00 PM to 1:30 PM and from 7:30 PM to 9:30 PM.
© Jordan Sapally
Discover: Also, explore three new vibrant dining destinations in Paris and Daimant, the talk of the town.