Who would have thought that one day we would buy laundry with the same excitement as a mask to find the glow or a pair of Gucci sandals?

After the comeback of the kitchen and the good virtues of storage : the chic potential of the household! By staying at home, the almost shameful housework has become a lifestyle hobby in which we invest and we have fun. Snow White , get out of this body.

Better: cleaning is the new green statement with a short list of stylish protocols, green brands and clean products to adopt. Enjoy while cleaning: a whole program!
We refill our cans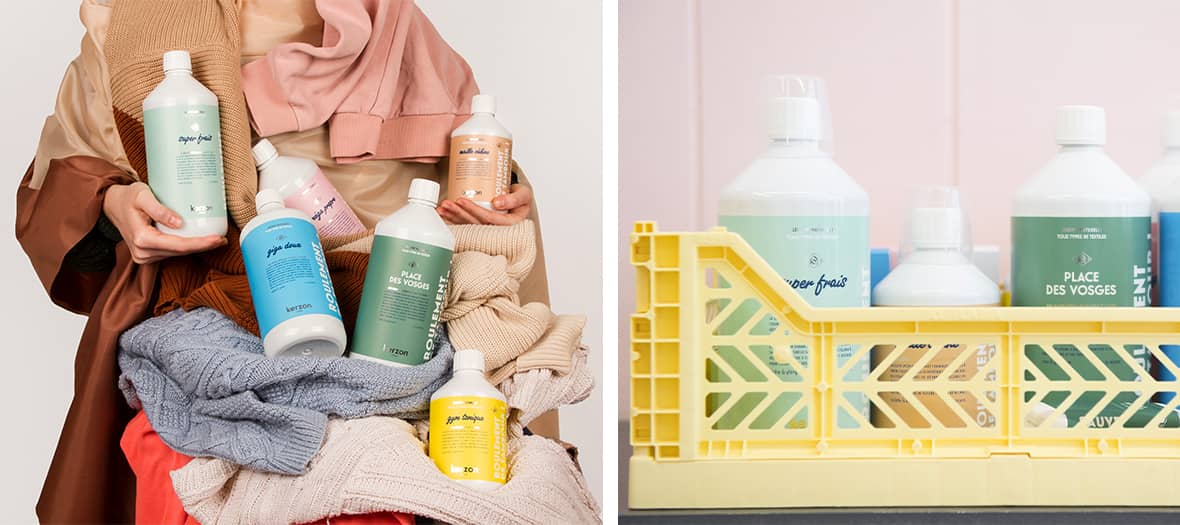 We already told you about the lifestyle label super clean and very fashionable Kerzon and its hot shop in the Marais which perfumes the most upscale homes of the capital. Place des Vosges , their best-selling natural perfume, is available in chic detergents (€ 18 a can) and scented mists that cleanse and distill a delicate and addictive essence of geranium and rose.
But Kerzon goes further by embracing another green snobbery with bulk. The upcycling of the clean is a statement. Now, to avoid wasting resources, just refill at the parent company by bringing a can of washing powder, carrot seed washing-up liquid and fig mint washing spray, to be recharged directly at the store with a saving of € 3 by filling. In short: the new weekend stroll goal.
Boutique Kerzon , 68 rue de Turenne, Paris 3rd
We offer ourselves a broom from the top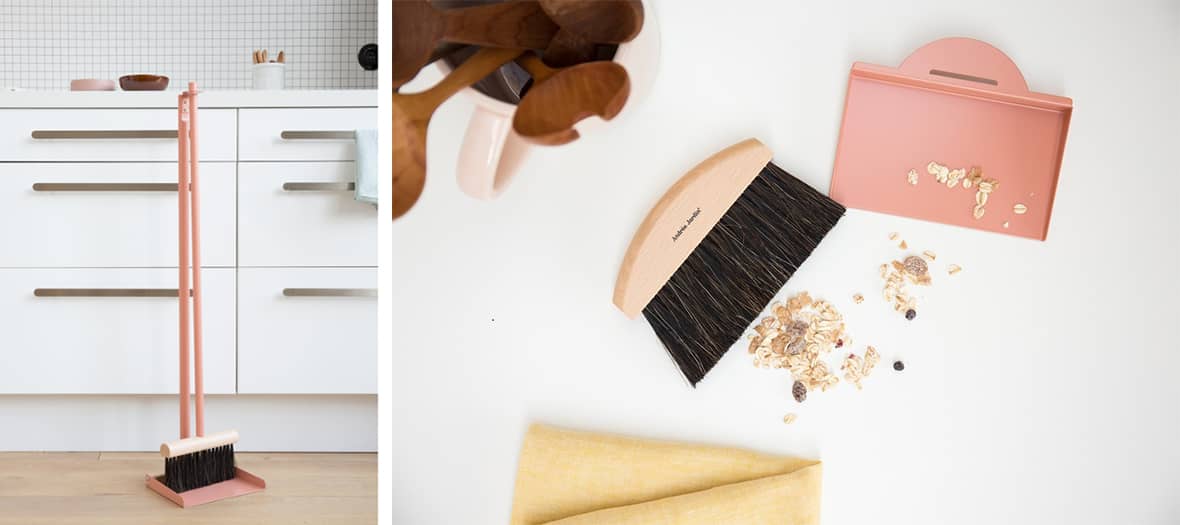 High-tech aspis no longer have a monopoly on cleanliness. To reduce its carbon and electrical footprint, the broom is making a comeback in the best taste. Especially when it becomes a formidably effective aesthetic object. This is the promise of the French Manufacture André Jardin products , which combines pure and cool lines and crazy know-how with its horsehair and synthetic brushes. which do not allow any crumb to pass.
Easy to unsheathe, its divine peach-colored suit in beech wood (€ 82.90) appears as a new decorative must to leave in a corner of your kitchen or dining room. The great chic? We play diehards going so far as to afford a matching table broom (€ 29) worthy of the greatest restaurants, to pass after a breakfast. The genius decorative gift of the moment!
All the information on www.andreejardin.fr
We are investing in a smart sorting bin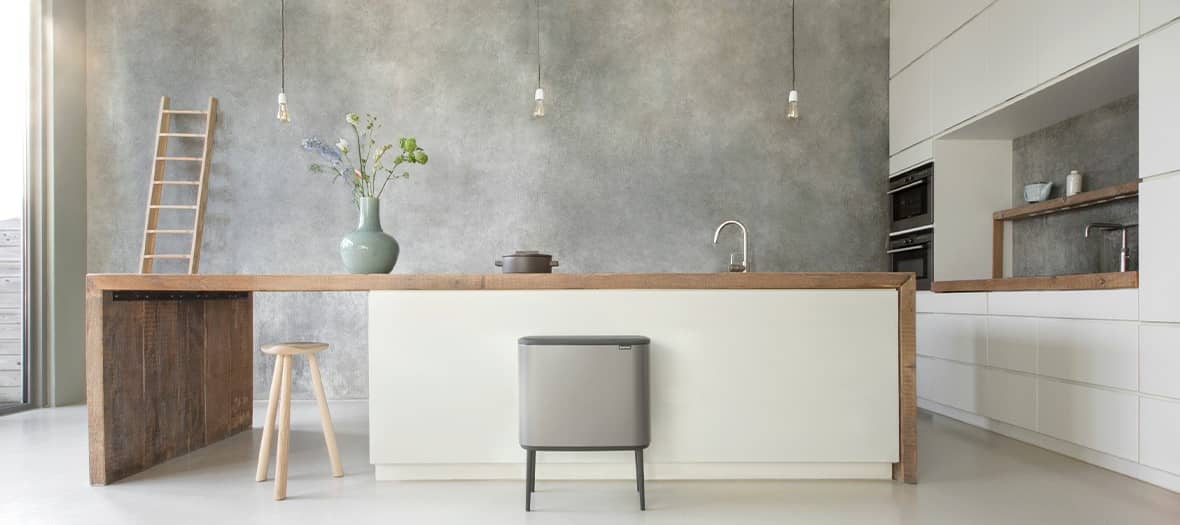 Obviously, you are part of the tribe of people who drink more than they eat: the " normal " trash is never filled, but the bottles of wine and San Pe 'spew out in a basket on the left or the papers in a broken cardboard bag. It's a mess. And you realize that your housekeeper and your grand dadet end up sticking everything in the same green bin. Pls.
To sort well, a fundamental principle of applied ecology , nothing like a beautiful, really well thought out sorting bin . So now is the time to invest in the Rolls-Royce of the genre: Brabantia with the Bo Touch Bin (€ 159.50). Its design and ultra-chic colors are as sexy as its frankly sensational ergonomics, with 3 distinct compartments that allow each basket to be taken out without messing up everything. Well thought !
We play it NO LOGO (by skipping the supermarket box)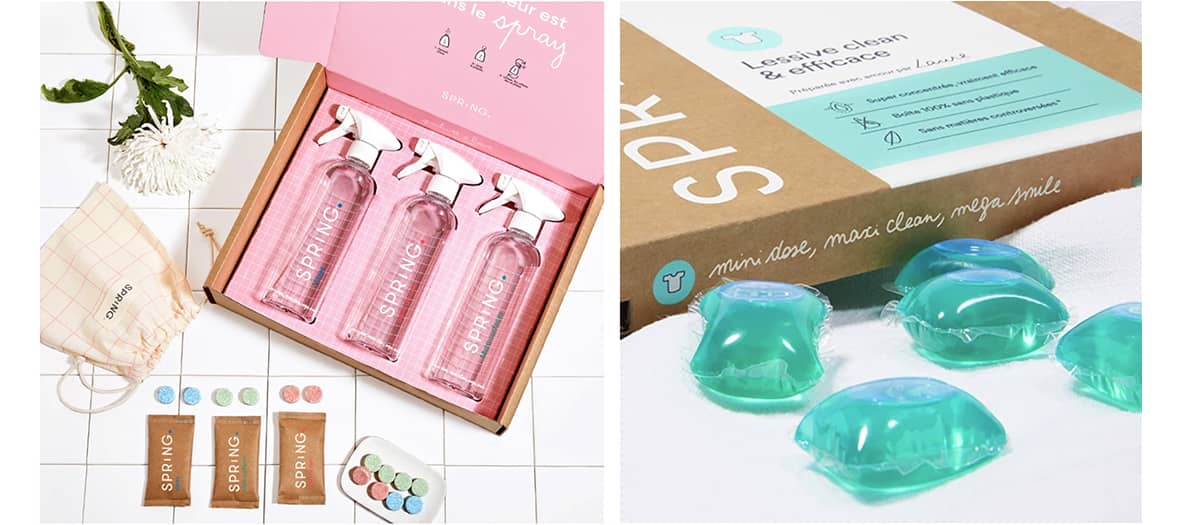 In the scandal series, I ask? The list of hyper toxic and polluting products contained in detergents and household cleaners which abound in supermarkets. Unless you are a chemist, impossible to navigate, except to note a posteriori that they are the cause of allergies in the name of smells and false effectiveness.
It is in this rebellious and green spirit that new committed labels have emerged, like the brand less . The idea: no branding or logo, but " healthy, ecological and efficient household products, made in France and sent by post. Point . ", Explains the young team.
Straight to the point formulas, white design, trendy typeface, the concept is an ultimate cool which is reminiscent of the Margiela spirit, the planet-friendly deposit in addition and the fair prices displayed: at € 19.90 the 42 tablets, we will not deprive ourselves. Same fight at Spring which offers mini-doses delivered at home but also packaging as beautiful as minimalist to reload to infinity, like their cleaning sprays .
We bet on the miracle products of Provencal grandmother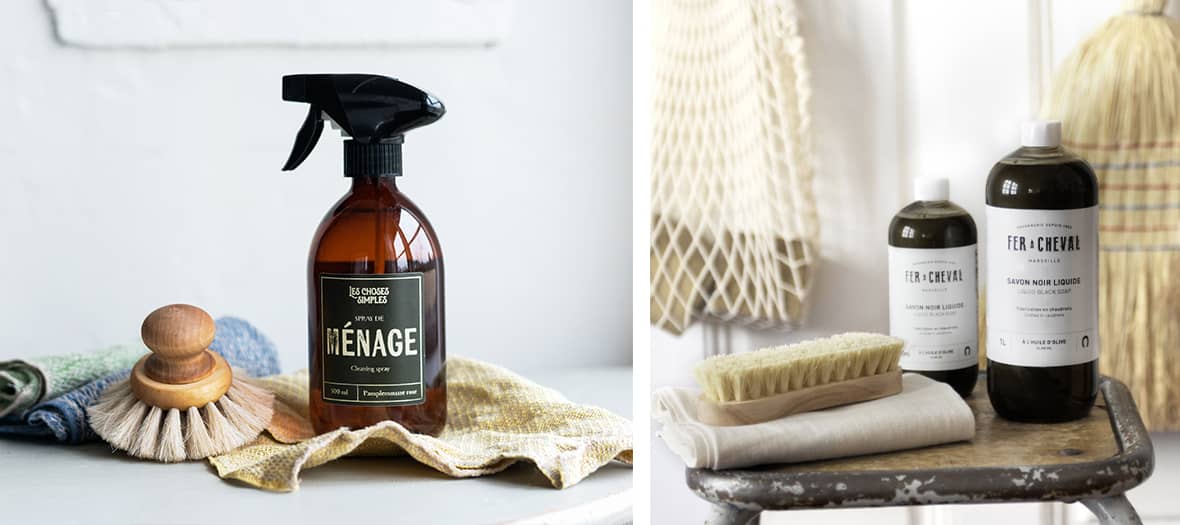 It's in the old pots… When it comes to cleaning, the snobbery is displayed especially in the vintage secrets brought up to date, especially if they are distilled by the old French houses which are on the rise like Fer à Cheval , the oldest soap factory in Marseille whose products (without any solvent or preservative) are extraordinary. On the shelves of Maison Empereur and all stylish drugstores, we find its liquid black soap with olive oil which is used for everything: to remove stubborn stains, to degrease, nourish and shine all washable surfaces in the house and from the garden, but also wash the car and the dog. In short, a miracle product at € 6.90. Joy !
With their new label made in Provence, Les Choses Simples , its creators have returned to the Proust madeleines from their holidays (the smell of ironed linen, orange blossom ...) in less is more and sustainable products from a incredible sex appeal. Their strength is to make us reconnect with great forgotten products such as the 100% organic loofah scratching sponge (which scrubs without scratching (OMG!), The small bags of organic red cedar wood that are are the most powerful moth repellants ever found or even the vegetable brush (to scrub the skin and remove soil from carrots without having to peel them for soup).
We adopt green laundry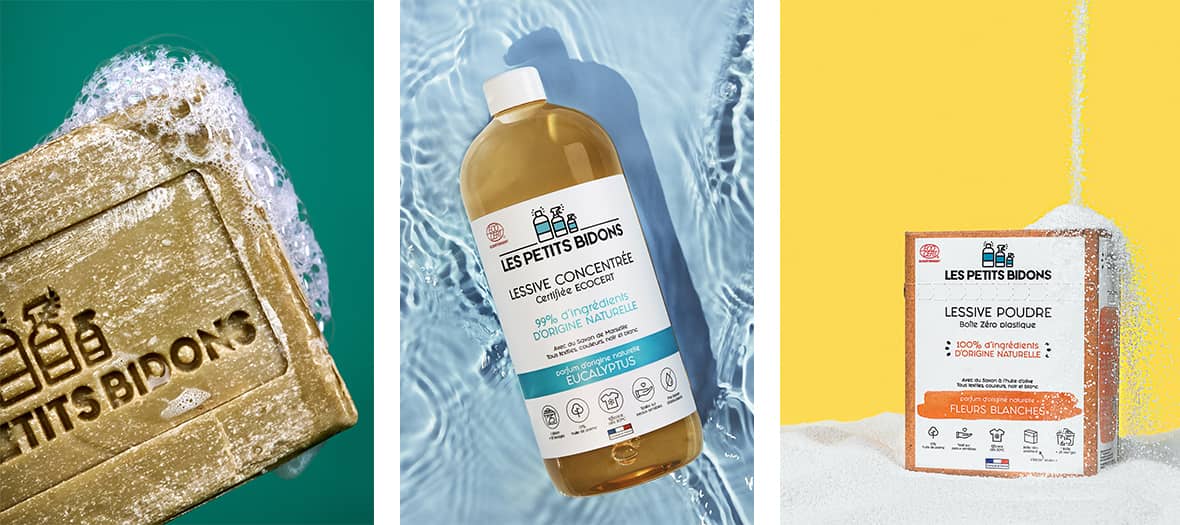 Of course, Les Petits Bidons do not swear to wash your laundry whiter than white and other Gascon promises with TV spots. In the still hyper opaque world and laundry lobbyist, this young green startup is an outsider and is a game-changer.
Rest assured, we are not offering you to play the little sore chemists by making it yourself. This 99% natural ecocert detergent - liquid or powder - has all the advantages of a classic: it washes too well, displays a sober and stylish packaging and smells divinely good. The comparison stops there: its packaging is biodegradable, its formulation without palm oil and petrochemical derivatives prevent over-polluting the oceans, with a composition based on Marseille soap with olive oil cooked in olive oil. in the cauldron, natural washing agents and natural essential oils of white flowers. The extra thing? Its fragrance-free version for babies.
Les Petits Bidons : can of concentrated washing powder with white flowers (€ 12.90), washing powder with lavender 25 washes (€ 12.90).
Also discover the chic bazaar in the Marais which makes you want to buy everything and 5 tips to clean up your apartment .