" A brand new sublime hotel between the Seine and the Café de Flore, with an overly good bistro by Thibault Sombardier "... Suffice to say that the deal was made for us, already convinced by the accumulation of so many keywords . The Pavillon Faubourg Saint-Germain has just opened its 5-star doors with, set up on rue du Pré-au-Clerc, Les Parisiens , the new table of the sexiest Michelin-starred Top Chef in Paris. We take you.
Les Parisiens: elegant bistro
Already at the head of Sellae and Mensae under the Buttes Chaumont , Thibault Sombardier has no equal in imagining dishes of formidable efficiency, where the simplicity of a beautiful product gives way to readable and gourmet dishes: tarama poutargue and lime (€9), supreme of Landes yellow chicken roasted on the bone, anchovy/tarragon mustard, light béarnaise (€28), amazing snail ravioli , peas, lightly buttered vegetable broth (€18 ), knife-cut beef tartare , caper sorrel and smoked eel (€20) or tender white asparagus from the Landes just steamed, Maltese sauce (€19).
Naughty and resolutely foodporn, the desserts force a tough choice between the hot pistachio soufflé, orange blossom raspberry sorbet (€16), lukewarm chocolate mousse , hazelnut praline, feuillantine, buckwheat ice cream (€15), Suzette -style garnished cabbage (€12), floating island to share, caramelized hazelnuts (€22) or green apple/matcha tea pavlova (€12) and other ice creams and sorbets.
Open Tuesday to Saturday from 12 p.m. to 2:15 p.m. and from 7 p.m. to 10:15 p.m.
Felted cocktails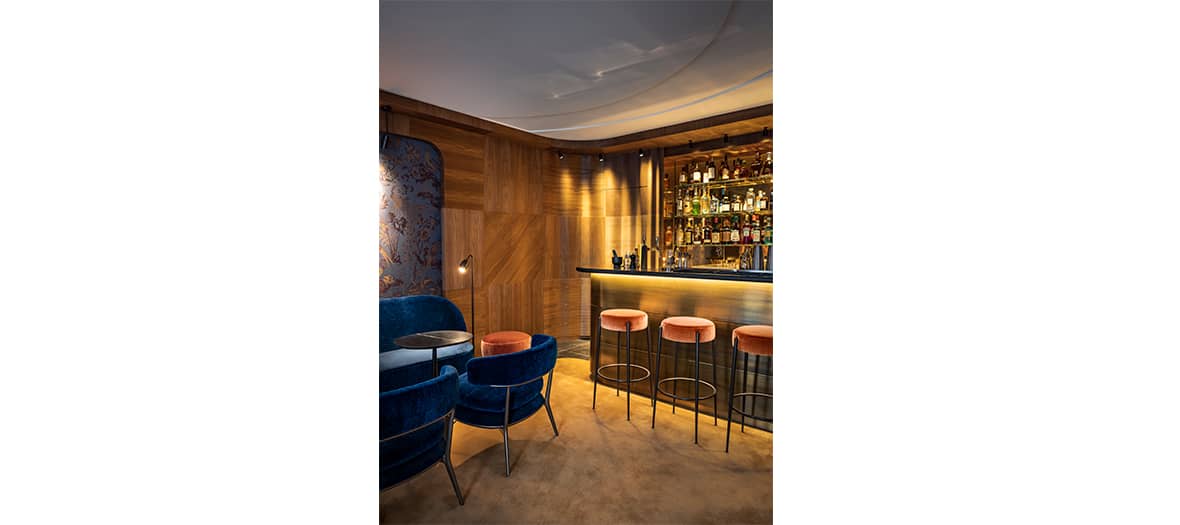 Between the library (self-service) and the restaurant nestles James Joyce , the cocktail bar of the Pavillon Faubourg Saint-Germain . Intimate, we settle down in a decor of an English club of the high for signature cocktails. Among the star potions: the Pré n°5 Vodka infused with chilli, lychee, rose, raspberry and hibiscus (€18) and the Coconut Dandy clarified with milk, Pisco Waqar, coconut, pineapple, lime (€17).
Open daily from 5 p.m. to 1 a.m.
One night at the hotel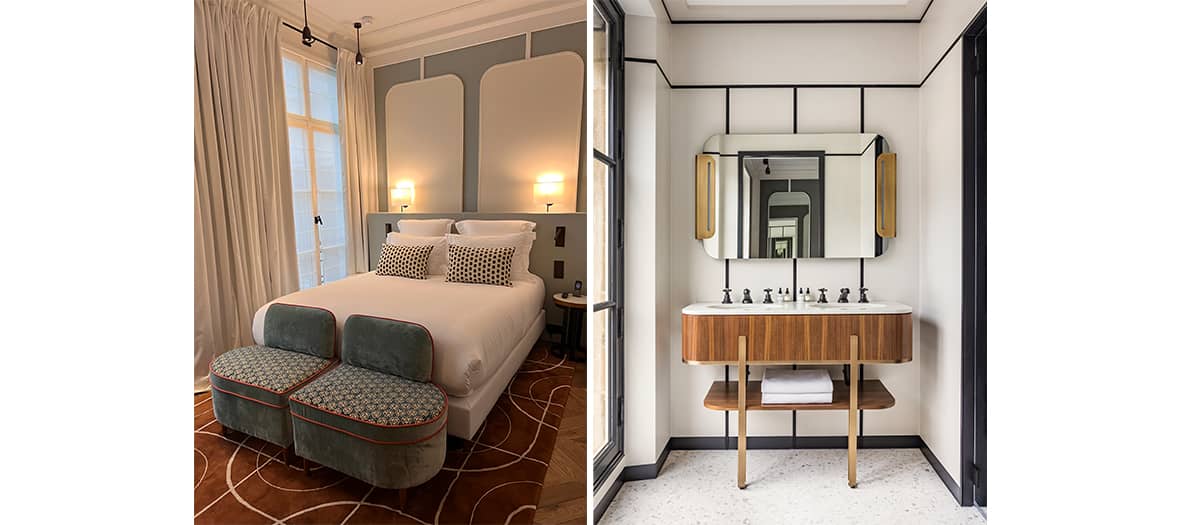 And why not book a Parisian night in this new haunt of Saint-Germain-des-Prés ? The decor of the rooms, signed Didier Benderli (also behind the Pavillon de la Reine of the same Chevalier Paris hotel group ), recalls the chic and cozy atmosphere of beautiful Parisian apartments with pastel leather headboards, rounded lines and a sublime parquet point of Hungary . As a bonus: a Codage spa with swimming pool in the basement, replacing an old cabaret. Divine.
Classic room from 350 €
© Jerome Galland
Also discover the new Parisian hotels that will make you want to sleep and the new festive restaurant that makes the 7th arrondissement vibrate .