Grant it we have already written about their amazing chicken with morels and cream, but having tasted it, we also want to mention their marvelous roast chickens and dishes to-go …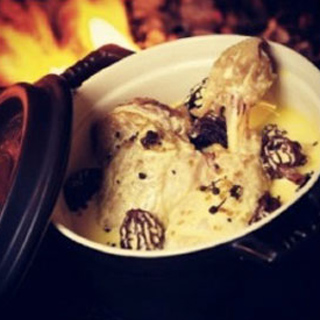 In this brand-new rôtisserie that looks like the kitchen of a great restaurant, the chicken fat is removed before being trussed and seasoned with a secrete insider spice mix… As opposed to other vendors in the area, here the chicken is sold according to weight, and cooked thanks to an exclusive cast iron spit that guarantees perfectly homogenous cooking.
We like : the home delivery site ! www.rotisserie-dufrenoy.fr
The must : chicken enhanced with garlic, tarragon, honey and ginger (15euros/kg), amazing…
Hot tip for the gals : did you know Rôtisserie Dufrénoy delivered to Les Planches for the Bonheur-des-Dames dinner, every Thursday ?
Also discover Bien Ficelé, the new HG of refined meat lovers.