Just a few meters from place Saint Sulpice is nestled le Bon Saint Pourçain, a darling bistro that food aficionados of the area have already made their headquarters.
Behind this pocket-sized bistro hides the maestro of successful bistros, David Lanher (Caffe Stern, Vivant Racine, that's him, who turned over to Mathieu Techer the house pianos, with a 100% open kitchen !)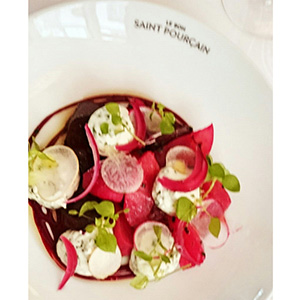 Le Bon Saint Pourçain is all about having a slate that's keeping with the season and features only the best products.
For us: beet salad and goat cheese (13€) marinated tuna with veggies (13€) before a fabulous farm-range fowl, roasted with parsley and parmesan (27€) and to finish a super serious almond pear tart.
To be noted: their fabulous terrace on a paved pedestrian street when the sun comes out!
Opening hours from noon to 2:30pm and from 7pm to 10:30pm. Closed on Sundays and Mondays.
Also discover Marée Jeanne, the hot new seafaring bistro and Hôtel Providence, the new trendy phenomenon.
Picture credit : Facebook Le Bon Saint Pourçain