And now 11! Big Mamma does it again and continues its success story with another address in the trendy 10th, on Rue de Paradis, bobo-zone in which there cruelly lacked a trendy Italian.
And such is the case with Libertino, which cuts and pastes the implacable method of Victor Tigrane in a new baroque style. Important news: it's now possible reserve, and that's cool—especially for big tables.
A scenography worthy of La Dolce Vita
Installed in former shoemaking workshops, this venue feels as though you were projected in a Fellini style house where Marcello Mastroianni and gorgeous divas had enjoyed a huge feast while dancing the night away. Total kitsch between pink drapings, an accumulation of vegetation, Piedmont furniture between rococo chandeliers picked up in vintage antique shops of the Boot. A great moral booster, even on dreary nights.
A la carte delights
Italianitude is the marching order, starting with the accent of the servers. On the menu, antipasti galore (tarte tatin with peppers and onions for two (€16) a giant leek, melt in the mouth and burnt with heart of burrata and vinaigrette with cornichons pickles (€9)… I buoni piatti ? The Libertino lamb, cooked for 16h on the grill. Amazing! (€16)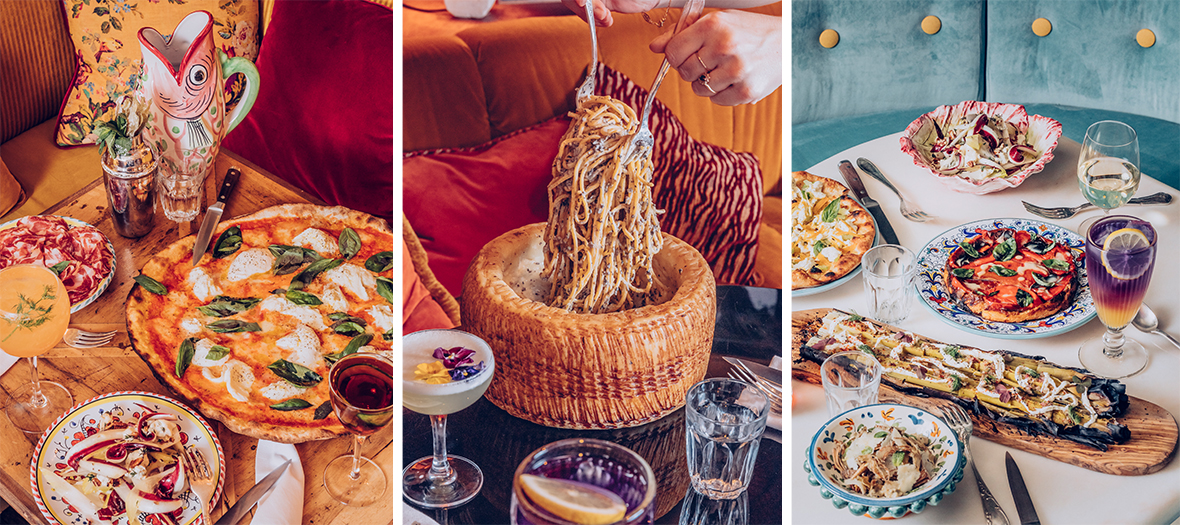 In terms of pasta, the cacio e pepe served in a wheel of pecorino is a must (€15) with crispy artichokes fried in Timut pepper, aniseed or Amatriciana di Polpo with tomato sauce and roasted squid. Yum!
Pizza mania full blast: chef Filippo serves a 36 cm thin and crisp Roman version between "Orange Crush" with squash gorgonzola cream, "Mortad'ella" (€14) with a pesto of pistachios, spinach sprouts and parmigiano or the incredible double truffle grated straight on the pizza (€20).
Desserts galore
When it takes on the allures of a feast, the highly instagramable buffet of dolci, makes it impossible to skip sweets such as the amazing floating islands with caramelized popcorn and many other cakes: limonemisu, an ultra-light tiramisu with Amalfi lemon, a house baba au rhum or a chocolate tart, salty butter caramel, crispy praline chantilly (€7). Also to be ordered, the mid meal "Venetian hole": "Sgroppino alle pere": a pear and vanilla sherbert sprinkled with sparkling lambrusco (€5).
A festive underground bar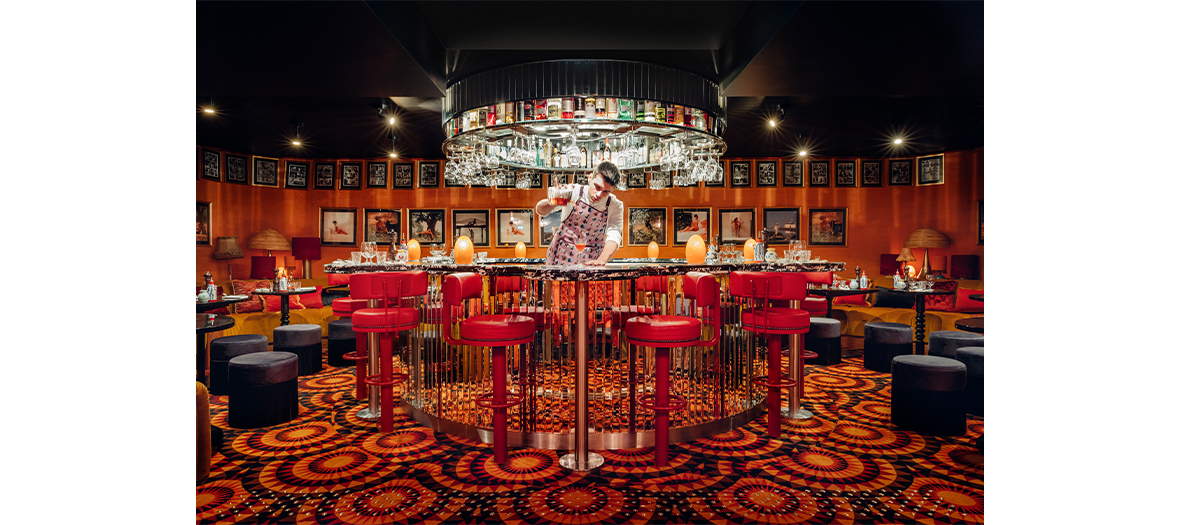 Ambiance 70's at the bar with a disco ball and bewitching potions, totally playing out psychedelism.The idea: sitting at the bar and sipping the amazing cocktails of mixology magician, aka Monika Banasik, in Flower Power Spritz mode or in a cocktails pitcher...
Open every day from noon to 2:30pm and from 6:45pm to 10:45pm.
Also discover the Entrecôte american sandwich and Ischia, the first italian restaurant by Cyril Lignac.
©Jérôme Galland