Alert for Gourmands! Christelle Brua, former head pastry chef of the Élysée Palace and awarded the Best Restaurant Pastry Chef in the world, has just opened her first chocolate boutique. Head to the left bank to discover this refined haven that will immerse you in delightfully nostalgic treats...
A Joyful Boutique-Showcase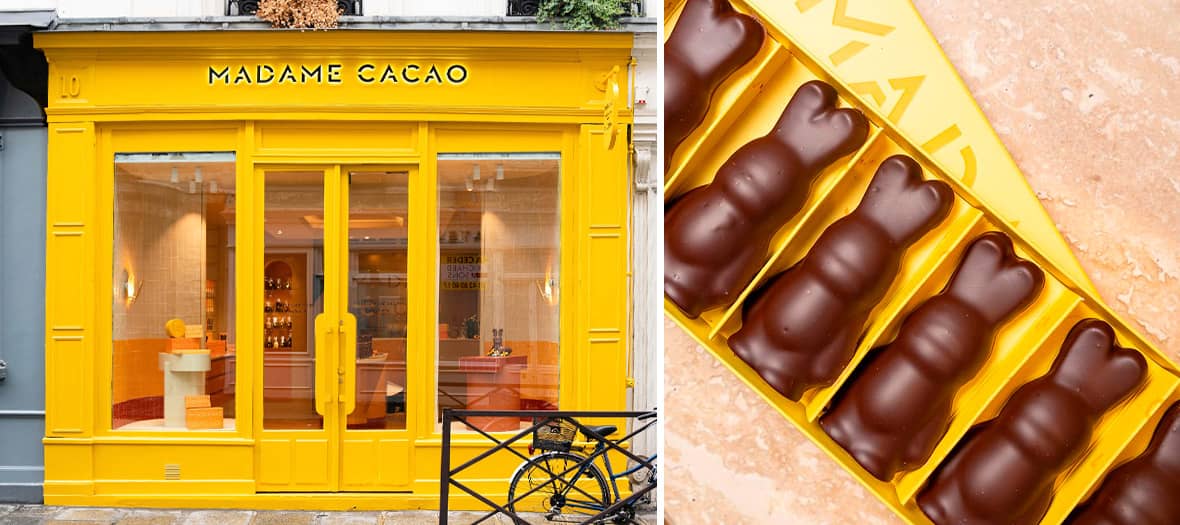 Madame Cacao radiates the vibrant yellow of its storefront onto rue du Cherche-Midi. It feels like the sun has taken up residence here! This gourmet hideaway is adorned with handcrafted Portuguese ceramic tiles in yellow-orange tones, features a sandy-colored counter, touches of gold, and niches where chocolate treasures are presented like jewelry, all beautifully designed by the Retail 3D design agency. Even the packaging reflects the sunny spirit with radiant colors, turning Madame Cacao's delights into elegant gifts.
From Pastry to Chocolate
For 16 years, Christelle Brua, the award-winning pastry chef, worked alongside Frédéric Anton at the three-Michelin-starred Pré Catelan. She captured the food world's attention with her "Blown Sugar Apple, Caramel Ice Cream, Cider, and Sparkling Sugar," which earned her the title of Best Restaurant Pastry Chef in the World in 2018, making her the first woman to receive this distinction! In 2019, she became the pastry chef at the Élysée Palace before embarking on the most thrilling adventure of her career at the end of 2022, encouraged by none other than Brigitte Macron herself. Madame Cacao's DNA? Her childhood memories, the desire to reignite the flame in both young and old gourmets, to offer emotion and have fun. And with a nod to the cult series of the 1960s, "Angelique Marquise des Anges," where, as you may recall, the heroine opens her salon dedicated to chocolate.
Her Best-Sellers
With audacity and talent, Christelle Brua has turned a certain "Lucien the Rabbit" with upright ears into her muse. This mischievous rabbit, with a street art vibe, comes in an XL size filled with mini praline rabbits (€55), as well as in miniature versions (€14 for a 120g bag) and filled with marshmallow, like the famous teddy bear (box of 8, €28). Alongside Lucien, there's a family of chocolate bars available in classic flavors like plain, hazelnut, and almond, as well as surprising variations like the addictive fleur de sel and sparkling sugar, paying homage to her iconic dessert and offering an explosion of flavors in every bite (ranging from €8 to €14). There's also a selection of bite-sized chocolate candies, both dark and milk, with coffee, yuzu, passion fruit, and coconut ganache fillings (starting from €9 for a small box). The signature Madame Cacao metal box is a true delight, containing an assortment of specialties such as coconut-filled praline balls, soft caramels, chocolate nougats, and fruit pastes. It stands as the perfect gourmet gift idea of the moment (300g box, €45).
Madame Cacao,  open from10 am to 7 pm.
Also, discover Brasserie des Prés: Dubillot's team sets up shop in Saint Germain, and the must-visit rooftops this summer.