If it's not the seaside vacation, it looks like it! Operation barbec 'chic feet in the sand on the banks of the Seine, on the brand new summer beach signed Maison Louveciennes . Just behind the bourgeois suburb of Rueil-Malmaison stands a beautiful address which already delights the elegant families of the area.

At the controls? David Cheleman , the chef and owner also at the head of the big brother and neighbor Le Coq de Bougival , has succeeded in rehabilitating an old Hippopo 'in a dream location. It feels like arriving in a very beautiful hotel as the volumes are impressive and the pastel decor ultra-polished. But it's good to enjoy the long summer days on the terrace that we find ourselves there ...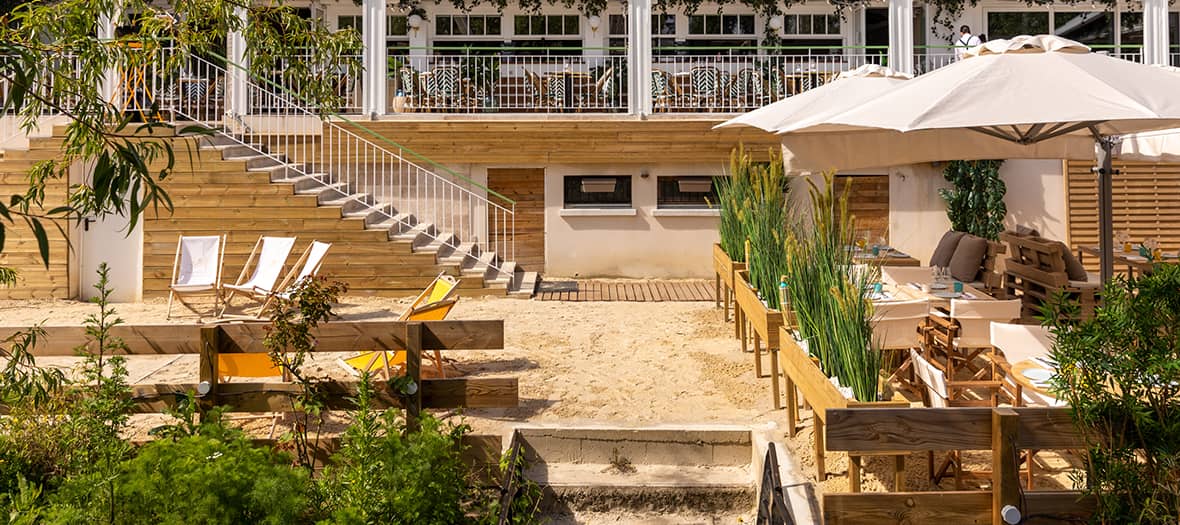 In addition to its usual terrace (which is already worth the detour), this new trendy place in western Paris is inaugurating its beach restaurant below, literally at the water's edge. L'Effet Mer therefore becomes the holiday version of the house, and is displayed as the most desirable spot in almost Paris with, on the sand, beautiful white chairs under the matching parasols. Frankly chic.
The food is not to be outdone with a buffet of starters and desserts in self-service at will and according to the arrival: salad bar, grilled fresh vegetables, new potatoes, a meat of your choice (ribs, piece of beef , chicken fricassee) or a fish (sardines, prawns, catch of the day) grilled on the barbecue and served at the table (€ 45 per person, excluding drinks).
By car / Uber 35 minutes from the center of Paris, or by public transport: RER A to Nanterre-Préfecture then take bus 259 which drops you off almost in front of La Machine stop.
Open Tuesday to Sunday for lunch and Tuesday to Saturday for dinner. In summer, the beach is open Tuesday to Saturday from 12 p.m. to midnight and Sunday from 12 p.m. to 5 p.m. Free private parking.
© Alexis Jacquin
© Instagram / @maisonlouveciennes

Also discover the BBq aperitif on the rooftop of Rochechouart and the perfect brunch from Jean Imbert .