No doubt you have already heard of Maison Russe , this fashionable restaurant in the 16th arrondissement inaugurated last October which attracts socialite crowds in search of fine dinners. The latest Paris Society address ( Brasserie ParisLongchamp , Perruche , Girafe , Bambini , etc.) definitely prolongs this obsession with beautiful terraces with this superb summer garden where you can sit down for a long lunch, in the shade of parasols. . An improvement…
A dream setting
It's very, very beautiful. Laleh Amir Amissif imagined an absolutely marvelous scene, between the white wrought iron chairs and their floral cushions signed Cordélia de Castellane ( Baby Dior , Café Lapérouse ), the fringed parasols and other statues of Greek goddesses, among abundant vegetation climbing plants and large flower pots that truly give the impression of a summer garden. It's hard to believe you're in Paris within these walls... and yet.
Chic fish, slender vegetables, sweet desserts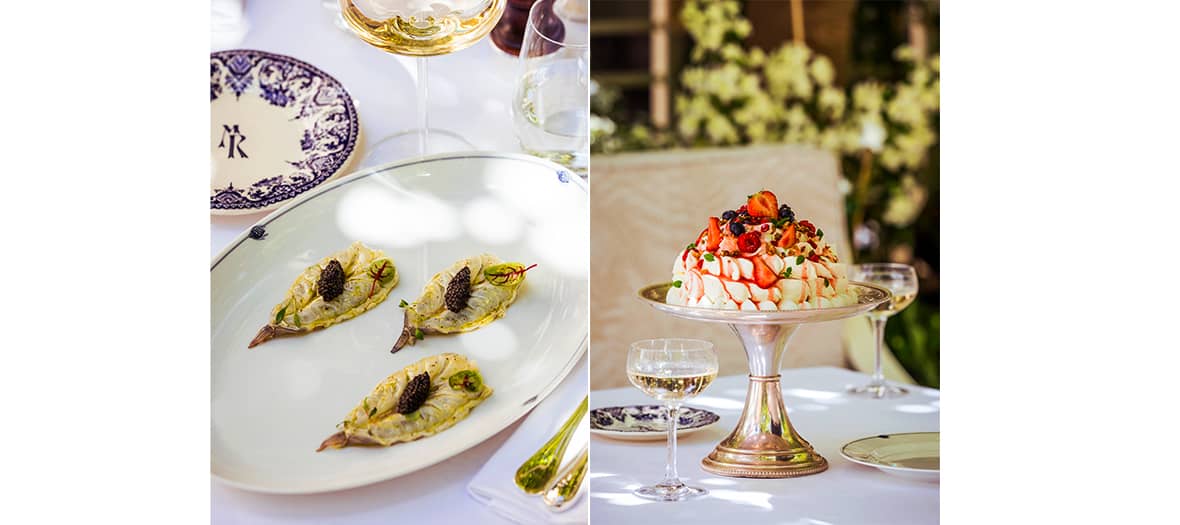 At Maison Russe , the fish and seafood, presented on a scale, don their most beautiful gala outfits. HQ of the Slavs obliges, many find themselves pimped with caviar (optional) such as cod asparagus (€66) or sole meunière to share (€190) drizzled with white butter caviar , like local products such as beef tartare (€59) or the baked potato enhanced with Baeri caviar from Sologne (€98).
For the twigs in calorie control, the also offers attractive low-carb dishes, like the crunchy king crab lobster salad (€49), the obsiblue prawns in olive oil and lemon (€32), when the lemon and bottarga linguine obviously keep regulars coming back (€39).
Finally, pavlova lovers are jubilant: the strawberry basil or rhubarb pistachio versions are devoured in large spoonfuls (€14).
Open every day for lunch and dinner.
Also discover 3 unusual trips to learn all about wines and champagnes and the most secret garden in Paris.