Discover a new Indian restaurant tucked away on Saint-Maur Street with stunning decor and well-prepared dishes. Delhi Bazaar stands out from the countless kitschy eateries in the area, offering an authentic taste of Indian cuisine with a modern twist.
Delhi Bazaar - A Hidden Gem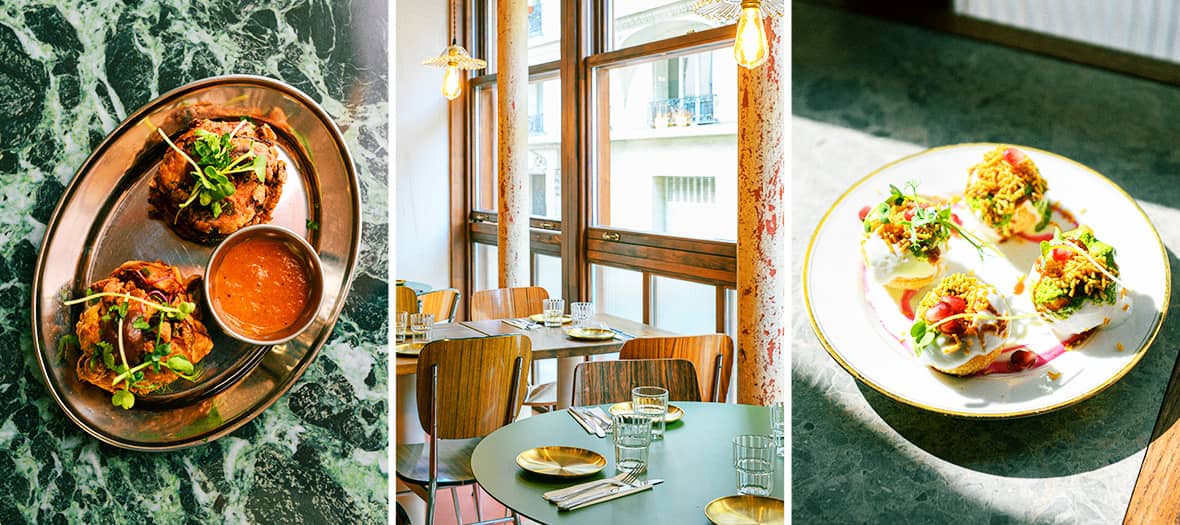 Delhi Bazaar was born from the minds of two globetrotters, Bastien and Alexis, who are passionate about Indian culture and dreamed of creating a new haven in Paris that preserves the true flavors and traditions. Inspired by both the food markets of London and the streets of Delhi, this establishment surprises guests with its open kitchen (the tantalizing aromas from the tandoor oven whet your appetite upon arrival) and meticulously designed ambiance that combines chic bistro and Oriental canteen styles. Special mention goes to the exquisite ceiling above the bar, designed by the renowned architectural studio, Dorénavant Studio, known for their successful projects like Dubillot and Bellanger.
Who better than Eqbal Hossein, a Bangladeshi chef formerly from Desi Road and owner of the Indian restaurant Rasna in the 15th Arrondissement, to embody this contemporary vision in the kitchen? His authentic and modern menu is divided into three main categories: "chaats," savory street food snacks like Dahi Puri – tasty small puffed wheat shells topped with mint coriander chutney, tamarind, and yogurt (€6); tandoor-cooked dishes such as organic roasted broccoli with makhani sauce – a delightful vegetarian option (€8), or the chicken Korma coated in a creamy and flavorful cardamom and almond sauce (€16); and lastly, the unanimously loved classic curries and well-spiced biryanis. For dessert, indulge in a refreshing and subtly sweet treat: the kulfi sundae, a homemade ice cream infused with cardamom, fennel, and kewra water (5€)!
Not to be overlooked are the excellent cocktails, each with a unique spice twist: the Moscow Mule infused with cardamom (€9) or the Spritz with timut pepper and grapefruit. Also worth noting are their original creations, like the Ruby Murray made with white and dark rum, passion fruit liqueur, ginger, and pomegranate juice (€12). The alcohol-free crowd will rejoice with a selection of mocktails (€9), traditional lassis, masala chai, and a house-made iced tea that changes according to the bartender's inspiration.
Delhi Bazaar , Open on weekdays from 12:00 PM to 2:30 PM and 7:00 PM to 10:30 PM, and on weekends from 11:30 AM to 4:00 PM and 7:00 PM to 11:00 PM.

Discover also the new caracter bistro in the 9th arrondissement and Justine Piluso treats herself to the most beautiful terrace in Paris