This year again, despite the new confinement, the Easter bells will ring thanks to the best chocolatiers , remained open for the occasion. Because this year more than ever, the best houses have bent over backwards to offer us a historic egg hunt! Discover our list of the sexiest eggs to afford fissa.
Cluizel's rock group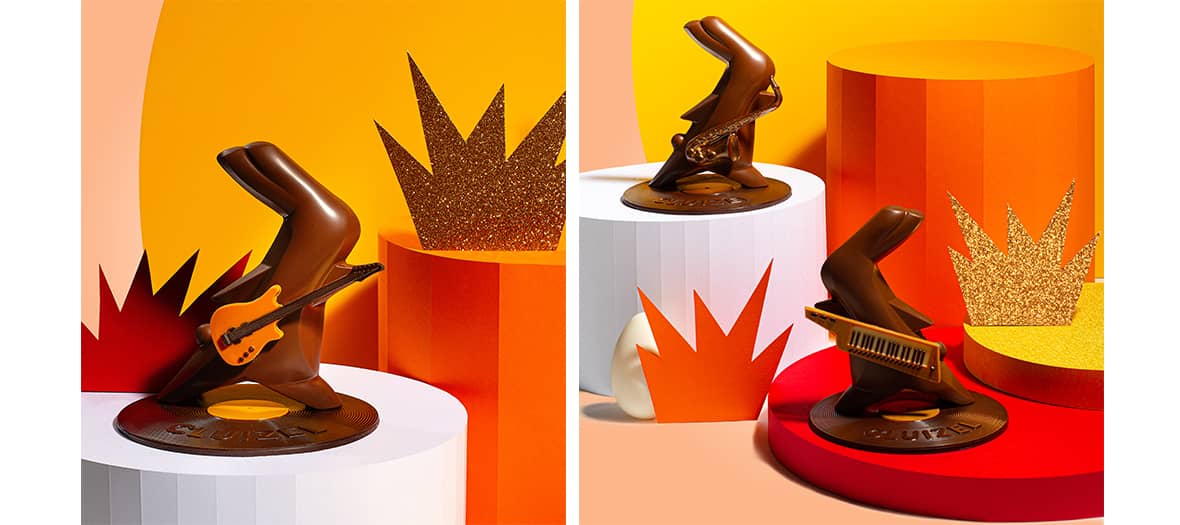 Composed of its 5 rockers with a milky heart, the Cluziel Band puts on the show, playing 5 solos
chocolates to the rhythm of the greatest classics of gluttony . All of this, of course, without any artificial flavor added for a result that is as intense as it is delicate. The show must go on!
The Cluizel Band rabbit at 38 €
Orders and delivery on cluizel.com .
Alain Ducasse's miraculous catch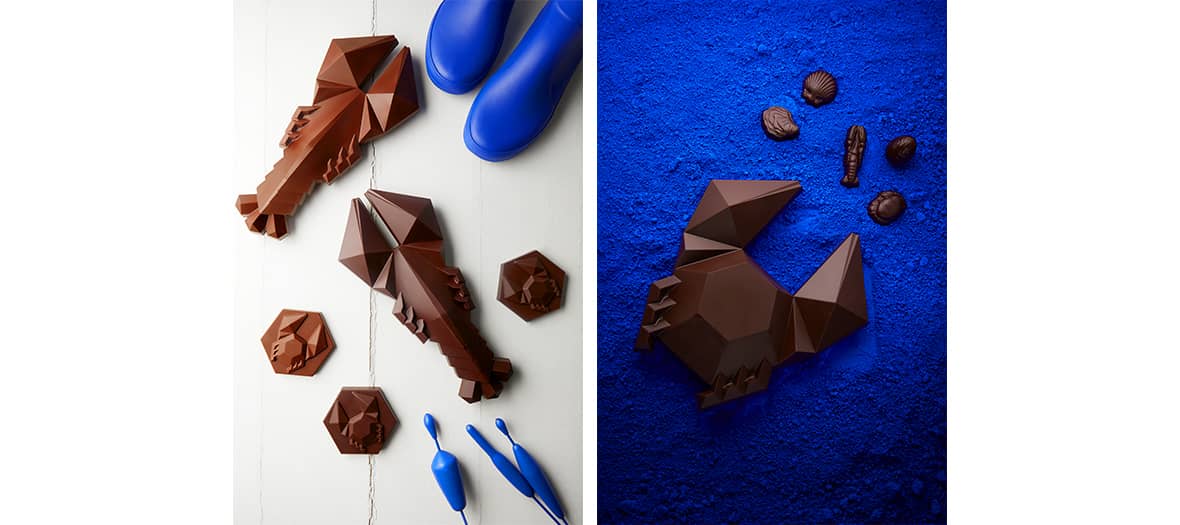 Alain Ducasse returns from the auction, with a basket full of fish and shellfish for his Manufacture . Lobster or April fish with hazelnut praline, crab garnished with fried praline, all in dark or milk chocolate: a true miraculous peach, always so graphic.
Lobster € 39, Easter Bunny € 35
Orders and delivery on lechocolat-alainducasse.com
© Atelier Mai 98
Edwart Chocolatier's bestiary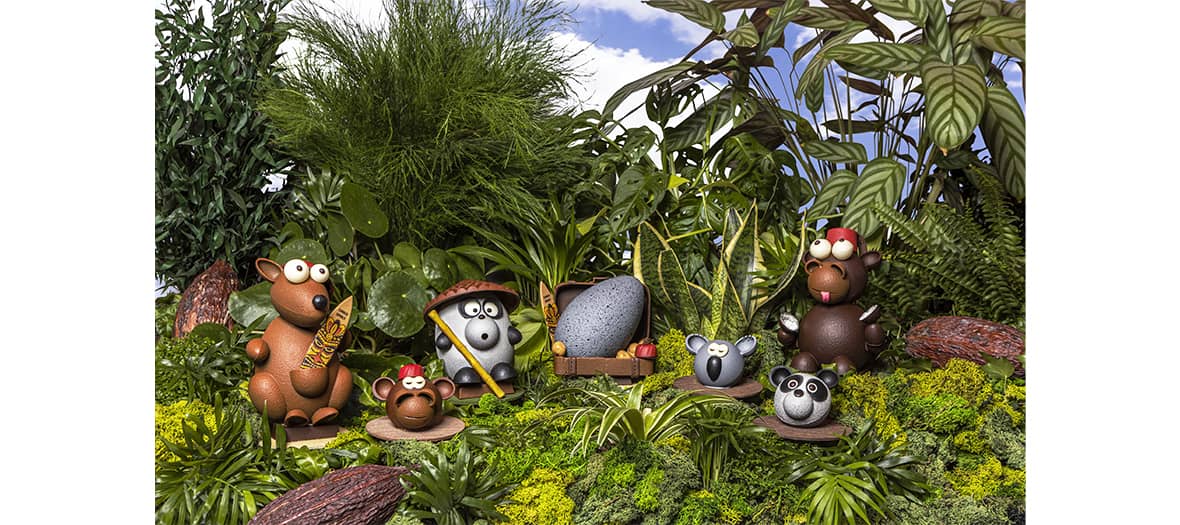 At the helm of Edwin Yansané , the most foodporn artisan chocolatier in the Marais imagines animals made with exceptional chocolates and garnished with fried foods and praline eggs. If the dark chocolate marmoset from Tanzania is an absolute cuteness, the Egg Grain in milk chocolate topped with pistachio praline is eaten squarely with a spoon.
Grain egg from € 14, Ouistiti € 37
Orders and delivery on edwart.fr .
© Martine Lagardere
MAM x Bonpoint's all-chocolate collab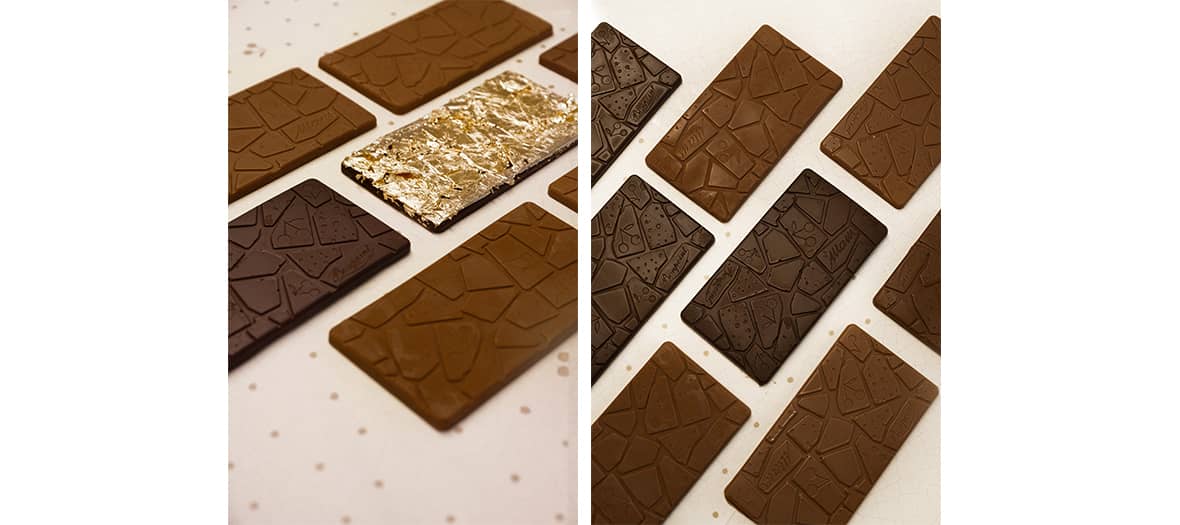 With four hands with her genius pastry chef Pierre Chirac , Stéphanie Le Quellec delivers two incredible chocolate bars for Bonpoint . Your choice: dark chocolate, almond and hazelnut praline or the highly regressive version with milk chocolate and caramel with fleur de sel. As in Charlie and the Chocolate Factory , one lucky person will even win a gold leaf tablet with a gift card worth € 300 at Bonpoint ...
Bars € 9.50
Available exclusively at MAM , 22 rue Fourcroy, 75017 Paris
Lenôtre's Easter garden with vegan option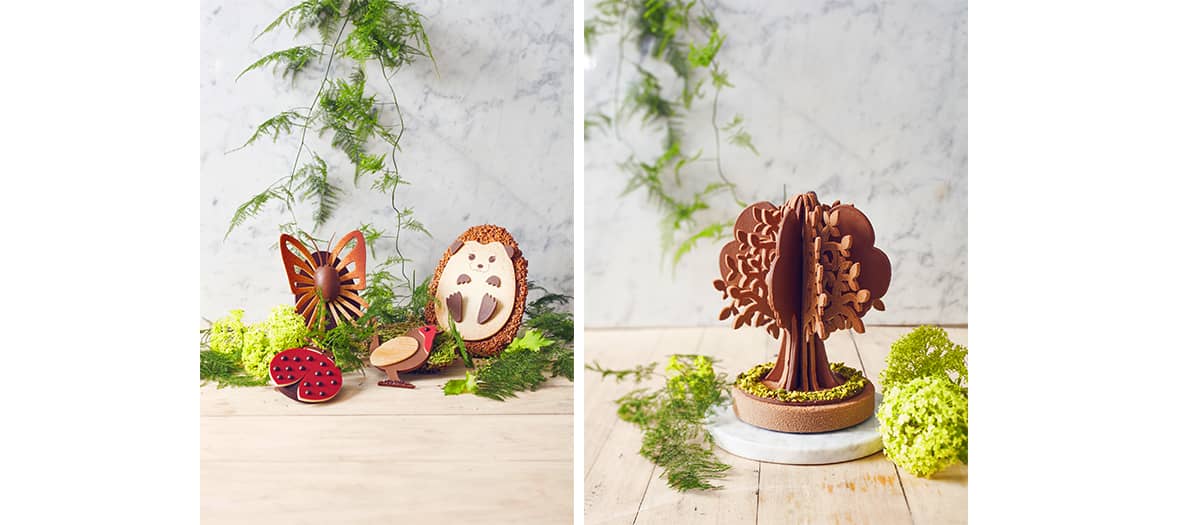 We would like to stroll in the pretty garden of Lenôtre , and make friends with his hedgehog with nougatine thorns garnished with small milk chocolate subjects and praline eggs. But the other Easter star is his vegan grand cru chocolate tree with almond milk, pistachio chips and vegan chocolate fries.
Hedgehog € 55, vegan tree € 55
Orders and delivery on lenotre.com
© Caroline Faccioli
The Drugstore's Precious Egg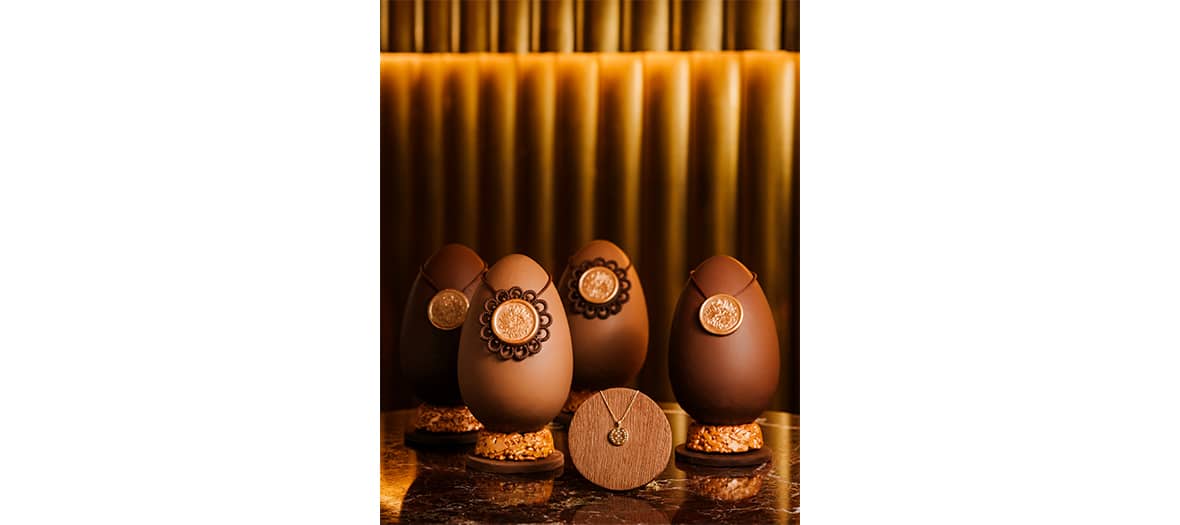 To celebrate the Easter holidays, the legendary concept-store on the Champs-Élysées and the super jewelry brand Hanka_Ïn Paris have come up with a superb creation: a Valrhona chocolate egg adorned with a golden medallion and garnished with fried chocolate candies
black, milk, white and caramelized white. The most beautiful effect on the table ... especially if you win one of the jewelry made in Paris gilded with fine gold.
Easter chocolate medallion 38 €
Orders and delivery on publicisdrugstore.com
The iconic duck from Boulanger de la Tour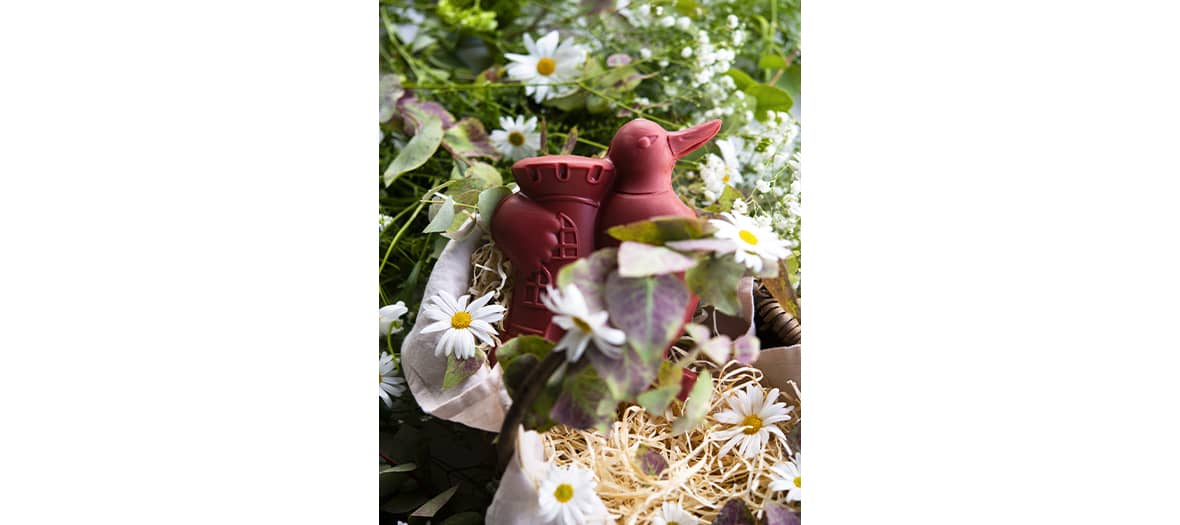 Absolute star of the Michelin-starred restaurant La Tour d'Argent , the Clovis duck goes down to the Boulanger de la Tour to slip into the sweets department ... Dark Gold Chocolate, Jivara Milk, Dulcey, Strawberry Inspiration: only ultra-crunchy creations, garnished with delicious traditional frying.
Clovis en Chocolat from € 29
Orders and delivery on tourdargent.com
© Geraldine Martens
LOL pullets by Cyril Lignac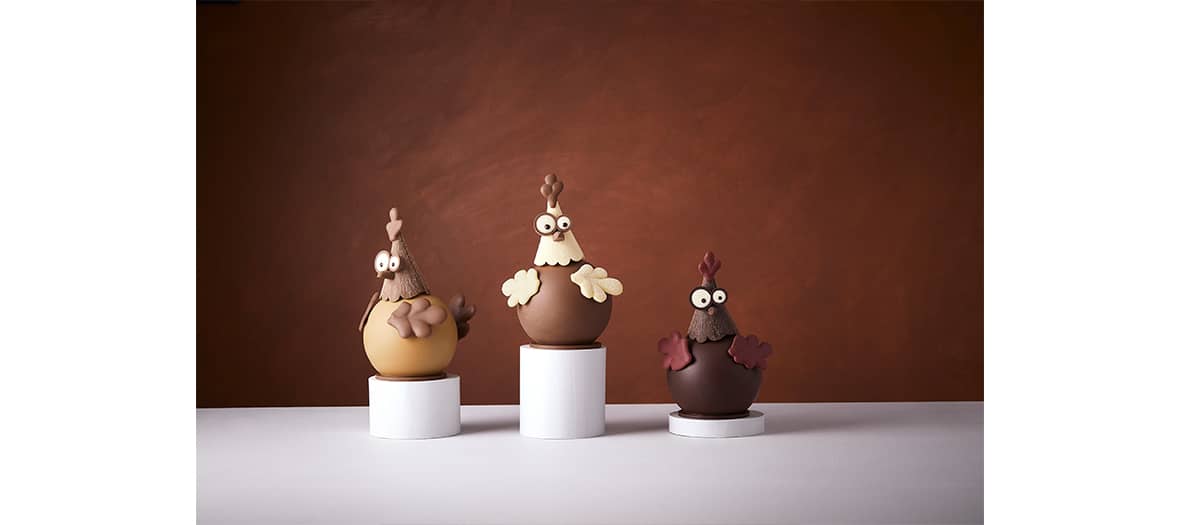 Always in his legendary good humor, Cyril Lignac creates his ideal backyard with three really nice casseroles. Milk, dark or dulcey chocolate, filled with dry fries and little praline eggs: we want them all, accompanied by their little chicks in vanilla marshmallow.
Coquette € 28, marshmallow chicks € 7.50
Orders and delivery on lachocolateriecyrillignac.com
The garden party of Arnaud Larher and Vincent Darré at Monoprix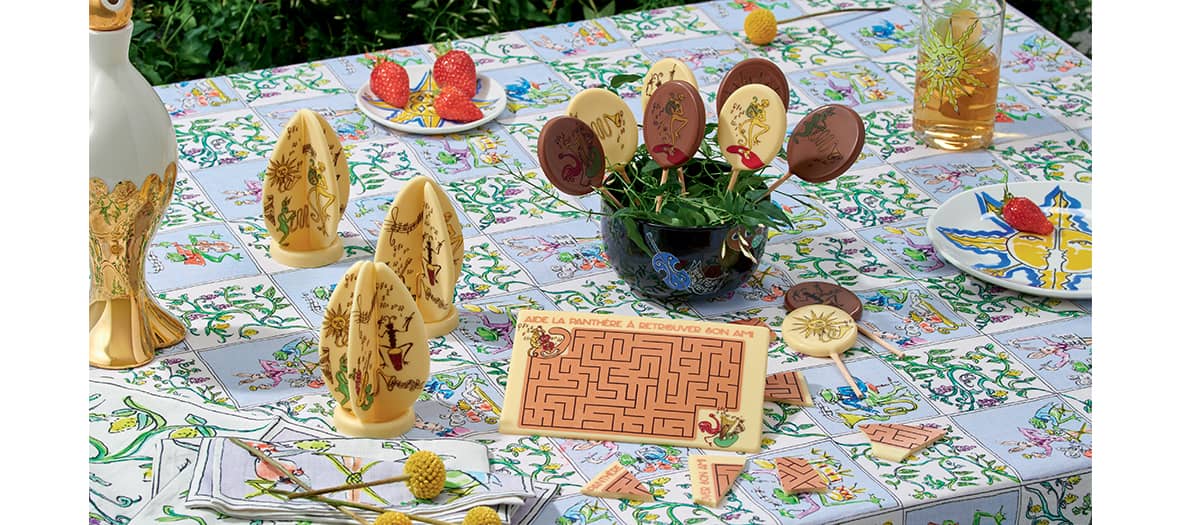 Notice to white chocolate fans. Exclusively for Monoprix , the Parisian designer Vincent Darré is responsible for pimping the divine creations of the chocolatier Arnaud Larher , best worker in France. Labyrinth tablet, lollipops adorned with a musician rabbit, spectacular eggs seem straight out of an Alice in Wonderland garden party.
Labyrinth bar € 9.95, egg € 9.90
Available at Monoprix
Yann Couvreur's fox candy boxes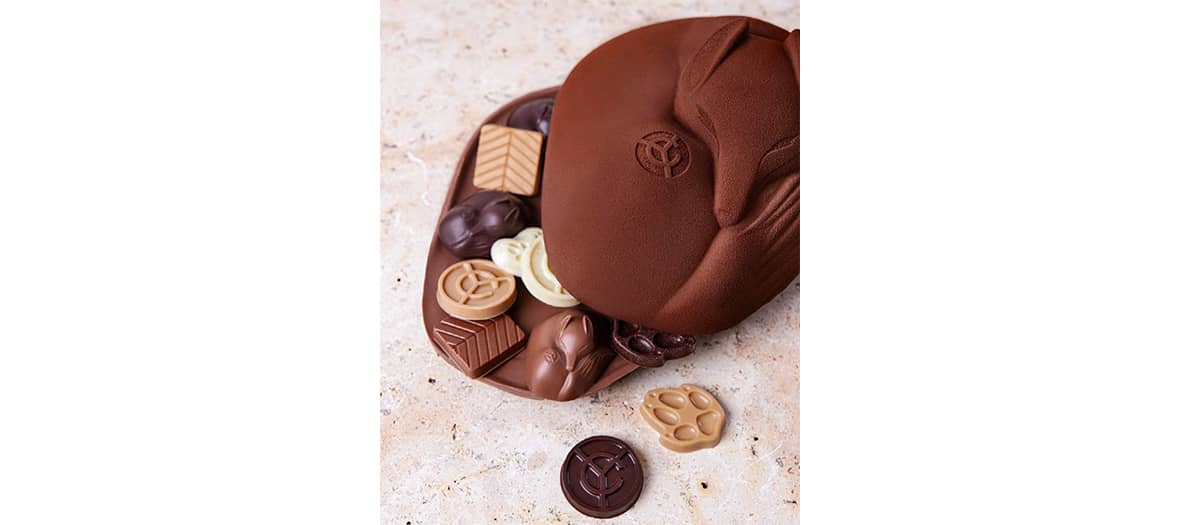 Yann Couvreur stages his favorite fox in the form of dark or milk chocolate candy boxes that really snap. Both are garnished with an assortment of fries and milk chocolate, dark, dulcey and white chocolate candies for a really successful rendering… and too good.
Bonbonnière 45 €
Available in stores or on yanncouvreur.com
Kawaii rabbits by Pierre Marcolini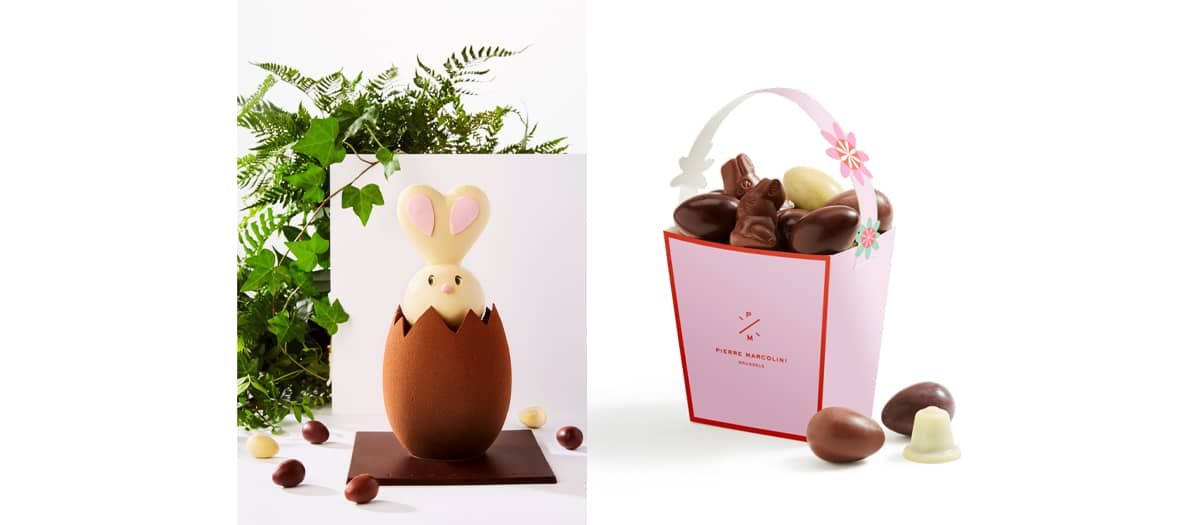 Pierre Marcolini once again succeeds in the feat of creating bunnies as cute as they are minimalist, which children will inevitably love, but not only! In coffee, grown-ups will pick from the box of small eggs : sesame almond, pistachio nougatine, hazelnut praline… with an incomparable taste.
Little rabbits € 9.34, box of 12 small eggs € 19.81
Orders and delivery on marcolini.com
Hugo & Victor's marshmallow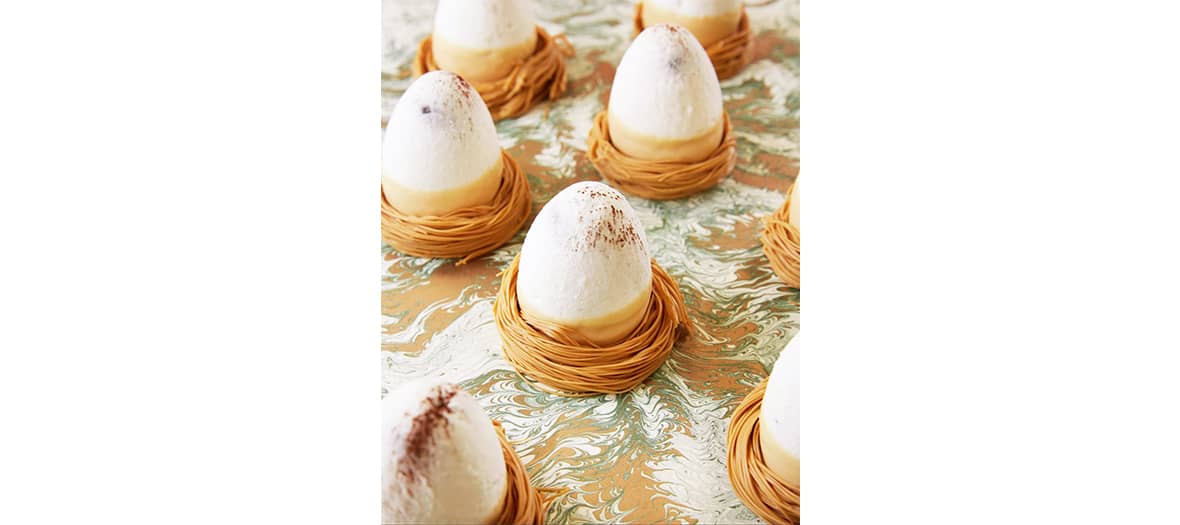 Hugues Pouget continues to make us addicted with his ever-lighter creations for his Hugo & Victor pastry shop. Its vanilla marshmallow egg, placed on a nest of dulcey caramelized chocolate straw, hides a surprise: a praline heart with Piedmont hazelnuts. Absolutely refined.
From 15 €
Available only in store at 40 boulevard Raspail, 75007
Ladurée small white praline eggs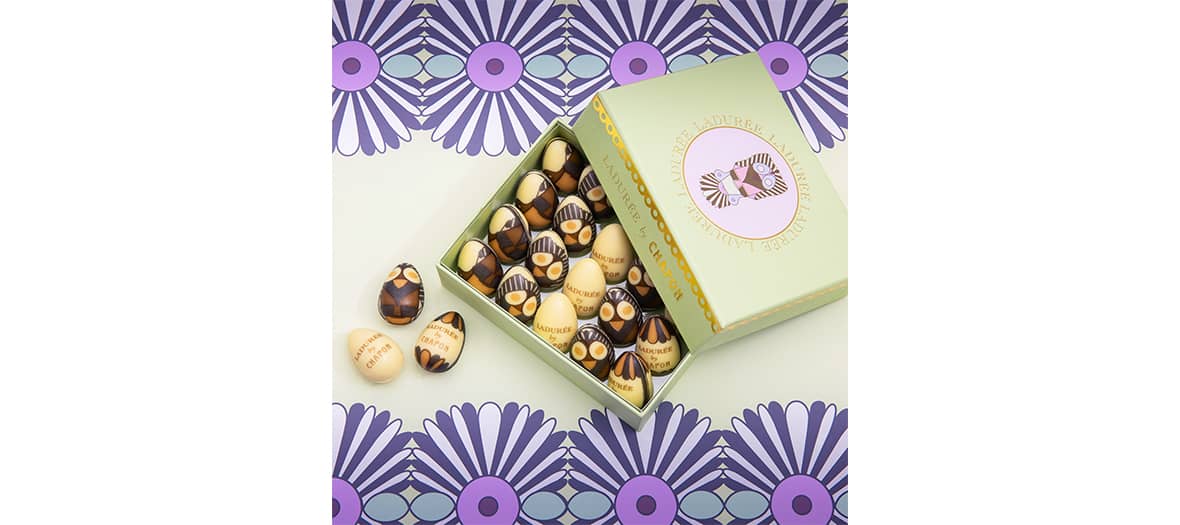 With its chocolate maker Patrice Chapon and a beautiful Mayan-inspired packaging designed by Claudia Ravnbo , Ladurée makes its twenty small praline eggs with Sicilian almonds and Piedmont hazelnuts covered with white chocolate essential for the coconut hunt. Please note: they are totally addictive.
30 € the box of 20 eggs
Available in store on laduree.fr
And also…
Christophe Louie's Easter panettone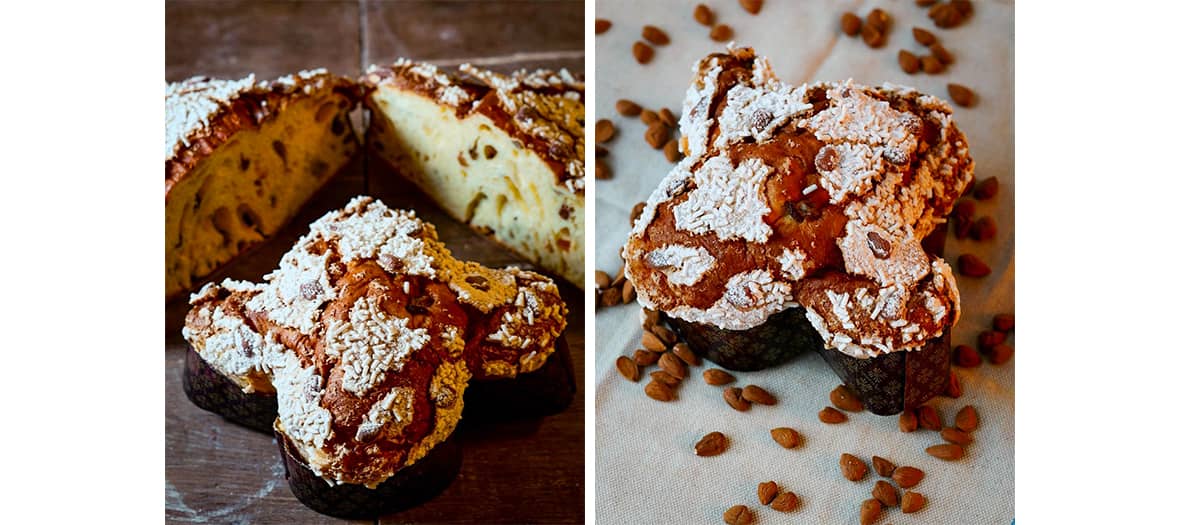 This is not an egg, but you would be wrong to deprive yourself of it. Pastry chef Christophe Louie puts his know-how at the service of a Lombard tradition: the Easter dove . Its signature panettone comes with Aristide melting milk chocolate from Cameroon, L'Or des Prés extra-fine butter, crunchy Piedmont hazelnuts, passion fruit and physalis. A delicious brioche delight to keep for breakfast and afternoon tea.
Easter Dove Panettone 36 €
On sale on www.christophelouie.fr , postal delivery, delivery by courier or click & collect
Sébastien Gaudard's paschal lamb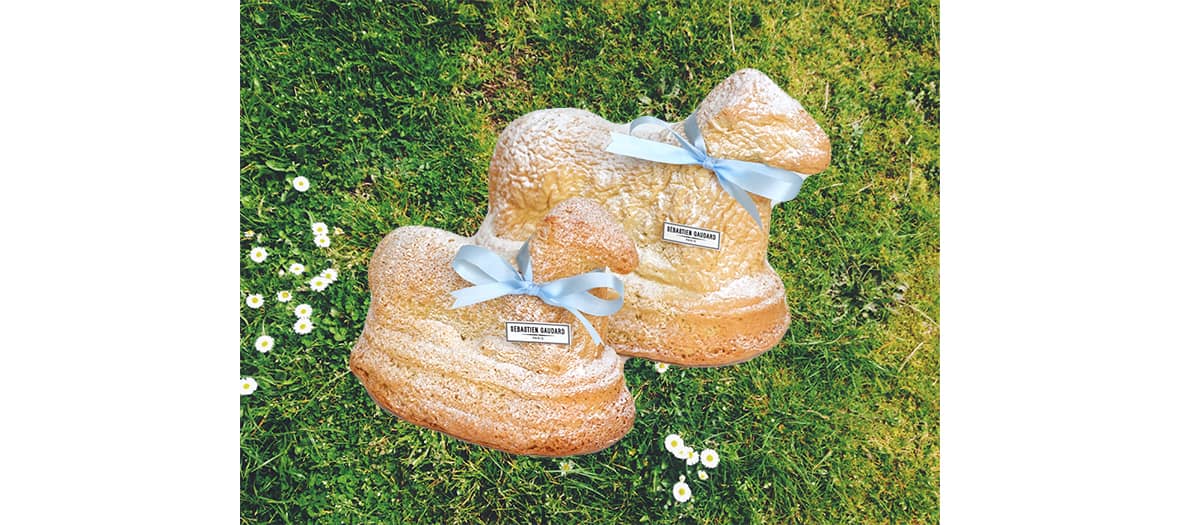 Always attached to traditions, pastry chef Sébastien Gaudard delivers his cruelty free version of paschal lamb: a Genoese biscuit with eggs and lemon zest. Very simple, but memorable!
Paschal lamb € 11.50 the small, € 15.50 the large
Available in store and delivery by phone on 01 71 18 24 70
Also discover the idyllic Easter celebrations of Vincent Darré for Monoprix .