Why prepare a sandwich in normal bread when you can do it in the hallot (this delicious Shabbat brioche bread) from Mamiche ? This is the very interesting observation made by the young chef Julien Sebbag , already at the head of two restaurants - Créatures and Tortuga - on the roof of Galeries Lafayette. After having briefly tested the concept last year, this electric battery is opening Micho , its insane and long-lasting sandwich shop to be tested on site or in take-away.
A word of advice: if you choose to go there, arrive by 12 noon to avoid the queue. In rush hour, you will wait about fifteen minutes, but I promise, it's worth it.
The project he didn't want
Just the story of the name is funny. Why Micho ? Already because its former ephemeral take-out counter, thought up when all the restaurants were closed, was at the start of rue de la Michodière, but above all because " we sent it hot but it risked arriving lukewarm " and because Julien was " half-hot at the beginning " to do delivery. Already, we had a good laugh. But the chef with the long ringlets isn't just nice: he's also talented. So, expect a little taste orgasm while biting into your sandwich ...
In my challah, I put...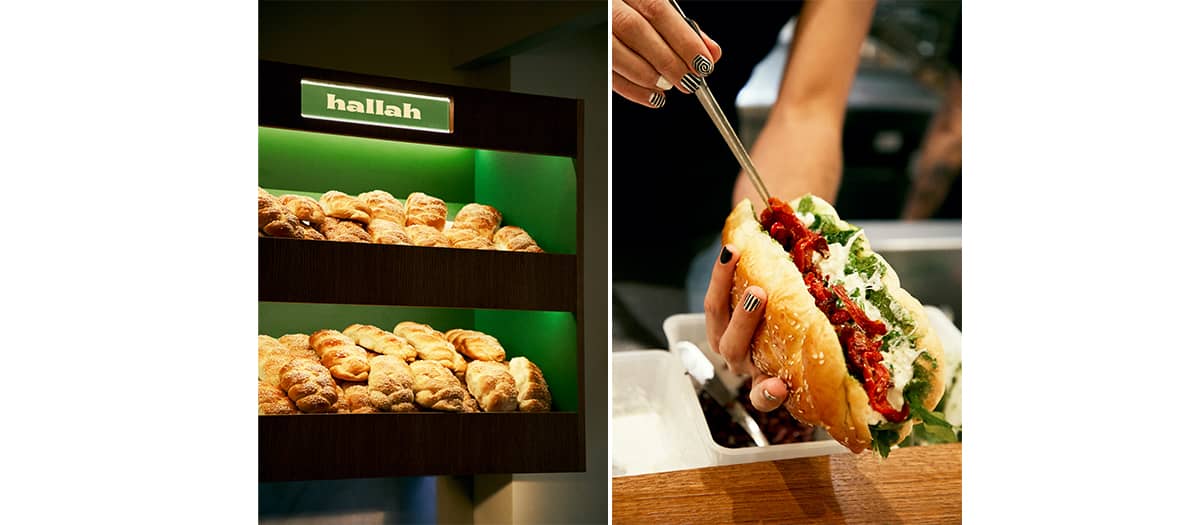 It would have been a shame not to get started! His insane sandwiches already set the mood for the lunch breaks of Parisian foodies: the Stew with simmered (for a very long time) beef, sweet potatoes, red cabbage salad, hazelnuts, parsley, thina with paprika (€15.50); the Roast with roast chicken, fennel, black garlic aioli, chopped hard-boiled egg, pickled radish and spring onions (€15); the Havita garnished with a mushroom omelet, confit garlic labneh, pickled onions, zaatar and chives (€12).
As an accompaniment for big appetites, go straight for the miso-roasted carrots or the potatoes, black garlic aioli (€6.50). Mmm. And for dessert, a pear, chocolate and hazelnut crumble (€6)...
In the evening
The novelty at Micho is the possibility of coming there in the evening to share pretty plates around a bottle of natural wine . On the menu, for example: labneh, candied onions, peanuts (€8), roasted pumpkin, tabbouleh with almonds and marinated feta (€11), pollack shaarma (€23) or simmered beef and parsnip purée (€22 ).
Open daily from noon to midnight.
© Carl Diner

Also discover the best kebabs in Paris and the Shabbat box to be delivered .