There was the Cosmo, muse of the years Sex and the City . After 20 years of reign of Mojito and the dictatorship of Spritz , the Moscow Mule is displayed as the star potion that is in full swing.
Without bitterness and very little sweetness, this new drink is a hit with everyone as soon as it is time for a cocktail , from brunch to the end of the evening.

Why ? Snobs love its slightly spicy taste, sharp mixologists love it, the uninitiated immediately appreciate its ultra-refreshing side " which is drunk like whey " and influencers collect likes galore every time. post from #moscowmule. Explanations.
The new star of the aperitif
Once upon a time ... a cult long drink. Because far from being a new kid, the Moscow Mule , a cult drink in New York or Chicago cocktail bars for half a century, was born in the 1940s in the United States from the meeting between a vodka distiller and a producer of ginger beer .
Distinctive sign: it is usually served in a copper timpani or mug with a lime wedge and a mint leaf. This is its other core asset: its highly instagrammable photogeny.

Have you been sorely missed since curfew or do you dream of tasting it? Phew, we take the recipe from the best bartenders , easy as pie to make without a shaker ... Cheers !
Fever-Tree: the secret ingredient of a good Moscow Mule
How to cook up a Moscow Mule worthy of the best luxury bars ? We keep the boot secret of the most prominent mixologists and the great chefs who swear by Fever-Tree to release this magic potion!

In vogue and against the tide of ugly chemical and sugar-filled " mixers ", ginger beer and ginger ale are making a comeback. Provided of course to use Fever-Tree , this label particularly cherished by foodies.

Considered the Rolls-Royce of its kind, the Fever-Tree ginger range is displayed as a signature sharp product with perfect sourcing, made from essential oils of 3 varieties: fresh ginger from Côte d'Ivoire , ginger camphor from Nigeria and chocolate ginger from Cochin in India.

Where to find it? We buy it at Monoprix, Carrefour, partner wine merchants and whisky.fr .
The unmissable Moscow Mule recipe at home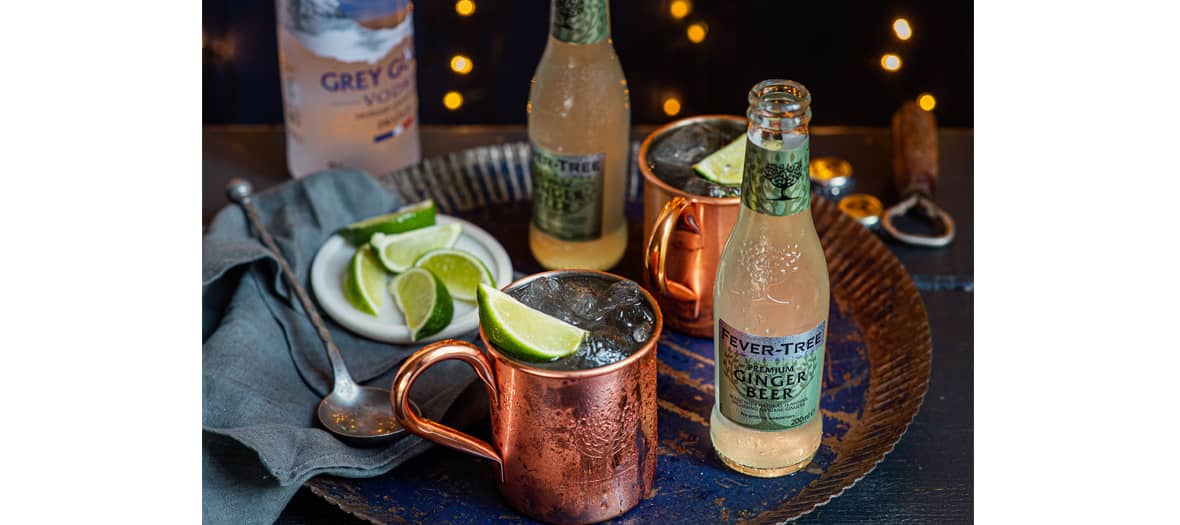 Fill a mule mug with ice cubes
Add 5 cl of vodka
Add 2 cl of fresh lime juice
Complete with 15 cl of Fever-Tree Premium Ginger Beer
Garnish with a lime wedge and a mint leaf
Alternatives with or without alcohol
Whether you are in rehab, detox or simply pregnant mode… Nothing is simpler.

Neither seen nor known: we follow the same recipe… without the vodka. Not only does Fever-Tree accompany the best drinks, but it is also drunk on its own as the cocktail flavor is prolonged once poured into a pretty glass, allowing it to give a stylish and festive side to its sober aperitifs ... but not relous.

For an even more unique drink: go for the Spiced Orange Ginger Ale version enhanced with clementine and cinnamon signed Fever-Tree or their Smoky Ginger Ale which combines smoky water with apple wood and citrus fruits. An ultimately snobbish must-drink.

Practical information : € 1.50 per 200ml bottle, at Monoprix, Carrefour, partner wine merchants and whisky.fr .
alcohol abuse is dangerous for health, consume in moderation