The Mediterranean folly and the new passion for humus have mesmerized you? You are going to adore this terrific new address incubated by Maison Noura and decorated by Pierre-Yves Rochon, literally transporting you on the spot to the contemporary Beirut of trendy it-girls.
A magical location to chill
This setting will certainly appeal to Parisiennes with its gourmet tea salon in overtones of very luminous off-white, ochre, white and vanilla, installed on the first floor of Printemps de la Femme between Piaget and Tiffany & Co... So chic!
One never knows where to settle for a little quiet near the department stores area? This happens to be a wonderful option, nestled in velvet armchairs or on splendid banquettes in a fairy tale décor around furniture signed Maison Tarazi, the hottest artisan in Lebanon.
A very foodporn list of mezzes
Obsessed by top notch products, the chefs of Noura bring back the best spices in the world from the Armenian souk of Beirut. And the result is an incredible menu of mezzes to nibble on all day long and to share with your crew: halloumi grilled Med style, moutabal (caviar of eggplant with sesame cream), samaké harra (the famous ratatouille of slightly spicy veggies), without forgetting falafels with beans or kebbés… Yum !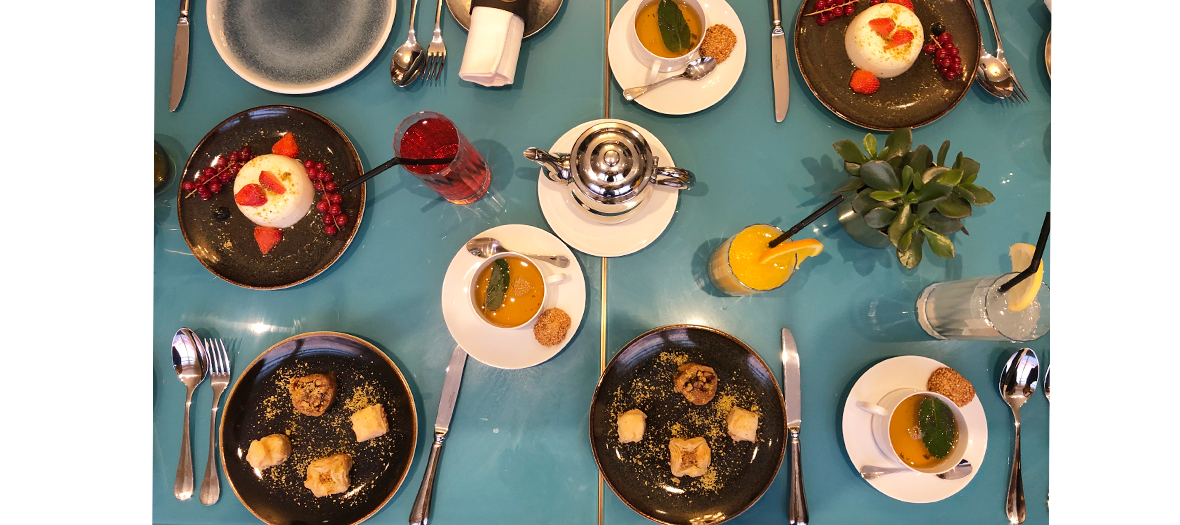 In addition to its mezzes galore, a furiously sexy menu has been put together, very Mediterranean cuisine like the Poke Bowl Beirut (€19), the smoked salmon & labné club sandwich made with labné cream and tahina, or an incredible kefta burger in a brioché bun (€23).
You are a fan of the tea ceremony? You will adore this super chic formula served every afternoon. On the programme of treats: a fantastic mint tea served with an assortment of 3 baklawas, before an orange blossom lemonade or a rose syrup accompanied by a mouhalabié (Lebanese pudding with orange blossom). Impossible not to Instagram.
Another sweet option: indulging in the exclusive à la carte pastries signed Michalak such as the Oriental pistachio tart or his Mini-Klassik (crispy hazelnut gianduja, dulcey ganache and pecan nut).
Open every day from 9:35am to 8pm and on Sunday from 11am to 7pm
Elodie Rouge and Julie Zwingelstein