The spirit. You dream of testing the hot houmous bars all the  socialites in Tel Aviv are raving about ? Well, it's now possible with this furiously stylish cantina in the Marais that gives you the impression of being in Neve Tzedek (the trendy area of Tel Aviv !)
The dream-team. Chef Kobi Villot-Malka, an Israeli of Moroccan origin, who worked under Alain Ducasse, and has now teamed up with Keren Bénichou, presenting a contemporary and spicy version — Tavline in Hebrew — of their family recipes. That would make Jewish mammas go into a tizzy (shhh, we won't tell them)…
Drinks and eats: share the house houmous with chick peas and chiches cumin to be soaked up with a great pita bread (6€) ; braised cauliflower with tahina and pesto (7€) ; a wonderfully plump focaccia served with Moroccan style carrots (8€). Don't forget to test the ultimate and true Shakshoulka, (16€), fish balls grilled with herbs in a mix of lentils with a wonderful yogurt and glazed lemon sauce (16€). For dessert: Lebanese custard with orange blossom and pistacchio, (6 €) or a soft chocolate and cardamon cake spiked with mint and grapefruit, that the chef comes over to serve up directly with a spoon (8€).
Special kudos for the graphic and colourful tableware that is creating the buzz on Instagram, the Israeli rosé (7,50€) and the mint tea (4,50€). We are converted.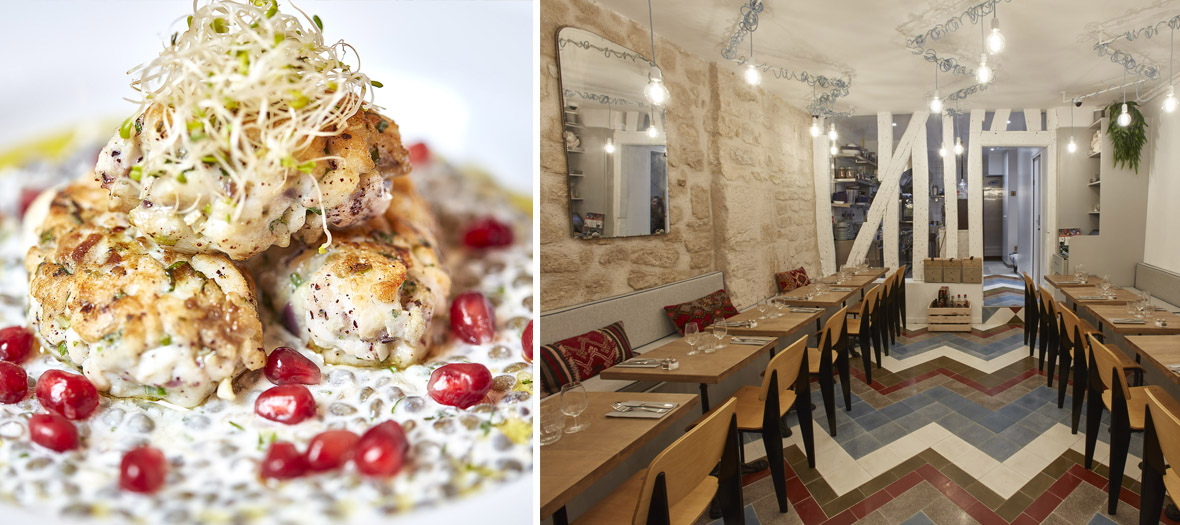 Open Tuesday to Saturday lunch and dinner.
Also check out Shirvan, the melting-pot café of star chef Akram Benallal.
© Romain Villot