Finally, a nice Italian table in the HIgh Marais to wolf down the pasta della mamma in a chic setting, as though we were by the sea. At the helm, Sasha Msika, a cool 30-year-old, native of Bolgona, that has a tiger in his tank.
Raw jeans, white t-shirt, trimmed beard sporting a nice wrist-watch, this former business lawyer in mergers-acquisitions still has all his hype. Escorted by his mother and his "super nonna" grandmother, this deep-down foodie went on a grand family tour of his potential producers, in order to offer the best of his childhood memories.
Just behind the Square du Temple, this ideal cantina shuns the codes of the classic trattoria. Studio Kokumi signs a harmonious space with a wood roof, a huge bar to separate the dining area and the open kitchen (and it smells divine), along with a superb terrazzo floor totally up-to-date.
A tavola !
There are other choices then pizza in life! In Italy there is also seafood, such as fresh crab as a starter or a generous squid risotto (€24), scaloppine al limone (a thin slice of veal with lemon) escorted by its two different polentas, yum (€22), or spaghettata di mezzanotte with burrata heart, lemon and pimento (€16).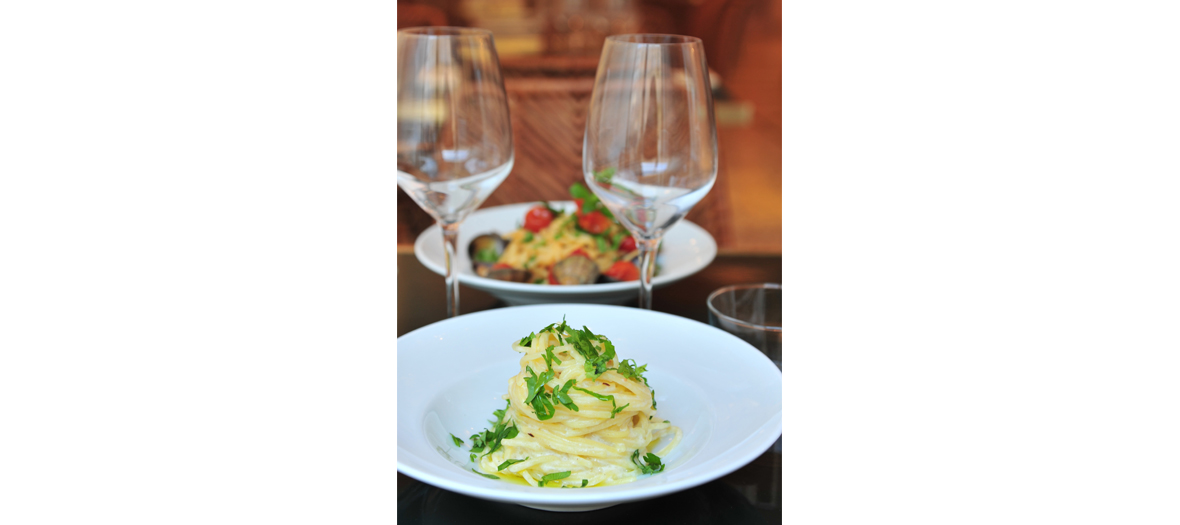 For dessert, an amusing affogato (€7.5) or the tiramisù della mamma (€7.5). Che buono ! The ideal option for a quick lunch? Starter dish / dish dessert for €16 with the daily suggestions.
Coming up soon
The lower level set up to welcome wine tastings, and also the super terrace to sip ultra fresh cocktails as soon as the first rays of sun come out. There is definitely a holiday feeling in the air...
Open Tuesday to Saturday, lunch and dinner, and on Sunday from 12:30pm to 3:30pm. Closed on Monday:
Also discover the retaurant for a hot date in the Marais and the Greek table of Juan Arbelaez in Paris.