His dream was to sip a coffee just like in the Kafeneion around Greece. Yorgo Tloupas, the big honcho of design ( A.D of Vanity Fair, the visual identity of Sarah Andelman's company) created it. And quite naturally, his perfect small blue and white café with a little terrace on Rue des Martyrs is very close to perfection… In short: the paradise of coffee-lovers during the week and for a brunch or happy hour during the weekend.
For drinks…
Coffee galore! Greeks drink it all day long. Cold and hot… This is the first time we encounter these divine specialties in Paris: traditional Greek with grounds, un frappé ou un redoutable freddo cappuccino (3-5 €).
Another high, all the drinks have a holiday taste: whether it's the cherry syrup,Mythos beers or the tangerine sodas to sip like in Santorino or Antiparos with orange cake or a fresh fruit salad (€5).
For eats!
To be nibbled on the adorable small terrace: a delicious dakos salad, loukoums and all the signature Greek dishes : tzatziki, tarama, ktipiti, houmous, caviar of eggplant and home-made red tomato pesto (€6-8).
More good news: the possibility of taking off with yummy products (special kudos to the olives and Greek cheese) as well as fine Greek grocery products to upgrade a Netflix evening or a happy hour.
Absolute must-have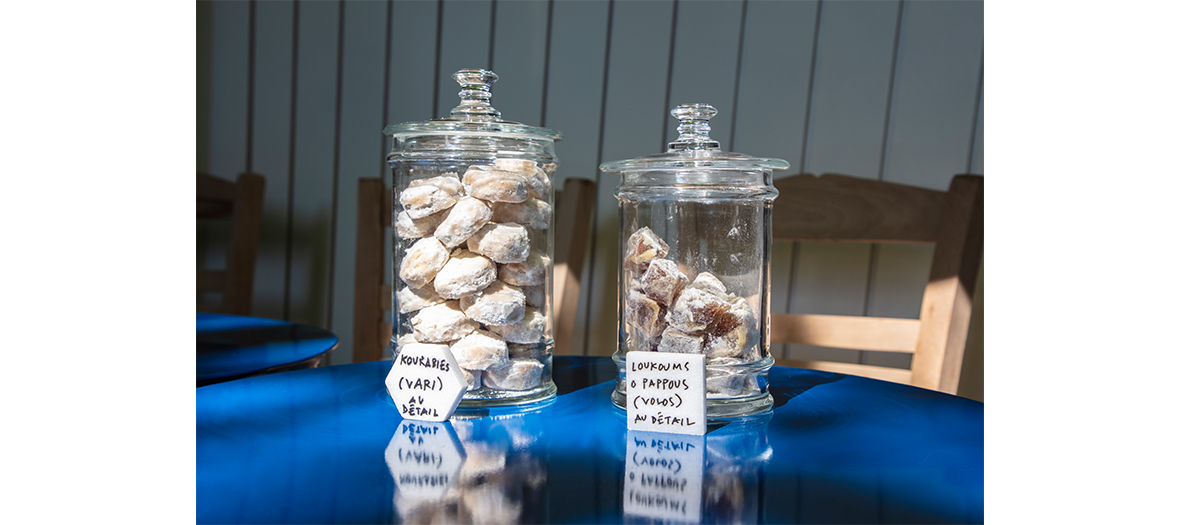 The famous Caprice "over-the-counter drug" claim to fame of the house... its famous small shortbread biscuits stuffed with hazelnut paste. Total addiction.
Don't go home without one? T-shirts stamped with a map of Paris rebaptizing Parisian districts in a totally  hilarious spirit…

Open Monday to Friday from 11am to 6pm.

Also discover Le Grand Café d'Athènes, the terrific Greek bistro everyone is talking about in the 10th.