His arrival in Paris was more than expected by globe-trotting gourmets, accustomed to his addresses in Singapore, Los Angeles, Dubai, Las Vegas... The new Asian socialite table of star chef Akira Black has just opened its doors at the Prince de Galles , in line with the posh hotel restaurants Nobu Matsuhisa (Royal Monceau) and the recent Yakuza (Maison Albar).
Akira Black: the presentations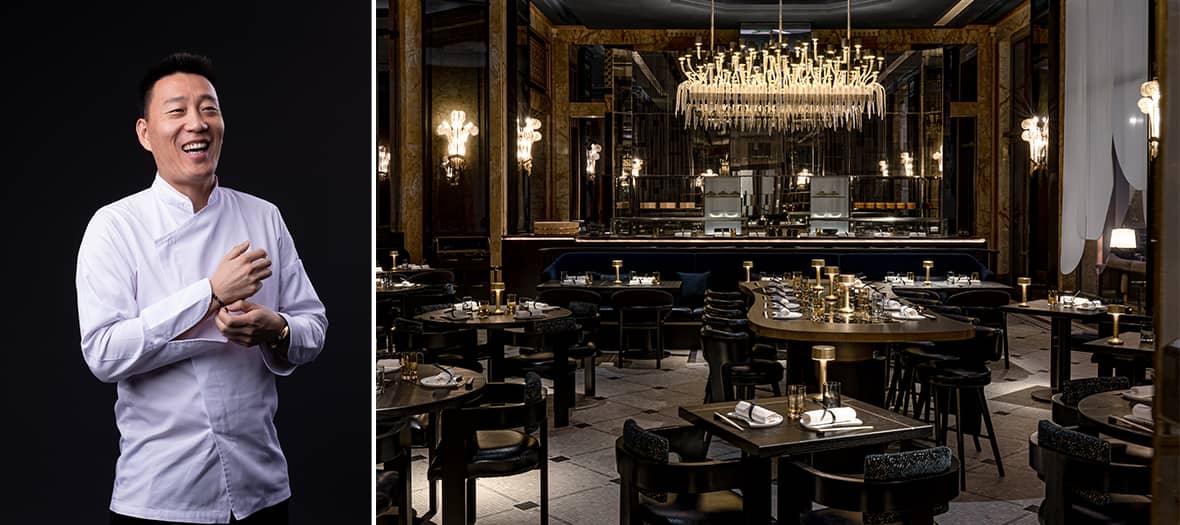 His name does not sound familiar ? It's normal. Unless you spend your days on the plane traveling the world, his ultra-renowned name had not really reached the latecomer ears of the French. Ex-professional snowboarder, born in Korea and raised in the mountains of Aspen , Akira Back (real name Sung-Ook Back) has a passion for cooking in later life, trained by his mentor live from his sports station. Winter: Sushi Master Kenichi Kanada . After having opened his eponymous addresses in the fanciest cities of the moment (his restaurant at the Four Seasons in Seoul even enjoys a star), his Parisian table is therefore seen as an event.
Glam decor
The former bar Les Heures du Prince de Galles has thus become a mecca for Asian gastronomy with Japanese influences, served by an ultra-theatrical black lacquer decor signed by the London studio Blacksheep , enhanced by sophisticated work on Art Deco lights which illuminate the huge room with its golden shades, and whose large tables invite to chic gang dinners. And for the personal touch of the chef: the plates pimped by his mother, a painter.
Ultra-creative Japanese inspirations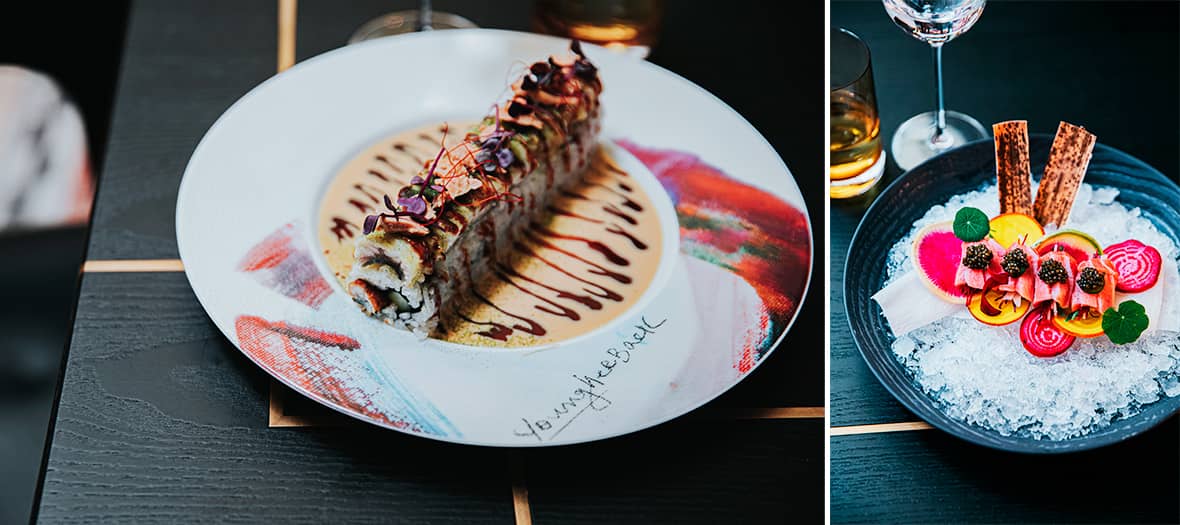 Nice, we translate the Anglo-Japanese menu for you which, without the help of a server, turns out to be roughly incomprehensible.
To share willingly, the starters bear witness to Akira 's creativity : white fish carpaccio, crispy shallots (€23), amazing tuna pizza, umami aioli, shiso (€23), beef tacos with bulgogi (marinated and grilled meat ), roasted tomato and ponzu (€24), scallops with kiwi truffle paste, onion sauce, yuzu (€24), as well as an armada of rolls and inventive sashimi .
Not to mention the cold star aka Jeju Domi, a sea bream sashimi rolled with tobiko (flying fish roe) and chojang (spicy Korean sauce), a real chef's madeleine (€25).
As main courses, we savor a tender beef, root vegetables, quail egg and braised jus (€38) or a " Seared Suziki " (seared sea bass), lemongrass mousse, glazed beetroot (€39). To roll with happiness: the harumaki dessert (fried spring roll) with apple, caramel and vanilla ice cream (€16).
Open Wednesday to Sunday from 7 p.m. to 1 a.m.

Also find out where to order the best sushi in Paris and the new Japanese restaurant on the Saint-Martin canal.