It's MISSION IMPOSSIBLE! Nabbing a table with 10 super good friends on a Friday or Saturday night at the heart of a trendy restaurant in the Marais—delicious and at an affordable price.
Bingo! We have found the nugget that meets all these requirements. Its name? Les Pinces, a little wink to the lobster, a house specialty. Because this new trendy dining room, in an upscale cafeteria style, combines 2 very New-York style concepts: the lobster bar + the steak-house.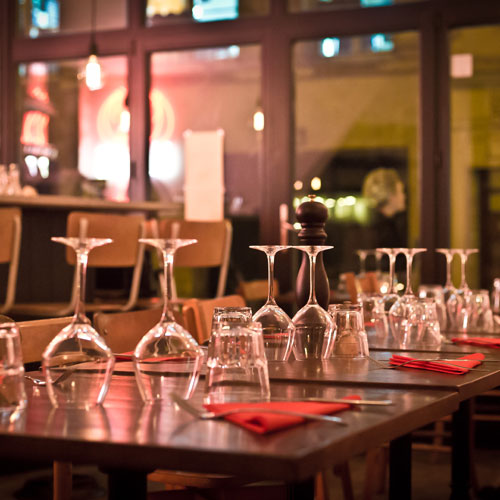 We like: the mini-menu of 3 cult dishes at a single price. (25€ per person), The ideal solution to make things easy when the tab shows up... Their common point? All the plates are served with a small salad and crispy fries.
The big dilemma! Choosing between the broiled lobster (500g) and its amazing house hollandaise sauce, the lobster roll (an offshoot of the hot-dog in lobster version), ultimate sandwich or the top notch prime rib of beef (500g) for chic carnivores...
The common point? They are all served with fab crunchy fries and a small salad. Rachel's top desserts feature cheesecake or an incredible home-made chocolate mousse (8€)
The plus: super cocktails at 10€ (vodka, raspberries, cranberry juice, lemon juice, basil, sparkling water, smoked whisky, white Lillet, pear juice…).
Very funny, you can watch the live lobsters in the fish tank.
Open every night from 7pm to 10:30pm. Saturday and Sunday from 12h30pm to 2:30 pm and from 7pm to 11pm.
Reservation starting at 6 persons: contact@lespinces.fr or at 09 83 56 47 93.
Also discover Roxo, the new restaurant of Les Bains.