An ultra-chic glass roof, a mini coffee shop, a café in the Hôtel de la Marine, a tea room on the Champs-Élysées... Here are the best places to have breakfast in Paris.
Breakfast in america : the most us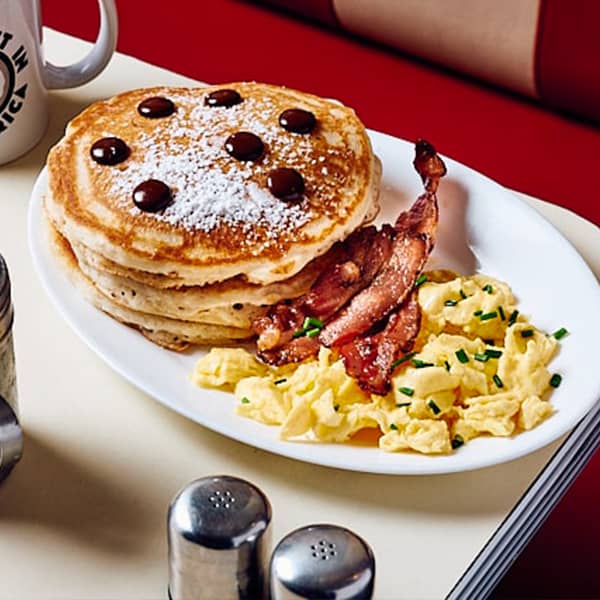 The place. Red booths, jukebox, pancakes... Breakfast in America is the original diner in Paris, created exactly 20 years ago by Craig Carlson, a young American student in Paris who dreamt of devouring a true American-style hearty breakfast. Bingo: devoted fans religiously gather at the breakfast spot or for brunch at its two Parisian locations in Le Marais and the Latin Quarter, where the super-friendly staff welcomes guests in English in an always feel-good atmosphere.
At the table: you can order a trio of blueberry, chocolate, or banana pancakes (€10.50), divine banana French toast (€10.50), jam-filled muffins (€3.50), or devilish pancakes served with bacon or sausages (€11.50-€14). For eggs, there are 7 options, but we love the cheese-dripping breakfast burrito (€13), not forgetting to wash it all down with a peanut butter and chocolate milkshake worthy of Grease (€6.50-€8). It's hard to find a more effective hangover cure.
Breakfast in America, 4 rue Malher, Paris 4th. 17 rue des écoles, Paris 5th. Open every day from 8:30 am to 11 pm.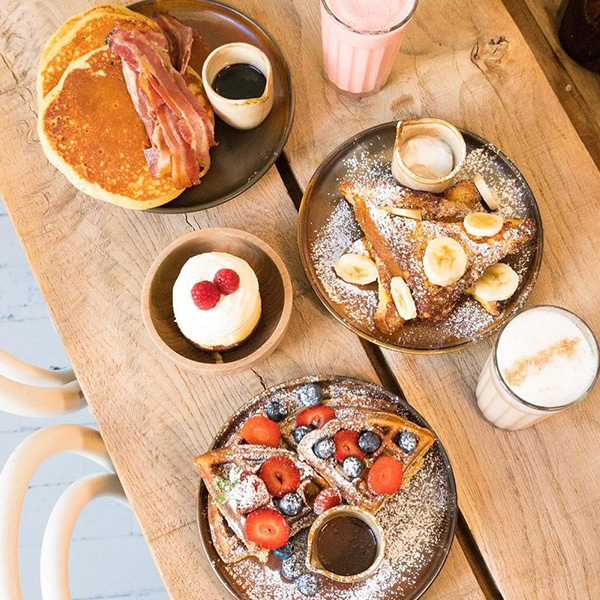 The Place: Raw materials, sleek colors, wicker chandeliers, and wooden mirrors... Marcelle is the hyper-cosy coffee shop where you can relax at any time of the day. The lovely team welcomes you for a delicious, 100% homemade breakfast. The sweet treats on display at the counter are impossible to resist!
On the Menu: Banana Chocolate Granola (11 €), Chestnut Lemon Cake or Pecan Vanilla Marble Cake (5.50 €), Cheesecake (7.50 €), as well as super waffles with their hazelnut spread (12 €), eggs in all shapes and forms with bacon, sausage, salmon, or avocado (13-17 €). To accompany your meal: lemonade, freshly squeezed juices, and great coffee.
Marcelle, 22 rue Montmartre, Paris 1st open every day from 9am to 6:30pm and 159 rue de Grenelle, Paris 7th, open every day from 8:30am to 6pm.
© Edward Wendt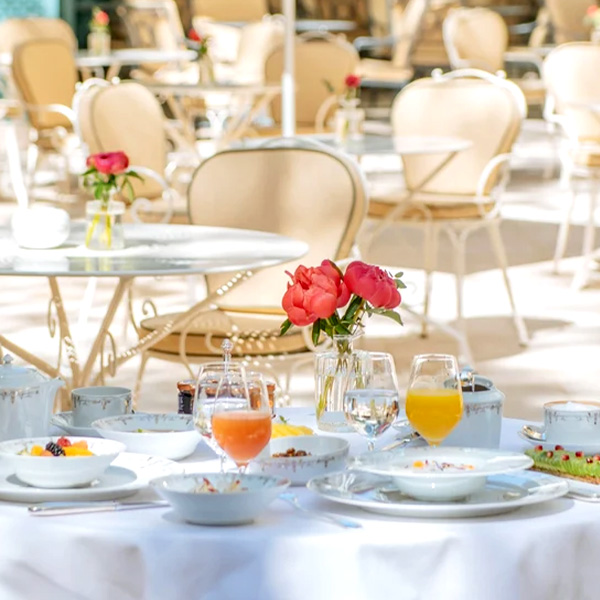 The place : It's an experience to try once in a lifetime! Put on your prettiest stilettos and enjoy the most chic breakfast in Paris under the Belle Époque glass roof or on the divine terrace of Bar Vendôme at the Ritz...
On the menu: the Vendôme breakfast with fresh fruit juice, pastries, yogurt, cereals, or fresh fruit salad (48 €). Alternatively, à la carte options include eggs Benedict (starting from 28 €), sliced fresh avocados (12 €), an exotic fruit platter (38 €), or traditional French toast (25 €). And because it's the Ritz, indulge in a glass of champagne (28-35 €).
Bar Vendôme, 15 Place Vendôme, Paris 1st, open every day from 10am.
Bon Bouquet: the most Insta-friendly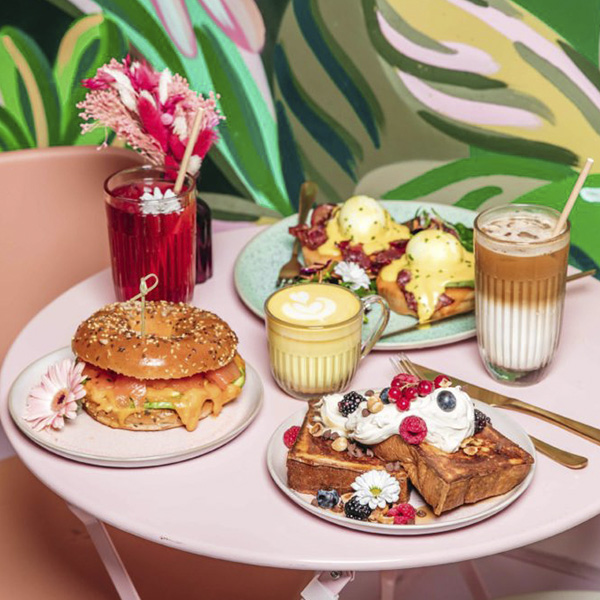 The place : An explosion of colors for an ultra-gourmet brunch! Pink façade, pink interior, pink smoothie: welcome to the #BarbieCore lair! To enjoy huge plates of pancakes, this is the address not to be missed. The super pretty dishes are designed to be captured and posted on Instagram within minutes!
On the menu: eggs Benedict with curry coconut hollandaise sauce (14.50 €), sweet and spicy bagel (14.50 €), grilled halloumi, soft-boiled eggs, or smoked salmon (2 - 3.50 €), not to mention the option to add beef bacon to all savory options. For sweet options, go for huge pancakes or coconut mango or choco berry French toast (12.50 €), not forgetting the Bali granola bowl (11 €) with peanut butter topping (1.50 €). As for beverages, we particularly enjoyed the pumpkin spice latte, pink latte, and matcha with coconut syrup (5 €).
Bon Bouquet, 29 Rue de Trévise, Paris 9th, open every day from 9am to 5pm.
Café Lignac: the most bankable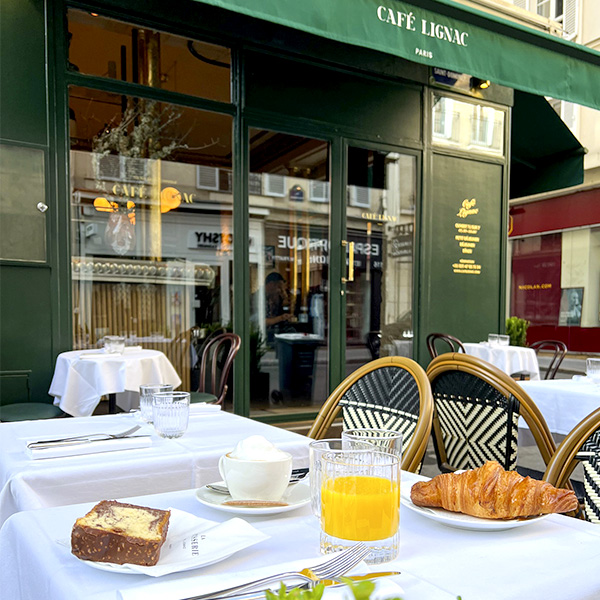 The place : It's more about passing down a legacy than changing ownership. To hand over the keys of his legendary café on rue Saint-Dominique, Christian Constant chose Cyril Lignac to take up the mantle. The Parisian ladies' favorite chef doesn't betray the spirit of Café Constant but elevates the Parisian bistro cuisine like never before in a magical "titi" decor.
On the menu : The great classics of the Parisian breakfast, supplied by the chef's insane bakeries and chocolatiers #gourmandcroquant. For €12: the chef's legendary marbled cake, viennoiseries or toast, fresh juice, cappuccino, espresso, homemade hot chocolate or Mariage Frères tea. À la carte: the traditional hard-boiled egg like in a Claude Sautet movie (€1.50) or a chocolatine (€3.50).
Breakfast served every day from 7:30am to 11am.
Café Lignac, 139 rue Saint-Dominique, Paris 7th, 01 47 53 73 34
Café Lapérouse: the most fashionable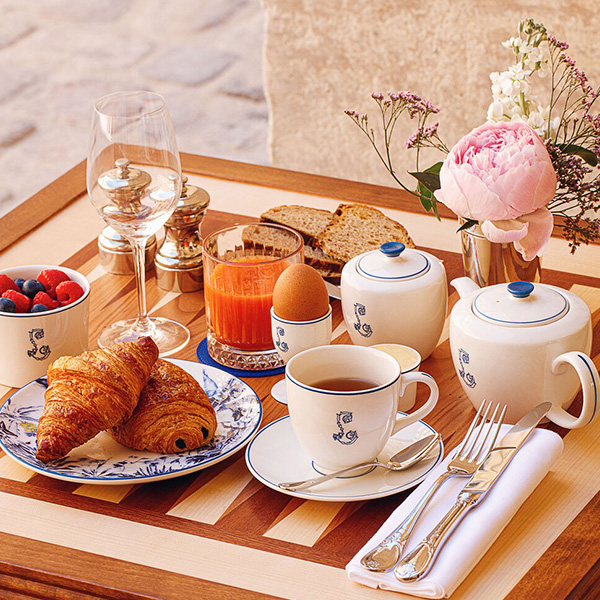 The place: Located at the entrance of the Hôtel de la Marine with two terraces and a dreamy decor designed by Cordelia de Castellane (D.A. of Dior Maison), Café Lapérouse is the perfect meeting place for chic Parisians. The must? Gather for breakfast on the hotel's hidden and paradisiacal terrace, accessed through a small secret passage on Place de la Concorde to awaken around a good coffee before heading to the bookstore...
On the menu: Absolutely order the boiled eggs to pimp with your choice of garnish (chives & salted butter, smoked salmon (€6), truffle (€10), bacon (€6) or caviar (€65)), a sweet brioche (€5), an avocado toast (€14) or a gluten-free bread toast (€9). The Lapérouse breakfast formula is very complete and perfectly sets you up for the day: boiled egg + mini-granola + viennoiserie or toast + Bordier butter & organic jams + fresh fruit juice + coffee, hot chocolate or tea (€28).
Breakfast served every day until 11am.
Café Lapérouse, 2 Place de la Concorde, Paris 1st.
Maison Verlet: the most vintage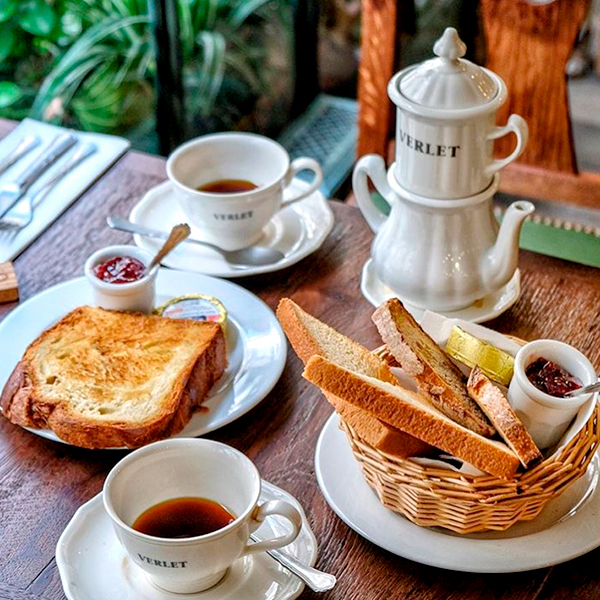 The place : In its decor worthy of a time machine, the cult Verlet roastery serves the most refined coffee varieties, artisanally roasted in their Palais-Royal roasting house, following the purest traditions of the spice route... Upstairs, a cozy lounge allows you to enjoy a royal breakfast, served as demanded by Angélique Marquise des Anges.
At the table : Nanterre brioche, Echiré butter and jam (€5.50), soft-boiled eggs and soldiers (€5.50), roasted pineapple French toast with salted butter caramel (€7.90), and seasonal fresh fruit salad (€6).
Breakfast served from 10am to 3pm.
Café Verlet, 256 rue Saint-Honoré, Paris 1st, 01 42 60 67 39.
Café Compagnon: The Most Parisian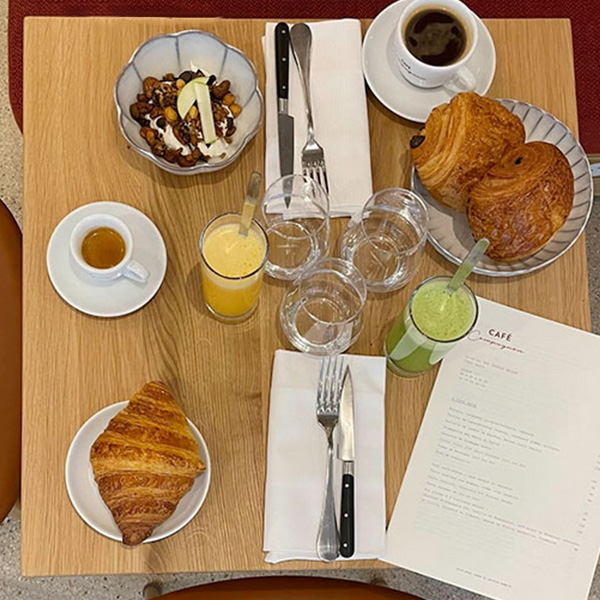 The Place: The coffee shop in Sentier opened by Charles Compagnon (Richer, 52 Faubourg) is a new fashion hub that has everything going for it, from its exquisite decor by Gesa Hansen to its sun-drenched terrace, and its organically roasted coffee on-site, crafted by a master roaster.
On the Menu: Cappuccino and filtered coffee that can rival the best coffee shops, crazy fresh fruit and juice pressed on the spot (celery apple carrot), Stohrer viennoiseries (3 €), marbled cake (4 €), buttered toast, homemade spreadable hazelnut chocolate, super granola (6 €), and cheese plates (14 €).
Breakfast served daily from 8 am.
Café Compagnon, 22 rue Léopold Bellan, Paris 2nd.
Ladurée: The Most Marie-Antoinette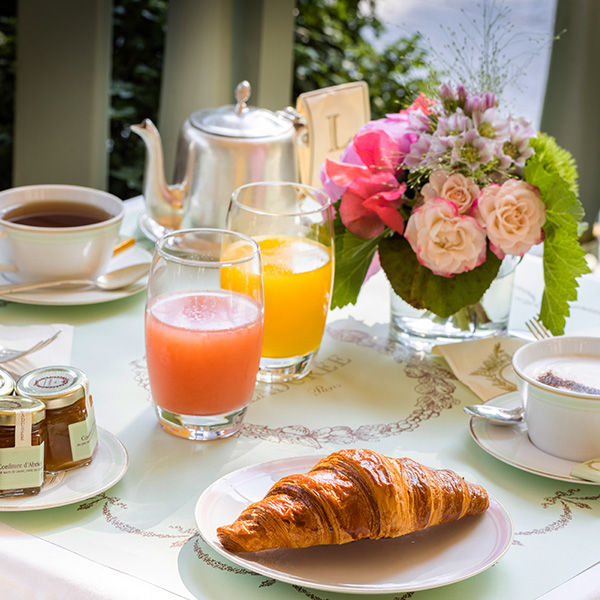 The Place: Whether you're in the Castiglione lounge on the Champs-Élysées, upstairs on Rue Royale, or in the adorable Castaing lounge on Rue Bonaparte, you won't be able to resist the sumptuous and cozy decor that transports you to an atmosphere between Sofia Coppola's Marie-Antoinette film and Bridgerton Chronicles.
On the Menu: Everyone will find their happiness in this French breakfast paradise. On the menu: caramelized butter bread pudding (14 €), soft-boiled eggs Benedict with hollandaise sauce and LaDurée brioche bread (15 €), Ladurée chocolate frappe (8 €), pistachio or cinnamon flavored iced coffee (8 €), chocolate croissant (3,50 €), walnut croissant (4,50 €), and of course, macarons.
Breakfast served daily from 8 am to 12 pm.
Ladurée Champs Elysées, 75 avenue des Champs-Élysées, Paris 8th. Ladurée Royal,18 rue Royale, Paris 8th. Ladurée Bonaparte, 21 rue Bonaparte, Paris 6th.
Gramme: The Tiniest and Most Foodie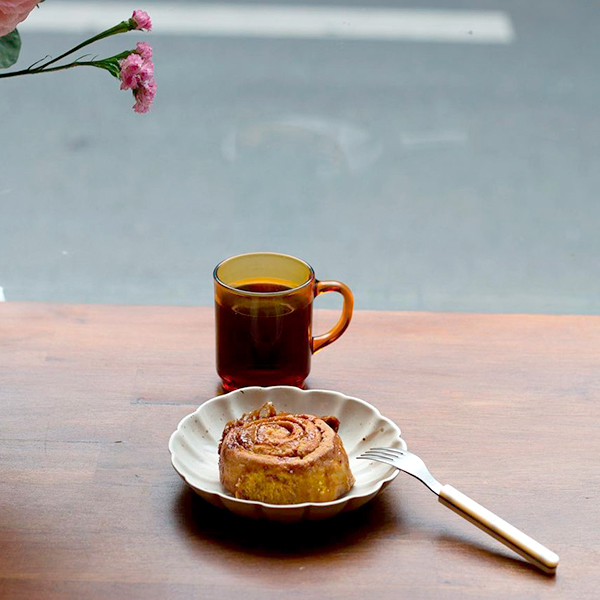 The place: Tucked away on Rue des Archives in Le Marais, this pocket-sized café-canteen, created by Marine Gora and Romain Tellier, serves up delicious homemade food made from seasonal ingredients. It has become a must-visit spot for foodies and influencers alike, including the collective The Social Food, who recently shot their latest almanac there. In short, it's the destination for cool people.
On the menu: Morning grilled sandwiches with porchetta and melted emmental, or sautéed broccoli sprouts, spinach and melted scamorza cheese, beetroot chilly jam and shiitake mushrooms, hot oatmeal porridge with coconut, chestnut and peanuts, grammola-rhubarb jelly with petit suisse, and shiitake rice soup... And for drinks, try a Flatwhite coffee (€4.50) or an Iced Matcha (€5).
Don't miss: Gramme's top three bestsellers.
Open Wednesday to Friday from 9am to 11:30am, and Saturdays and Sundays from 10am onwards.
Gramme, 86 Rue des Archives, Paris 3rd arrondissement
Les Deux Magots: The Most Germanopratine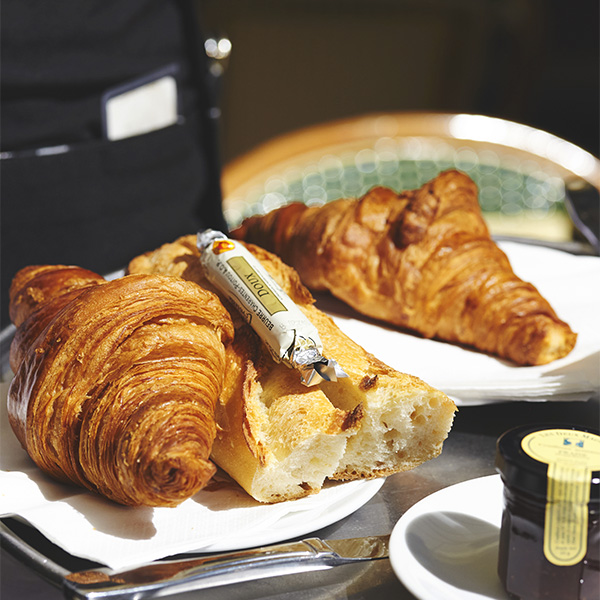 The place: The legendary literary café Les Deux Magots needs no introduction. This iconic institution on the Left Bank remains the most prominent restaurant in the 6th arrondissement, where Simone de Beauvoir was a regular, an icon followed by writers, actresses, and #girlbosses of note. The banquette seating and exquisite glass ceiling make for a peaceful and bright haven in winter.
On the menu: Impressive set menus starting from €14 with croissants and other viennoiseries from La Grande Épicerie, Charente buttered toast... Special mention goes to their organic egg menu, including made-to-order omelettes, fried eggs, or hard-boiled eggs (from €3 to €16), and filter coffee served in a pot (€5).
Open Monday to Friday from 7:30am to noon.
Les Deux Magots, 6 Place Saint-Germain-des-Prés, Paris 6th arrondissement.
Ten Belles Bread: the most hipster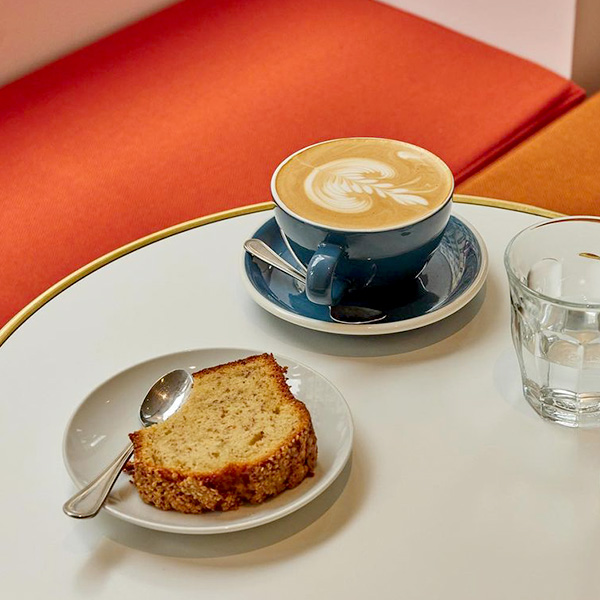 The place : Run by Anna Trattles, Alice Quillet and her husband Anselme Blayney, you're in the heart of the coolest and trendiest coffee-bakery in Paris, loved by Le Fooding and supplier of Clamato, that says it all. In addition to the fact that the trio turns everything they touch into deliciousness (have you tried their sandwiches?), the uniqueness of Ten Belles is to mix the best of France and their US origins in the heart of 3 amazing locations.
On the menu: scones, rhubarb crumble, cookies, cakes, cinnamon rolls and danish bread which is a croissant dough with vanilla cream and fresh strawberries (between €3 and €4.50), all accompanied by a really good coffee. Espresso, filter coffee or a top-notch latte, your choice will be the right one (between €3 and €5).
From Monday to Friday from 8:30 am, and on Saturdays and Sundays from 9 am.
Ten Belles, 10 rue de la Grange aux Belles, Paris 10e; 17 rue Breguet, Paris 11e; 53 rue du Cherche-Midi, Paris 6e
Season: the most American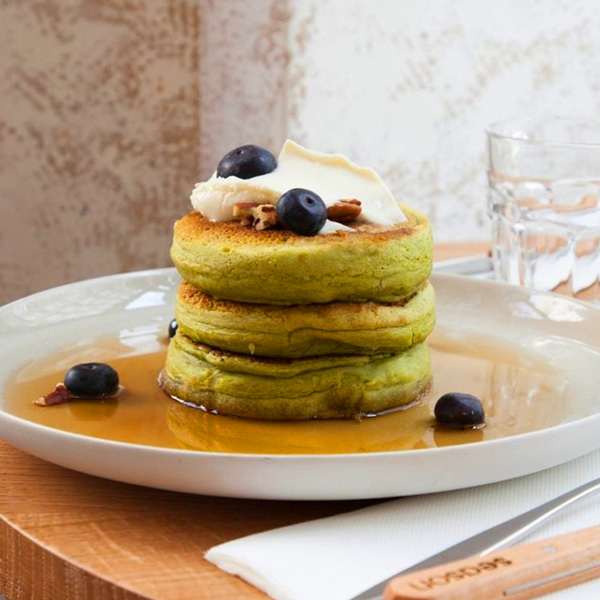 The place : The most popular coffee shop in Paris, opened by Cathy Closier in the Marais, then on Rue des Martyrs, is a phenomenon. The continuous parade of it-girls, top models, powerful women and passing instagrammers during breakfast is a testimony to its popularity.
On the menu: New York classics revisited with a Parisian twist. Toast with jam or chocolate spread Nocciolata (€7.50), chocolate, moringa or caramel pancakes (starting from €13.50), avocado toast (€13), açaí bowl (€12) or banana bread (€6.50), not forgetting their scrambled eggs (€12). Note: Season Sweetness, a delivery and takeaway service (thank you Uber on lazy days). A total treat (starting from €6).
From Monday to Friday, starting from 7:30 am, and on weekends starting from 8:30 am.
Season Marais, 1 rue Charles-François Dupuis, Paris 3e; Season Martyr, 30 avenue Trudaine Paris 9e; Season Amelot, 67 rue saint Sabin 75011 Paris
La bête noire: the most secret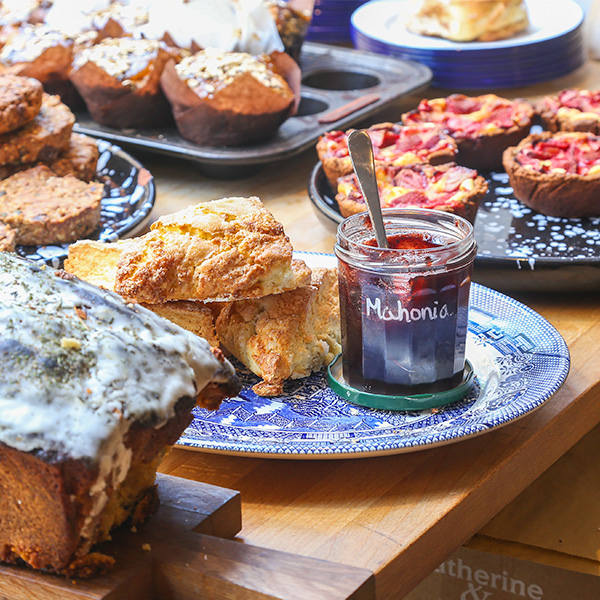 The place : In the middle of the no man's land of Port Royal, La Bête Noire presents itself as the hideout of the cool crowd. This lovely cafe serving delightful pastries offers fantastic breakfasts throughout the week that haunt the entire neighborhood and is the go-to brunch spot on weekends. In short: a must-visit address to jot down in your notebook.
On the menu: traditional Polish babkas 2-3 times a week, cinnamon rolls, cereal cookies, organic eggs with sourdough bread (€7), a granola bowl with seasonal fruit and yogurt (€7)... The selection of pastries changes daily and pairs perfectly with a good latte and excellent tea.
Open Monday to Friday from 8:30 am to 11 am and weekends from 9 am to 11 am.
La Bête Noire, 58 rue Henri-Barbusse, Paris 5th. 06 15 22 73 61.
Discover the new street food spots that make Paris drool and The grocery store to eat at absolutely must be tried.