It's a fact. Chatting, knocking back drinks and smoking on a terrace happens to be one of the favourite pastimes of Parisiennes­—even in winter. To avoid conflicts with non-smokers or caching a cold, here is a short listing of restaurants and cafés ensuring well-heated and comfortable outdoor areas for those who feel like being outside as though they were nestled in a living room.
Francis Labutte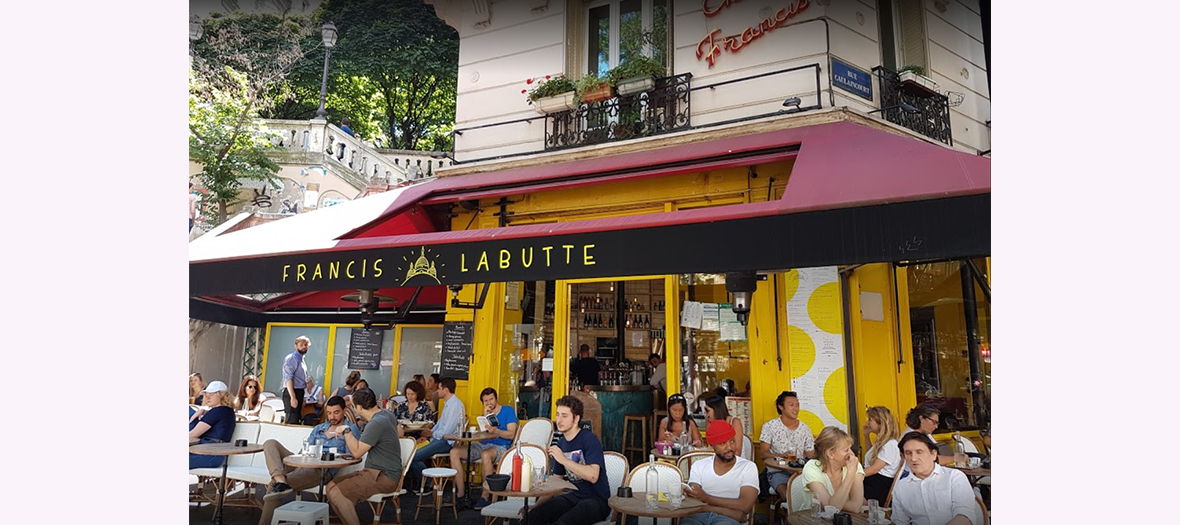 The place: facing Francœur, this cute yellow café made in Lamarck-Caulaincourt is the real hangout of inside-track Montmartroises and good-looking guys attending the La Femis cinema school.
The added plus: the roguish happy hour from 6:30pm to 9pm that enables you to accompany your glass of wine or pint of beer with saucisson slices or crunchy fries, all for 5 €. Much better than peanuts, no?
122 Rue Caulaincourt, 75018 Paris. 01 42 23 58 26.
Open every day non-stop from 8am until 2am.
Marcella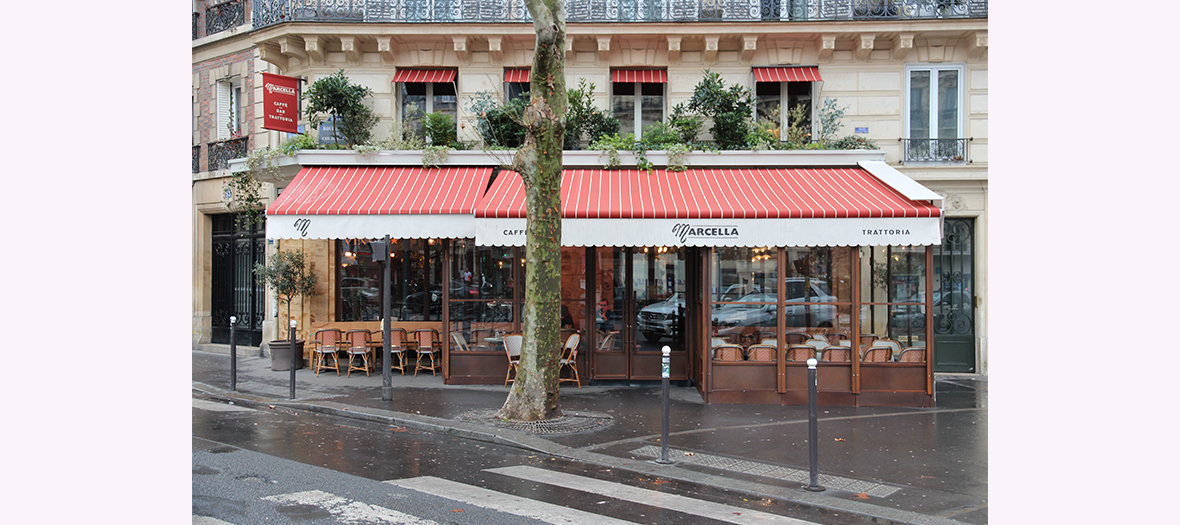 The place: a huge heated terrace at Villiers, very Parisian, where they serve all the best-sellers of Italian trattorias, orchestrated by chef Massimo Curti, a native of Lombardy.
The added plus: the spot for a long lasting aperitivo just like in Milan. On the programme: Spritz, Bellini (€10), burrata with truffle to be shared (€12), plates of Italian charcuteries and cheese (€19).
1 Boulevard de Courcelles, 75008 Paris. 01 40 08 08 25.
Open every day non-stop from 7am until 1am.
Astair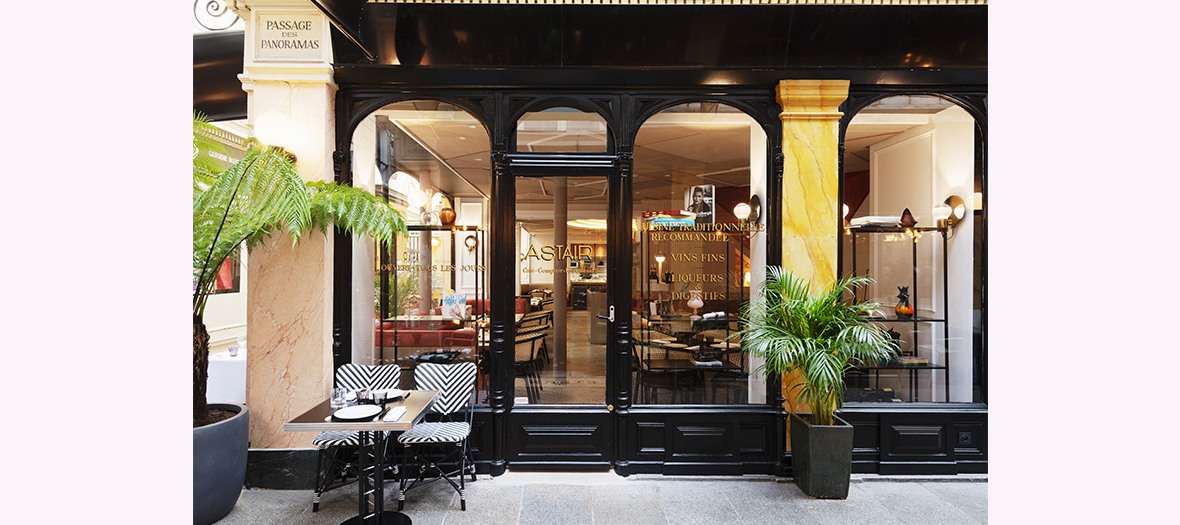 The place: freshly installed in the scenic Passage des Panoramas, the most foodie artery of Paris (Racines, Caffè Stern, Bisou), the new address Astair is creating the buzz. Installed across from the artist entrance of the Théâtre des Variétés, this very socialite brasserie, opened by Jean Valfort, has entrusted eats to Jean Goujon and the decoration to Tristan Auer.
The added plus: the 25 places on the terrace at the heart of the passage where you can really have dinner! À la carte: just the kind of good bourgeois dishes we love: omelet-salad (€16), blood sausage-mashed potatoes (€18), veal blanquette (€26) or the prime ribs of beef from Galicia (€49).
19 Passage des Panoramas, 75002 Paris. 09 81 29 50 95.
Open every day from 10am to 00:30 am and on Sunday and Monday until 11pm.

Nemours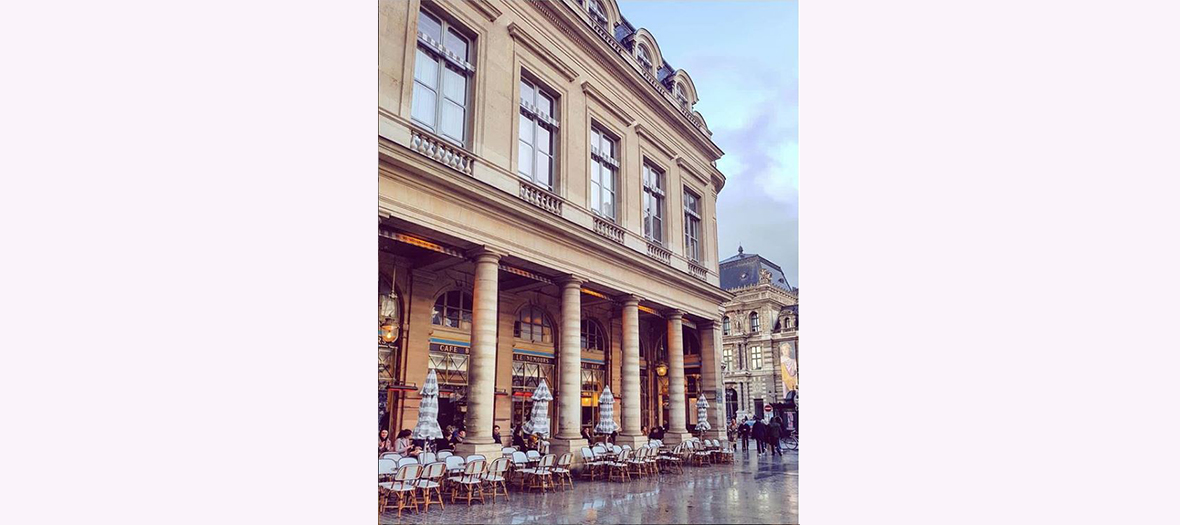 The place: this typically Parisian and brainy socialite rendezvous is installed under the historical arcades at the entrance of the Palais Royal and in front of the famed Comédie-Française! A café with a chic ambiance and old style waiters, the daily papers, a wide array of fab croque-monsieur (€11), quiche lorraine (€14), tartare (€18 ), as well as terrific baguette sandwiches (chicken with curry mayo, ham, tomatoes eggplant, €8)
The added plus: a Right Bank version of the Flore. Here you run into the fashion studio teams coming for an after work, actresses being interviewed and comedians from the troop of the Comédie-Française (Guillaume Gallienne, Denis Podalydès…).
2 Place Colette, 75001 Paris. 01 42 61 34 14.
Open non-stop every day.
Bouillon Pigalle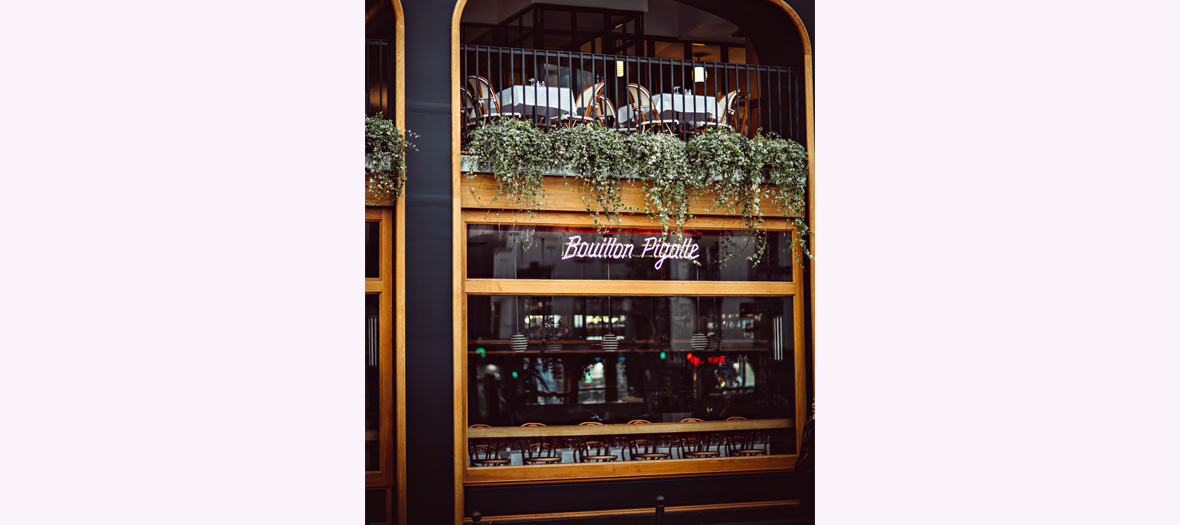 The place: 18 months ago, the Moussié gang (Jeannette, Brasserie Barbès, Providence put the (forgotten) Parisian "bouillon" on the market. Here you get an XXL brasserie at tiny prices in a stunning decor. Since it opened, all the Paris trendies have made it their fave hangout spot
The added plus: its protected and super warm terrace with cover on the first level of the restaurant, an unexpected haven of peace on Place Pigalle. Go for the egg mayo (€1.90), leeks vinaigrette (€3.40), steak and fries (€10.50), Chantilly cream puffs (€2.90).
©Benoit Linero
22 Boulevard de Clichy, 75018 Paris. 01 42 59 69 31.
Open from noon to midnight every day.

Marcello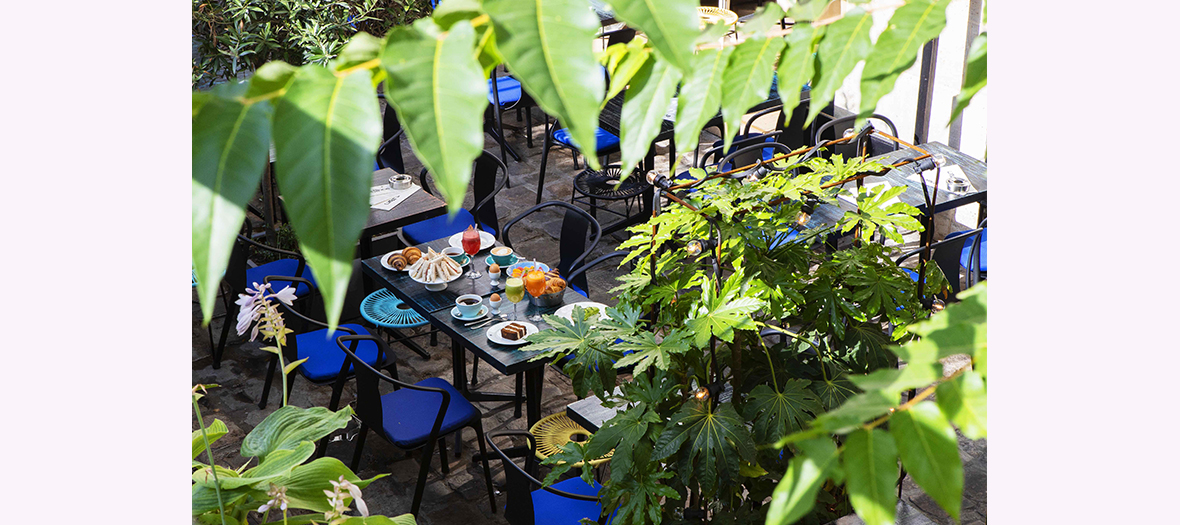 The place: highly romantic with its fountain and pretty lights, the heated terrasse of Marcello is hidden below the sidewalk, sheltered from the wind and car noises. Not surprising that all the Paris trendies come sit in its cute courtyard for aperitivo. Close your eyes, you are in Venice.
The added plus: terrific nibbles to enjoy while sipping your Spritz (€13) or a glass of Italian red wine, this is where it's happening. Burrata (€12), fried whitebait (€6), arancini with truffle (€9), plate of cheese (€12) or charcuteries (€15). The hardest part will be leaving.
© Lisa Klein Michel © Gabriel Pistre
8 Rue Mabillon, 75006 Paris. 01 43 26 52 26.
Open every day from 8m to 11pm.
Hôtel Providence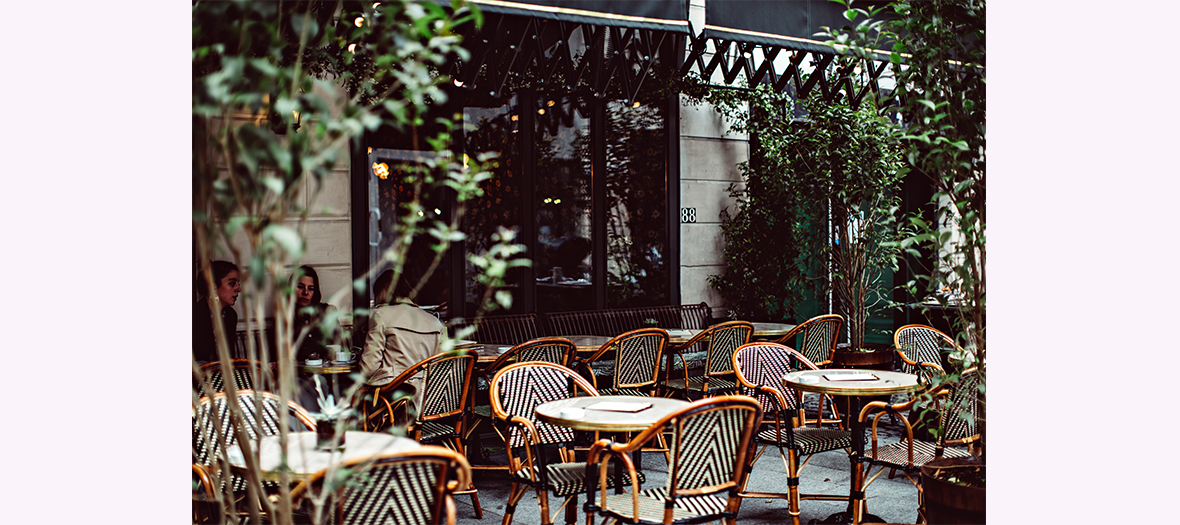 The place: the trendiest hotel in Paris, general headquarters of fashion editors and Garance Doré, is constantly filled. Especially for its pedestrian terrace, a small well heated paradise preserved from the frenzy of the Grands Boulevards, a skip and a hop from Strasbourg Saint-Denis. In short, the coolest hot spot of the 10th.
The added plus: the happy hour formula with salmon on small toasts, pigs in a blanket, crab morsels with cucumber, Cantal cheese puff, buckwheat galettes, radishes with butter au €12 for 10 pieces to be washed down with a Spritz (€12) or a glass of rosé (€8).
90 Rue René Boulanger, 75010 Paris. 01 46 34 34 04.
Open every day lunch and dinner.

Le Trader's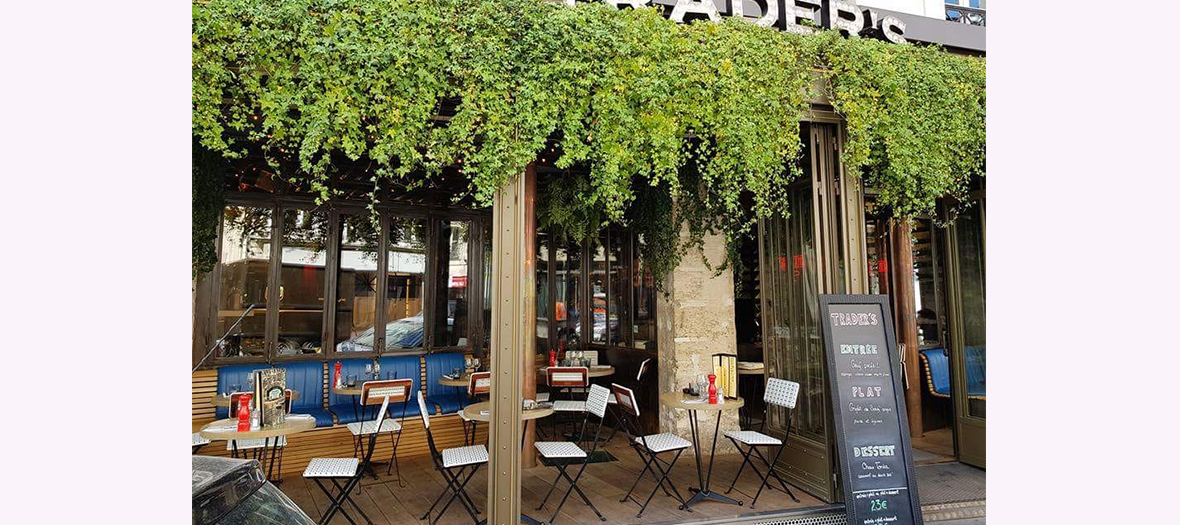 The place: hidden on a street near Bourse, the small terrace of the Trader's is entirely preserved from cold and noise – but here

you can actually smoke. Small groups of buddies gather in this restaurant / cocktails bar to chat around tapas, well stocked plates and shaken potions, all with an excellent quality/price ratio. Special kudos for the Spring is coming cocktail with gin, lime, ginger beer and flower of sorrel (€11).
The added plus: perfect for a first date, the formula from 7:30 pm to 9pm with two creative cocktails + tapas for €23.
3 Rue de la Bourse, 75002 Paris. 01 40 26 72 80.
Open every day non-stop, closed on Sunday.
Bambou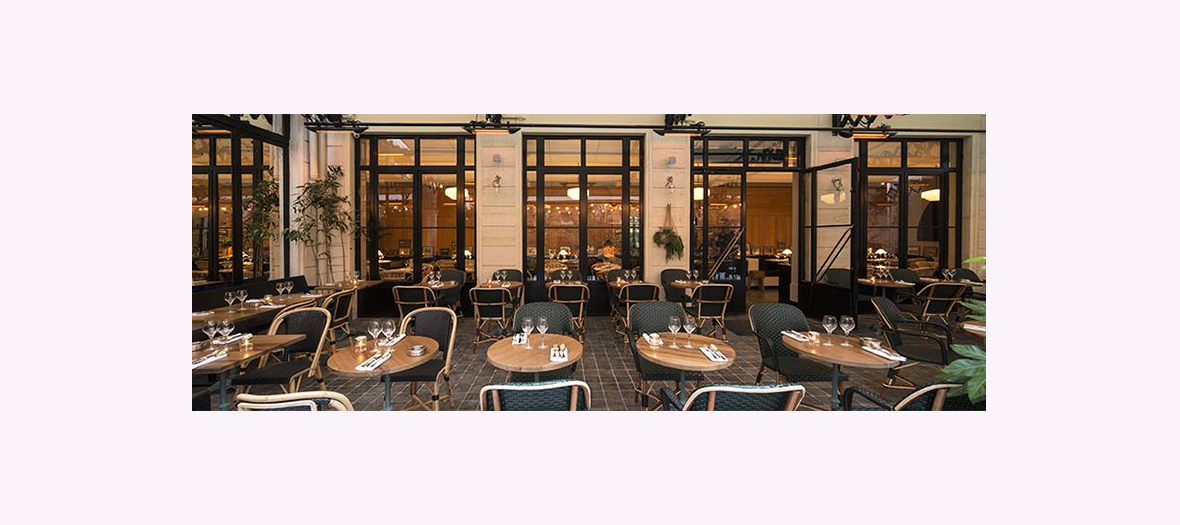 The place: you are at the heart of the hottest Thai restaurant of Paris, installed in a former clothing workshop of 500m² transformed into an "opium" den in the line of Tintin's Blue Lotus Bleu. Aside from its incredible smoke room, the restaurant features a heated terrace in the interior garden. A must for die-hard smokers.
The added plus: the Thai cuisine of Antonin Bonnin. The must? Sharing their best-sellers: steamed veggies (€15), Thai pad (€18), sesame sauce chicken (€12), shrimp and chicken salad with green lemon, peanut and coconut (€12), sticky rice mango with coconut milk (€11).

23 Rue des Jeuneurs, 75002 Paris. 01 40 28 98 30.
Open every day lunch and dinner.
Hors Piste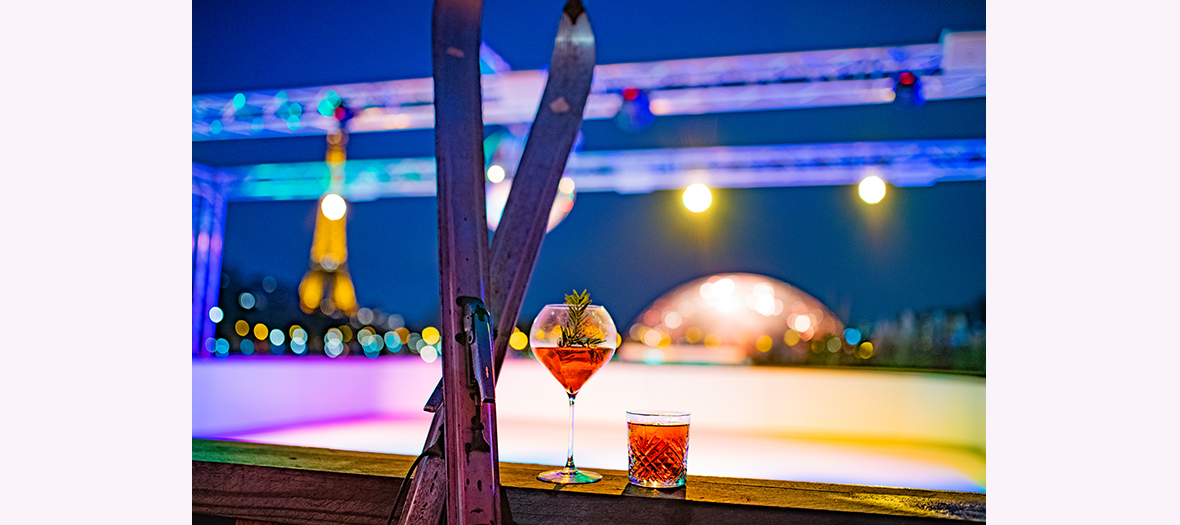 The place: Monsieur Mouche in a winter version offering a high altitude "after-ski" atmosphere worthy of La Folie Douce. With a background of DJ sets, you can appreciate the ambiance while sipping a cocktail (€13) or warm wine (€5), without forgetting mountain specialties: tartiflette (€22), baked Mont d'Or (€28) to nibble on and feel you are in Val' or Méribel.
The added plus: the incredible skating rink installed on the boat, 120m² of glossy ice that gives you the impression of gliding on the Seine with a breath-taking view overlooking the Eiffel Tower. Frosty and Instagrammable sensations guaranteed (€15 for access to the skating rink + skate rental).
Bateaux Mouches, Port de la Conférence, 75008 Paris. 01 42 25 96 10
Open Wednesday from 3pm to 9pm, Thursday and Saturday from 6pm to 0:30am, and Sunday from noon to 8 pm.


Also discover the best burgers and the best baguette in Paris