Do you remember the time when, to bite into a piece of the American dream, you still had to bang XXL queues in front of Schwart's Deli or Breakfast in América … for frankly not crazy dishes? That era is over!
The new generation of Franco-Californian-Jewish cool kids is sweeping the capital with a new wave of American -style delis sending junkness, nostalgia and often gastro-bomb wrapped between two buns. Imminent take-off for the best street food addresses like in New York !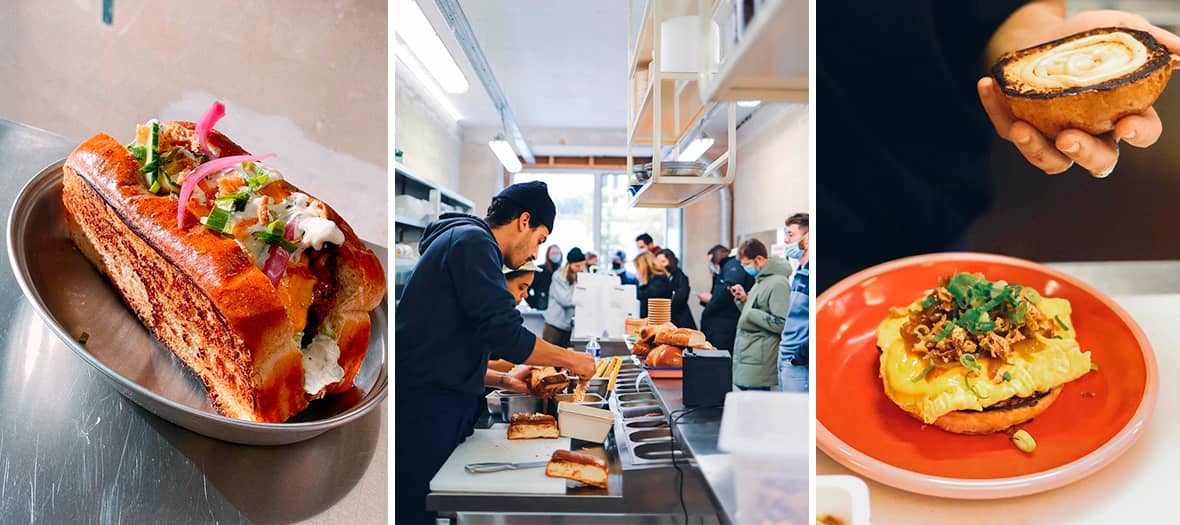 The vibe: fresh from rue de Châteaudun , Delphine Laguerre makes this culinary no man's land groove in her modern-day diner with faded walls, cozy sofas and good vibes. Behind his all-stainless kitchen-counter, the most relaxed host in Paris sends the sauce: a latte (coffee from Ten Belles ) very fluffy here, two fried eggs there, between two jokes thrown at everything goes.
The US taste: à la carte, very, very dripping American junk food brooded in a generously buttered bun or roll signed Bread Shop with crispy-melting fried chicken and its creamy sauce inspired by McDo (€11), pastrami caught at the butcher friend (€12) or as an extra in the egg & cheese, where an omelet is paired with an avalanche of Scottish cheddar (€11). At the start of 2023, tuna melt, pulled beef or even mac & cheese to pimp yourself (with truffles… mmhm) will join this kif brigade.
Sandwich + side + drink menus at €14 or €15. Saturday brunch menu at €20.
Kern , 35 rue de Châteaudun, Paris 9th. Open Monday to Friday from 10 a.m. to 3 p.m. and on the weekend from 11:30 a.m. to 3:30 p.m. 06 86 90 05 60.
© Instagram @indianabigot_
Le plus Venice Beach : Round Egg Buns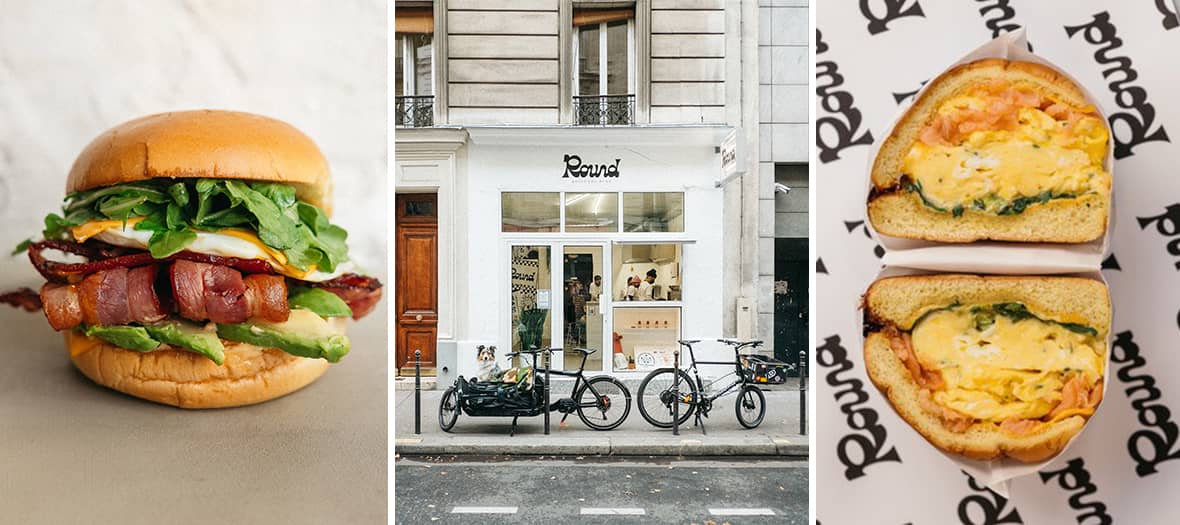 The vibe: two jumps from the Canal-Saint-Martin , all we need is the rays of the Californian sun to feel like we're on a trip to the cool Abbot Kinney street and its neighboring canals of Venice Beach . At Round Egg Buns , skateboards, LA posters and XXL t-shirts are displayed on destroy walls, incarnations of the coolness of Fabien and Olivier who have teamed up with smasheur-in-chief Polti to send egg buns and breakfast burgers to (almost) any time!
The US taste: egg, in all sauces, always wrapped up between two marvelous very fluffy and squishy potato rolls signed Martin's , the American KING of the genre! Among the 6 signatures, we sign for the impressive and mega comfy Scrambled (€8) where you can keep warm: scrambled eggs looking like a Japanese omelette and the creaminess of a very runny French omelette, caramelized onions, mountain of cheddar, american cheese and hot hot bacon supplement (+€2). Mushrooms, avocado, salmon, pickles… can be added as desired! The Sunny Smash (€11), a smash burger served with a fried egg and the Cheesy Salmon (€11) end up proving that this business is well done.
Menus from €12.50 to €15.50 (Egg bun + side + Drink or cookies +1€)
Round Egg Buns 25 rue Louis Blanc, Paris 10th. Open daily from 9:30 a.m. to 3 p.m. 07 49 33 00 58.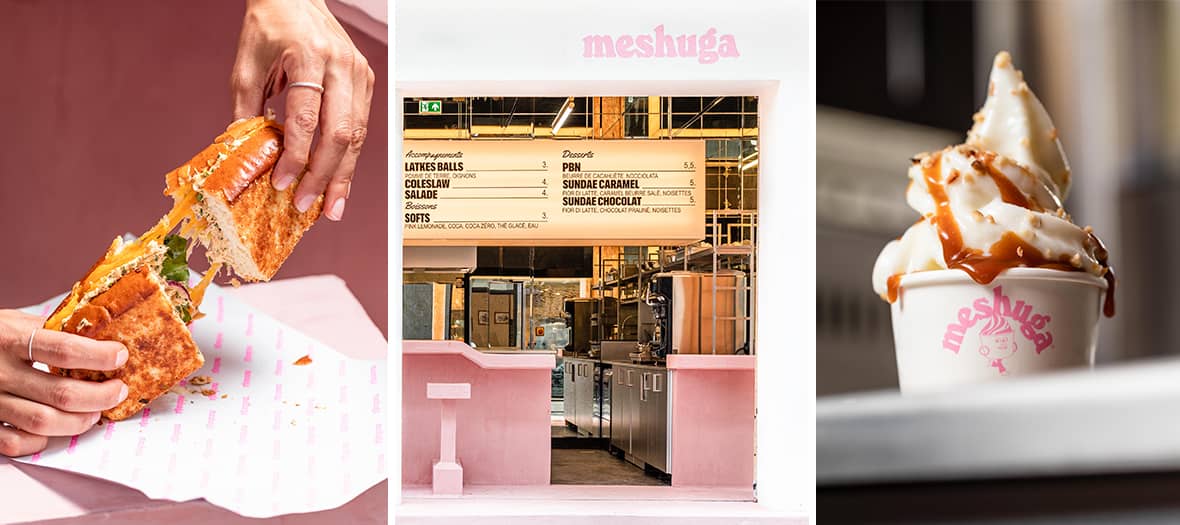 The vibe: on the outskirts of the so Parisian Jardin du Luxembourg , California now invites itself .
The decor of this street-facing deli, all pinkish and " completely crazy " – the American-Yiddish meaning of Meshuga – is worthy of the cutest motels in Palm Springs . Between two trips to Coachella , the couple behind this quirky US spot offer a sunny street food address on the left bank.
The US taste: the croc is inspired by delicatessen institutions made in NY ( Katz , Russ Daughters ) where classic US sandwiches and American-Jewish recipes intermingle, such as latkes , potato pancakes and crispy onions here redesigned in delicious balls to dip in a sriracha mayo (€3). Among the 8 madnesses nestled in a slightly sweet brioche roll and as cuddly as a date with your most coveted crush, we spin total in contact with the next bites: the ultra-cheesy tuna melt with Ortiz tuna, the tuna rolls with oil (€12, €14.50 on the menu), the reuben unveiling the must of Parisian pastrami signed Will in a tight fit with a secret Russian sauce (€12.50, €15 on the menu), the mega lobster-roll as fresh as can be at the time (€20 or €22.50) or even the effective grilled cheese and its slew of spring onions and shallots (€7.50 or €10 on the menu)! Retro-vibes guaranteed with the sweet sundae with chocolate or caramel fior di latte (€5).
Meshuga 3 rue Vavin, Paris 6th Open daily from 11 a.m. to 10:30 p.m.
© The Travel Buds
Le plus comfort food : Snack Attack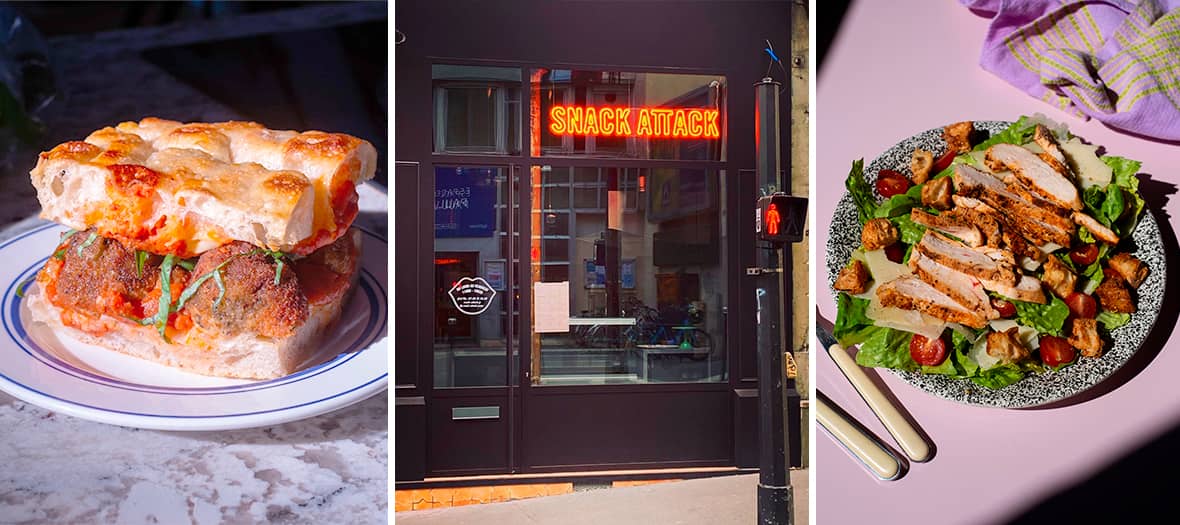 The vibe: ready for the most Rican welcome in the capital? Once past the dark facade of this micro-spot, brightened up with a red neon in the shape of a mouth, the tone is set. Orly Zeitoun , ex-photographer in Los Angeles turned self-made meal-in-chief of Snack Attack , brings out the fatal artillery: XXL smile and " Hello, how are you? " humming like over there, like a foretaste of the love incubated in his generous recipes sailing between Californian flavors, Mexican flashes and Judeo-Mediterranean reminiscences.
The US taste: among the surge of small bombs in the form of 'dwiches, tacos , salads and other dips & sides, succumb immediately to the indecent proposal of Orly: the Mega Mega, a nicely chubby focaccia pampering chubby meatballs with tomato sauce and an avalanche of smoked provolone (€12), even better than at Little Italy . Then treat yourself to a trip to the Mexican border with the XXL veggie or chicken burrito with burnt tomatoes and the Tijuana Caesar salad (€13), master of the genre in Paris. Don't miss Everyday is Your Birthday Cake (€5), a full chocolate layered cake as served in the coffee shops of our favorite sitcoms .
Mega tip: from Monday to Wednesday, in the evening, Orly brings out the Mamma-Rican version of the caterer's menu and simmers lasagna , salads , dips and other dumplings so that you just have to take out the beautiful dishes and wow the gallery without put on your apron.
Snack Attack 27 rue Marguerite de Rochechouart, Paris 9th.
Open Monday to Friday from 12 p.m. to 3 p.m. and in the evening, Monday to Wednesday from 6:30 p.m. to 8:30 p.m. 09 53 81 76 53.
The most Italo-New York: Sonny's Deli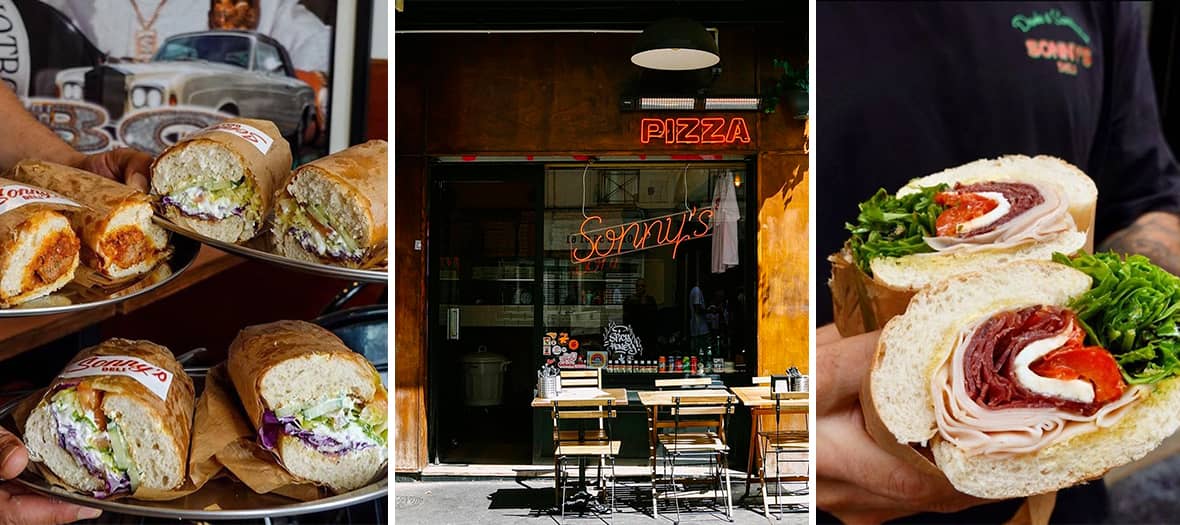 La Vibe: opposite Sonny's Pizza , their Brooklyn -worthy pizzeria in the 11th arrondissement, Jonathan Monte and Bryan Azzouzi, duo of friends bewitched by NY and its food culture, are doing it again with Sonny's Deli , their XXL sandwich counter as you would bite into the northeast coast of the States! In two bites, we recognize here the touch of the Italian-Rican delis not only emblematic of the Big Apple if not of all the Italian diaspora established on the continent. The atmosphere plays it more street than at the mamma's with
US rap in the background to groove while waiting for your meal.
The US taste: the 6 sandwiches (€12) made with the exclusive Bread Shop bread between the baguette and the brioche, are just right: the Meatball with meatballs, the Carmine with bresaola , turkey, marinated peppers, mozzarella and mayo, the Chicken Parm with breaded chicken, vodka sauce, pistachio pesto and mozzarella and parmesan… But if there was only one to marry, it would be the Chopped Cheese, cousin of the Philly Cheesesteak invented by two Italian brothers in the 1930s in Philadelphia. The cannolis (€4.50) and the Italian ice cream with fior di latte and olive oil (€4.50) round off this wonderful combination.
Sonny's deli , 5 rue de la Fontaine au Roi, Paris 11th. Open Tuesday to Sunday from 12 p.m. to 2:30 p.m. and from 7:30 p.m. to 11 p.m. 01 48 07 07 24.
© Mathieu Vilasco

Also discover the best burgers in Paris and the best kebabs in Paris