Easy to grab and endlessly delightful, the baguette sandwich is the go-to "casse-dalle" that we can't get enough of! Embracing a range of fillings, from classic to bold, the king of sandwiches solidifies its status in these Parisian spots that pamper it with the finest ingredients and utmost care. Here's a selection.
Les Pimpains: The Newest Arrival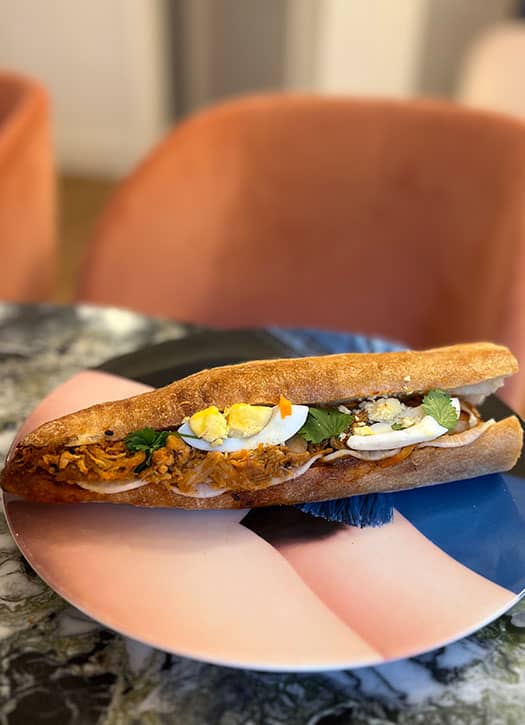 When Alexandre, a former L'Arpège chef trained by Paul Bocuse, joins forces with his foodie friend David to launch their artisanal sandwich shop, you know it's a promise worth keeping. Situated near major department stores with a proper seating area, Les Pimpains offers well-crafted snacks, upholding Thierry Breton's tradition with carefully selected seasonal ingredients. Among our favorites are the Gribiche with mortadella, gribiche sauce, sumac red onions, and parsley, and the Rich' Mon Rich' with cold roasted chicken, satay sauce, grated carrot, and hard-boiled egg (€8, set menu €10.50). Don't miss the daily soup or egg mayo on the side (€3.50).
Les Pimpains, 7 rue Greffulhe, Paris 8th. Open Monday to Friday from 9 am to 2:30 pm. Closed on weekends.
Ficelle: The Gourmet Choice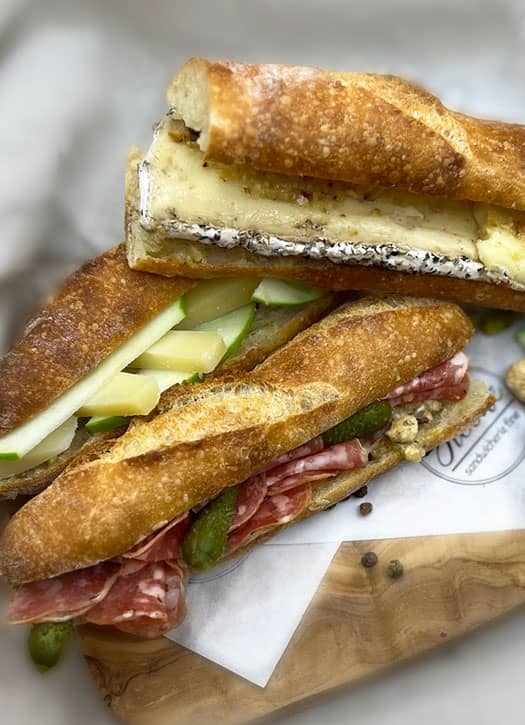 Christophe Tomas and Sébastien Marois left everything behind to pursue their passion for sandwiches. In their new counter on Faubourg Poissonnière, the exclusive ficelle from Maison Landemaine replaces the traditional baguette, embracing exceptional ingredients sourced directly from French, Italian, and Spanish producers. Our top picks include the Rosalie with grilled vegetables, tahini sauce, and a touch of date molasses. On the gourmet side, there's the Marcel with white ham, butter, and truffle-flavored gouda, competing with the Henri featuring smoked Simmental beef, parmesan shavings, and olive oil (set of 3 mini-sandwiches with water or chips, €12.90, individual mini-sandwiches starting from €3.90). And don't let the chocolate-hazelnut spread mini treat slip away.
Ficelle, 48 rue du Faubourg Poissonnière, Paris 10th. Open Monday to Friday from 10:30 am to 3:30 pm.
The French Bastards: The Devilish Delight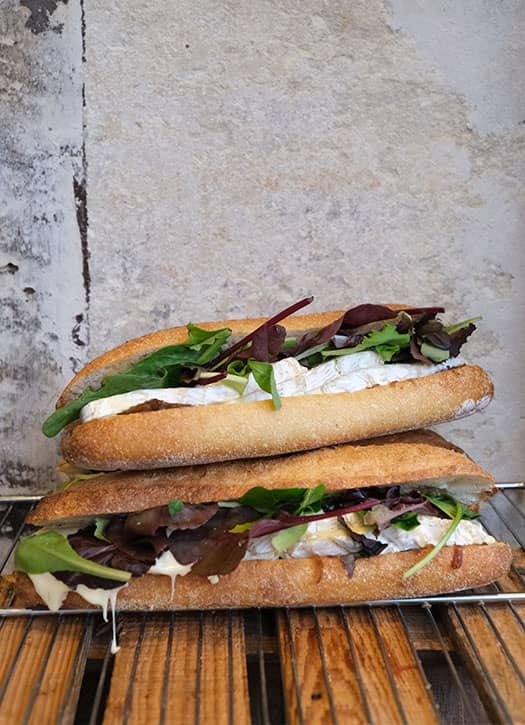 The rebels of bakery, known for their foodporn approach, have expanded to the Left Bank with a sleek 120m2 establishment on rue de Sèvre. One of their signature sandwiches, the Tradition Camembert, boasts a generous baguette enveloping slices of Isigny-Sainte-Mère camembert, topped with a flavorful onion confit and refreshing mesclun (€7.90). Pair it with a good glass of red!
The French Bastards, 60 rue de Sèvres, Paris 7th. Open Monday to Friday from 8 am to 8 pm, Saturday from 8:30 am to 8 pm.
Rôtisserie Segar: The Roast Chicken Marvel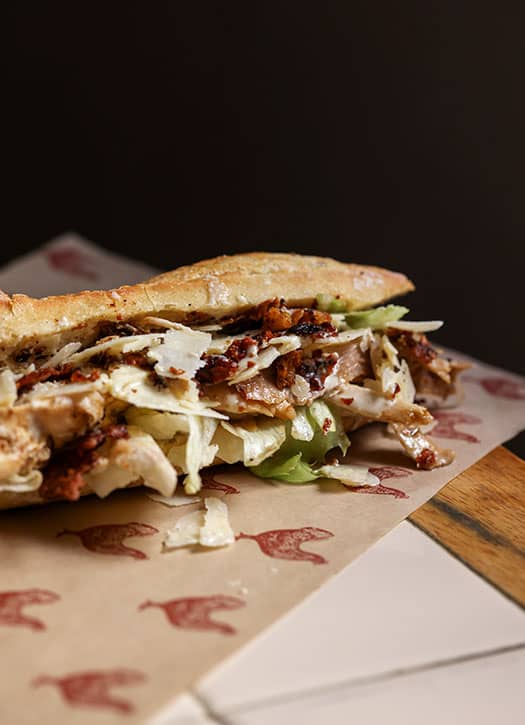 Located in the Mouffetard neighborhood, this stylish rotisserie by the duo Elena Aaroz and Victor Seguineau serves up bomb sandwiches alongside its impressive roast chicken. Three recipes, nestled in a custom-made baguette from Maison Morange, feature crispy bread with just the right amount of crust. The Caesar Sandwich, with homemade Caesar sauce, fresh iceberg lettuce, shredded rotisserie chicken, 30-month-aged parmesan, and crunchy roasted chicken skin chips (€8), is a resounding yes!
Rôtisserie Segar, 111 rue Mouffetard, Paris 5th. 09 87 78 01 21. Open Tuesday to Saturday from 10:30 am to 2 pm and 4:30 pm to 7:30 pm, Sunday from 10 am to 2 pm. Closed on Mondays.
The Rascal: Caractère de Cochon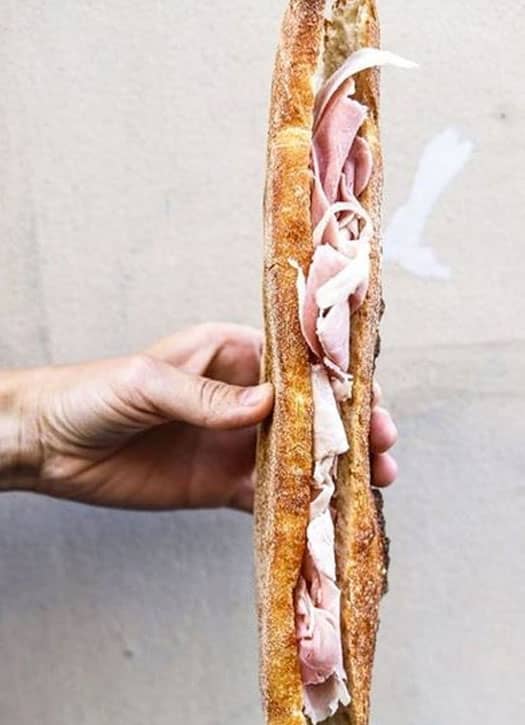 Solo Raveloson's shop, facing the market at Enfants Rouges, has long excited the fashionable crowd of Le Marais. A pork aficionado, Solo's ham and butter sandwich, celebrated by experts (including us), is irresistibly effective. In a classic baguette, a generous portion of ham to your liking (hay-cooked, white, farm, truffle...) meets fresh butter for a nostalgically satisfying result. At around a dozen euros on average, it may be a pricey 'dwich, but it's worth it for an occasional treat.
Caractère de Cochon, 42 rue Charlot, Paris 3rd. Open Wednesday to Friday from 10 am to 3 pm and 4:30 pm to 8 pm. Saturday from 10 am to 8 pm, Sunday and Monday from 10 am to 3 pm.
La Baguette du Relais: The Most American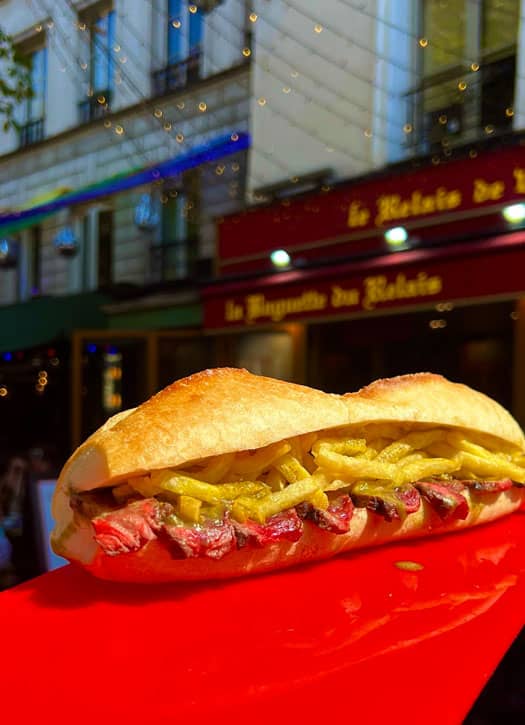 No longer mentioning Le Relais de l'Entrecôte, this gourmet institution in the Marais has an annex dedicated to street food. The cultish American sandwich (a foodporn curiosity involving putting fries in the bread) gets a Parisian twist with a baguette holding meat, fries, and the famous sauce (€14, but what a meal!). Note: you can order a double portion of meat for the serious carnivores, as well as charcoal-infused or gluten-free baguette variations.
La Baguette du Relais, 10 rue des Archives, Paris 4th. 01.40.09.72.11. Open Monday to Friday from 12 pm to 3 pm and 6 pm to 10 pm, Saturday to Sunday from 12 pm to 10 pm.
Miss Banh Mi: The Globetrotter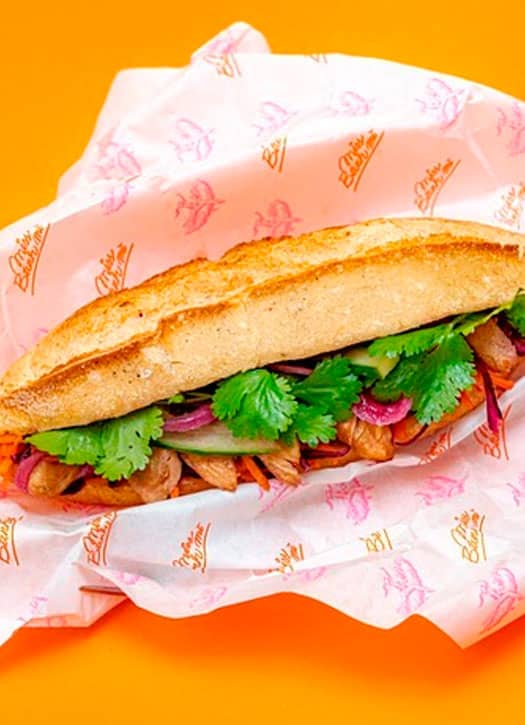 Located in Montorgueil, the Vietnamese sandwich here is the creation of artist Fafi and his foodie partner Heidi, a former model booker. The basic recipe involves an ultra-crispy baguette from Eric Kayser's oven, filled with grated carrots, daikon, homemade soy mayo, cucumber, and coriander. Do you prefer the traditional marinated beef version, the supreme farmer's lemon-confit chicken (a killer), or the veggie version with grilled garlic eggplant, marinated tofu, and lemongrass?
€ 9 on Deliveroo.
Miss Banh Mi, 5 rue Mandar, Paris 2nd. Open Monday to Friday from 11:30 am to 3 pm. Closed on weekends.
Discover the best burgers in Paris and the new street food addresses that will make Parisians drool.