Fans of Asian glam are going to be delighted. After taking by storm the Left Bank with Marcello and the best sushi bar in Paris aka Blueberry, the Vaconsin sisters are doing it again on Rue du Sabot in replacement of La Bocca della Verita!
The girls have signed the new most buzzing address of Saint-Germain-des-Prés with Steam Bar, a glamour club just like in Hong Kong… hidden in the middle of Paris.
An atmosphere saturated with glamour worthy of In The Mood For Love is conveyed by the decor signed Gabriel Pistre, who combines the Chinese lanterns and neon pop decor with noble materials such as wood panelling and metal...
For extra glitz, a cocktail bar distillates bewitching potions such as the Mekong Mule or the Taipei Soul, a Taiwanese whisky infused with black sesame and pear liqueur (€15).
A menu at the cross-roads of asia
Like in Hong Kong, dishes radiate throughout Asia. Dim sum baskets steam and unveil Peking duck baos (€8), series of very tempting gyozas (€13), ha kao of eggplant and Thai et pesto basil (€9).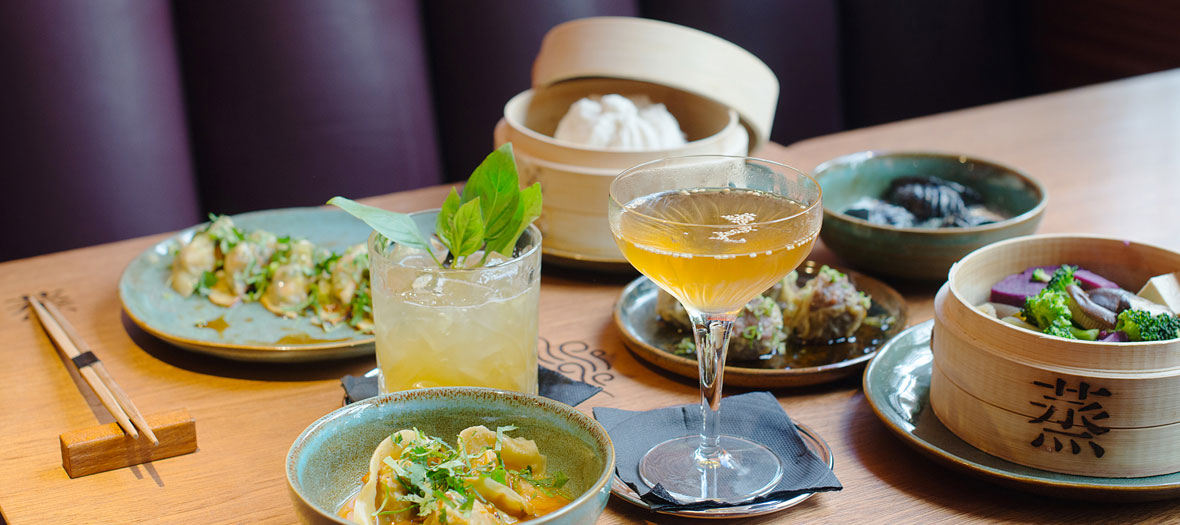 But Monsieur Wong, the former chef of the Shangri-La, ventures further in his culinary explorations such as Princess Pei Pei, an all-black bao with truffle and smoked scamorza (€8) or the amazing vermicelli with white sesame (€8) and the lemon grass and chicken spring roll (€9).
Other curiosities: amazing desserts such as the vaporous Marguerite Duras cup: vegan ice cream with almond milk and black sesame sauce (€11), the black Moon, a pannacotta with black sesame (€10) or the lady from Shanghai, a chestnut-litchi treat (€10).
Also discover the Mexican restaurant we were waiting for and the kosher barbecue of chef Ruben Sarfati.