Stronghold of intellectual Paris and good taste, the Saint-Germain-des-Prés district never ceases to be talked about with its divinely Parisian spots. Nestled exactly between the Café de Flore and the Beaux-Arts de Paris, rue Jacob dominates the 6th with its cutting-edge decorative addresses: old-fashioned crockery, cozy sofas and summer decor , left bank immersion in the three essential addresses of the district favorite of chic Parisiennes.
Caravan House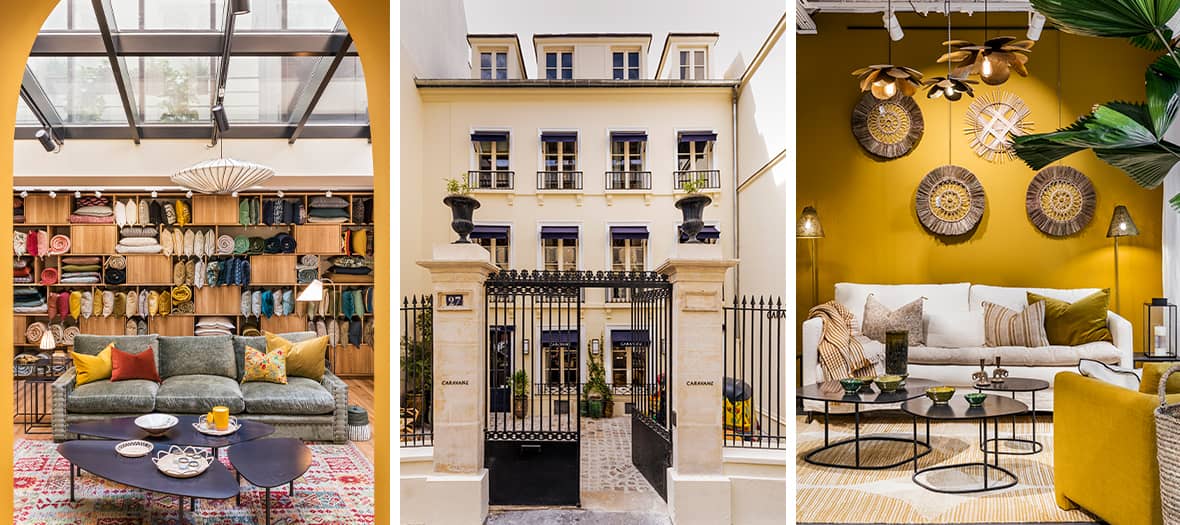 The setting: we no longer need to introduce Caravane , the essential shop in the 6th arrondissement in terms of interior decoration, which is making a comeback as a big star with its house, designed like an XL cocoon in an entire private mansion.
Immersion in the warm universe of the Parisian brand which inaugurates its temple of decoration on four floors: entrance terrace lined with green plants, lounges like a cabinet of curiosities, dining room under veranda, the big kif for lovers of interiors and design .
What are we shopping? The house's iconic models and fabrics, such as small cushions with pompoms in Indian prints (€48) to spruce up your sofa, the sofa cover to make your sofa softer than ever (€160), large linen pillows all fluffy, pretty floral and exotic wallpapers (€345) or a Japanese-style jute and linen rug (€350).
Shop the Caravane house , 27 rue Jacob, Paris 6th. Open Monday to Saturday from 11 a.m. to 7 p.m.
Alex d. Reynis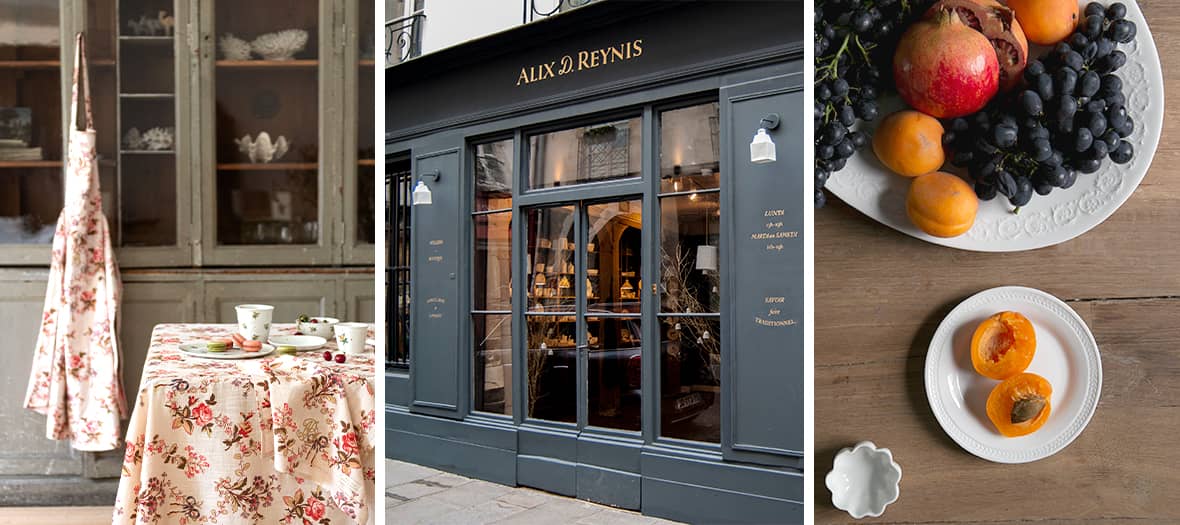 The setting: A chic Ali Baba barracks to unearth his perfect dinette to make Marie-Antoinette pale . With its old building, wooden cupboards filled with precious porcelain objects under the old frames, the shop exalts the Ancien Régime style : sober noble materials and powdery tones to display precious objects in a boudoir style.
What are we shopping? The famous enamelled Limoges porcelain coffee mugs (€42), a flowered tablecloth with initials embroidered with old-fashioned gold threads (€130), a Louis XVI candlestick for those nostalgic for Versailles (€76) and all the hoopla for his Grand Siècle table with plates (€46), bowls (€40), glasses (€48) to personalize and have engraved with his initials and the emblems of the court… We fell in love with the cool collaboration of summer with Bonjour , an invitation to good humor and the start of summer with stylish picnic tablecloths or soft country-style cushions.
Alex d. Reynis , 22 rue Jacob, Paris 6th. Open Monday to Saturday from 11 a.m. to 7 p.m.
© Audrey Fitzjohn
Caspari
The setting: Picnic last minutes and nothing ready? Don't panic, the king of American-style party tableware is coming to West River, rue Jacob , with its set of country decor with an open air spirit. A rustic 100% countryside scene, wooden cupboards filled with towels with crazy motifs, Caspari is a far cry from the boring and hyper-commercial departments of Hema or Tiger Copenhagen. Here, everything is carefully laid out on large tables, from the trivets to the candles for a perfect table even at the Bois de Vincennes.
What are we shopping? Creative cardboard crockery that only Americans have the secret to, which perfectly imitates the real porcelain dinette: flowered napkins (€5.50), pretty flowered Chinese porcelain-style plates (€5.40) with dimensions starter, main course or dessert, not forgetting the rattan trivet (€30). The must ? Caspari takes care of all the details of your party with friends, so we will find fancy invitation cards (€10) to impress the gallery.
Caspari , 7 rue Jacob, Paris 6th. Open Monday to Saturday from 10:30 a.m. to 7 p.m., from 2 p.m. on Monday.
Also discover three addresses to ride a bike in Paris and the most cultural hub in Paris.