The place
It's as though we were teleported to Los Angeles, under the palm trees exactly. The two Vigand sisters managed to make Cali Sisters Cali Sisters (supposed to open before the lockdown) a must-go for all the trendy foodies in the capital. Cactus scattered a little everywhere, a giant central palmito, wicker seats: a real ultimately cool Pinterest moodboard which might just inspire us for our next decoration. Brand new: the girls are launching their 100 % comfy brunch for a little sunshine on hangover Sundays.
Think of reserving as soon as possible: it's already taken by storm..
On the programme of treats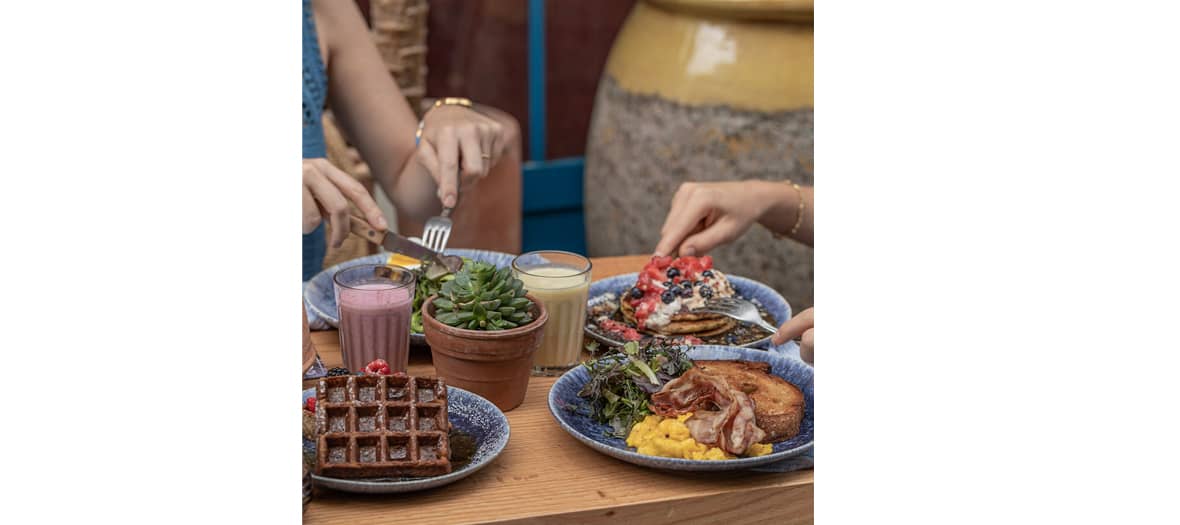 In addition to the usual specials (meatballs, ceviches, tacos…), on Saturdays and Sundays there is an added foodporn touch featuring the best from the West Coast: buckwheat pancakes and grilled quinoa with red fruit and ricotta (€11), a resolutely crunchy house granola maison (€9), a Breakfast Plate filled with scrambled eggs, crispy bacon and maple syrup on good country bread (€13) or even the new star on the menu: green shakshuka brocolis, courgettes, spinach, peas and eggs—all oven-baked (€14).
The added plus
The wild healthy drinks like in films, that really give you the impression of having landed at Venice Beach: a caffeine iced latte (€5), an airy green apple smoothie, cucumber, mint, soja milk and honey (€7) or then a matcha latte with honey and almond milk ( €5.50).
Brunch on Saturday and Sunday from 11:30am to 3:30pm.
Also discover the brunch for Parisiennes at the Deux Magots and the very trendy version of Café Kitsuné.