Artistic director of Baby Dior and Dior Maison , decorator Cordelia de Castellane has just released her inspiring book Ma Maison de Campagne (Rizzoli) and signs the masterful decor of the brand new Café Lapérouse , a jewel nestled in the heart of the Hôtel de la Marine .
Inhabited by the atmosphere of these magical Parisian places, empress of good taste, the aristocratic it-mum gave us her inspirations and good decorating addresses. To your moodboards!
How did you manage to transpose the world of Lapérouse to the Hôtel de la Marine?
It was quite easy to bring the world of La Pérouse [ an 18th century explorer who gave his name to the Lapérouse restaurant in Saint-Germain-des-Prés , editor's note ], who was a great navigator, to the Navy. It made sense since there was a story behind it all. On the other hand, I twisted the matter a little since this one is a place of coffee: the great gastronomic restaurant remains that of the Grands Augustins , we do not touch it, it has been restored but remains in its own juice with everything his past. I imported its story ... but not all of its decor.
Did you want to take us on a trip?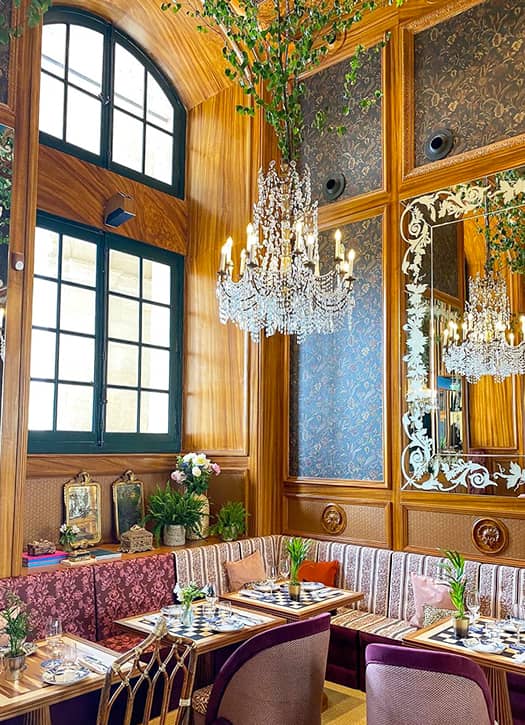 That's it ! At the back of the restaurant, we find the Lapérouse decor with its very woody side, Cordovan leathers , striped mirrors (or, in any case, I hope people will scratch them over time), etc.
On the other hand, the central part is the eye of the Comte de La Pérouse: there were always two boats following each other at sea, and I wanted him to watch his second boat follow him in the middle of these lagoons. In truth, La Pérouse never returned from his voyages, he disappeared at sea, so we can imagine everything he could see while crossing the oceans ...
What were your inspirations?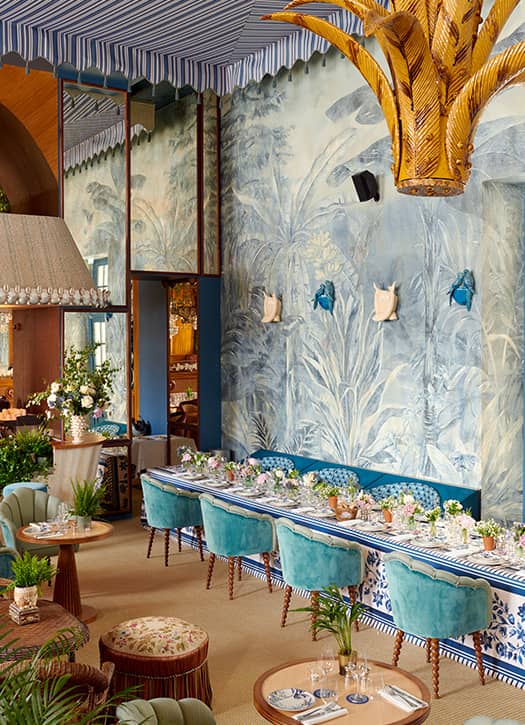 I wanted to make the imagination of the navigator dream. As I know he passed through the islands of Tahiti and Easter , I wanted this tropical atmosphere with an obviously very Parisian side: the tents of the boat which are reminiscent of empire decor with these stripes on the ceiling, the lounges beginning of the century ...
With, of course, nautical reminders: bar and sconces in shell, fish, game tables as we put in boats, rattan also to remind the exotic side. And all the elements of this decor were made exclusively by French craftsmen!
Promoting this French craftsmanship, was it important for you?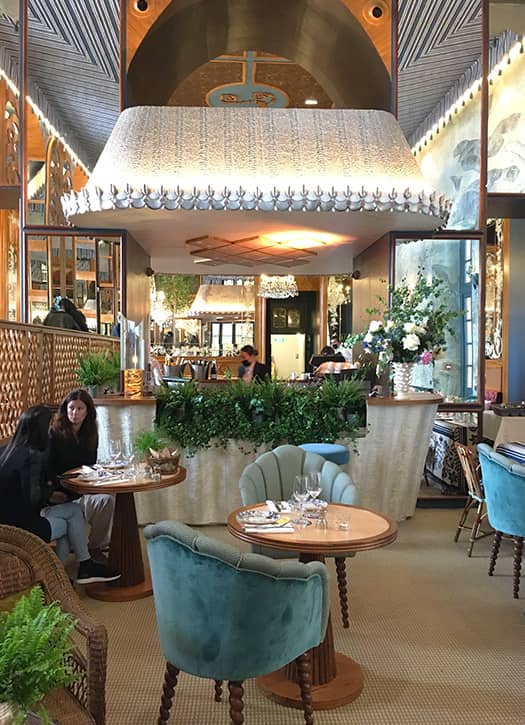 It was necessary for me to make France shine in such a central place in Paris. Jean Roger took care of all the ceramics, the furniture and fish wall lights were designed by the artist Fleur de Galard , the bar all in shells was handmade in Paris by a French artist called Thomas Boog ... The best of French know-how!
And you can also add yourself to the list!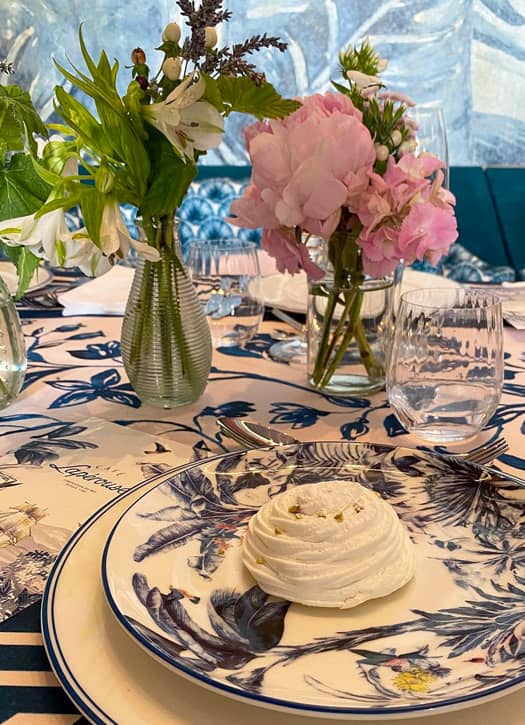 Indeed: all the frieze and all the fabrics were designed by myself, down to the plates (made in Limoges ). Everything was printed especially for here with only flowers that I found in the memories of La Pérouse, according to what he said in his letters. When he speaks of the decorations, he always evokes the flowers of the islands ...
How do you make you feel so good there?
What was extraordinary about Lapérouse and what I wanted to keep for here is this " you feel home " aspect, just like at home. For me, that's Paris: when you go to people, there has to be a very natural side, as if it had always been there. Comfortable, refined but not " sought after ".
So I wanted to put here and there pieces of furniture I found as I went along and which did not necessarily go with the others. I wanted this mess, this mixture of genres. And Lapérouse, for me, that's it: the mix of culture, writers, poets, politicians, the equally sensual side of dating!
Where has the rest been found?
I hunted around a lot at Lila K aux Puces de Saint-Ouen (Serpette market) which is great for furniture and was able to provide me with the turn-of-the-century elements that I wanted.
A particular crush?
I love the frieze, I find it very nice, decorated with its appliques. I am very proud of it!
Also discover Vanessa Naudin's decorating tips and decorators' favorite sites .