© Alcazar
The one who imposed "miscellaneous chic" has become the new hot decorator of the last 5 years. After her first success redecorating the Bus Palladium, where she imposed the mix and match, an apology of vintage and the big comeback of the wallpaper: she has accumulated important trendy projects. It's with her agency Pravda Arkitect that she conceived the interiors of trendy restaurants such as Noto, Manko, Wood, Polpo, the Alcazar or La Belle Époque… A quick review of items with mini price tags for a decoration inspired by Laura Gonzalez.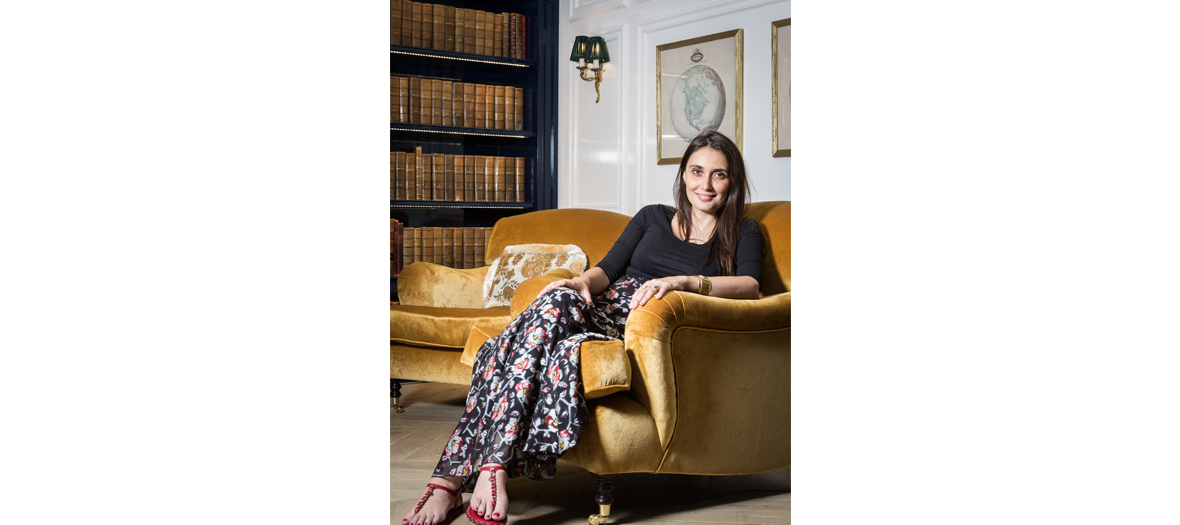 Laura Gonzalez © Yann Deret
Give your indoors a green touch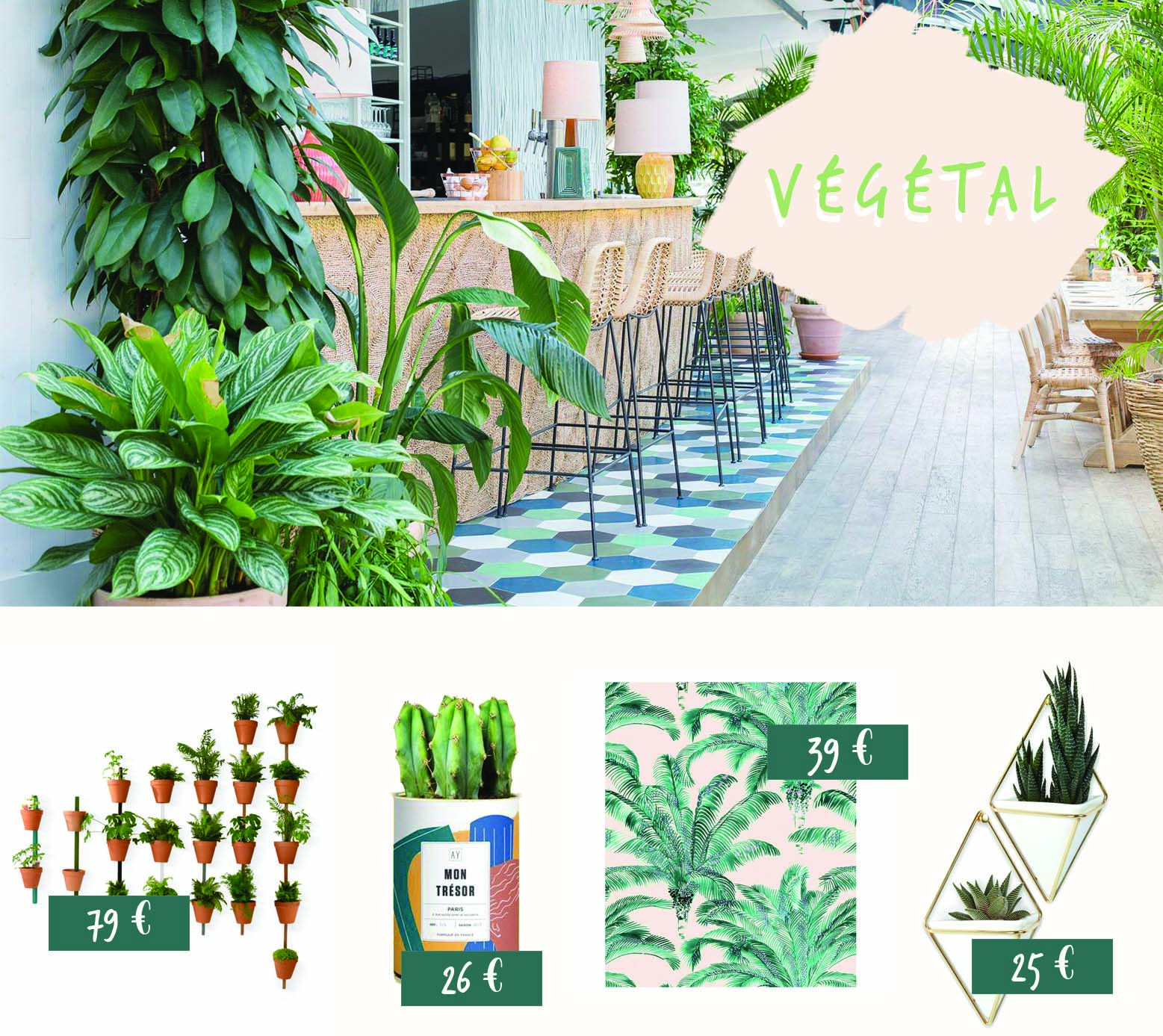 Urban jungle at the Alcazar, winter garden at Polpo, like Laura Gonzalez, you can give your flat a tropical touch. A zip of freshness and green spirit will truly enhance the decoration of your home sweet home.
How to do it yourself? For those who have the DIY, attitude, you can have fun accumulating pots, paint them or even place your plants in baskets found on www.lejoli-shop.com. Bathroom, kitchen, toilets: each room of the house gets its share of plants, palm trees... If your flat does not have much light : try a cactus…or several ones.
Our tip: for all those allergic to handiwork and tinkering around the house, Edition Compagnie offers superb installations: east, inexpensive and very design in the image of their mural module Anno, like a vegetal honeycomb.
1. Anno, Set of 8 pieces, Edition Compagnie, Madeindesign.com, €79 2. Mon Trésor, Aycactus, €26 3. "BAHIA" curtain, Thevenon, 39€ 4. Set of 2 mural plant hangers Vessel Laiton, Umbra, The Cool Republic, €25
Play the bistro touch in your dining room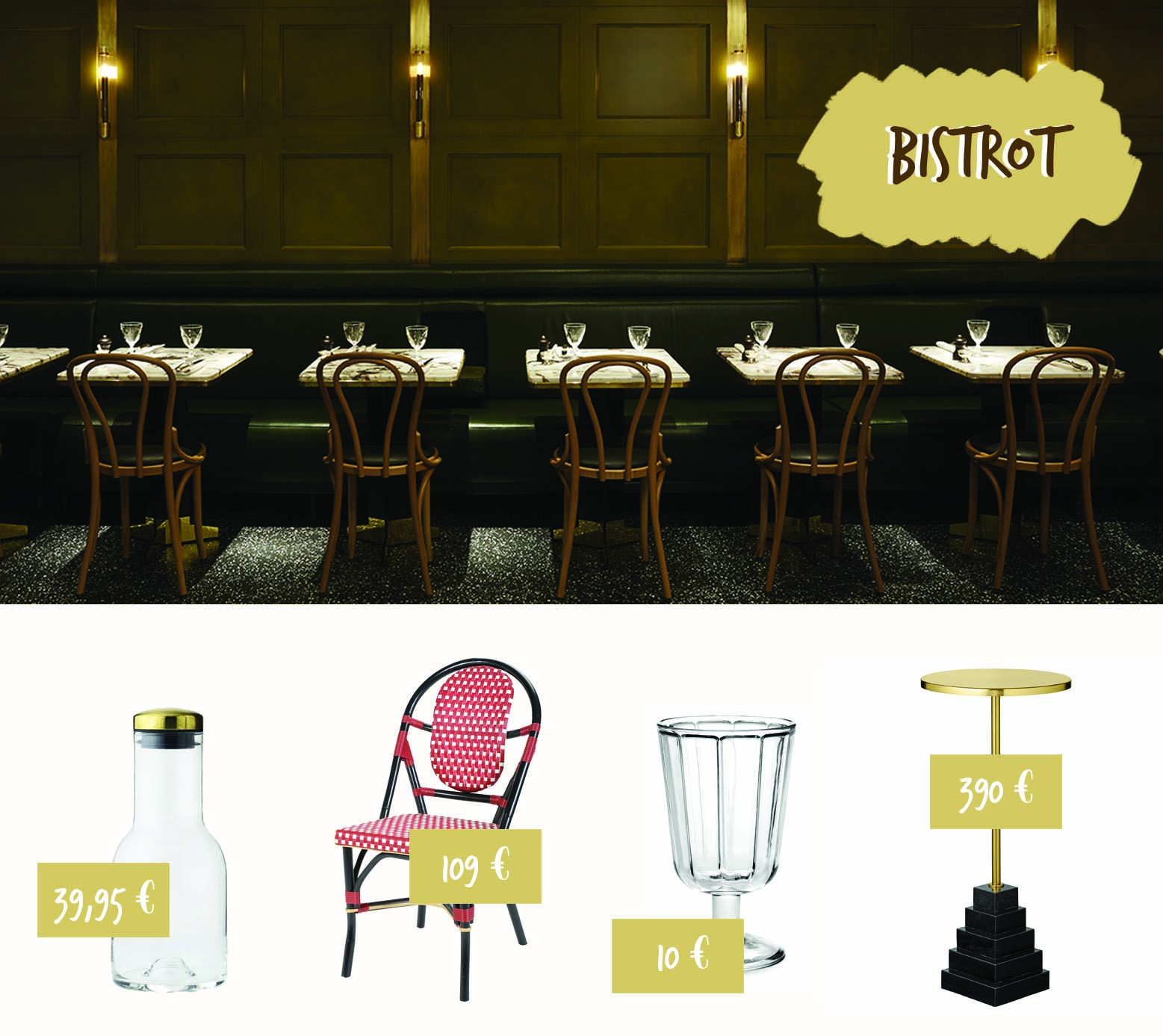 Imagination of great Parisian brasseries such as Les Deux Magots, Café de Flore, or Lipp seeps has inspired the new decors of restaurants such as Alsace, Thiou or Brasserie Auteuil, all designed by Laura Gonzalez.
How to do it at home? The shapes stay the same but the materials change: marble for the table, sandstones for plates, and pretty blown glass for the pitcher.
Our tip: be sure to show off the cult Parisian bistro chairs in wicker or your living room salon by playing with the mix and match of colours—the blue or red model is available at Salon d'été €89.
1. Pitcher, Menu, €39.95 on www.madeindesign.com 2. Faro chair, €109 3. Surface wine glass, Serax, €10 on www.thecoolrepublic.com 4. Solum small table, AYTM at marcel by, €390
Dare to mix the motifs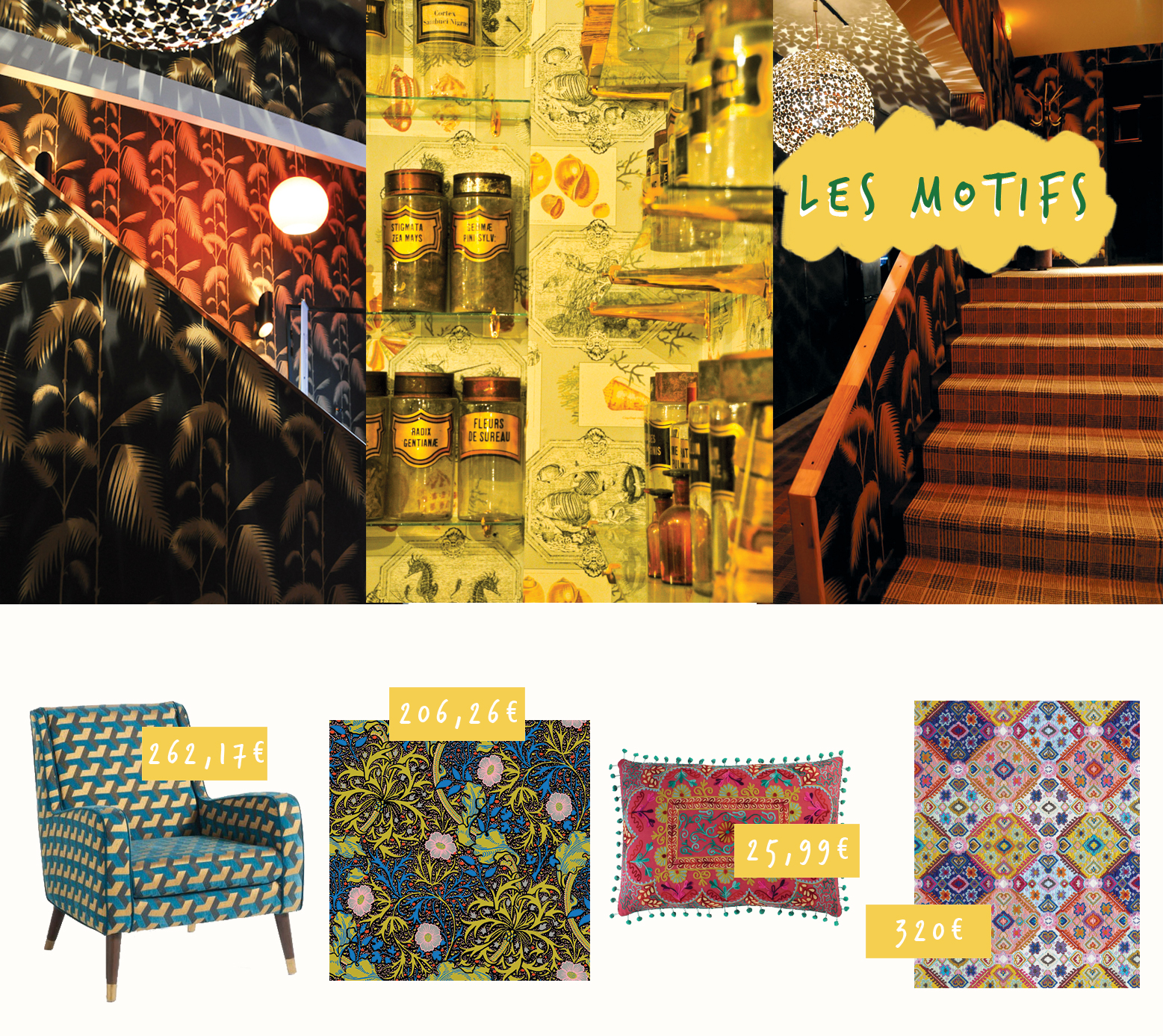 True signature of the decorator, it's thanks to Laura Gonzalez that the mix and match of motifs has become hot stuff. Now Toile de Jouy can perfectly be assorted to Aztec and ethnic drawings. It's even considered as the new "good taste".
How to do it at home? With a small budget, it is possible to convey the illusion of chic. For that, nothing could be more simple: mix cushions featuring motifs with a House of Hackney wallpaper, and upholster your favourite armchair with Pierre Frey fabric. Elegance and exoticism guaranteed….
Our tip: to avoid bad taste and harmonize the ensemble, always have a colour in mind, it will be the unifying thread.
1. Seaweed wallpaper, House of Hackney, €206,26 per roll 2. Copiaco cotton cushion, Maison du monde, €25.99, in shop. 3. "Y" armchair, La Redoute Interieurs, 237,86€ 4. Maoming lin and viscose embroidery, Pierre Frey, €320per meter, in shop.
Hanging light fixtures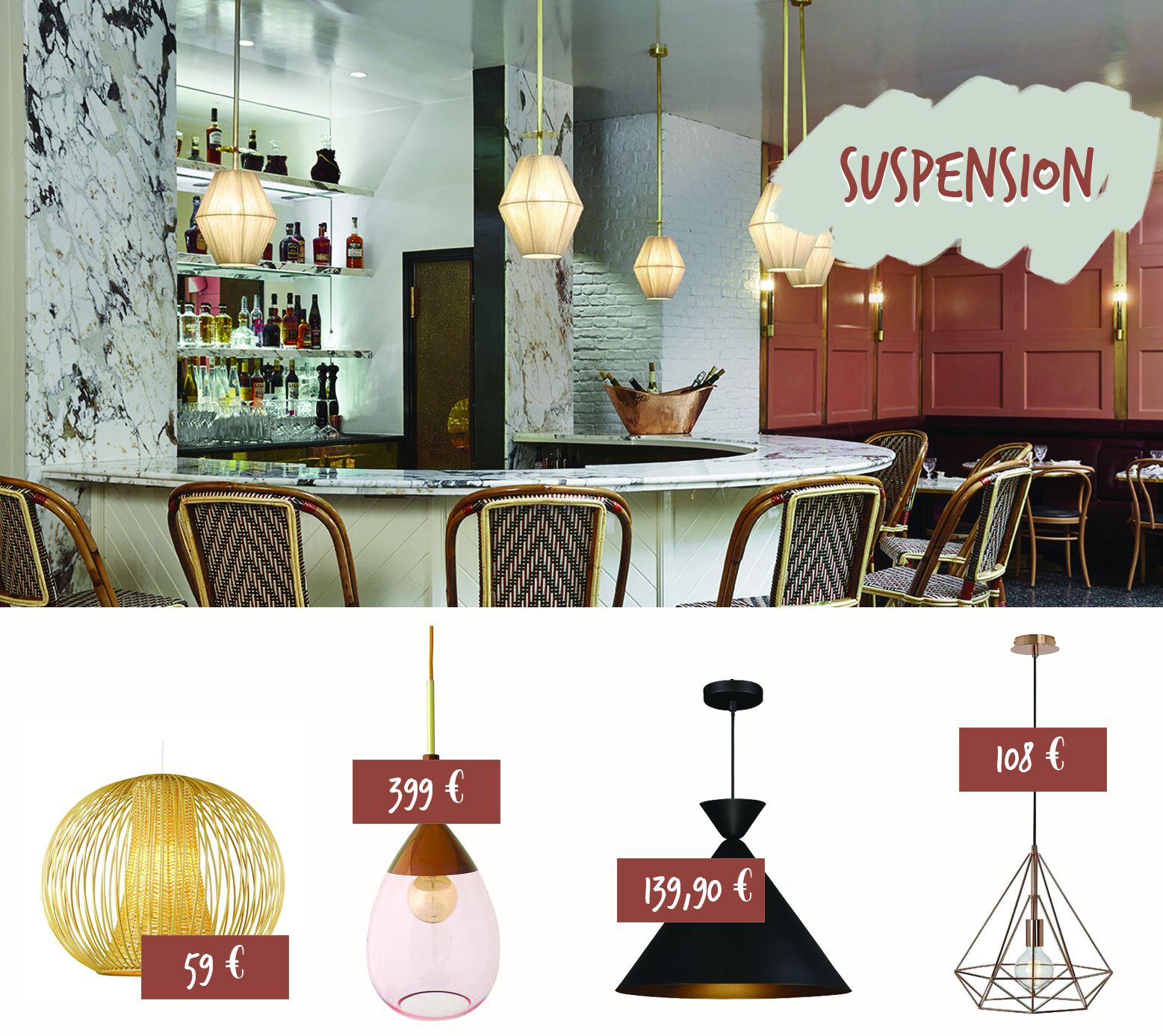 She considers light as being very important! So it's not surprising that Laura Gonzalez likes to collect hanging fixtures suspensions. Especially globe lamps with a touch of brass that she scatters in her interiors with a very Art Deco style—always a tad vintage.
How to do it at home? Above a counter, in the kitchen, three hanging light fixtures will do the trick and convey real cachet.
Our tip: To go even further, the Lute Corail hanging light fixturesat Ebb & Flow offers a more Scandinavian version . A real heart-throb.
1. Birman in bamboo, Habitat, 59€ 2. Lute Corail, Ebb & Flow, The Cool Republic, 399€ 3. Gaia, Habitat, 139,90€ 4. Suspension, Wadiga, 108€
100% brass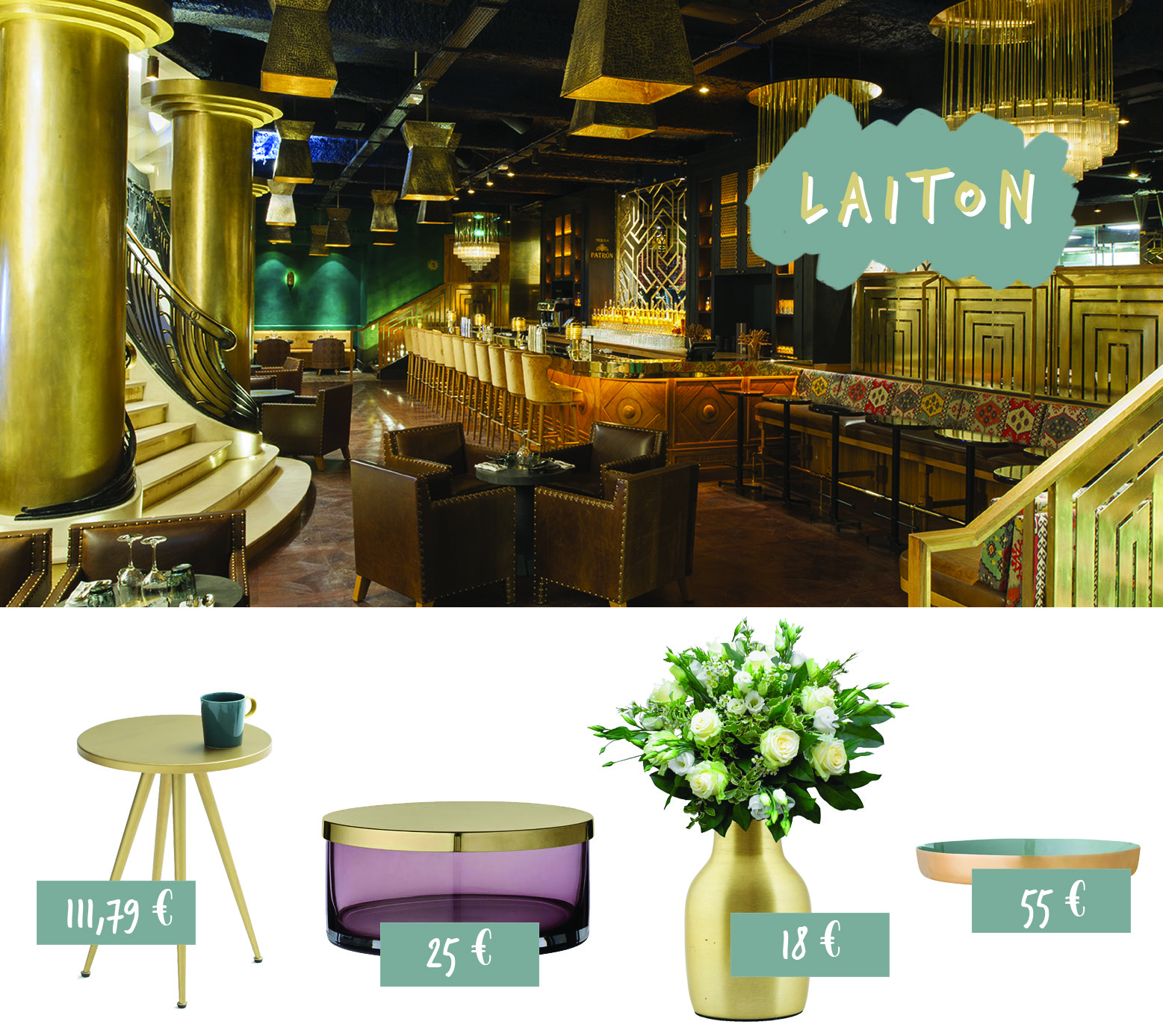 She has given a democratic style to brass by including it in a warm interior decorations where materials speak out.
How to do it at home? To insist on the cosy side, nothing like teaming it up with dark colours such as burgundy, pine green, duck blue. In addition, it really conveys a bright touch. All you need is a brass vase for a sparkling effect.
Our tip: we cannot resist the table at la Redoute. As a total look, it imposes its character.
1. Beside table or end of sofa "LUXORE", La Redoute Intérieurs, 111,79€ 2. Tota box, AYTM, €25, on www.thecoolrepublic.com 3. Vase with golden effect, House the Doctor, €18€, on www.thecoolrepublic.com 4. Platter, Bloomingville, €55 on www.uncactusenville.com
Powerful marble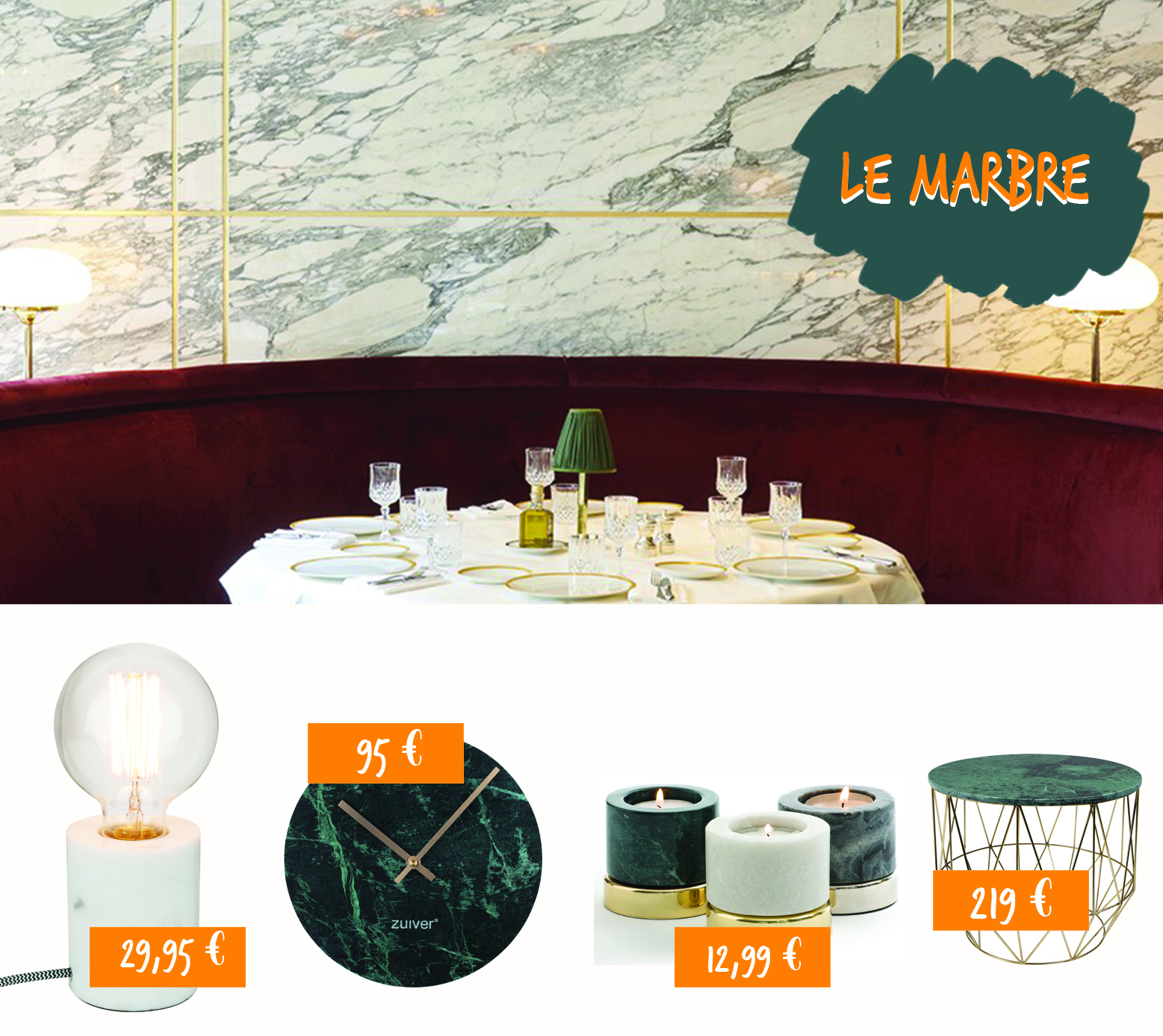 It's the fetish material of Laura Gonzalez, raw and elegant, with hues that go from white to verdigris. At Noto, her new Sicilian restaurant, she did not hesitate to use it for the walls and the bar. Forget its cold side, marble enhances our interiors.
How to go about it in your house? Avoid going broke and opt for faux-marble by buying an adhesive imitation and recovering either a table top, pots or even a wall. Available at Castorama.
Our tip: To give a Scandinavian inspiration to your decoration, nothing like mixing marble with blown glass or light wood.
1. Lamp TUBE MARBRÉ, 4mur, €29.95, available only in the boutique. 2. « Marble Green » clock, La Petite Boutique, €95, available only in the boutique 3. Fitia candlestick, La Redoute Intérieurs, €12.99 4. « Boss » side table, La Petite Boutique, €219