You always dreamt of participating in a Top Chef jury in order to rate the dishes presented by the candidates? You methodically grade the participants of Un dîner presque parfait behind your screen? Well, this new restaurant is right up your alley. In the intimacy of a large kitchen in the Marais, rather used to hosting cooking courses and foodie events, For the Love of Food offers a totally unusual concept, both with a communal table and incubator, enabling each client to vote for their favourite chef. Explanations.
A TRUE LAUNCHING PAD FOR BUDDING COOKS
Launched by a twosome of entrepreneurs passionate about gastronomy, the purpose of this resolutely innovative and particularly committed venue is to support cooks who have the project of opening their own restaurant.
Each month, three up-and-coming chefs are invited in front of the ovens to concoct live and simultaneously their complete menus, to be sampled in a friendly ambiance around a long communal table with 35 seats and view on the kitchen. After the meal, each diner shares his appreciations via an online form.
At the end of their six-month residence, the three best graded chefs will be rewarded with a special fund (up to €8,000) and global support (management, administration, legal) in order to help them start their business. In other words, a serious leg up to launch into an entrepreneurship venture.
ONE RESTAURANT, THREE POSSIBILITIES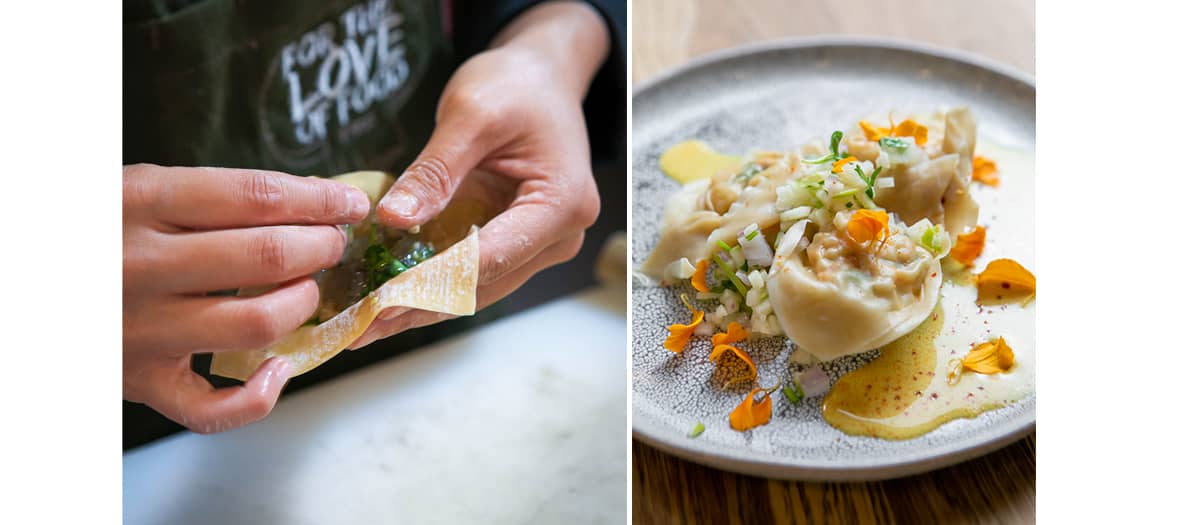 Concerned with promoting diversity and inclusivity in the restaurant world, For the Love of Food has just finished a 100 % feminine residence and intends to soon invite three LGBT+ chefs.
At the moment, the ovens are in the hands of two talents to be discovered. Around the world with chef Ramzi Saade and his excellent Lebanese specialties (braised eggplant, pumpkin-bourghoul kebbé éclair, poached marbles of moghrabiyé semolina, panna cotta infused with rose water) facing Joséphine Thai, the young prodigy of Thai gastronomy (shrimp wontons, two-way cauliflower, tataki of tuna and soft orange cake, mmmh). Total joker total for the third surprise guest, who will change on a regular basis. We won't spoil the surprised, but here is a hint: deliciously French.
Green idea: you choose the menu when reserving to avoid waste and all the ingredients are market-driven. In short, a restaurant in keeping with the new generation.
Curfew hours: open Thursday night (6pm-9pm) Fridays and Saturdays lunch and evening (noon-3pm / 6pm-9pm) and Sunday lunch (noon-3pm). At lunch, starter + dish + dessert €24, €42 for 2 starters + dish + dessert + drink.
Info and reservations on www.fortheloveoffood.paris
Also discover the best burgers in Paris and the ephemeral bistro of Alexia Duchêne under the helm of Alain Ducasse.