You always dreamt of partaking in the jury of Top Chef to give your opinions on the dishes whipped by the candidates? You methodically grade the participants of Un dîner presque parfait (An almost perfect dinner) behind your screen? Then, this new restaurant should appeal to you. Inaugurated end of September in the Marais, For the Love of Food is offering a totally new concept, both hosting guests and incubator, it enables each client to vote for their favourite chef. Explanations.
A real springboard for chefs wanting to start out on their own
Organized by a duo entrepreneurs passionate about gastronomy, American Todd Hartwell and Canadian Olivier Nizet, the purpose of this resolutely innovative and particularly committed venues is to stand behind chefs who have the project of opening their own restaurant.
Each month, three budding chefs are invited behind the ovens to concoct live and simultaneously their complete menus, which can be enjoyed around a long and friendly communal table with 35 seats overlooking the kitchens. After the meal, each diner shares their appreciations through an online questionnaire.
After their six months of residence, the three chefs with the best grades will awarded a cash prize (up to €8,000) and a global accompaniment (management, administration, legal courses) in order to help them start their business. In other words, quite a helping hand for a budding entrepreneur.
One restaurant: three possibilities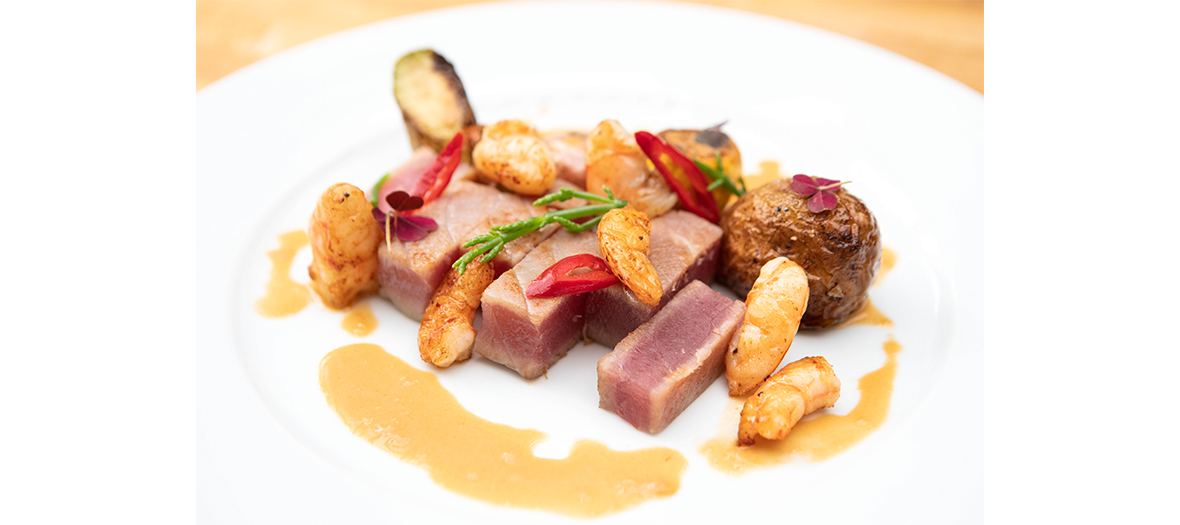 Concerned with promoting diversity and inclusivity in the world of restaurants, For the Love of Food goes all out with a first 100 % feminine trio whose origins set the tone of the meal.
A French menu with Evelyne Farkas: Paris mushroom custard, broiled cod, prune tarts. An Italian menu with Laetitia Vizzacchero: raviole of ricotta and speck, semi-cooked tuna, mousse with farmer cheese and prunes. And a Brazilian menu with Rebecca Lockwood: ceviche of cod, bobo with mushrooms, manioc fritter.
Right on target: the menu choice is made upon reservation to avoid waste and all the ingredients must be seasonal. A new generation restaurant. Now, it's up to you go play.
Open Thursdays and Fridays. At lunch, starter + main course or main course  + dessert €20, starter + main course + desert €24; in the evening €38 for 2 starters + main course  + dessert + beverage.
Also check out the new restaurant of Guy Savoy and the new Fall hot spots.