Inès de la Fressange, the ultimate Parisienne, is already wild about it! Le Mont du Bonheur in the Marais is the new gluten free passion of twigs. Normal: this divine pastry shop sells a wide array of Mont Blanc variations.
Here is the story… This traditional Alsatian dessert made with meringue, cream of chestnuts and whipped cream under the not very sexy name  "chestnut torch" became popular during the Belle-Epoque era. Its success was confirmed by the Angélina tea salon that rebaptized this exciting treat under the name of Mont Blanc, bringing to mind the snow peaked mountains from the Alps. In short, the favorite dessert of gourmet Parisiennes...
And it just happens that two fans of this sweet delight decided to dedicate an entire house to  their childhood pastry. The result is naturally a very successful traditional version, with little sugar (phew!) and perfect Chantilly… But also a variety of flavors without chestnuts: "all chocolate" with cocoa mousse, a vanilla-bourbon version, salty butter caramel, mango passion or pistachio cherry. (5,50€ per cake / box of 4 mini Mont Blanc : 11€)
We like: the adorable tea salon side where you can settle down to nibble on their pastry with a tea or a nice coffee, signed by the very serious Comptoir Richard house.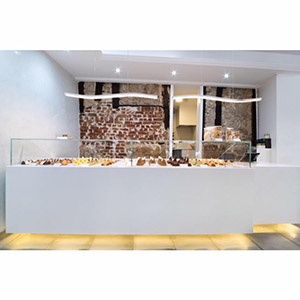 Open every day except Monday from 11am to 7:30pm
Also discover Bontemps opens the coolest tea salon in Paris.