When it comes to rooftops, Paris does not go on holidays. And here is the proof with the best rooftops to test before everyone else.
The Roof of the Grande Arche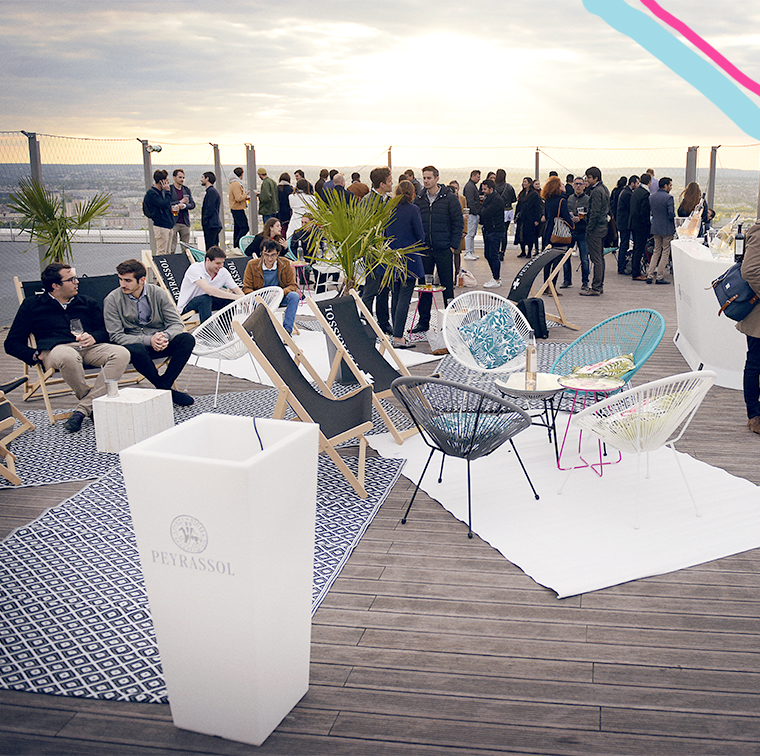 Who would have believed it? Things are moving at La Défense, which has become the new stylish summer spot—a very rare occurrence when you are working near the 92.
Imagine yourself on the 35th floor of the La Grande Arche roof, where the ultra-chic and chill-out wine label, Peyrassol, has set up the most stunning terrace to admire a spectacular Parisian sunset. The place is a pure marvel offering a folk and cool ambiance with lounging chairs, Acapulco armchairs and a chair-swing chair with a DJ set background for a long lasting happy hour. Tops!
€7 for access to the afterworks, every Tuesday and Thursday from 6.30pm to 11.30pm, reservations on grandearche.tickeasy.com.
Le toit de la grande arche, 35th floor of La Grande Arche, 1 Parvis de la Défense,
92800 Puteaux - 01 40 90 52 20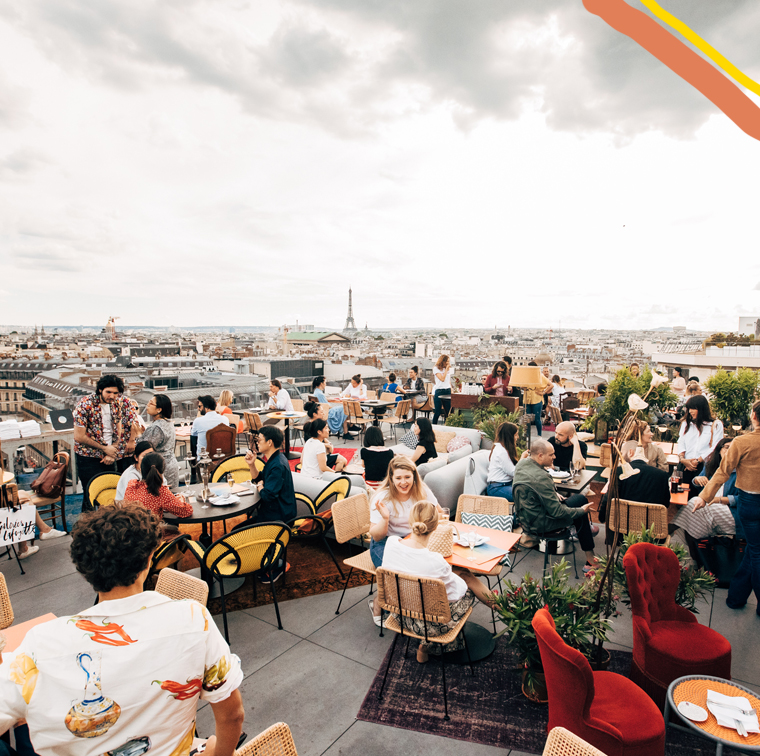 The rooftop summer sensation happens to be the "new" rooftop of Galeries Lafayette where Julien Sebbag, the hot chef is creating the buzz with his 100 % vegetal and very Tel Aviv style menu inspired by Ottolenghi.
The serendipity decor is organized just as we like it: 100 % second-hand Emmaüs furntiure, ideal to welcome a large table with dozens of friends—from breakfast to dinner with non-stop service.
Créatures, Terrasse des Galeries Lafayette Haussmann,
25 Rue de la Chaussée d'Antin, 75009 Paris - 01 42 82 34 56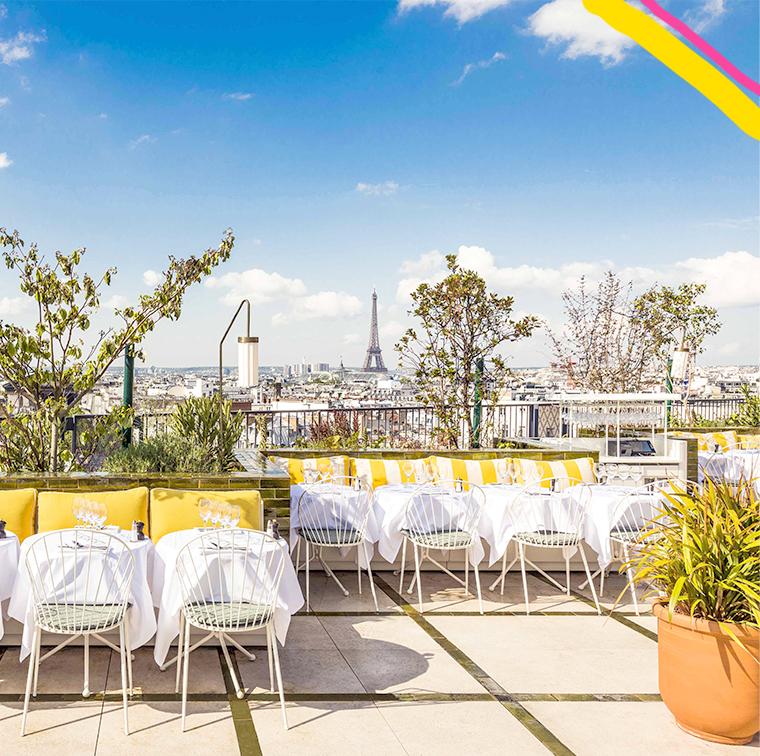 Rendezvous on the 9th floor of Printemps de l'Homme in this very trendy altitude garden that provides a total change of scenery. Hot spot creators Gilles Malafosse and Laurent de Gourcuff (Monsieur Bleu, Loulou, Girafe) have signed a beautiful terrace in the retro French Riviera style, with post card view to boot, along with a stylish bar and a sun-filled cuisine. Special kudos to the vegetal decor and the stylish clientele
À la carte: tomato-burrata (€19), linguini with pesto (€23), ceviche of seabass (€16) or deluxe fish and chips (€32).
Entrance by the 2 Rue du Havre, Paris – 9th
Perruche, Printemps de l'Homme, 64 boulevard Haussmann, 75009 Paris - 01 42 82 50 00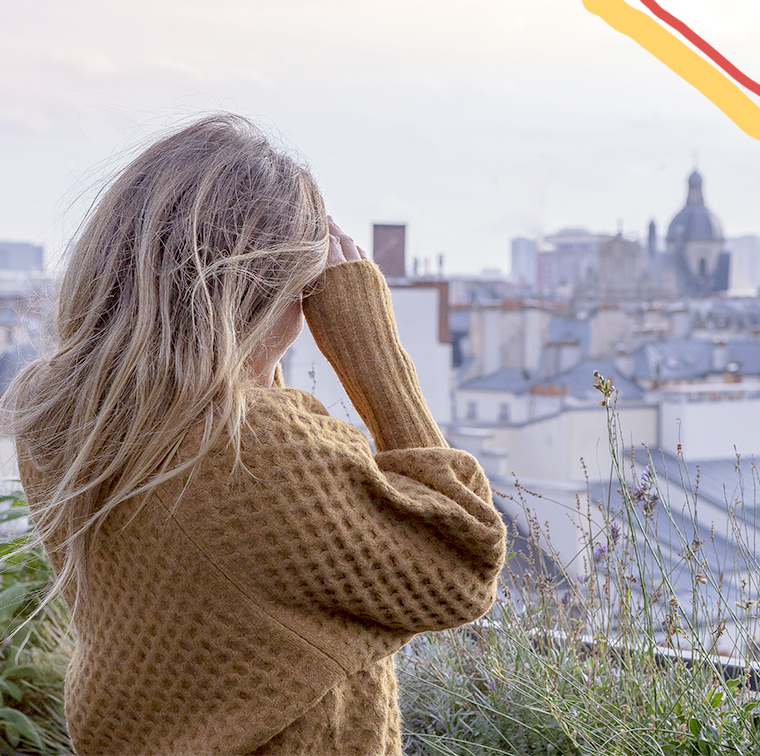 Atop 93 Rue Vieille-du-Temple, here is the new rooftop installed by the gang of Café La Perle so that Parisians can reach seventh heaven.
Au top is all about greenery, a playlist signed Nova and a totally grilled and Mediterranean menu … absolutely no standing in line! Here, it's hard to get a place and reservations are a must (online).
To be noted: the possibility of having breakfast on the weekend and to test the new terrific Grey Goose cocktails, including a very special Moscow Mule.
Open from 6pm to 1am during the week, from 9am to 11:30pm on the weekend.
Au_top, 93 Rue Vieille-du-Temple, 75003 Paris - 01 43 56 50 50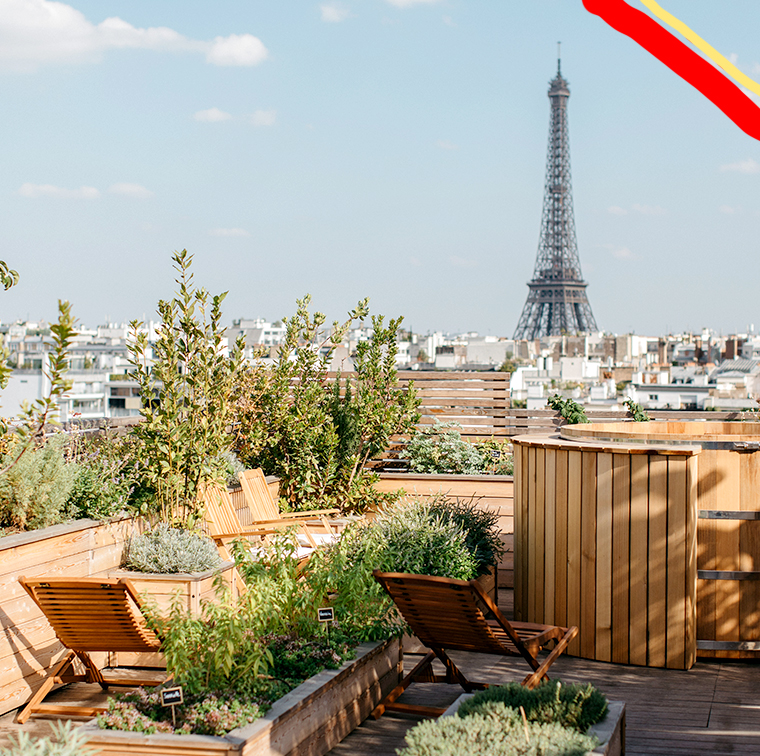 Higher and higher, stronger and stronger, the new trendy 16th arrondissement hotel, designed by Philippe Starck, is opening its perched vegetable garden to Parisians for bucolic happy hours with your head in the clouds. Once arrived at the top, you are given a wicker picnic basket with a bottle of Château Minuty rosé and deluxe snacks, to be enjoyed in this very unusual green enclave between aromatic plants and a chicken coop!
From 6:30pm to 11pm – picnic basket starting at €85
Hôtel Brach 1-7 Rue Jean Richepin, 75016 Paris - 01 44 30 10 00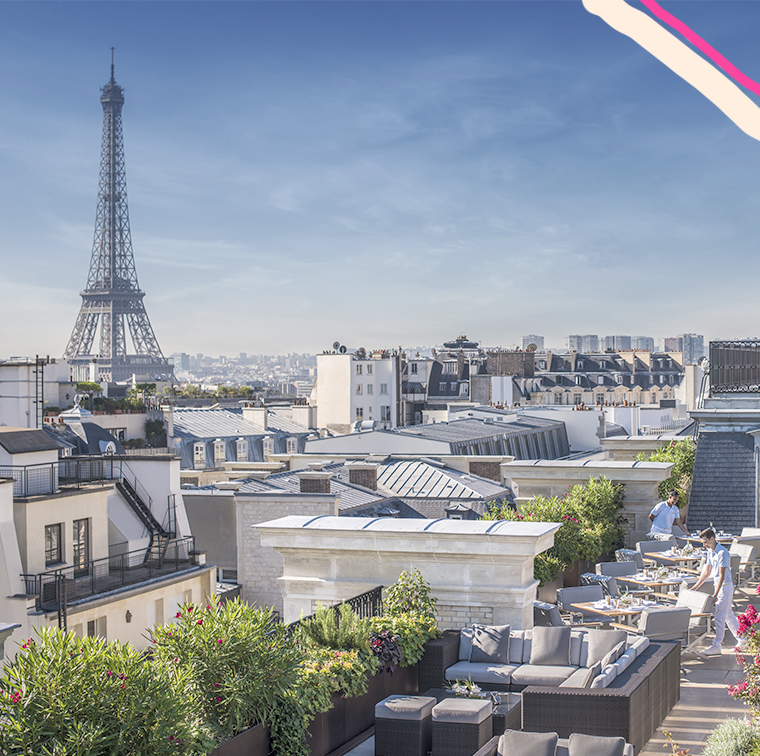 A stunning terrace for seventh heaven drinks, such is the promise of the rooftop set up on the last floor of this prestigious palace. As a continuation of the L'Oiseau Blanc restaurant, this small corner of paradise serves you a terrific Take It Easy – spicy rum, Cointreau, passion fruit (€26) or a glass of rosé (€21) with cheese nibbles (€24) or houmous (€18), all elaborated by chef and Meilleur Ouvrier de France Christophe Raoux.
Open every day from noon to midnight.
Peninsula, 19 Avenue Kléber, 75116 Paris - 01 58 12 28 88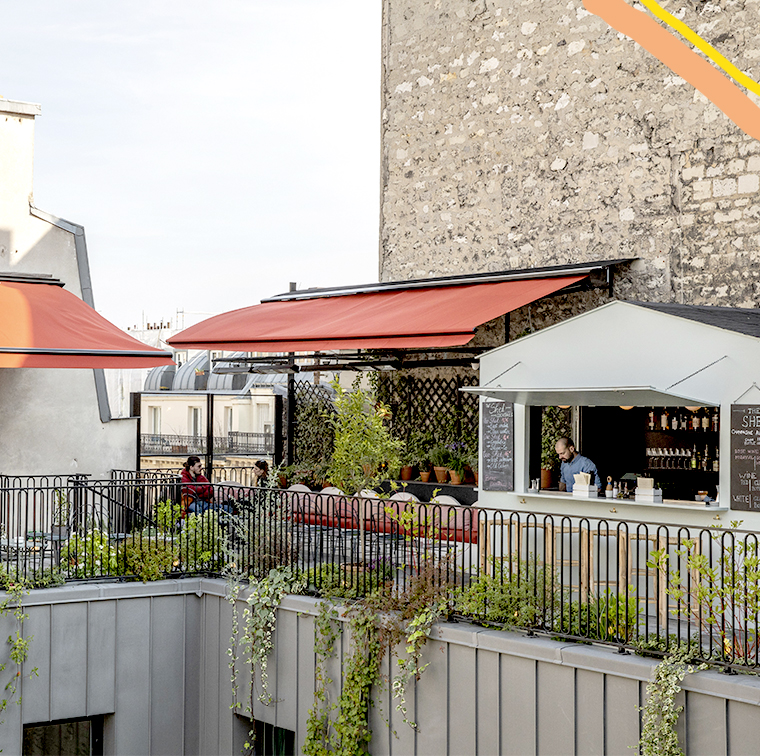 A bar located in the middle of Paris rooftops: a dream come true! The one and only gang of the Experimental Cocktail Club has installed on the rooftop of its Hôtel des Grands Boulevards a terrace that has been cleverly decorated by the talented Dorothée Meilichzon: a cocktails shack (starting at €14) and rosé (€8 per glass) to sip on large comfy red and pink sophisticated sofas while listening to good sounds. To be noted: nothing to eat…
Open every day from 5pm to 1pm, without reservation
Hôtel des Grands Boulevards, 17 Boulevard Poissonnière 75002 Paris - 01 85 73 33 33
Also discover: the new trendy cocktails bars and the 10 best restaurants to go as a gang in Paris.