The foodosphere is on the job and is already waiting for its reservation. After the success of Balagan and Shabbour , the starred hat Assaf Granit is back on rue Saint-Sauveur with Dan Yosha , Uri Navon and Tomer Lanzman just opposite, at Arthur Benzaquen at Klay with the Cent15 Architecture studio. At the heart of this place resolutely in the taste of the time: naturalness, the taste for beautiful materials and good products, responsibility and craftsmanship...
A very festive ceremony
And again, it's a success story. Tekés stands out from all that we had already seen in Paris by its glamorous and festive expression, by the creativity of its vegetable cuisine cooked over embers, by the incomparable atmosphere conferred by candlelight, but also by the spirit of a socialite banquet with an ultimately hip fauna seated.
Same theatricality and frenzy as Shabbour . The Tekés team which makes its show with the brigade exposed in the heart of the restaurant behind a counter where you can dine participates in the incredible experience of the place.

The chefs chat, serve, surprise you (" Here: taste a spoonful of sorrel ice cream "), serve shots and toast with customers on the front line without ever losing their standards.
A new gen feast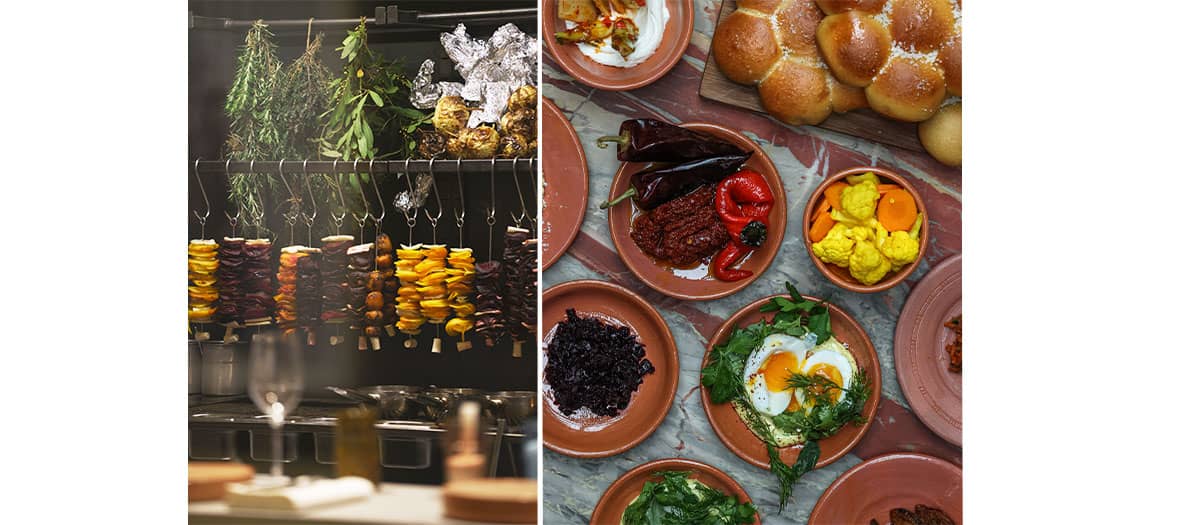 Hyper-vegetable cuisine, cooking over embers and raw delirium... A celebration of new gen kif, the dishes are shared, spread and sauced with a crown of challah bread or a garlic laffa pancake (€6) to wash down of amazing natural wines with a sharp selection, surprising but never giving lessons.
The menu invites you to order everything to be served a feast with extraordinary seasonings, just to definitely convert followers of the food religion to Assaf Granit .

In any order: spinach ravioli with black sesame cream (€5), almond cream and dried feta (€5), chicken liver spread like at Balagan (€14), soft-boiled eggs with herbs and the aioli (€5), grilled courgettes served with a cinnamon labnhé (€12), flambéed aubergines (€22), Eric Frechon-style caviar mousseline, except that the eggs are also replaced by lentils nicknamed " poor man's caviar " (€9).
The exquisite desserts are overflowing with genius, like the mushroom mousse (€8).
PS: we are impatiently awaiting the juice counter on the patio, which will become a cocktail bar every evening.
Open Monday to Saturday from 7 p.m. to 10:30 p.m. Reservation essential .
Discover also the new sushi phenomenon inspired by New-York and Sfacciata, the new chic italian tuileries table.