In the exceptional burgers market, the arrival of Dumbo two years ago had knocked out everyone on the comfort food tatami ... Big winner, their formula of a unique but undeniably exquisite smash burger seemed to reign supreme. undisputed master. The arrival of Baby Love Burger rue Saint-Maur is a game-changer and the whole of Paris is panicking to test this new phenomenon.
Baby Love burger: the best cheeseburger in Paris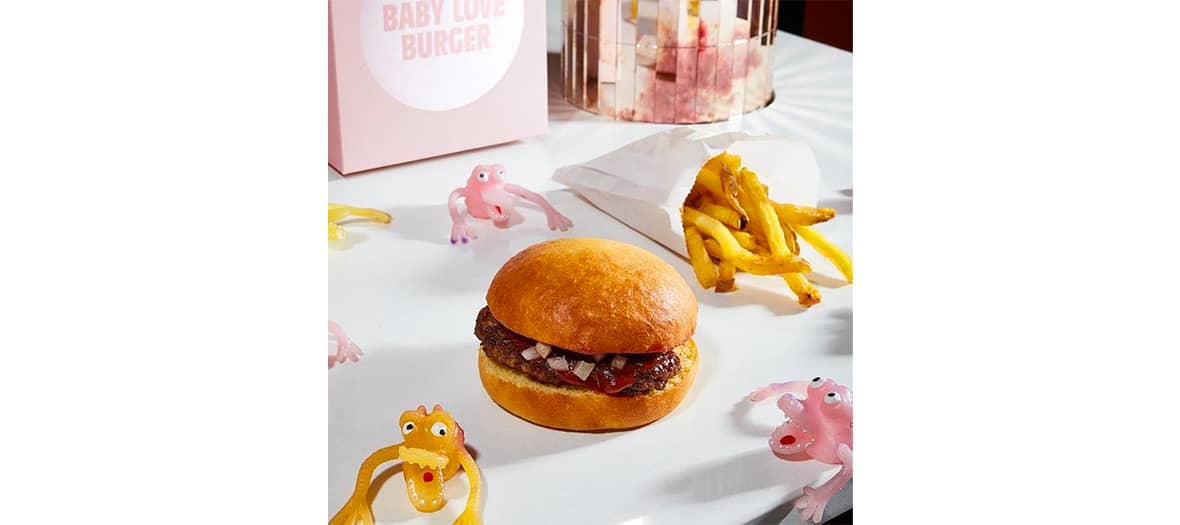 But now an outsider comes to titillate Dumbo with an address that makes a lot, a lot of noise in the kingdom of foodies.

Behind this hipster brand, two friends with well-known names of food bobos installed rue Saint-Maur: Camille Fourmont de La buvette (voted best cellar to eat by Le Fooding , that says a lot ...) and Jérémie Kanza , founder of Balls , successful dumpling dealer in the 11th.

Obsessed with junk, greedy criminals have opened the burger box of all their fantasies. The deal is clear. The dirty and assumed kif between the cheeseburger and the McDonald's Big Mac with good products in it, so as not to feel guilty or to hurt your body. We are in 2021, shit!
Concretely: it gives too good matured steaks, a secret sauce that matches with the cheddar, real homemade fries (old-fashioned, in two cooks like at Grandma's, to soak).

The menu of your dreams
No fuss, but a menu with variations. You order your cheese in a simple (8 €) , double (11 €) or triple (14 €) version depending on the hunger of the day. Pickles ( € 0.5) and bacon ( € 1) are added , depending on taste, with a fried chicken variant ( € 9). Basta. And for large slabs: special dedication to the " good " sundae ( € 4.5) and cookies ( € 3). To perfect the kif: a " half curd - half foodie " decor all in neon and kitsch soundtrack, joyful delirium as slick as 3rd degree, signed by the young archi Juliette Rube with Studio Furious .

PS: even if you will never be better served than on the spot on the small terrace (compared to the crispy fries and the quick-fitted burger), in case of lazy, hangover or slack, everything is also on sale on Deliveroo . To the best of my mind.
Also discover: L'Entrecôte is launching an extraordinary sandwich shop in the Marais and new burgers to try urgently.