We no longer present Elvira Masson , papess of good new gen food. You are a fan of his sharp and feel good columns alongside François-Régis Gaudry in the programs Très Très Bon and On va Déguster .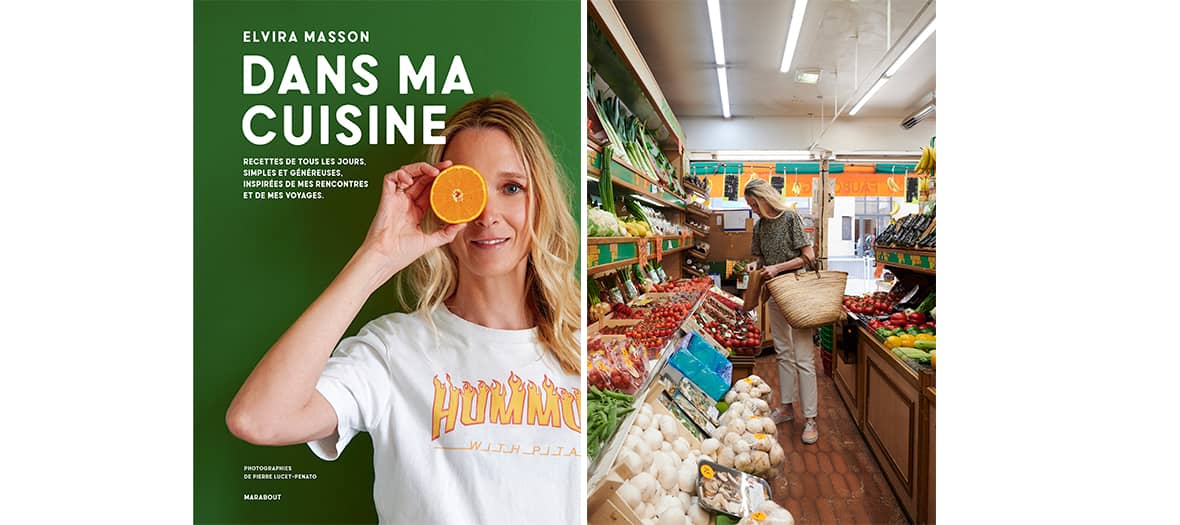 That's good, Elvira is releasing Dans ma cuisine, published by Marabout , a new bible where she distills her good taste, her gastronomic finds, good Parisian addresses, super easy recipes and food nuggets like no one else ... She unveiled her very inspiring short list.
His favorite tables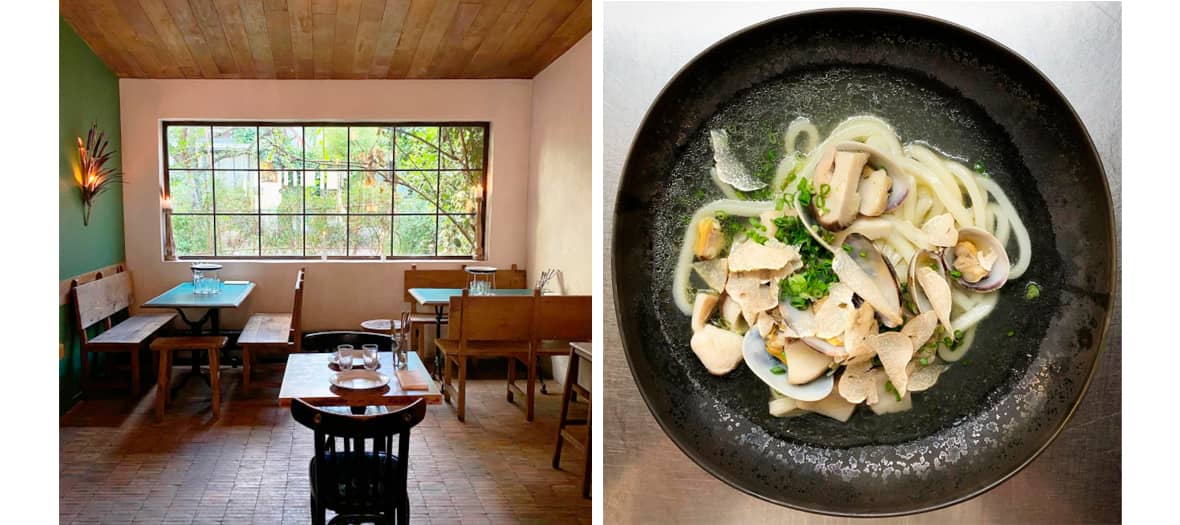 Clamato , Septime's 2nd address: perfect service, beauty of the place ... Having lunch or dinner at the bar is a dream, their way of serving fish and seafood fills me with joy. I love their accrabs, it's one of my favorite things to eat in the world. And the maple syrup pie (also on sale in their pastry shop) is my favorite dessert. 80 rue de Charonne, Paris 11th, 01 43 72 74 53
I'm not a big meatwoman, but sometimes the only thing I want to eat is the entrecote-fries-magic sauce from L'Entrecôte . 20 rue Saint Benoît, Paris 6th
In the register of sure values: the udons of Kunitoraya . 5 rue Villedo, Paris 1e, 01 47 03 07 74
Le semainier du Stella , the superb brasserie where I eat the best celery remoulade and brioche sausage. And which is the place where we chose, with his father, the first name of our son… 133 avenue Victor Hugo, Paris 16th
To drink shots with friends: always and again at Cave Septime . I love this place, his life, having a drink on the sidewalk in front and the promise of discovering wines that open a world to me. 3 rue Basfroi, Paris 11 e , 01 43 67 14 87
A food store to try once in a lifetime
Without any hesitation and because we will soon be entering winter: a Mont d'Or baked in its box, in which I dip super grilled merguez fondue. It was chef Ella Aflalo who gave me the idea. Totally decadent.
The dish to order in case of great laziness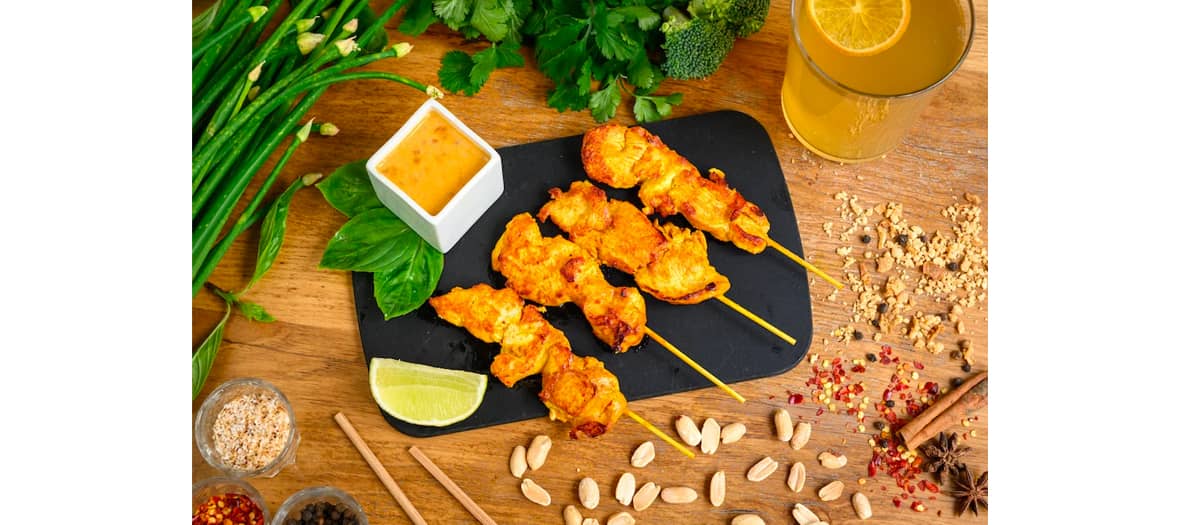 I really avoid ordering online, but my son has a passion for the chicken satay kebabs from Thai restaurant Kapunka. 38 passage des Panoramas, Paris 2e, 01 40 26 47 32 , delivery via Deliveroo
A Sunday night anti blues spot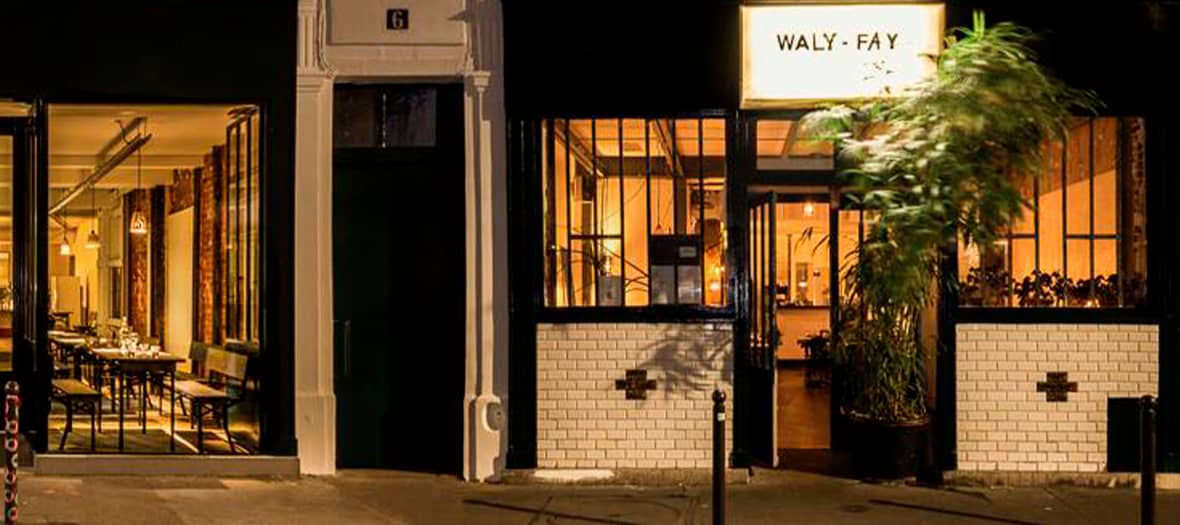 I rarely go, but I think about it often. Le Waly-Fay , a wonderful restaurant specializing in West African cuisine. His mafé - one of my favorite dishes in the world - his n'dolé and his braised chicken are insane. 6 rue Godefroy Cavaignac, Paris 11th
The place she loves to go back to again and again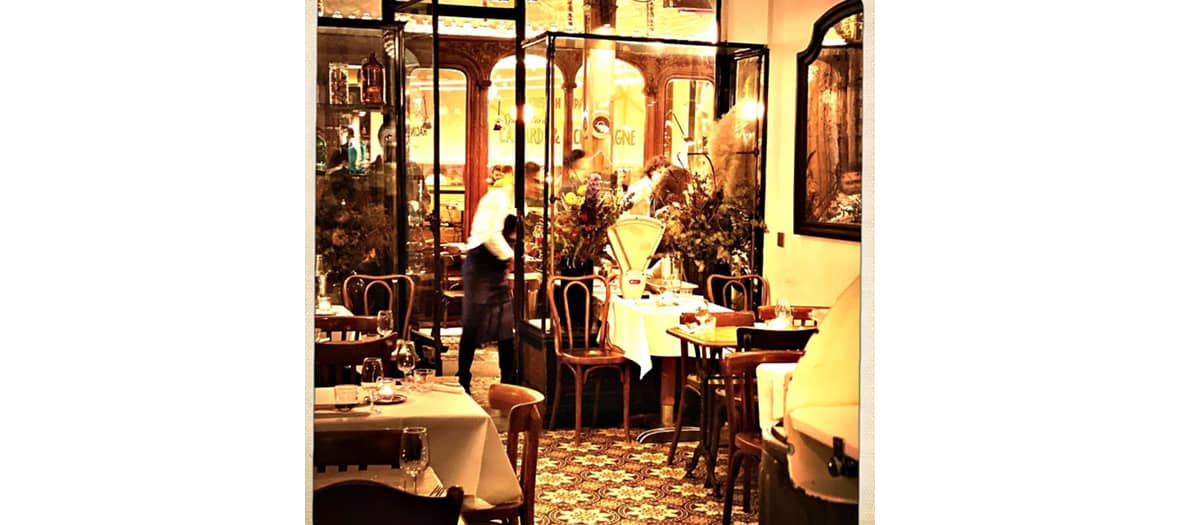 © jostudios.interior.
Racines , Simone Tondo's restaurant, passage des Panoramas. I like everything: the passage, the place, the lighting, Simone, her team, her wine list, her trattoria cuisine so fair and comforting, which does not try to be anything other than what she is . I feel at home there. 8 passage des Panoramas, Paris 2e, 01 40 13 06 41
Grocery stores to know for shopping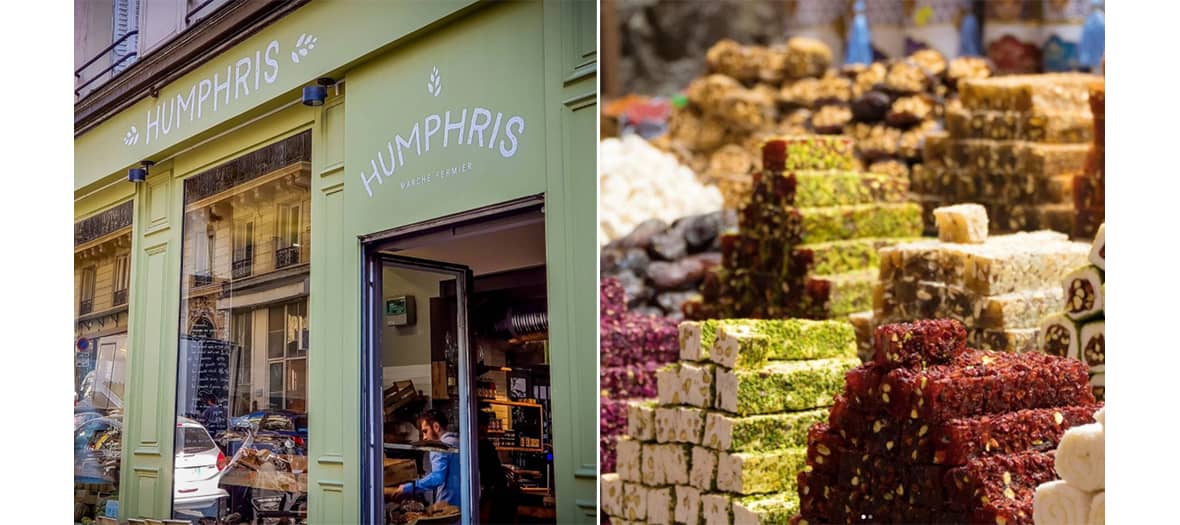 The Turkish Grocery , a big bazaar where you can find cut-out fêtas, a whole bunch of cereals, pulses and other products that I have not all identified. 24 rue du Faubourg Saint Denis, Paris 10th
Humphris , for dairy products, apples, sausages and meatballs. The best sources, the most virtuous farms. 2 rue Milton, Paris 9th
Rap , of course, for the crème de la Botte, including capers, fennel seeds, oregano and fregola. 4 rue Fléchier, Paris 9th, 01 42 80 09 91
A dish that always appeals to children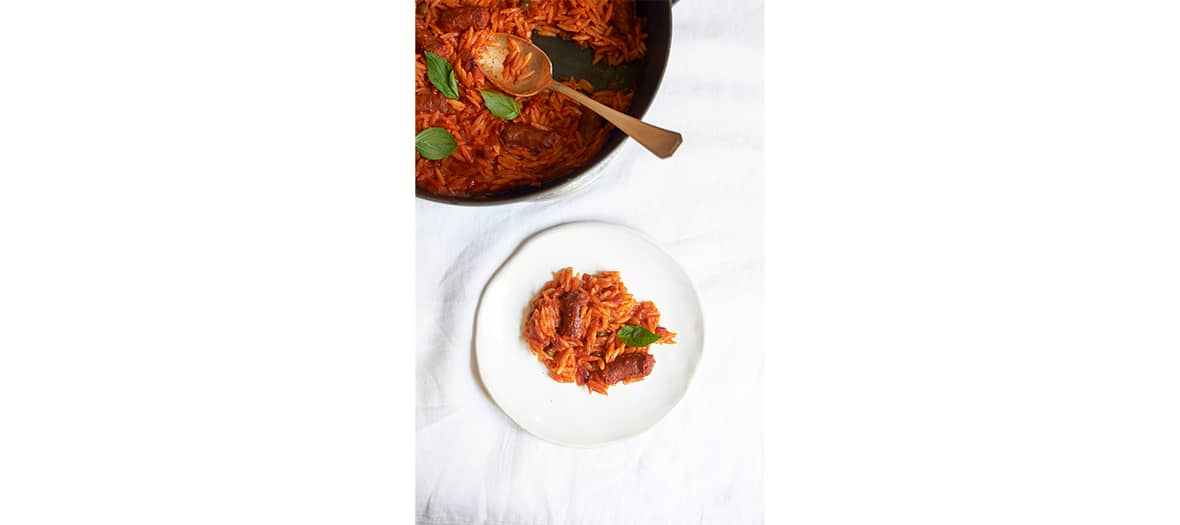 Tomato merguez bird tongues is a recipe that all children love, except for my son who doesn't like tomato sauce ...
Recipe :
Brown the merguez cut into large pieces at 180 ° for 20 minutes in a baking dish. Remove some of the cooking fat. Then add half a chopped red onion, a pressed garlic clove. Return to the oven for 10 minutes then add a can of tomato pulp and a glass of water. Add dried oregano, season with pepper. Add a glass of bird tongue pasta (risoni in Italian, orzo in Greek shops). Pasta cooks by absorbing liquid directly in the baking dish. At the last moment, add if you like a small handful of capers in salt, well rinsed or in brine. And we grate a little parmesan or pecorino.
The magic utensil to own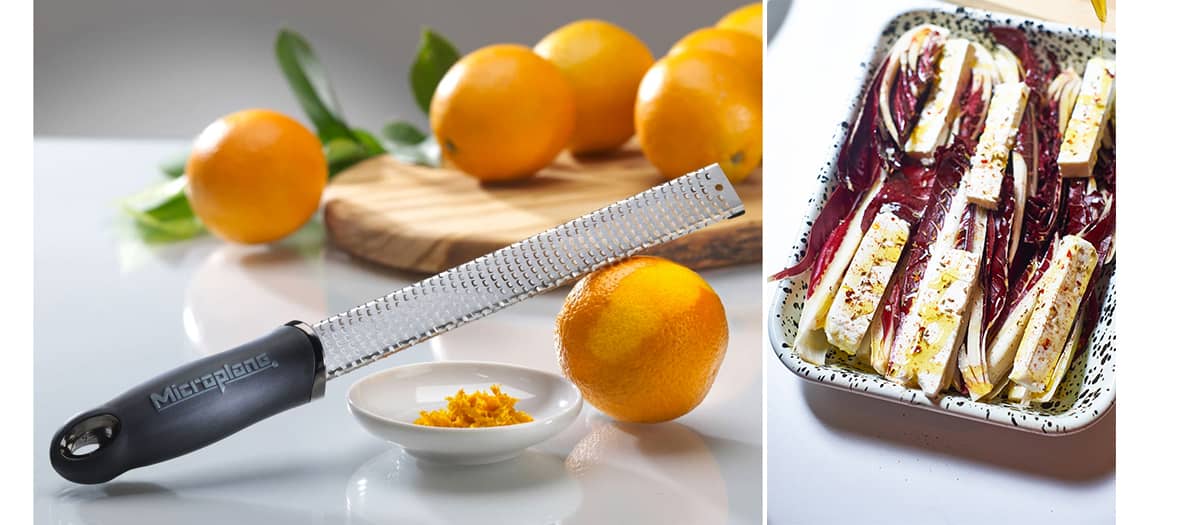 I can't live without a Microplane zest grater . I put citrus zest everywhere. On a pan of Brussels sprouts, oven-baked treviso-feta, all winter salads.
Passion fregola sarda
I never tire of this little round wheat dough from Sardinia. I like its elastic-firm texture, its slightly roasted taste when it is artisanal, and its versatility.
With cockles, with tomato sauce and sausage meat, with lemon zest and sardines. In fact, I like anything that is a bit childish.
A dinner that everyone likes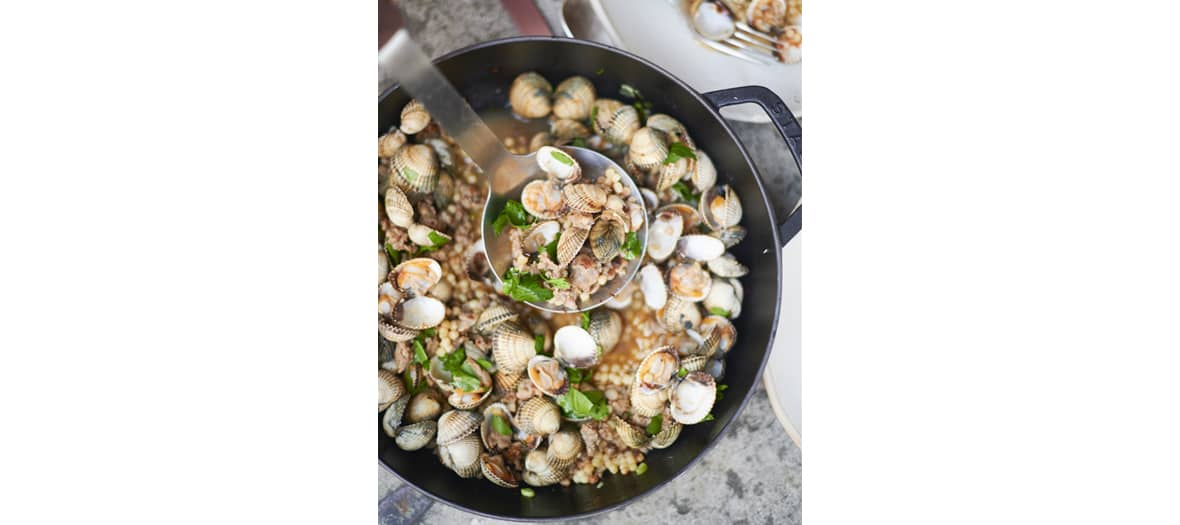 © Pierre Lucet-Penato
Big success of a very simple recipe that is very popular ... except for those who do not like seafood. Fregola cooked al dente, cockles, sausage meat, a little white wine, garlic, olive oil, fennel seeds, lots of pepper and chopped flat-leaf parsley. Super easy, perfectly foolproof and very satisfying.
The 4 essentials to always have in your closet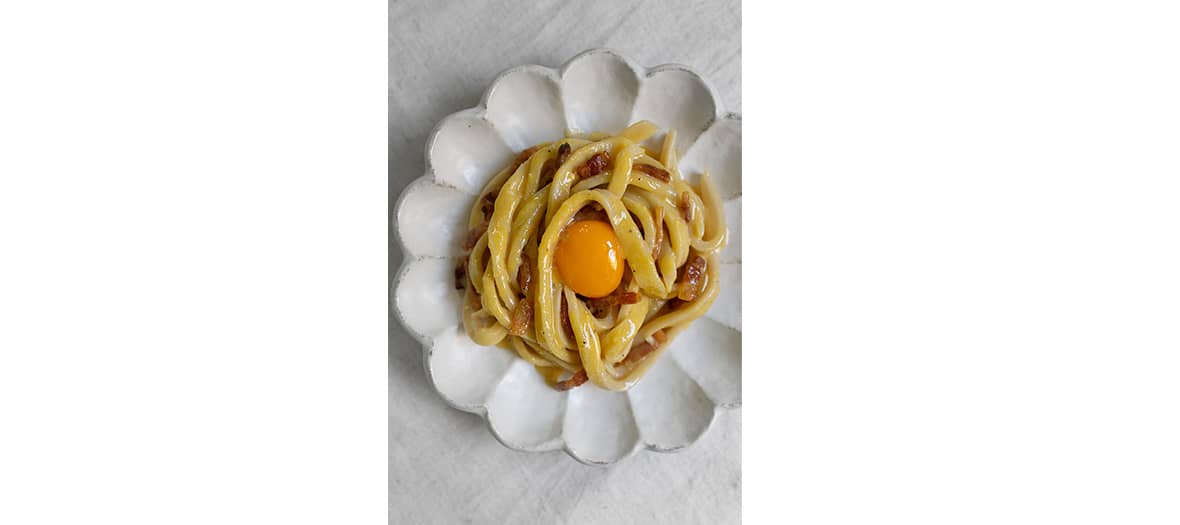 Fine bulgur : oddly, it serves me all, mixed (without cooking) with Greek yogurt, lemon juice, salt, pepper, we wait for the bulgur to swell in the mixture and it makes an extra base, i.e. at the bottom a deep plate with roasted vegetables, either as a stuffing, in a roasted squash, with a topping of fresh herbs, citrus zest and crushed hazelnuts. It's really my secret boot, I also put some in the shakshuka to give it body.
A good harissa : because I no longer do without chili, and diluted in yogurt or olive oil, harissa is very easy to use. I also put it in mayo when I feel like egg-mayo, put it in tomato sauce and as soon as I cook leftover fried rice with whatever is lying around in the crisper. I am also a fan of chili flakes. Same punishment, same motive.
Udon noodles : which I buy in packets at Japanese or Korean grocery stores, because I don't want to be caught off guard when I have the urge for udon-carbo - it happens! - or just a detox broth but with extra kif.
A tin of anchovies : in salt or oil, because there is nothing better on a pizza, but also simply on a mozzarella with a piece of good bread, with a little olive oil to harissa!
An unusual product to discover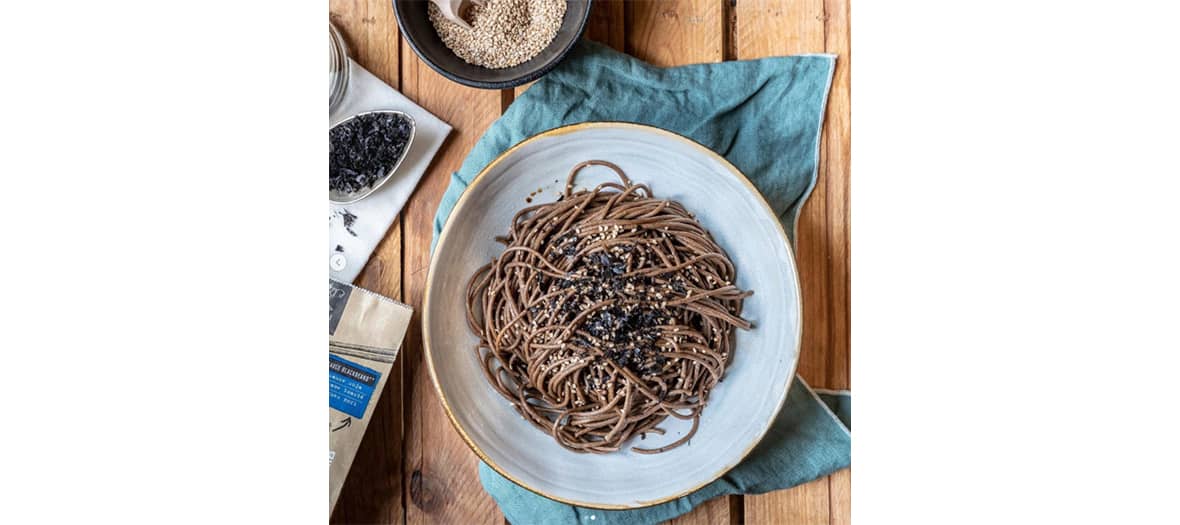 A completely brilliant thing that I recently discovered: ramen noodles made from spent grains, that is to say the dry matter that remains after the beer has been brewed. It is a small box which produces them, " Bring back your drèches ", from the spent grains supplied to it by La Brasserie de l'Être , an organic artisanal micro-brewery from the 19th century.
Take a look at this equation: 2,000 pints of beer = 300 kilos of spent grain = 2,200 noodles of eco-responsible noodles, therefore, super nutritious and delicious, sold with crazy little sauces.
Info and orders: ramentesdreches.com
His last shot of food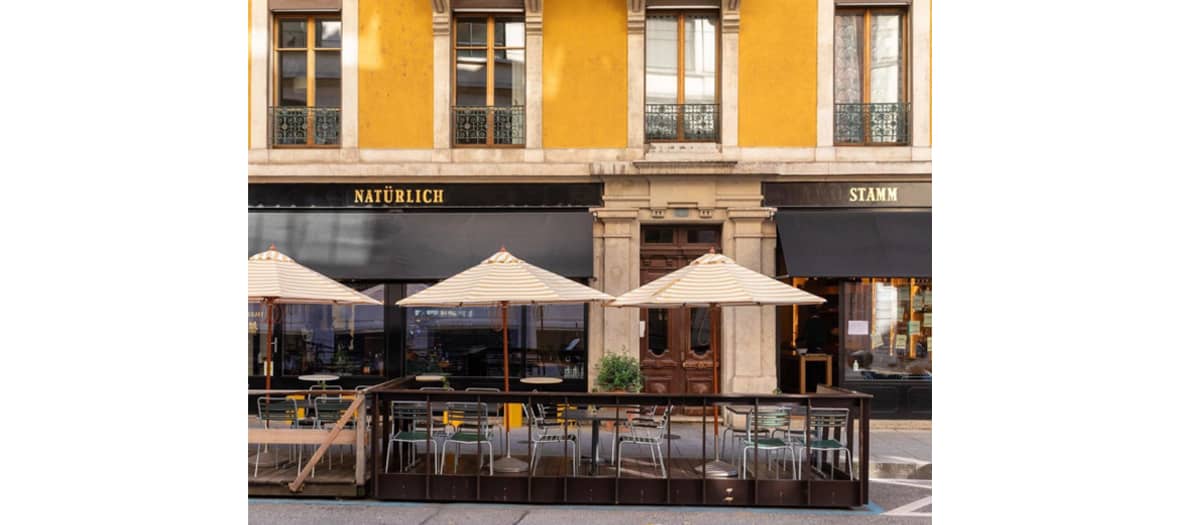 A wonderful dinner in Geneva at Natürlich , the table to which Julia Sammut's 2nd Ideal (after Marseille ) grocery store is attached. The chef Jonas Bolle had imagined the evening of my visit a Swiss-Scandinavian-Mediterranean menu with nods to the recipes in my book, I can't tell you how touched I was!
38 rue de la Coulouvrenière 38, 1204 Geneva
In my kitchen , Elvira Masson - Marabout - 29 €
Also discover our 5 favorite Bouillons for a feast without breaking the bank and Sweet Escape, the mini-market that sells all the American products not to be found in Paris.
© Pierre Lucet-Penato