The cool event we were impatiently waiting as curtain dropper of fashion week is obviously signed H&M. The Swedish label is celebrating its first sports collaboration with the Australian brand P.E Nation and created for the occasion an immersive studio in Montorgueil: the H&M Sports Club. A golden occasion to slip on their incredible outfits in organic cotton and in recycled polyester that sign the most stylish sporty and streetwear silhouettes of the season, available starting the 5th of March on line and in shops.
INSPIRING AND FREE COURSES IN AN IMMERSIVE STUDIO
In order to showcase a sports vision at the same time fashion and life oriented, H&M has taken over a secret place in the Sentier and created a club in the image of their collab' with P.E Nation, Saturday the 7th and Sunday the 8th of March.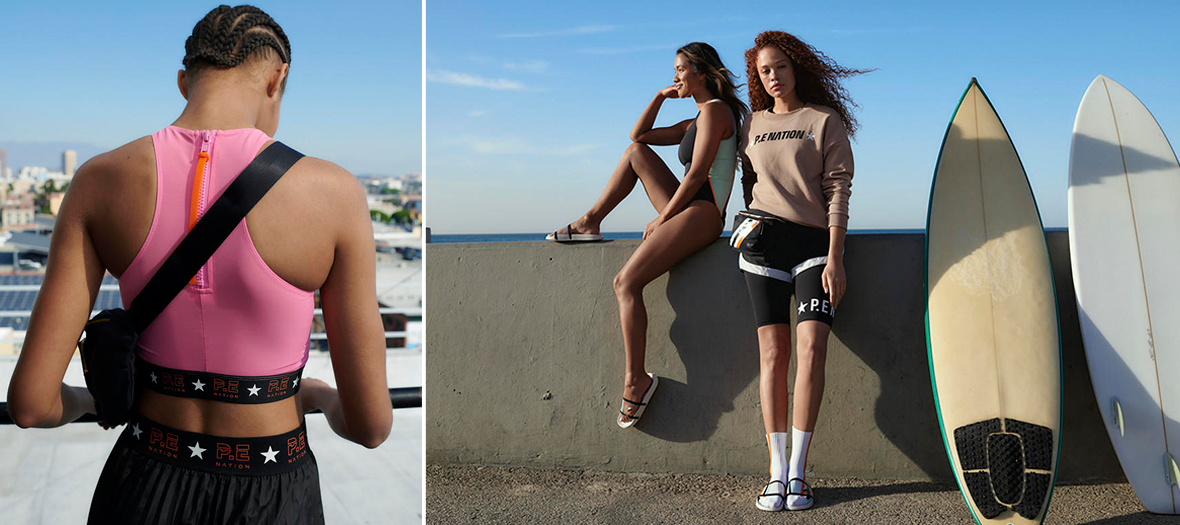 In order for this to happen: the most inspiring teachers of Paris were invited to come deliver both stylish and avant-gardist courses. And Do it in Paris has managed to pick up a few VIP invitations for its readers to be booked urgently.
YOUR SPORTS PROGRAMME FOR THE WEEKEND
Now, all have to do is choose your favourite programme amongst full blast cool and body positivist offers to boost your mood and sculpt yourself a pretty body, with the "cardio boxing" of Christelle Javelier which entails a complete high intensity training: hitting, cardio and muscular reinforcement or the training circuit of Fiona that sets forth strength and cardio.
We are 100 % for the "pose like Insta" yoga of Coelia Pelletier, a flow of vinyasa in order to learn how to reproduce the most impressive postures of Instagram. So, now that you have become a star with heavy duty mental power, you need to post.
And let's not forget heat yoga with Clio Pajczer, who combines reinforcements and stretching, intense cardio phases of efforts and postures as well as burning dance inspired by the Lester Horton technique with Olivia Courbis.
PRACTICAL INFO
H&M SPORTS CLUB
When? Saturday the 7th and Sunday the 8th of March 2020. Registration obligatory and participants must arrive in sports gear.
The invitations and the rendezvous will only be sent after confirmation of your registration on eventbrite.fr.

And while waiting for the event, discover the collection starting the 5th of March, on line and in a selection of Parisian H&M stores:
- Westfield Forum des Halles, 101 Rue Berger, 75001 Paris
- 135 Rue de Rennes, 75006 Paris
- 77 Boulevard Saint-Germain, 75006 Paris
- 147 Rue La Fayette, 75009 Paris

Also discover the coolest fashion collabs for Spring