© Bergamotte
Feel like a shot of chlorophyll? Take a tour of the best addresses and services to give your flats a green touch.
Merci Raymond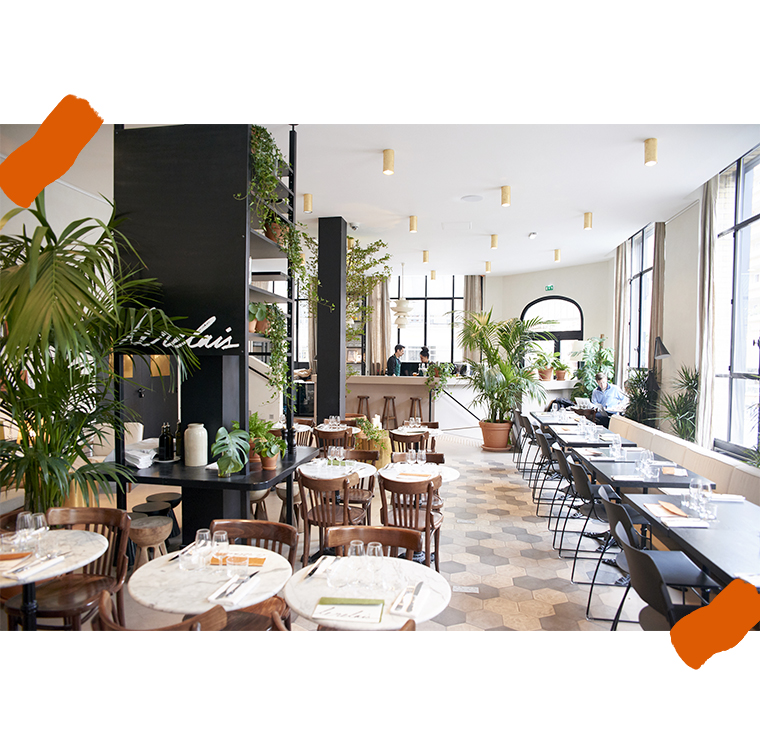 Launched in 2015 by Hugo Meunier, a farmer's grandson, this trendy collective of gardeners has given itself as mission to replace vegetals at the heart of the city.
Its autonomous terrariums are a big hit in all the hip concept-stores, but the sustainable startup does not stop there. Vegetalization of spaces(Station F, Terra, Brasserie Bellanger), gardening workshops, urban vegetable gardens, the ring leader of the green revolution has just inaugurated his cantina, baptized Le Relais, in the 11th and is coming out with his first book, Tous acteurs de la révolution verte, published by Editions Marabout.
Merci Raymond - 10 Rue la Vacquerie, 75011 Paris
By Charlot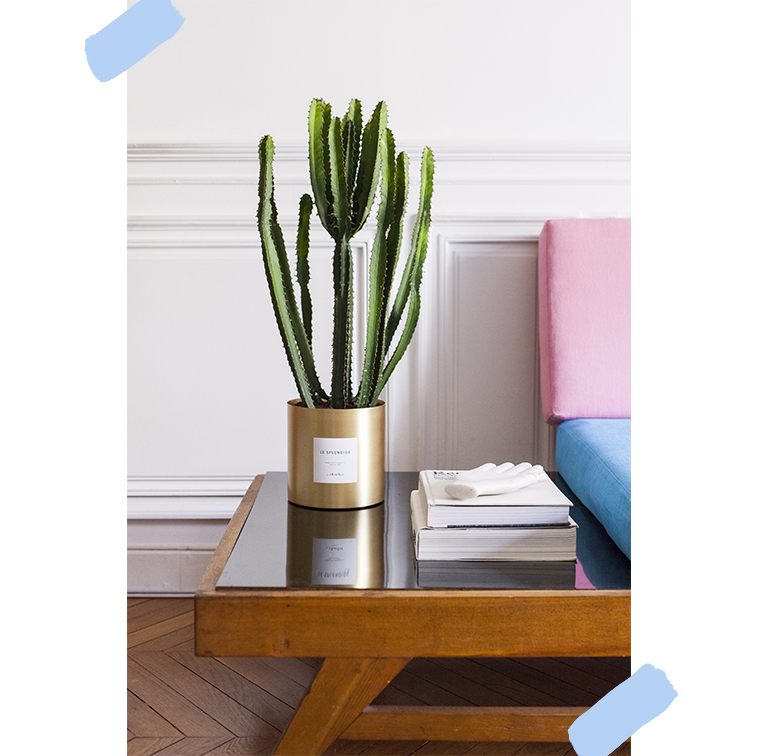 La Coquette, Le Splendide, La Rêveuse, Le Dandy, La Rockstar… Chez By Charlot, cactus and green plants all have character. Their nicknames appear on plain tags and decorated the copper or ceramic pot like deluxe candles.
It's very recent: the young digital label unveils its entire ensemble collection in real life, presented in a very nice Batignolles setting with a family house feeling, baptized Le Salon. You can even have your own species personalized.
By Charlot - 26 Rue des Batignolles, 75017 Paris
The Blond Cactus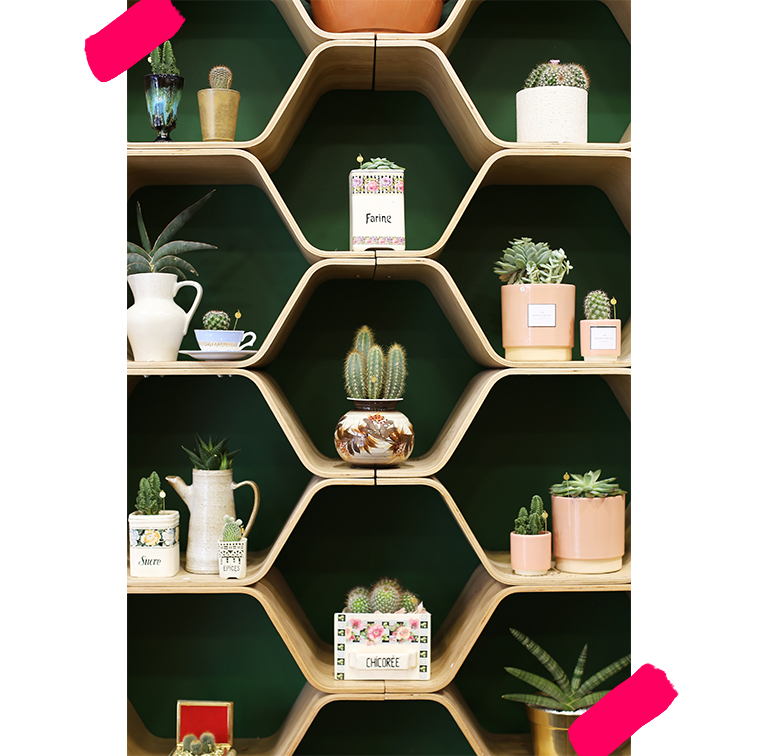 Morphing vintage objects into cactus pots, this is the spiky idea of Barbara Leperlier aka The Blond Cactus. Porcelain cup, ceramic water jug, creamer, teapot… Never has upcycling been so chic. And since the opening of his boutique-workshops last December, it's even possible to create your own p 100 % personalized vegetal object in 5 minutes flat.
Feel like putting your hands in some real earth? Barbara animated repotting workshops for little ones and grownups, without forgetting the DIY to practice at home.
The Blond Cactus - 17 Rue de Crussol, 75011 Paris
What The Flower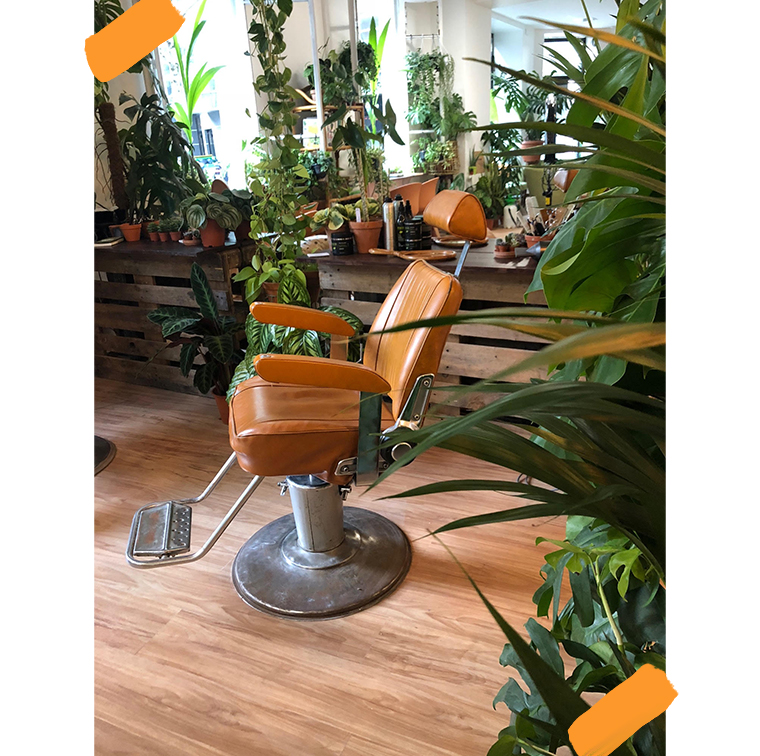 Justine Jeannin has two loves: hairdressing and plants. Result, this specialist in vegetal hair colour, also at the origin of blog Sweety Oxalys, created a very unusual hair salon, filled with rare vegetals, which she pampers while waiting for them to be adopted.
Nice, Justine gives a wide array of practical advice in her her new book Green addiction, la jungle à la maison(Ulmer).
What The Flower - 35 Rue du Chemin Vert, 75011 Paris
Leaf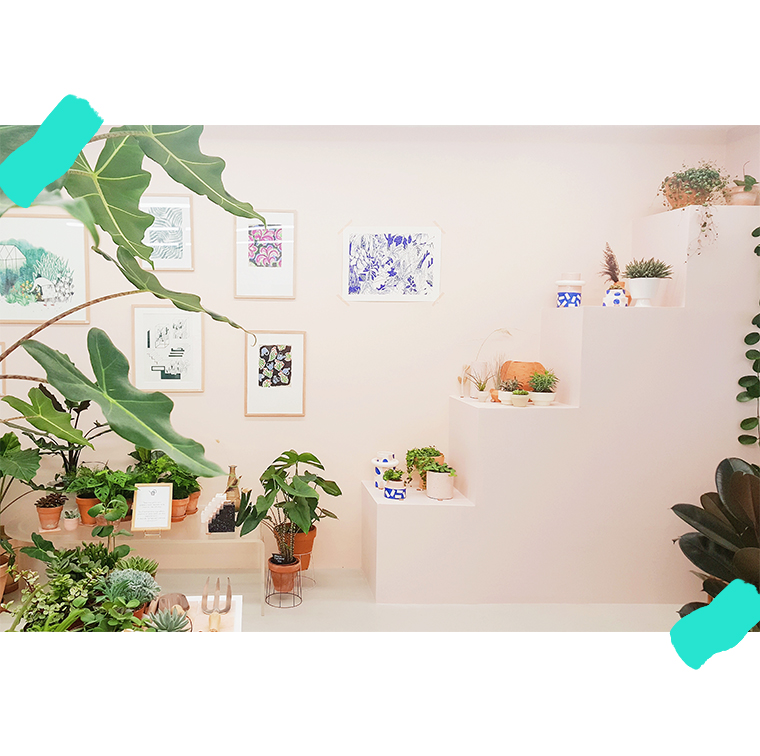 Installed since one year and a half near Canal Saint-Martin, this highly instagramable vegetal concept-store (thank you Heju Studio) puts the spotlight on seasonal plants, cultivated in the respect of the environment by small independent nursery growers.
Begonia masoniana, pealy aloe, peperomia WaterMelon… Axelle Duflot welcomes scores of occupants, all with more or less complicated names.
Her small creative jungle also presents pots, illustrations, up-to-date leaflets and ceramics linked to the vegetal luniverse.
Leaf - 46 rue Albert Thomas, 75010 Paris
Prêt à pousser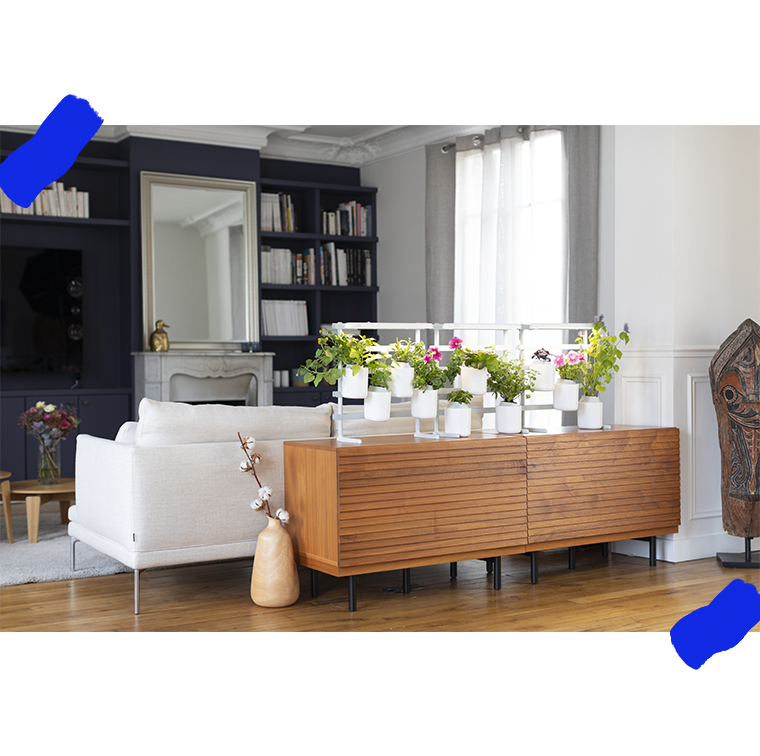 The creator of high-tech interior vegetable gardens has capsulated forty variety of plants to grow at home, in your kitchen or living room: mimosa pudica, basil, sunflower, chamomile, corn flower…
No need to be a pro to play at this game for budding gardeners. The Lilo and Mudoulo tools are as simple to use as a coffee machine! Only difference? You need a minimum of patience.
Prêt à pousser - 60 Rue Boursault, 75017 Paris
Bergamotte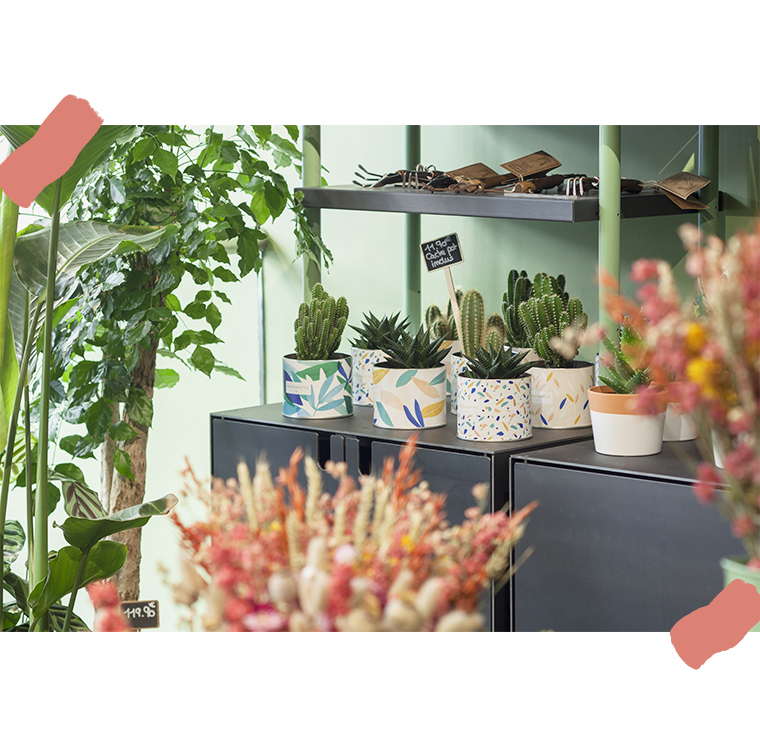 © Bergamotte
The expert in flower and plant delivery all over France has opened in the Opéra district.
In a contemporary space designed by the studio Label Experience, Maison Bergamotte runs the gamut from tiny cactus and XXL tropical specimens. Their common denominator? They adapt perfectly to our interiors and are very easy to upkeep. The shop regularly welcomes DIY workshops and markets with ephemeral plants.
Bergamotte - 12 Rue d'Argenteuil, 75001 Paris
Also check out Jermene, a decoration shop like no other