The terrace season is open… You are looking for the latest chill-out spots, for outdoor happy hours and lunch in the sun? No panic. Do It In Paris did the scouting for you and selected the 10 novelties of the season.
Le Sancerre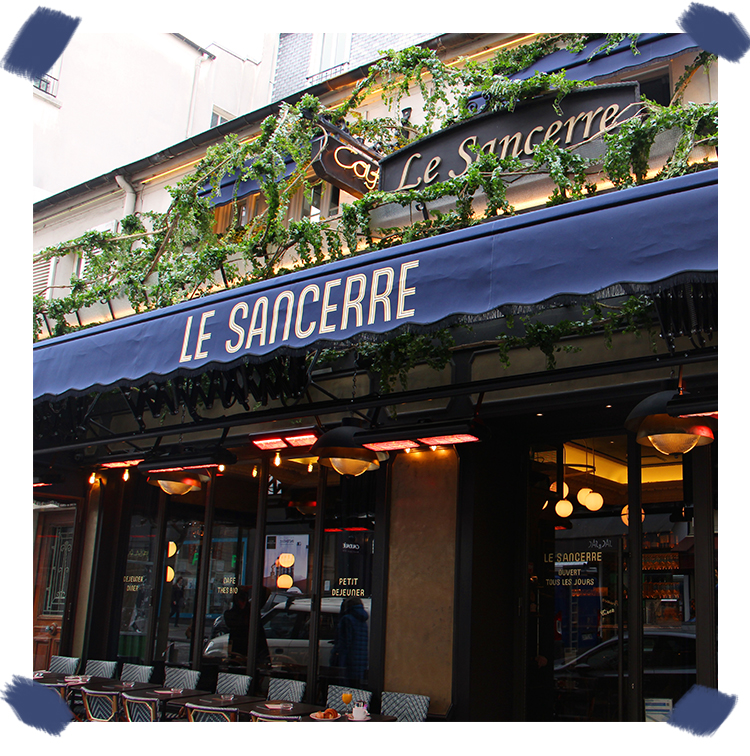 Right at the heart of Montmartre. On the trendy rue des Abbesses, the mythical brasserie Le Sancerre has a new owner, who organized a very Parisian face lift, in overtones of navy and gold featuring the Art Deco spirit. The terrace is the ideal spot to sip a nice glass of Sancerre in the sun (€6.50), or a signature cocktail (€13) : "For him" (pampero, combava, martini, lime, vanilla, badian) or "For her" (gin, triple dry, lime, coriander). For nibbles, share a plate of burratina mozzarella, tomatoes, eggplants and basil topping (€9.5) and for those with a sweet tooth, the irresistible crème brûlée (€7.50).
Le Sancerre, 35 Rue des Abbesses, 75018 Paris
Roberta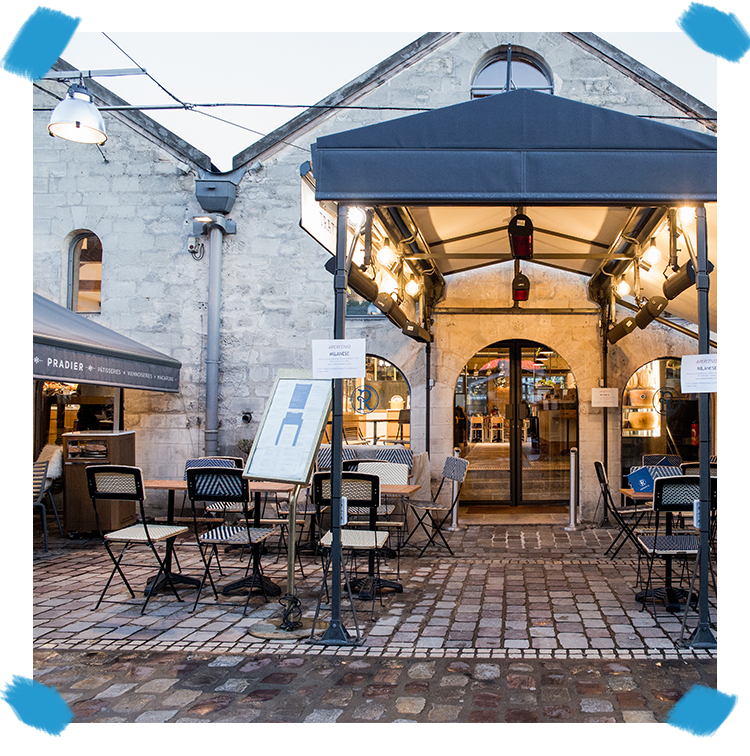 Roberta, is the Mamma of Parisiennes, who for the past 15 years has fed the post-catwalk shows and all the cocktails of the fashion sphere. Its trendy trattoria in Montmartre now has a kid sister, Cour Saint Emilion with the best products of the Boot and two huge terraces in Bercy Village (80 seated places)… Check out their amazing Milanese-style aperitivo Thursday to Sunday until 7pm at €13 with a cocktail ( a spritz, for example) + all you can eat buffet of charcuterie, cheese and fruit. Tops.
Roberta,30 Cour Saint-Emilion, 75012 Paris
Hasard Ludique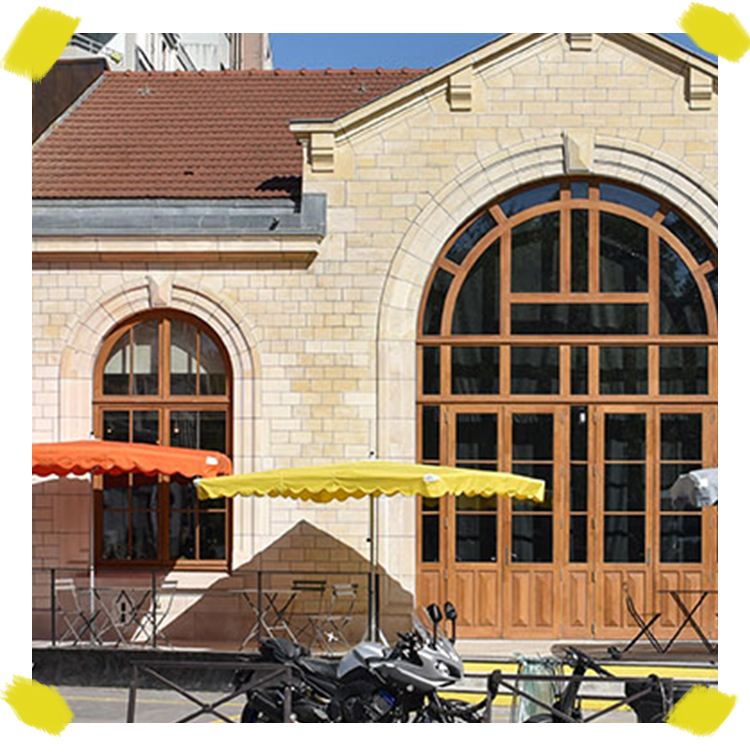 This time you are going to enjoy hanging out on the train platform. The cultural and festive hub, set up in the former train station of Saint-Ouen, is inaugurating a terrace 300m² along the railroad tracks of the disaffected Petite Ceinture—small belt that went around Paris. The outdoor season launch is taking place on the weekend of April 28th with huge barbecues, cocktails (€9), concerts, mökkly, twister and chamboule for the occasion. To be noted, happy hours Tuesday to Friday from 6pm to 8pm for a pint of beer at €4, exactly under the sun.
Hasard Ludique,128, avenue de Saint-Ouen, 75018 Paris
Vins des Pyrénées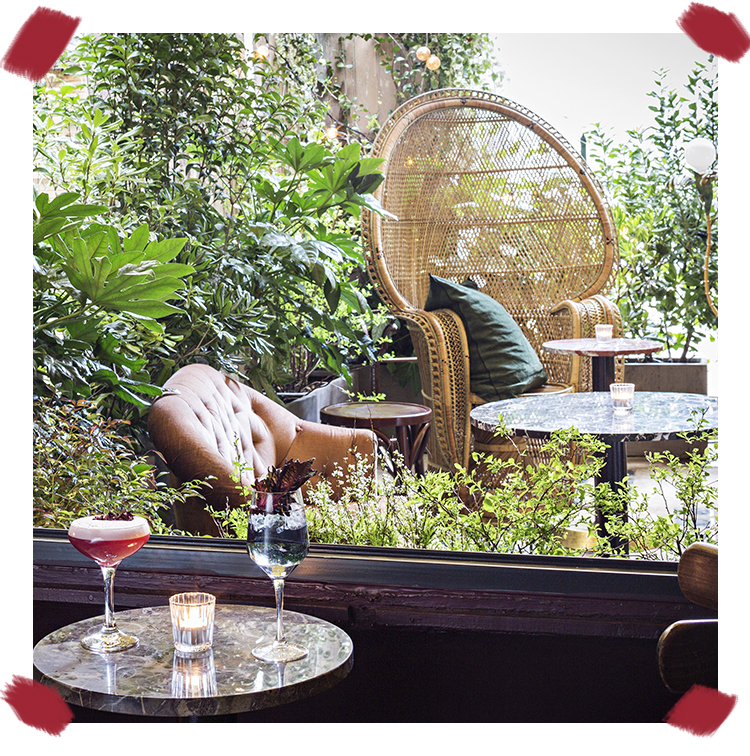 Better than a speakeasy, a secret and ultra-romantic mini-terrace for 15 guests, hidden on the upper level of the most popular restaurant in the Marais, right next to the cocktails bar. The atmosphere is unique: velvet armchairs, marble tables, Belle-Epoque small furniture! Careful, this very VIP area is only accessible by reservation
More info on Vins des Pyrénées
Vins des Pyrénées, 25 Rue Beautreillis, 75004 Paris
Hotel Bienvenue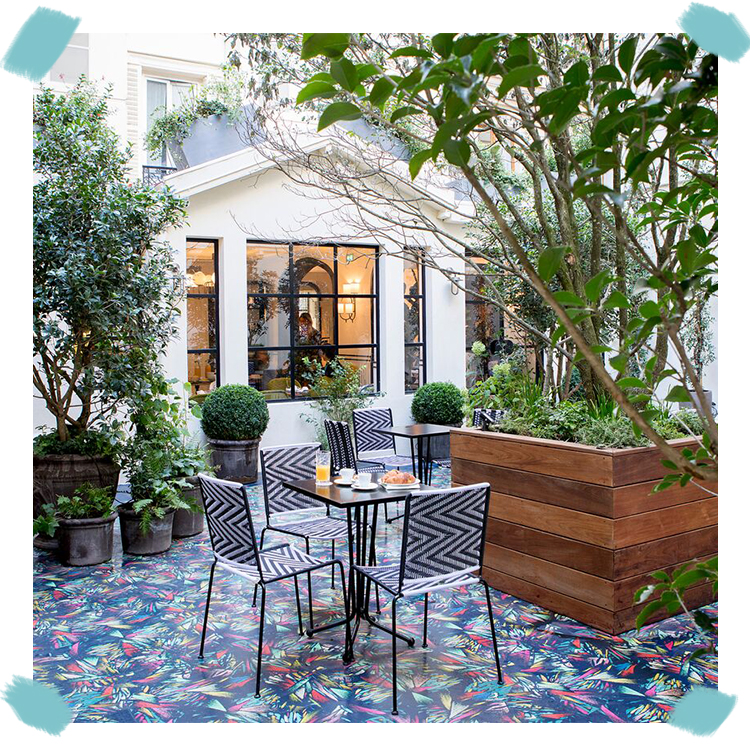 Bienvenue— this is the welcoming sensation of the season. A boutique hotel as we like them, opened by the Panache gang, an incredible decor signed Chloé Nègre, but especially a secret garden designed by landscape artist Xavier Patricot… Its high added value ? The very colourful floor fresco by artist Julien Colombier… You can show up at lunch time or at happy hour to share small plates (€7-15) imagined by chef Minou Sabahi, to be enjoyed with a glass of natural wine (€6). The local bobos are beside themselves !
Hotel Bienvenue, 23 Rue Buffault, 75009 Paris
EP7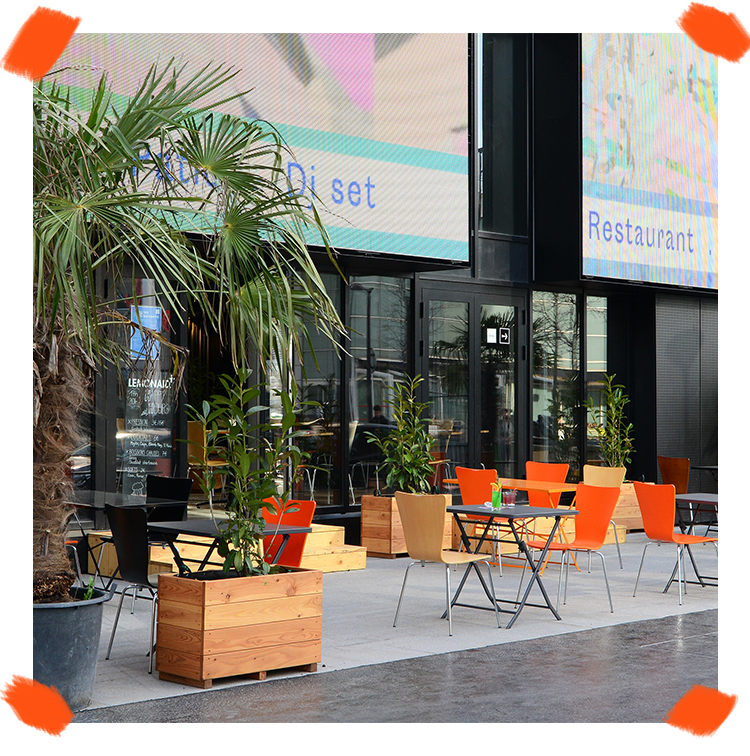 Two terraces for the price of one ! The new digital guinguette that is shaking up the 13th arrondissement now offers two outdoor spaces to come squat in keeping with your mood. On the ground floor, the street-food counter with the Animal Kitchen label whips out incredible sandwiches on the pavement (sandwich + sidet €13 ), as well as cocktails. On the upper level, be one of the first to grab a deck chair, beer in hand during an electric dj set. On weekends, go for the hanging dog posture during a yoga course— namasté b*tches.
EP7, 133 Avenue de France, 75013 Paris
Parister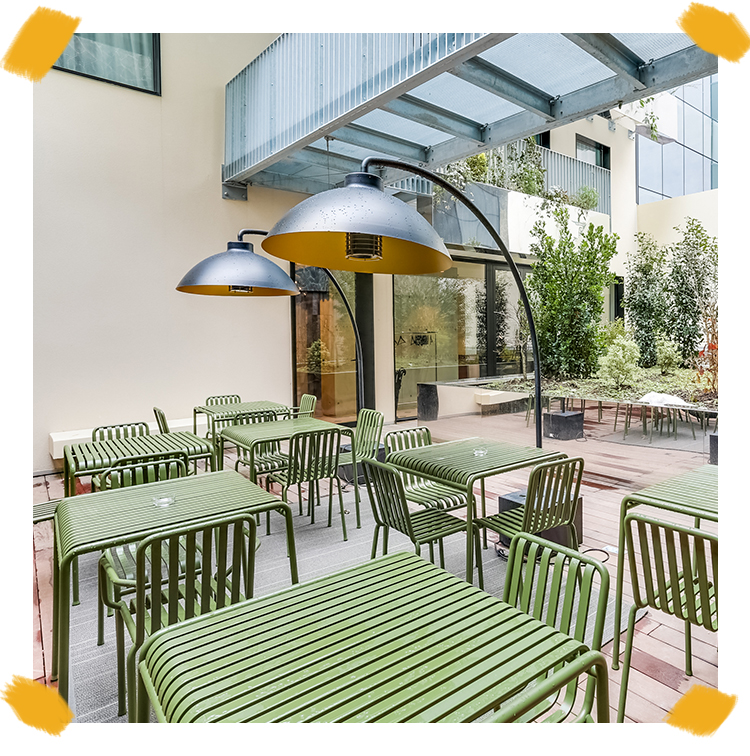 Open last November, near the Faubourgs ,and formerly an office building, the 5-star Parister is inaugurating its Zen terrace under the surprising vegetal gangways that link both parts of the hotel. Get ready for a chill happy hour, far from the traffic frenzy with signature cocktails by the chief barman, ex Distrait (12 €), and even a large choice of gin & tonics (from €10).
Parister, 19 Rue Saulnier, 75009 Paris
Les Belles Plantes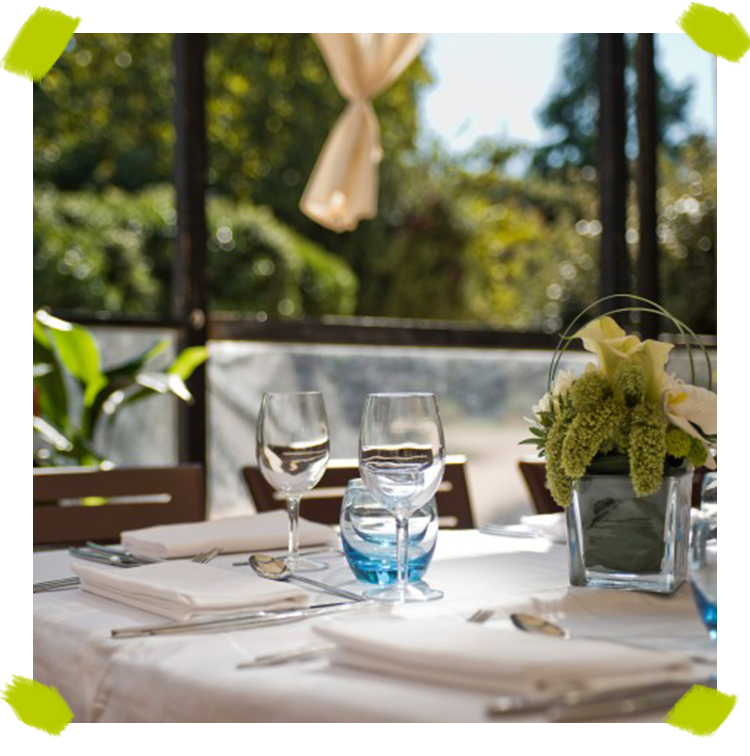 The Baleine went back out at sea and has been replaced by Les Belles Plantes, the brand new bistro of the Jardin des Plantes, which, as indicated by its name, is the perfect change of scenery and bucolic spot, open from noon to 10:30pm… On the programme, the spirit of a made in Paris country house with a garden burger (€16.50), a pretty Italian salad (€21)or an ice cream cup (€8,50). Chill happy hour lovers will adore to order "the" famous cheese and charcuterie slab (€19) with a fresh glass of rosé (€3.50€) or a Pimm's (€12).
Les Belles Plantes, 47 rue Cuvier 75005 Paris
Bouillon Pigalle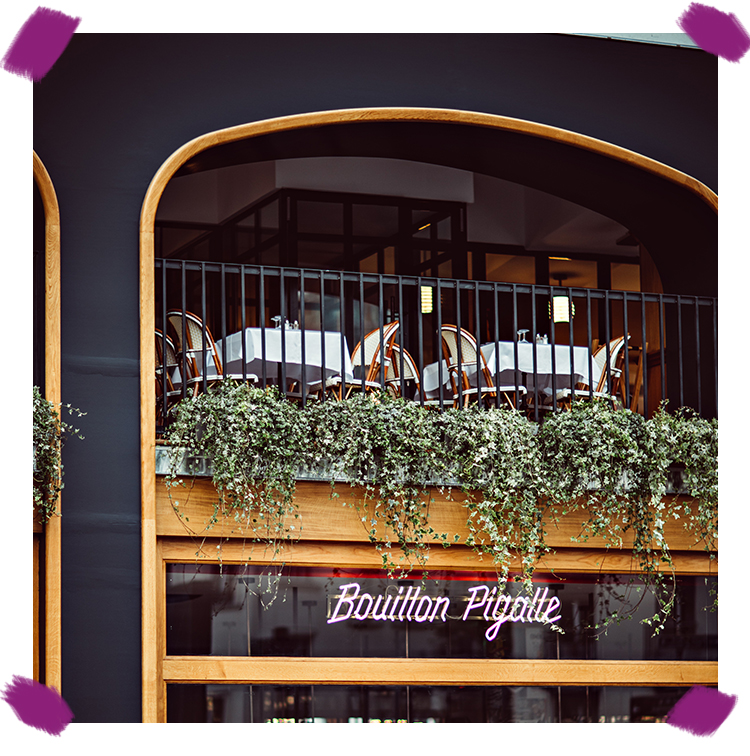 Unbelievable? Bouillon Pigalle, the address that attracts all the inside-track Parisians around amazing dishes at less than €10 for a typical steak and fries, egg mayo, blanquette de veau and good wines at low prices. Less publicized, the fact that on the upper level hides a large terrace where you are the King (or Queen) of Place Pigalle. Access ? Stand in line like everyone else, and make sure to mention you prefer eating outdoors.
Discover all the information on Bouillon PIgalle
Bouillon Pigalle, 22 Boulevard de Clichy, 75018 Paris
La Parisienne du Faubourg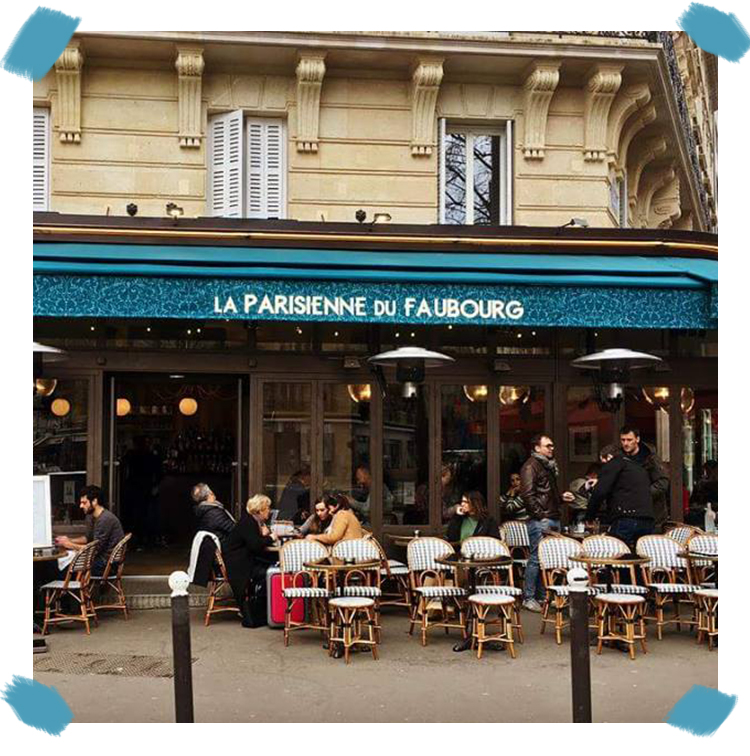 A stylish bistro, since its eponymous name attracts all the Parisiennes of this 12th arrondissement Faubourg. Settled right on Place Faidherbe Chaligny, this new trendy venue features all the charming assets: very Parisian, a sunny XXL (heated) terrace, for tartare and fries at lunch and especially long lasting happy hours… trouver les prix
La Parisienne du Faubourg,1 Rue Faidherbe, 75011 Paris
Also discover the best outdoor venues for summer.