This new top secret bar in the Sentier district features 2 obsessions we adore. Here are the tips:
1) It is hidden behind the Grilled-Cheese Shop facade, served in take-away mode or with cocktails. Special kudos to the classic cheddar or pulled-pork (starting at 6€)
2) The hot barman on the scene, Joseph Akhavan is a potion genius, who shakes up amazing cocktails, especially those with rum, in homage to Mabel, the assistant of a very "Dr Jekyll et Mister Hyde" prosecutor during the Prohibition who use to get sloshed in forbidden bars as soon as she had finished her anti-drink work…
How to get there: walk through the door of this hole-in-the-wall sandwich shop, push open a second door and land in this intimate enclave. To sip absolutely: TRADER WHO with Rum + barley water pine nuts-coconut + fresh green lemon, Black Ceylan bitters #killer.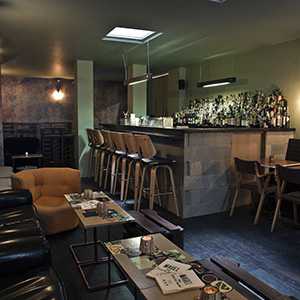 PS: the Grilled Cheese Shop is open for dinner from Monday to Saturday if you want to grab a quick bite.
Open Monday to Saturday from 6pm to 2am.
Also discvover Les Grands Verres, the new bar/restaurant at the Palais de Tokyo.