The ramen is a little like the chicken noodle soup of Japanese Grannies. IN the bowl: broth, meat and thin noodles of wheat. In short, a recipe as old as Japan with that umami taste making it so addictive.
At the outset, ramen was the quick snack wolfed down in front of the small street stands. In the 80's, the 2.0 ramen was born, a trendy revival that becomes the new symbol of soul food that went viral thanks to mangas. So, where to slurp this delightful neo-broth in Paris? The answer in 5 addresses.

Menkicchi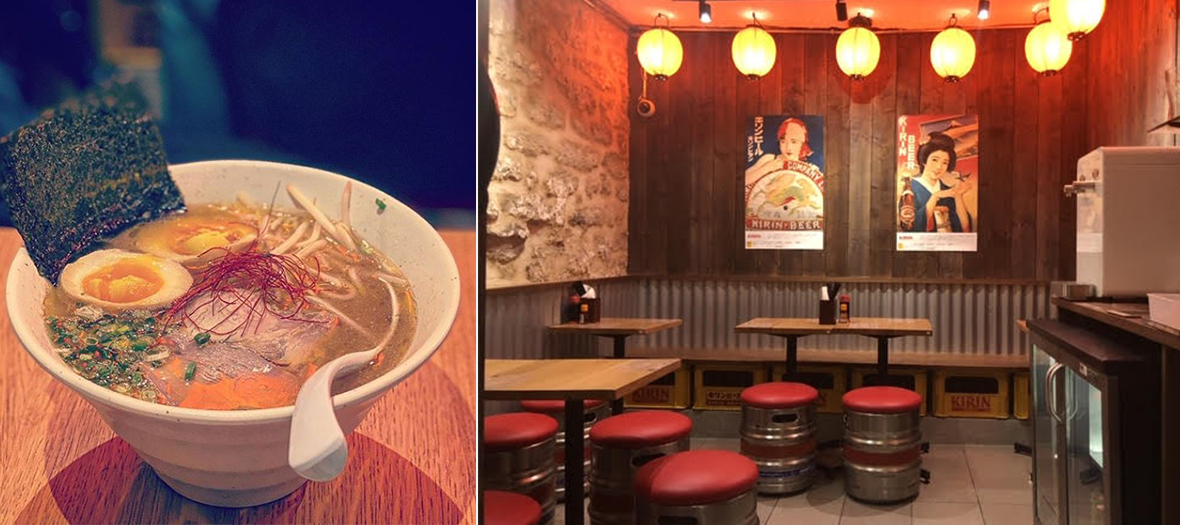 It's whispered that here they serve the favourite ramen of Taku Sekine (the chef Dersou). Purist will appreciate the perfection and the minimalism of this brand new address on Rue Sainte-Anne which foodies share secretly. Straight to the point : no starter nor dessert, only 3 ramens and a few beers bières to be tasted in a stylish hole-in-the-wall where Parisian stones are scraped and wooden tables installed. A perfect place.
To be tested absolutely:and since minimalism is the name of the game here, better to concentrate on the classic ramen and its perfect homemade noodles, bathing in an amazing broth texture—at the same time dense, fragrant, non-splashing, with pork filet porc and chives.
€12-15 for a ramen.
Menkicchi, 41 Rue Saint-Anne, 75001 Paris.
© @cute_belly_eater_club sur Instagram
Kodawari Ramen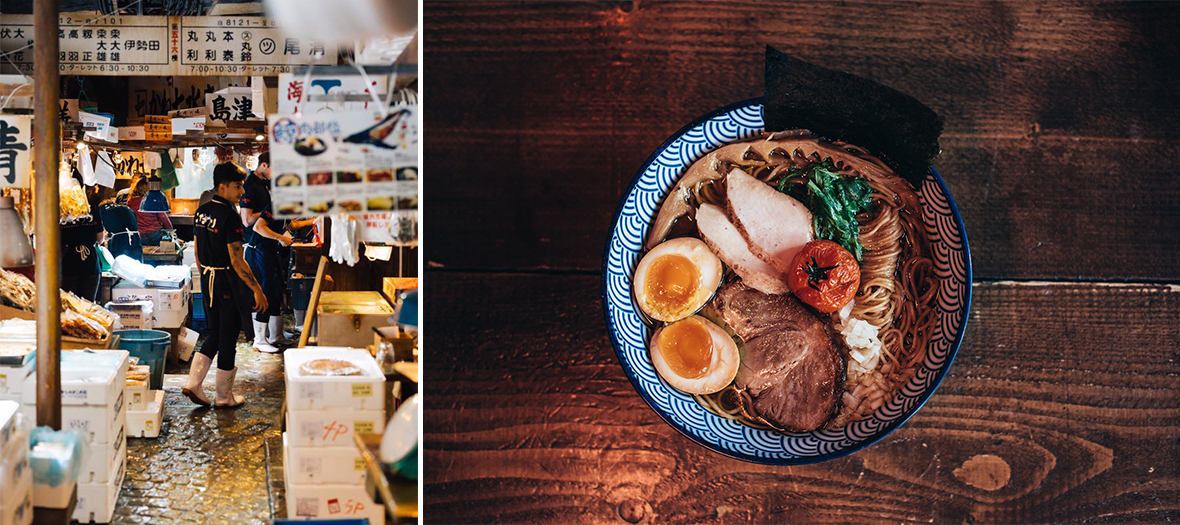 There's a lot of "slurping" at Kodawari Ramen, this cantina which transports you on the spot in the atmosphere of a small Tokyo street with a smoking counter behind which the chef is busy with his broths— red lanterns, Japanese everywhere, kawaï sodas.  To avoid XXL of queue, better to arrive early—at noon for example when you come for lunch during the week!
To be tested absolutely:
The ramen with the secret black sesame sauce, garlic and ginger with châshû of Basque free range  pork. Poutargue fish eggs for the veggie option.
€12-15 per ramen, no reservation possible.
Kodawari Ramen, 29, Rue Mazarine, 75006 Paris and 12, rue de Richelieu, 75001 Paris.
Ippudo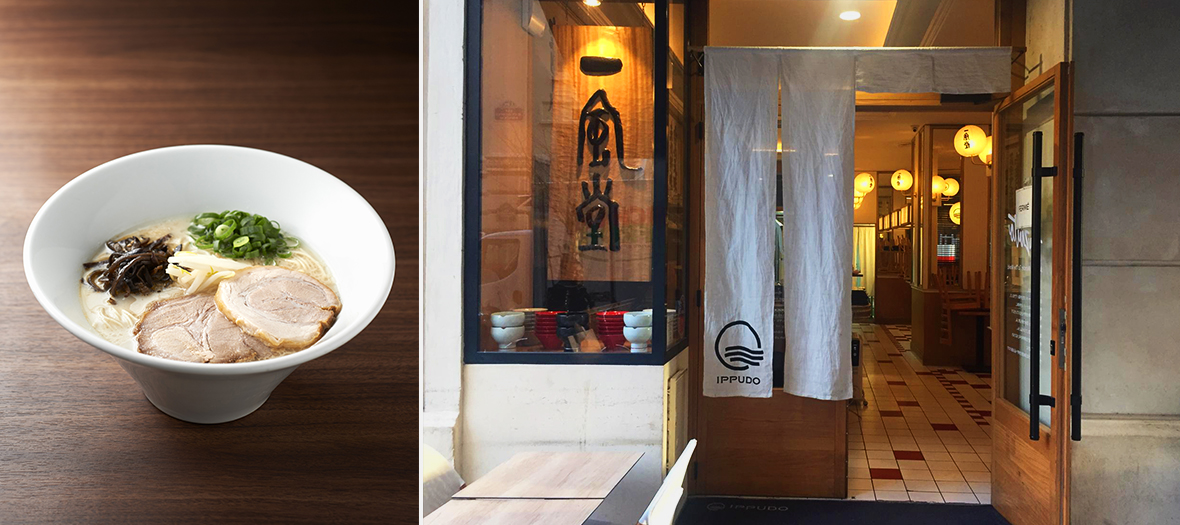 The promise of a real voyage in trendy Japan. Ippudo, is the historical monument of the 2.0 ramen invented by Shigemi Kawahara also known as the "King of Ramen", during the 80s in Hakata and that is creating the buzz in London, Tokyo and New-York. After queueing up, you are welcomed by the famous "Okaerinasai" shouted loud by the entire team, as is the tradition, when you enter in a restaurant.
To be tested absolutely: their famous tonkotsu sesame broth with homemade noodles, chashu (filet of pork), mushrooms, chives, umami sauce and koyu oil. We adore their delicious bao buns, garnished with fried chicken.
€14 for a ramen.
Ippudo, 74-76 Rue Jean-Jacques Rousseau, 75001 Paris
Neko Ramen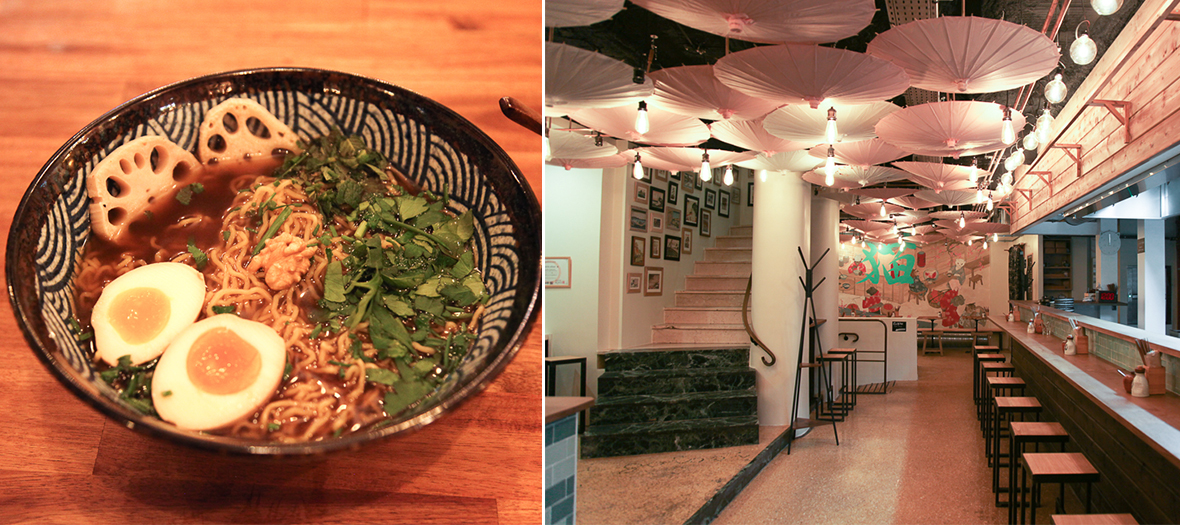 This is the new ramen address just like in Tokyo:  tasty, not expensive but of good quality. Head for the Land of the Rising Sun to discover authentic ramens to be enjoyed under a forest of parasols in white and pink Japanese paper. At the helm: the French chef nourished with Japanese culture and trained at Rajuku, the best Ramen school in Japan, Sedrik Allani.
To be tested absolutely: The Shio, "salt" in jap', a salt-based ramen, with a light and delicate broth. A fave recipe of starred Japanese chefs with 2 slices of Chashu chicken, Menma (condiment with bamboo shoot), parsley, chiselled leek and filaments of Chili (mix of spices).
€9.50 – 11.50 for a ramen
Neko Ramen, 6 Rue de la Grange Batelière, 75009 Paris
Discover also the best baos and Nana Bistrot the new fishbar in Pigalle.