Do you know the worst nightmare of burgers and sushi? The bao. It's the new big craving of foodies who swear only by this Chinese brioche with high instagramable potential, steamed and stuffed with yummy goodies… of then cut in half, to be garnished like a sandwich. Our best addresses to taste them in Paris.
At the Yam'Tcha tea house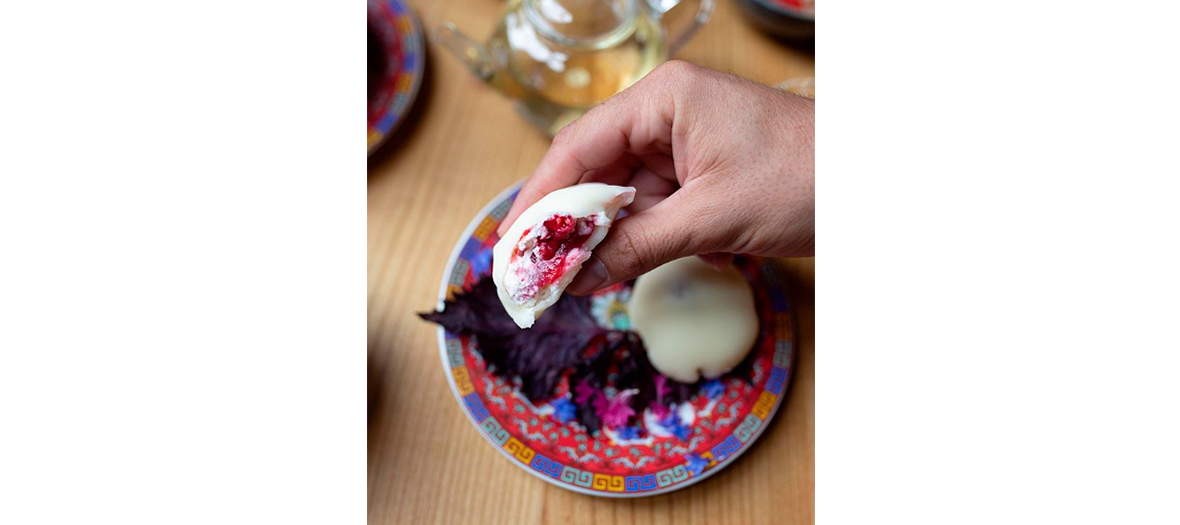 If one were to mention just one traditional bao in the street food style, it would be the one of Adeline Grattard, the star chef who popularized this small delicious bun in a 2.0 version.
Here one can enjoy their best-seller with Stilton cheese and amarena cherry, in Basque pork mood and Szechuan-style eggplant, a sugary Comté curry with cream and gooseberry jelly. To be eaten steaming hot in the street, or nestled in her small tea salon.

€8 for 5 pieces. 4 rue Sauval, Paris - 75001
Au Cheval D'or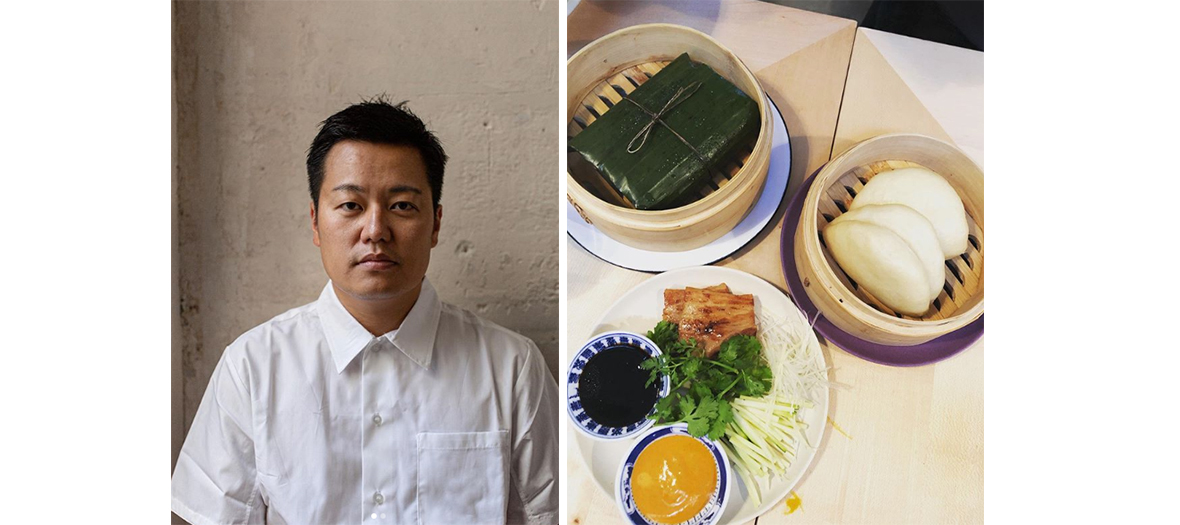 Reservations are a must if you have still not dropped by the ultra-coveted Asian restaurant of Taku Sekine (the darling chef of Dersou). At Le Cheval d'Or, he offers "his version" of great Chinese food classics, starting with fab baos in DIY mode. Concretely, the bao dough and the garnishing is presented separately: clients choose their own recipe.
14 € for 2 pieces with caramelized Kintoa pork- caramel-sauce soya sauce sesame pimento-ginger-carrot-coriander ...
Cheval d'Or, 21 Rue de la Villette, Paris - 75009
Chez Hugo & Co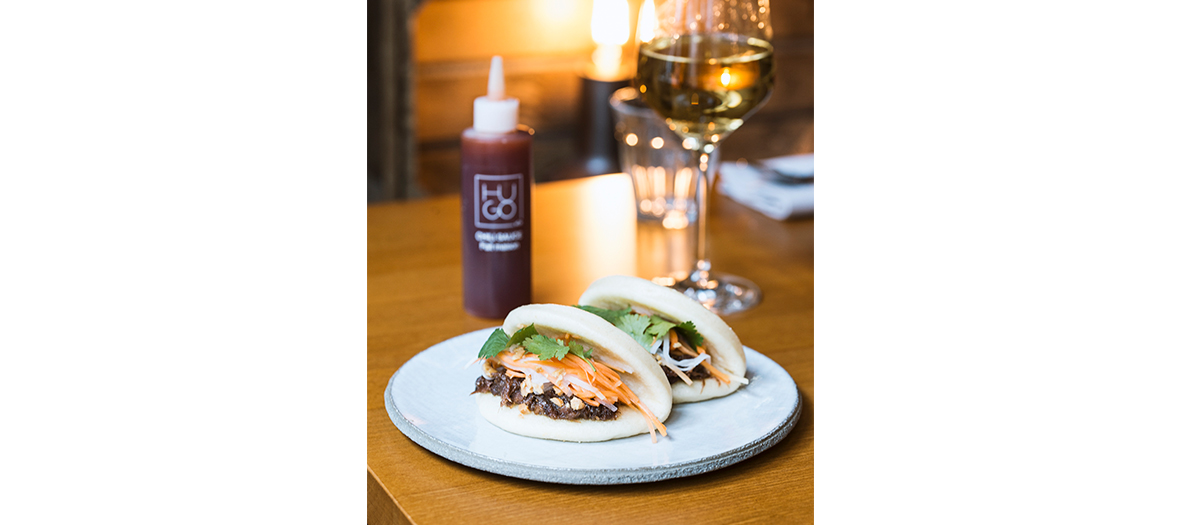 Its steamed brioche with glazed beef cheek, leek, soya & spicy cucumber sauce is creating a real buzz. The star chef everyone is talking about, Tomy Gousset, is right on target with his bistro (named best bistro in 2019) serving gastronomic comfort food.
Hugo & Co, €14 per plate. 48 Rue Monge, Paris - 75015
Chez Petit Bao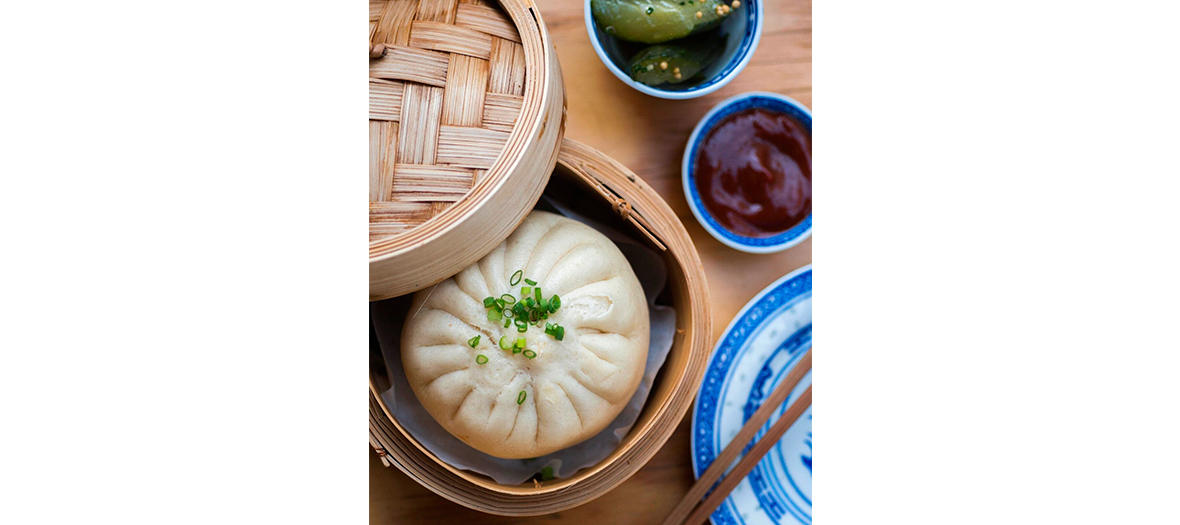 In this wonderful cantina on Rue Saint-Denis, each small ball made with organic flour, corresponds to … a title by Chinese singer Jay Chou! The specialty? Their xiao long bao, 5g of dough morphs into a 1 mm thick disk garnished with 16g of stuffing and broth, then closed in 18 pleats. Even their dessert bao with coconut cream is as regressive as a cuddle.
Petit Bao, €10 for 6 small baos, 116 Rue Saint-Denis, Paris - 75002
Au Steam Bar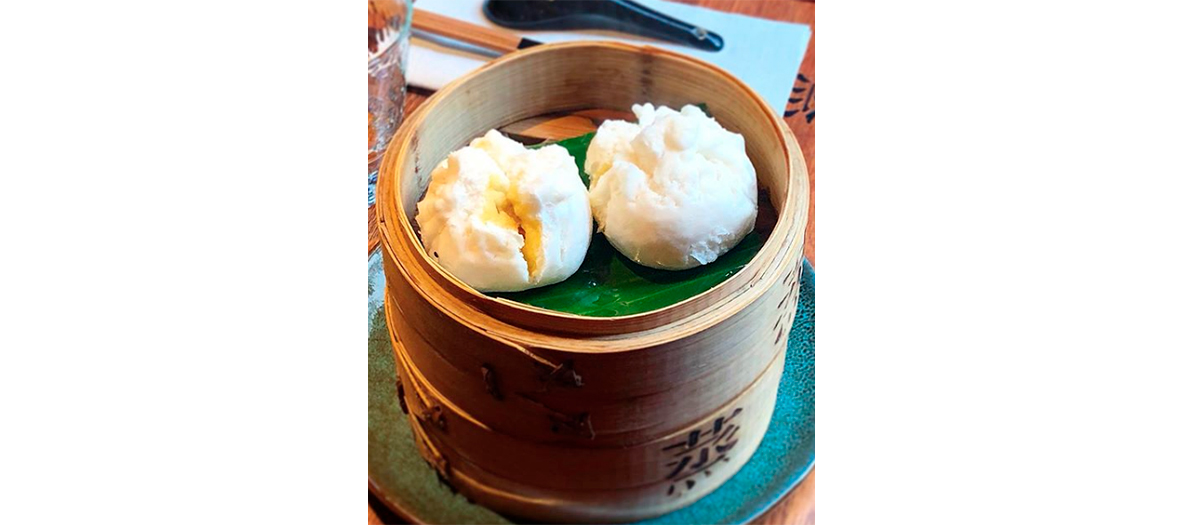 Après the sushi of Blueberry, the Vaconsin sisters opened a glamour bar like in Hong Kong, where Monsieur Wong (ex Shangri-La) signs a black bao with truffle and smoked scamorza or a lacquered pork version with amazing cocktails. A wild place.
Steam Bar, 8 euros for the basket of baos. 2, Rue du Sabot, Paris - 75006
At Imperial Treasure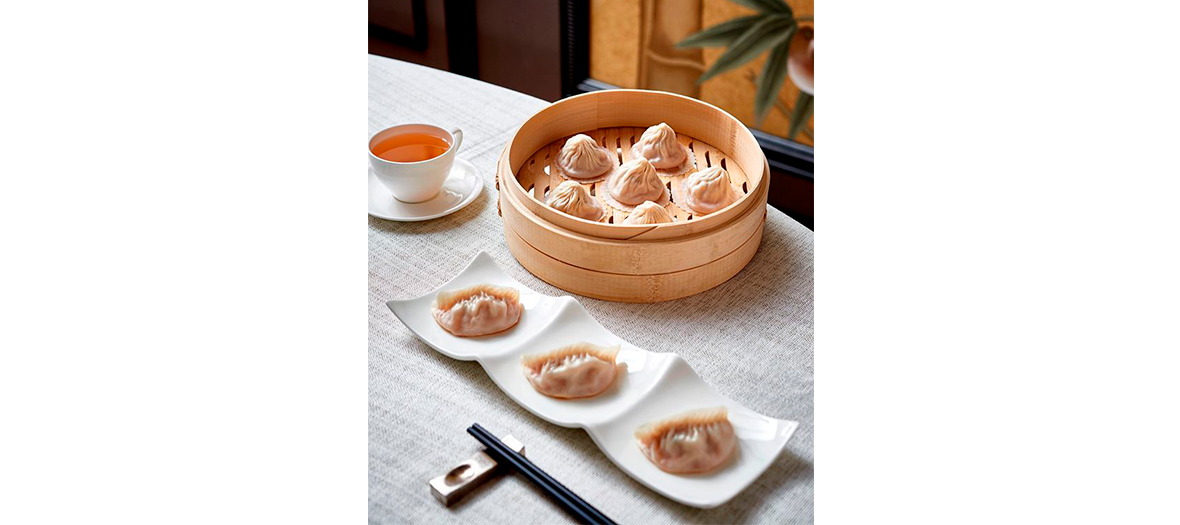 At the heart of the Triangle d'Or, the gastronomic Chinese restaurant Imperial Treasure conveys its letters of nobility to specialties from the Celestial Empire. In the 8 steps of the tasting menu, one finds unforgettable versions of the bao: the xiao long bao stuffed with steamed pork and perfectly spiced broth, as well as the bao of Spanish ham and crispy rice. A delight.
Imperial Treasure, tasting menu €88, bao €25 à la carte. 44 Rue de Bassano, Paris-75008
Chez Panda Panda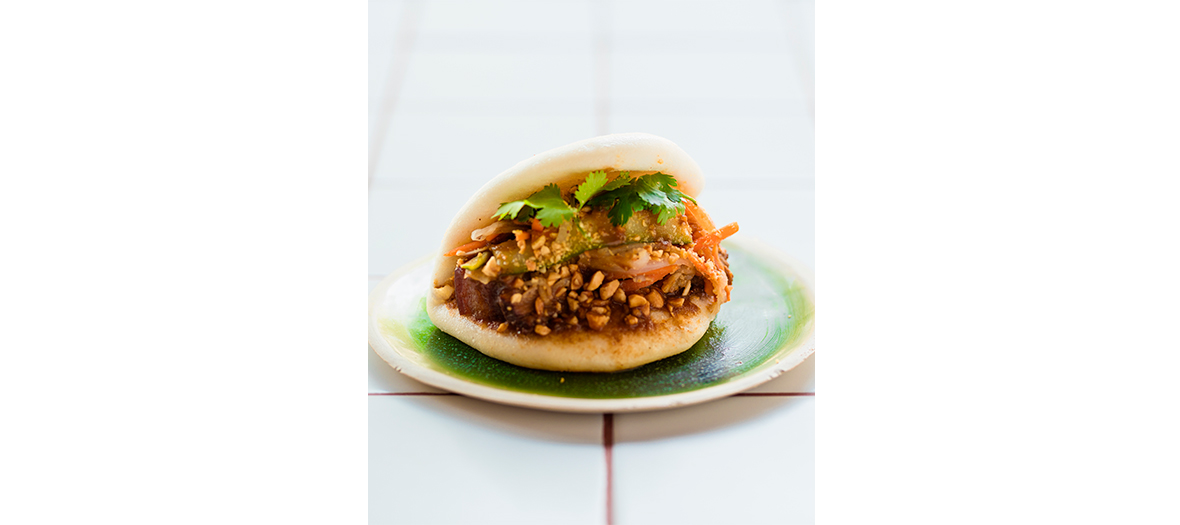 Friends of the multi-faceted bao, welcome! In Belleville, Panda Panda serves these Chinese starlets in several highly addictive versions: Xiao Long Bao with free range pork, chives, ginger, Chinse cabbage, hot broth, Baozi stuffed with blue cheese and pear, as well as three sorts of Gua Bao Classic, Chicken and Veggie, the best one (marinated shiitakés, mayonnaise with truffle oil and pickles). All cooked on the spot, for perfect plumpness.
In addition, the sweet option with eggs or chocolate-hazelnut (€5), totally regressive.
Xiao long bao x5 €8, baozi x2 €8, gua bao €7
Panda Panda, 21 Rue Juliette Dodu, Paris-75010
On the Bab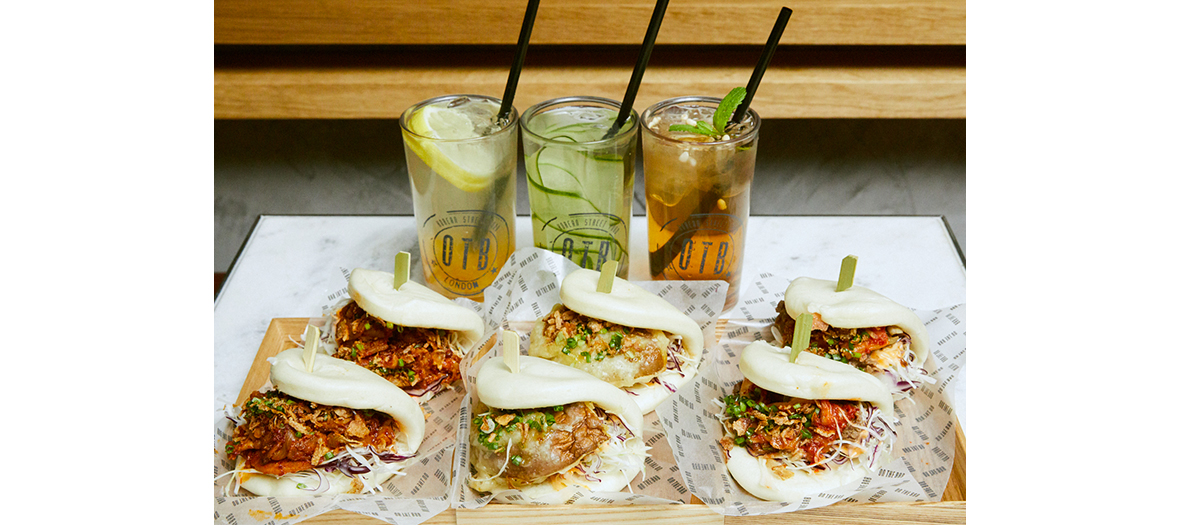 In London, the super trendy restaurant of Korean street food On the Bab is always cool. Same phenomenon since its ultra-glamour opening in the middle of the greasy spoons on rue Sainte-Anne. These baos are the must-eat of the house, served as plump sandwiches, stuffed with Korean BBQ. Just choose your own: bulgogi style beef, fried mushrooms, spicy pork and fried chicken. With a cocktail or a beer: a delight.
On the bab, €14 for a pair,
18 Rue Thérèse, Paris 75001
Bao Burger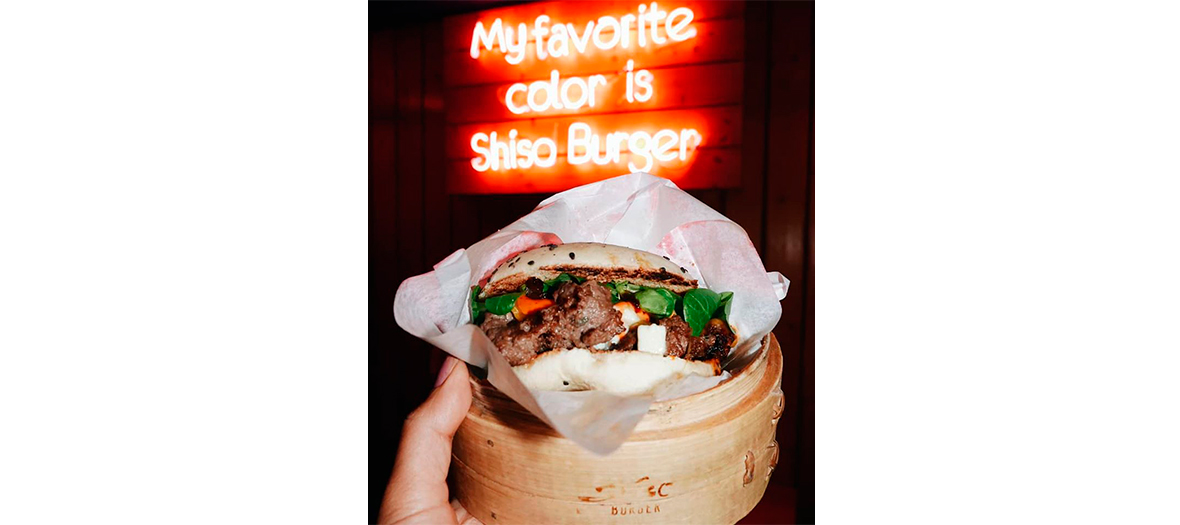 This is a curiosity in the Chinese-American food sphere. In a cheese-burger version with a top notch black Angus steak topped with cheddar—finally a rather classic burger except that its bao bun make it an orgasmic junk-foodery.
Shiso Burger, Burger starting at €9.
21 Quai Saint-Michel, 75005 Paris 01 77 16 96 93
Koko Marais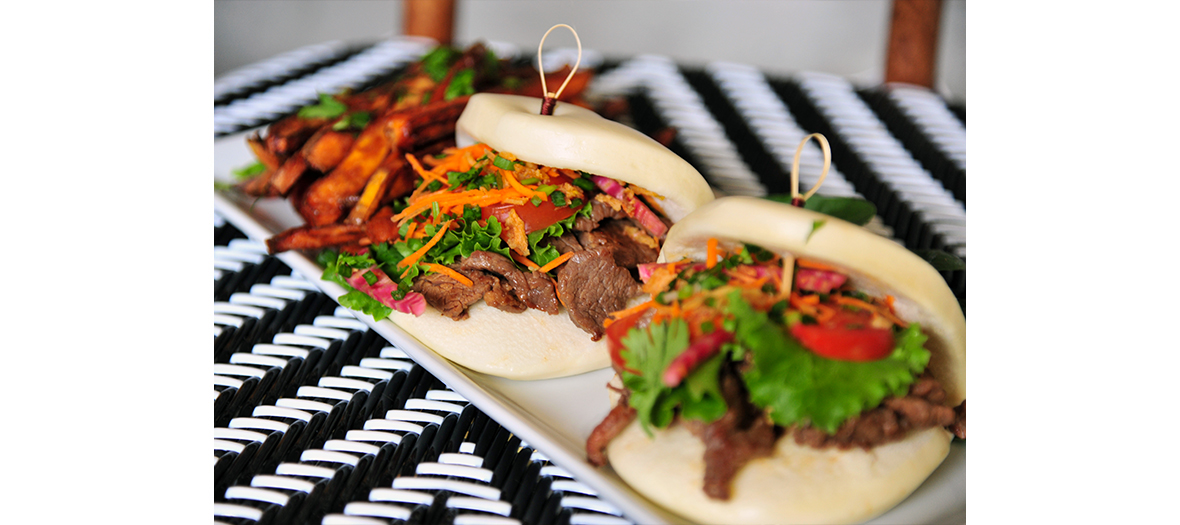 Twigs and tops in the Marais are wild about this small ultra-kawaï Japanese cantina with its poke bowls and Spring rolls. The big hit? Their gua baos, steamed brioches with marinated beef, served with sweet potato fries. Yummy.
Koko, €14 per plate, 63 Rue des Gravilliers, Paris 75003
Also discover the crying tiger, the new thai bistrot that gives atmosphere to the 6th and Bleu Bao, a third address of the Bao Family in the 9th.