Who doesn't have old jeans in the back of their closet that are more fashionable but still fit like a glove? Or a jacket bought recently but never worn for X reasons? In short: it's the glory day of your old 501 .
Monogram Lab , the luxury second-hand specialist - whose showroom on avenue George V is overflowing with Dior , Gucci and Prada bags - has just launched a concept that is brilliant enough to enjoy a friendly, slow fashion afternoon. The principle is simple. We book a workshop with our girlfriends with Monogram Lab , then we bring back the denim item to which we want to give a new life (pants, shorts, jacket, skirt…). On site, a magician seamstress awaits you ...
Chanel buttons, Vuitton canvas, Hermès square ...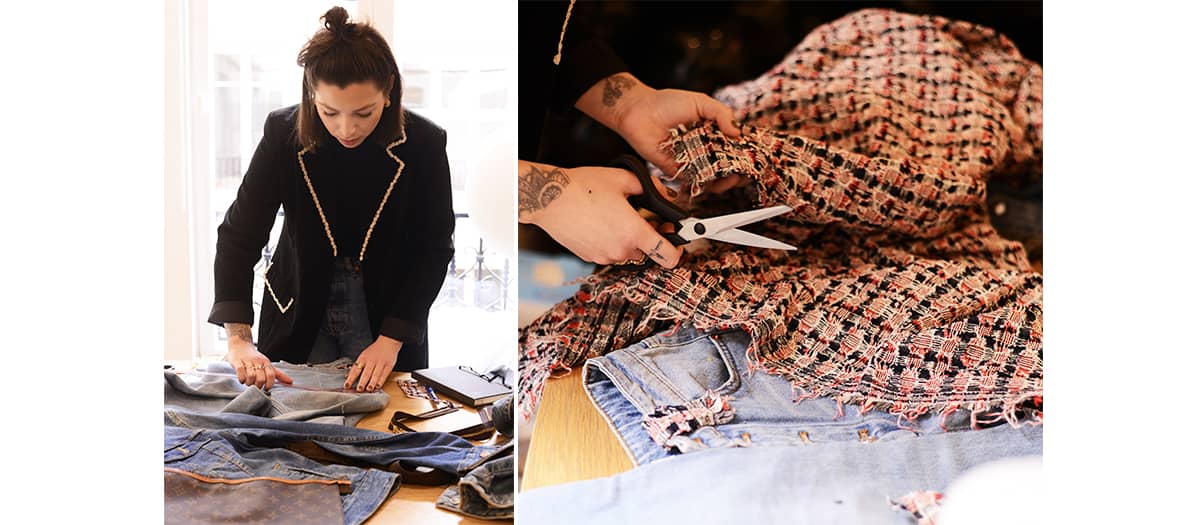 On the " operating " table are spread out the wonders that will sublimate your room: here vintage Chanel buttons, there a bunch of silk squares from the most beautiful houses ( Hermès , Gucci , Lanvin ...) in ultra-bright colors or still pieces of Louis Vuitton monogrammed canvas. The hardest part will be to choose and not to put everything ... in order to avoid looking like a Dubai Christmas tree.
With the wise and educational advice of the pro (too nice), we sew the Chanel buttons in place of the old ones, we cut out the sublime scarves (a heartbreak), we affix the LV logos all over the buttock… In short, we give free rein to our imagination, like an upcycling class for princesses, while giving each other an opinion to the sound of a playlist of our choice, not without leaving with a unique garment and frankly style. We can already imagine the head of his BFF by receiving this grouped gift for his next birthday or a bachelorette party ...
From € 350, reservations and info on monogramparis.com
Also discover Raymonde, the boutique that mixes vintage and young designers and how to own a sweater worthy of Chanel?