© Leonardo Denizon and Alterego

Always on the lookout for the latest novelties from their favorite pastry chefs, those with a sweet tooth will flock to these gourmet seasonal cakes. To your spoons!
Lenôtre: in the chestnut category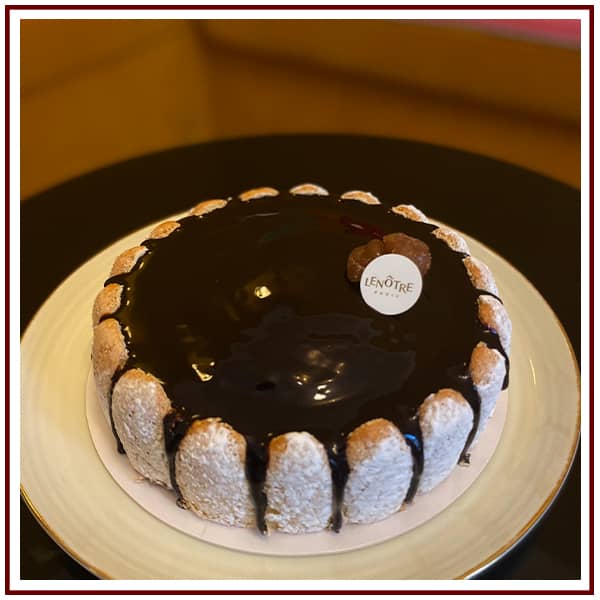 Fans of pastries from the double MOF Guy Krenzer for Lenôtre love the Châtaigneraie , a mixed dessert made up of a sponge cake soaked in a whiskey syrup, a layer of candied chestnut chips, chestnut mousse delicately flavored with whiskey and covered with a shiny dark chocolate glaze. Surprisingly light!
Chestnut to share, €51. Available online and in stores until December 6.
Silax: in the tartlet category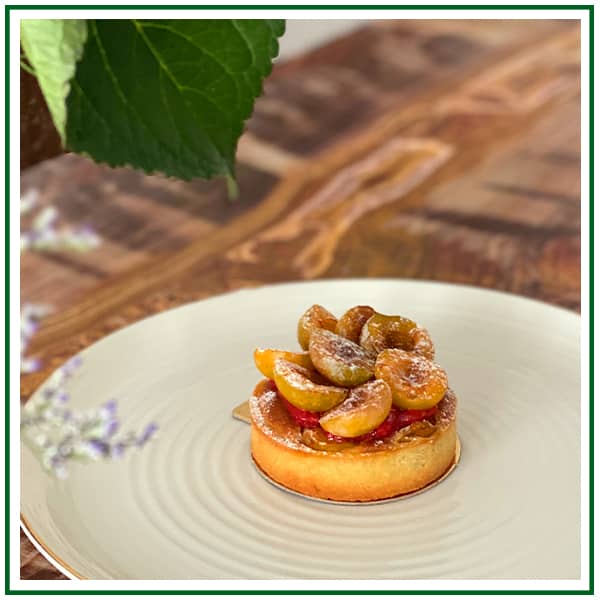 Sweet tooths line up in front of his pastry shop in Vincennes . Eternal gourmand, Silax imagines a heart tartlet of Mirabelle plums cooked with a compote of raspberries, light vanilla cream, almond cream and of course fresh Mirabelle plums soaked in a honey syrup, all nestled on a sweet almond pastry. The golden pretext to cross the ring road.
Mirabelle tartlet €6.10, on sale until mid-November at Silax , 3 place du Général Leclerc, 94120 Fontenay-sous-Bois, 01 43 94 10 97.
Momzi: in the donut category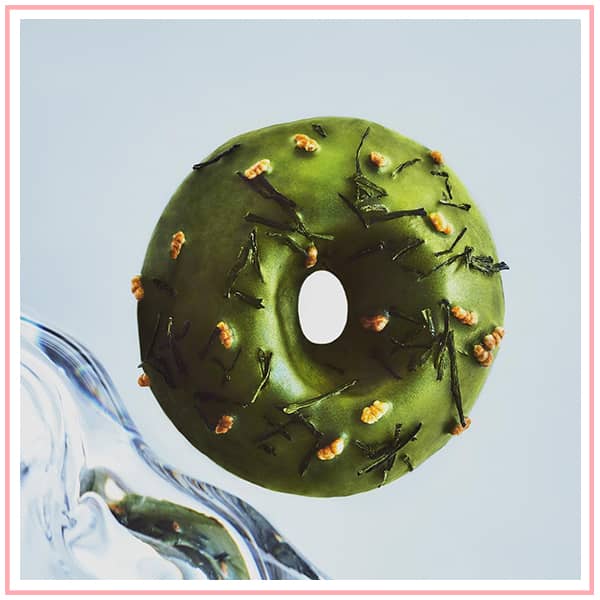 Part of the prized court of exceptional cakes, chef Raamin Samiyi 's Momzi donuts reveal a celestial lightness. Their secret? The triple fermentation of a brioche dough with natural leaven , and a frying with coconut oil . In the permanent collection, we go for the Mother of Matcha iced with precious green tea, seasoned with Gyokuro green tea leaves and grilled rice . Deliciously round in the mouth.
Mother of Matcha, €8 each. Chez Momzi , 1 rue Cherubini, Paris 2nd . Open Wednesday to Sunday from 12:30 p.m. to 7:30 p.m.
© Mathide Hiley
Pierre Hermé: in the coffee category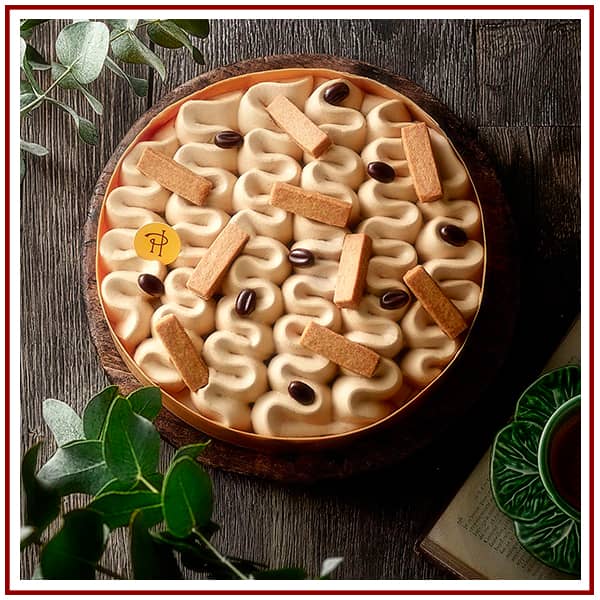 Pierre Hermé offers coffee a gourmet interpretation by gently imposing it in this Moka Infiniment Café , a sort of couture tiramisu with sponge cake , pastry cream and light whipped cream flavored with Iapar Rouge coffee from Brazil. A sensual and voluptuous cake, with a high potential for satisfaction.
Moka Infiniment Café, Individual format €10, 3/4 people €49, 6/8 people €79. Available until October 30 in all Pierre Hermé boutiques or on pierreherme.com .
La Grande Épicerie: in the wow category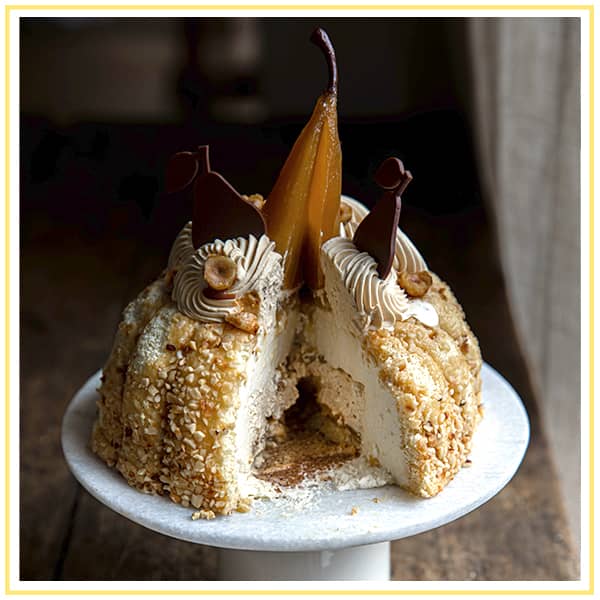 A pastry classic that we no longer thought of, the Charlotte is making a cool comeback. In its glam' version signed La Grande Épicerie , its spoon biscuits are adorned with hazelnuts and caramel, surrounding a pear mousse and a crispy praline. Final touch: a caramelized pear placed at the very top for a result that really throws.
Charlotte pear-caramel for 8 people (€45), available until November 23 at the pastry counters of La Grande Epicerie Rive Gauche (38 rue de Sèvre Paris 7th ) and Rive Droite (80 rue de Passy Paris 16th ) .
Ladurée: in the macaron category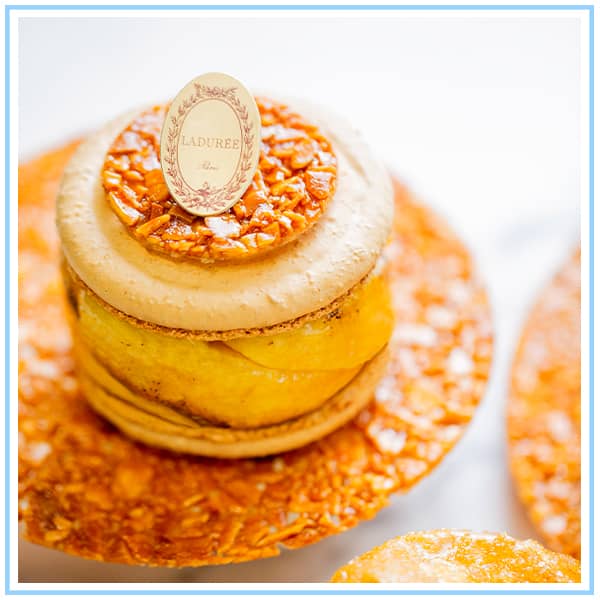 Julien Alvarez 's little pleasure ? Dive back into the Ladurée archives to revisit the great classics that have made the house so successful. The star macaroon is adorned this fall with oven-roasted apples , coated with a creamy cream infused with tonka bean and a good caramel , not to mention an almond Florentine for the crunchy guarantee. A comforting delight with the good taste of tarte tatin … couture version.
Caramel apple macaron, individual pastry available until November 1st in Ladurée shops and restaurants and on laduree.fr in click & collect. €9.50 in shops, €12.50 in restaurants.
© P. Monetta
Ritz: in the childhood snack category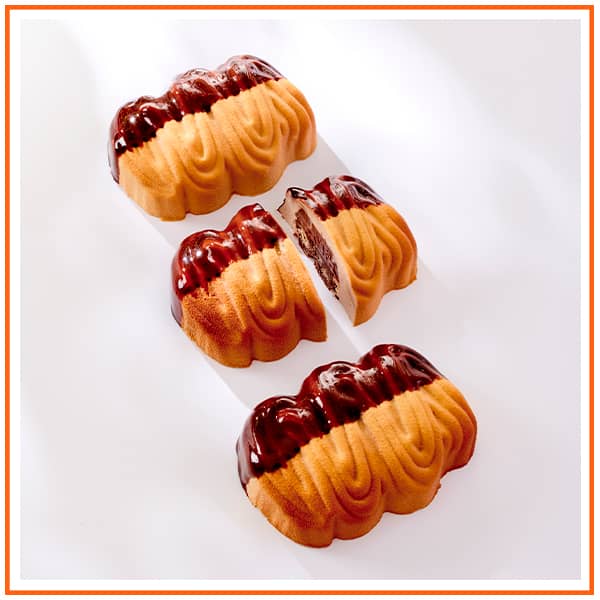 His hobby? Dig into childhood memories to imagine 5-star desserts to die for. At the Ritz pastry counter , the sweet chef François Perret is bringing the two- tone Viennese shortbread " SpRitz " up to date in a palace dessert version with a light chocolate mousse and an intense chocolate heart with a sweet bitterness. Like a taste of childhood...
Available on ritzparislecomptoir.com during October or in store at 38 rue Cambon (1st). Individual size €15.
© Bernhard Winkelmann
La Maison du Mochi: in the frozen category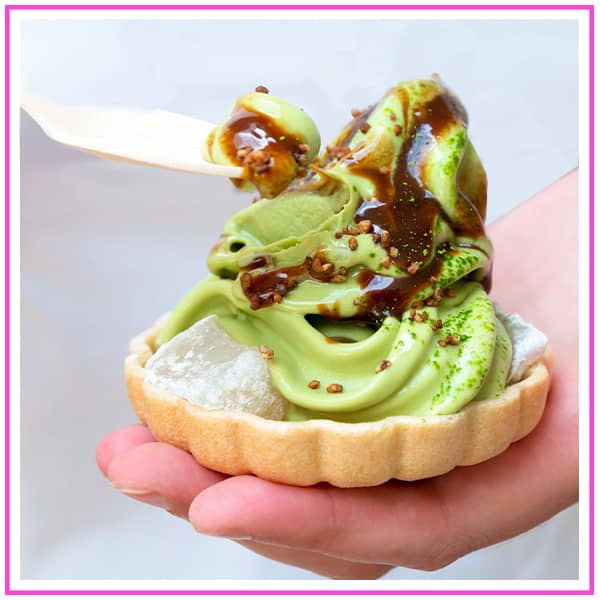 To celebrate the opening of its third address, La Maison du Mochi is launching its Mochi Sundae , an ice-cold treat imagined in duo with pastry chef Ophélie Bares . Over here, the delicacy of a sticky rice wafer haloed with pieces of pure mochi dough, Italian ice cream made from organic soy milk flavored with matcha . All topped with a soft organic tamari caramel and crunchy with caramelized sobacha seeds. Mmmm…
Mochi Sundae, €7.50. Exclusively at La Maison du Mochi , 30 rue Legendre, Paris 17th . Open Tuesday to Saturday from 11 a.m. to 7:30 p.m. and Sunday from 11 a.m. to 7 p.m.
Maison Aleph: in the Levantine category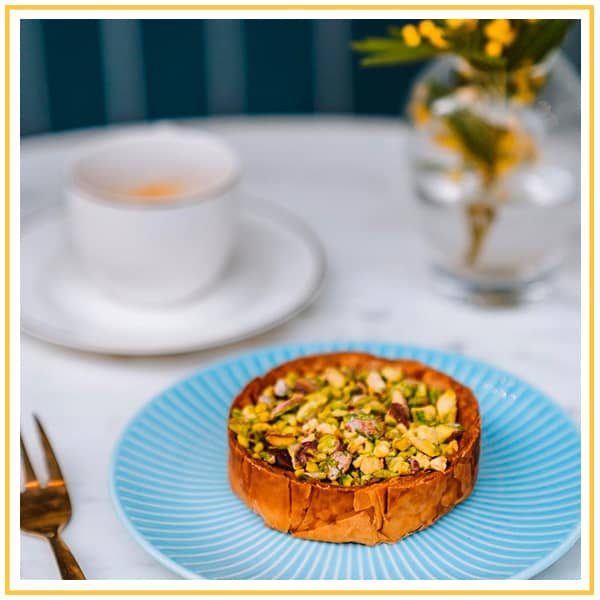 The diabolical chocolate pistachio tart from the Levantine pastry shop Maison Aleph is making a comeback this fall, in an even more creamy and gourmet version (yes, it's possible!). A vast slaughter based on crispy filo pastry garnished with a pistachio praline refreshed with bigarade and creamy dark chocolate ganache , all sprinkled with a generous layer of roasted Iranian pistachios .

Pistachio chocolate tart from €35, available online at maisonaleph.com and in the two boutiques Marais (20 rue de la Verrerie, Paris 4th ) and Abbesses (63 rue des Abbesses, Paris 18th ) .

Also discover the best pastry classes in Paris and Alain Ducasse's new biscuit factory .