We were already crazy about Alain Ducasse's Le Chocolat factory near Bastille . Scoop! Right in time for the start of the school year and snack time, we are whispered in the earpiece that the most starred chef in the world is inaugurating his new project Le Biscuit : a regressive address dedicated to his Proust madeleine...
Elegance and tradition
The door of the shop barely pushed, we are immersed in the gourmet and delicate universe of this astonishing temple of biscuits . Once is not custom, the star chef decides to surround himself with new talents, this time calling on the architect Camille Chevrier to imagine a subtly outdated decor, where the cakes are presented under glass or on wooden trays. and are eaten from a marble counter. Everything here is reminiscent of the " factory " atmosphere , where everything is made on site in accordance with a traditional craftsmanship.
A delicate and meticulous selection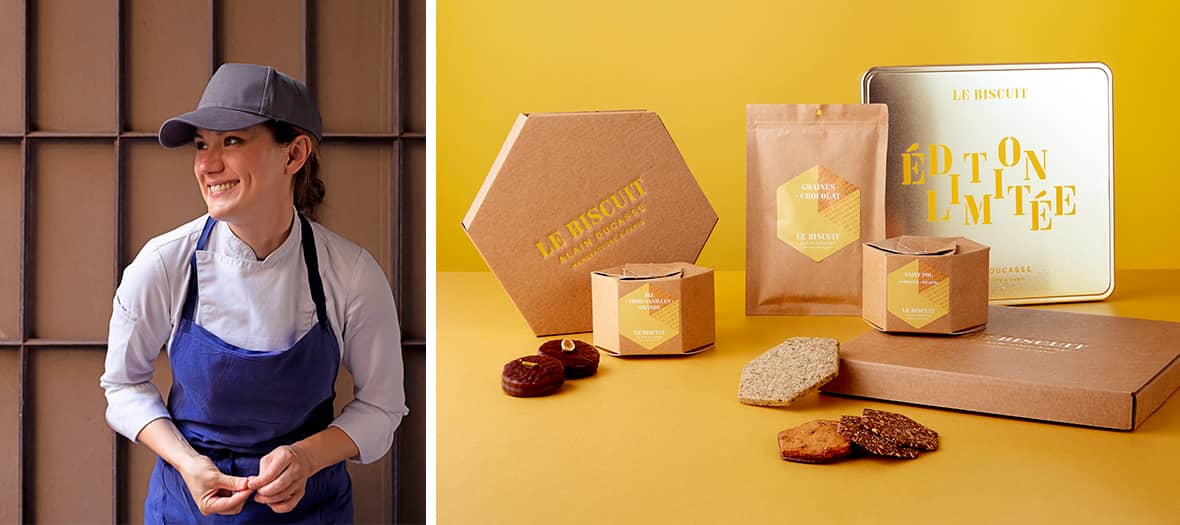 Obviously , if the starred chef launches into the biscuit , it will have to be perfect or nothing! Millers, dairymen, beekeepers (all French) have been selected with the greatest rigor, in search of the ingredient capable of sublimating this daily snack to restore its acclaim. As for the chocolate and coffee extracts, easy: all come from the house's factories. A true right-hand man to pilot this new concept as closely as possible to the beautiful product, the young pastry chef Flora Davies (ex - Jules Verne , Bulgari hotel in London) is in charge of delivering recipes that are ultimately addictive...
Author's delicacies
The flavors assert themselves to give each sweet a personality of its own, always with this hexagonal signature thought up by Pierre Tachon (and already implemented in the other Chocolate , Ice Cream and Coffee Manufactures ), elegant and sophisticated. The development of this range of sweets took several months but the result is there: a technical feat that reveals the flavors in their greatest intensity .
To be sure not to lose a crumb, you have to bite your teeth into the generously shaped cookie-bar ( €4 each), taste the hexas with their iconic geometry (available in a version without gluten , €18 for a box of 12), enjoy the chocolate buckwheat and chia seed mixture in the chewable tablets ( € 10 each) and savor the complexity of the praline discs ( €18 for a box of 6). Something to make a good impression for a tea-time with friends or as a dessert at a dinner with your in-laws.
Foodie's tip: a minute delight is the exclusive feature of this new factory! Prepared to order, it will be composed of a delicious shortcrust pastry in harmony with ingredients such as lemon from the Corsican Saint-Sylvestre confectionery , chocolate from the factories , hazelnuts from Latium ... A real parenthesis of flavor where mastery is at the 'honor.
Open daily from 10 a.m. to 7:30 p.m.
© Pierre Monetta, Atelier May 98 and Maki Manoukian
Also discover Alain Ducasse's tea room at the Palais-Royal and this starry terrace in the garden of the Palais Royal