Street food, grocery, pastry, and even home decor store: what are the must-visit spots for an authentic and cool atmosphere like Lisbon, Porto, or Faro? Our shortlist of the best Portuguese addresses in Paris.
For super generous sandwiches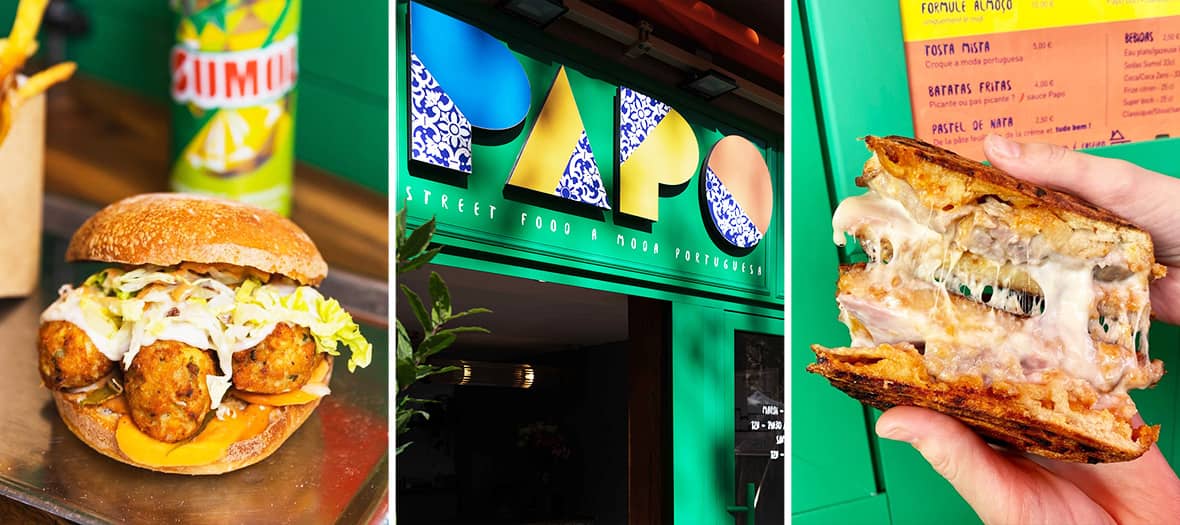 Have you heard of "papo seco"? This soft, popular Portuguese bread can be discovered at Papo, a Portuguese street food restaurant located near Bastille. Its added value? 100% homemade sandwiches, from bun to sauce, with 4 signature recipes: cod fritters (a family recipe), marinated chicken with cornflake breadcrumbs, veggie with green beans (a reinterpreted feijoada without meat), or marinated and slow-cooked pork shoulder for 12 hours (€11, menu €16). All seasoned with Savora (Portuguese mustard!), piri piri ketchup, and homemade pickles, topped with Portuguese cheese, to enjoy on the spot or take away.
Papo, 217 rue du Faubourg Saint-Antoine, Paris 11th. Open Tuesday to Sunday for lunch and dinner, and continuously on weekends from 12pm to 10pm.
© papoparis / instagram
For indulging in homemade cuisine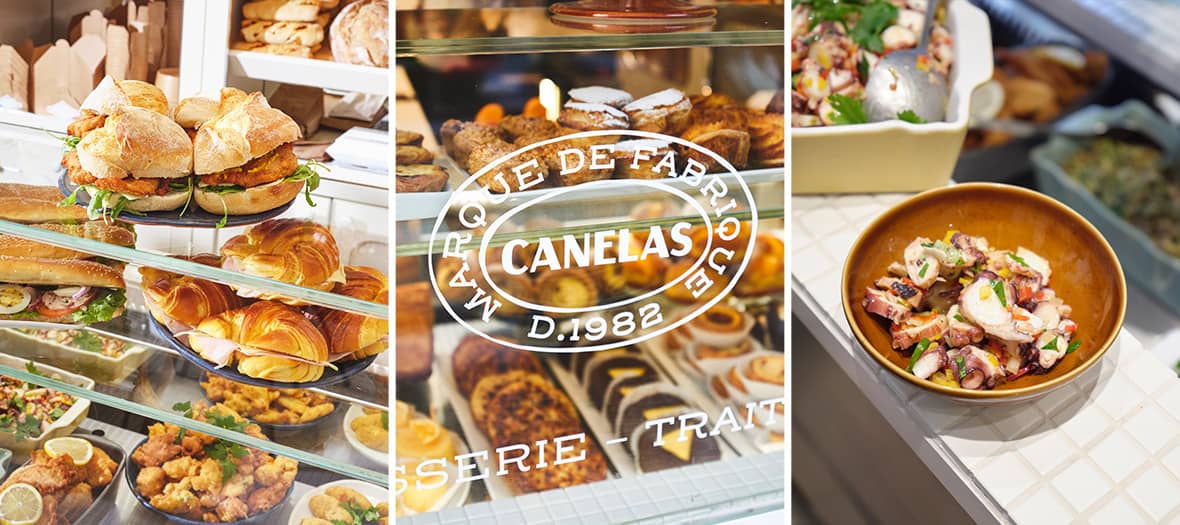 The story began in the 93 in 1982, in a small shop overwhelmed by success that gave the Gonçalves family aspirations for emancipation. In 2023, Canelas is now installed in a charming pastry shop-caterer near Canal Saint-Martin! Inside, sweet specialties made in the traditional way (Pastel de Nata €2, Bola de Berlim generously filled with pastry cream €2.80, Pastel de Feijao with almond and white bean cream €2.20, or Tigelada, a small marvel between a crepe and a flan, €2.60).
But also savory delights that allow us to discover, among other things, fried cod fritters (€7.50 for 6), the delicious Pao com chouriço, a traditional handcrafted bread filled with slices of chorizo (€3.80 per piece), and Rissois with meat, half-moon-shaped turnovers that you could easily devour by the dozen (€7.50 for 6).
Canelas Pastelaria épicerie, 8 rue de Grange aux Belles, Paris 10th. Open Tuesday to Friday from 8:30am to 7pm, and Saturday and Sunday from 9am to 7pm.
Le comptoir à la grande épicerie, 38 Rue de Sèvres, Paris 7th. Open Monday to Saturday from 9am to 8pm, and Sunday from 10am to 7:30pm.
For savoring amazing specialties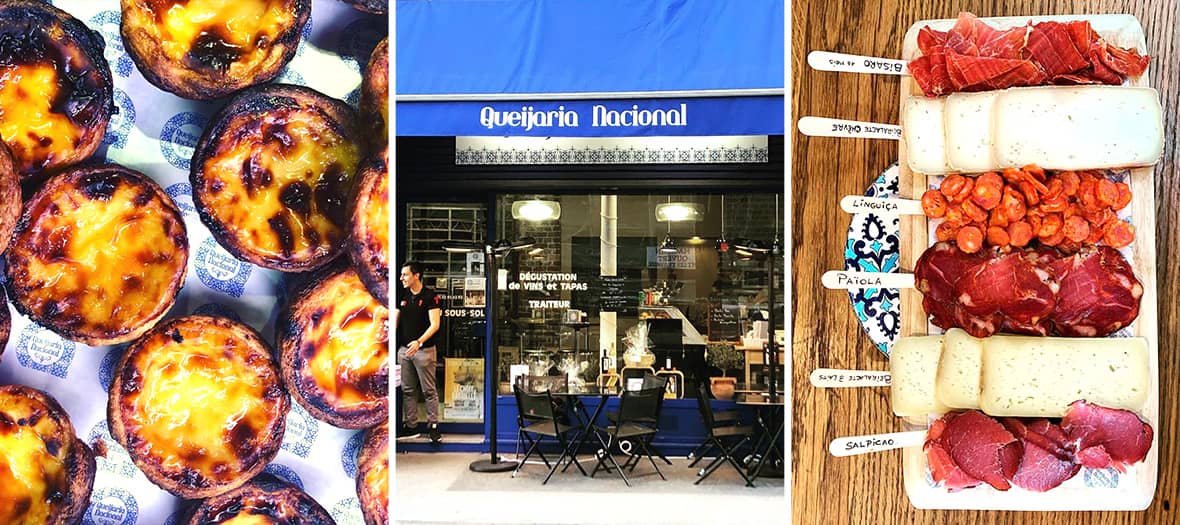 Bitoque, flambé chouriço, bifana, moelas... If these amazing Lusitanian specialties don't ring a bell, it's time to quickly book a table at Queijaria Nacional. This grocery-store-host-table, the little sister of a Lisbon address, has been dealing the best "mamã" recipes from Batignolles. You'll obviously leave with a selection of cheeses, charcuterie, wines, and pastries under your arm...
Queijaria Nacional, Chouriço 8 €Sheep cheese for 14 euros, located at 96 Boulevard des Batignolles, Paris 17th. Open from Tuesday to Saturday, from 10am to 8pm.
Photo credits: © queijarianacional / Instagram.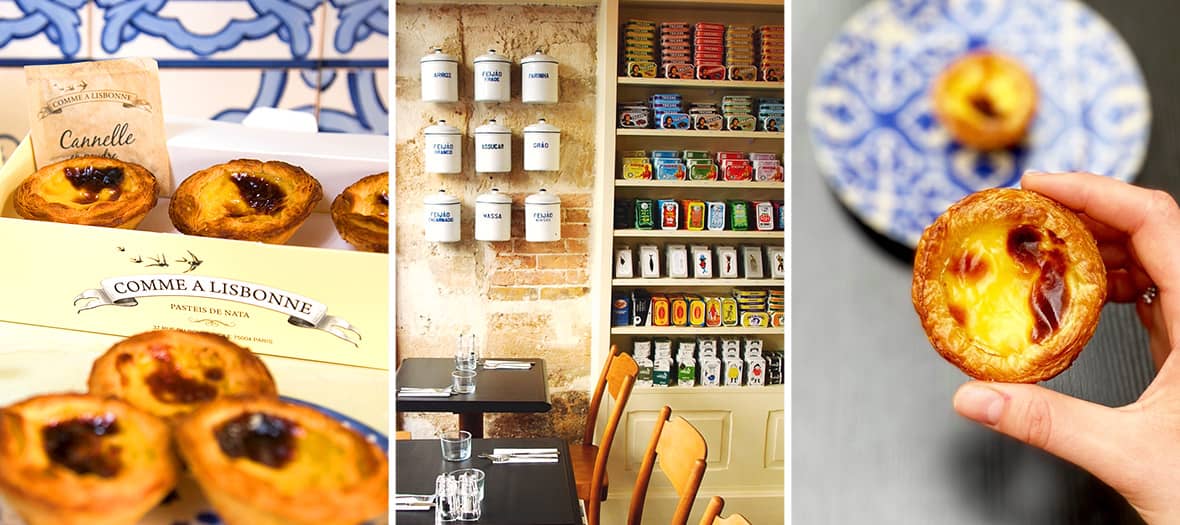 Indulge in divine sardines nestled in a retro tin can with a glass of Vinho Verde, and you'll immediately feel like you're on vacation. Anchovies, octopus, mackerel fillets... Tasca serves them in their original packaging on a beautiful wooden board with salad, bread, and black olives. Another specialty of this charming Portuguese spot? Tostas, rustic country bread sandwiches filled with ham, cheese, or marinated chicken. Absolutely delicious. You can also choose to order the daily special, salad, and a bowl of soup, always delightful! (€17.90)
Tasca, Tostas starting from €11.90, located at 37 Rue du Roi de Sicile, Paris 4th, and 20 Rue Mogador, Paris 9th (boutique only). Open every day from 11am to 7pm.
Photo credits: © comme a lisbonne / website.
Discover beautiful soaps and tableware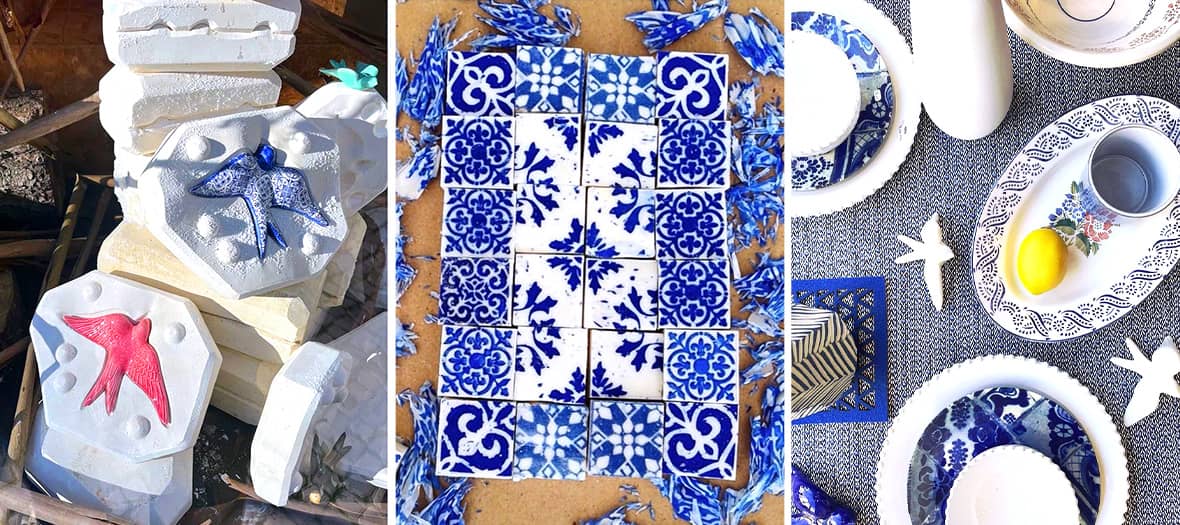 Portugal also has incredible talents. Lusa Luso, the boutique created by interior architect Sandra Da Costa, offers a wide range of stylish handmade objects that she discovers in her parents' home country. Best-sellers include scented azulejos soaps with almond fragrance, inspired by traditional ceramic tiles, ceramic swallows (a symbol of fidelity) to hang on walls, and colorful recycled fiber rugs.
Lusa Luso, Soap for €8.50, located at 92 Boulevard Voltaire, Paris 11th. Open from Tuesday to Saturday, from 11am to 7pm.
Photo credits: © lusaluso / Instagram.
The best Pastéis de Nata in Paris.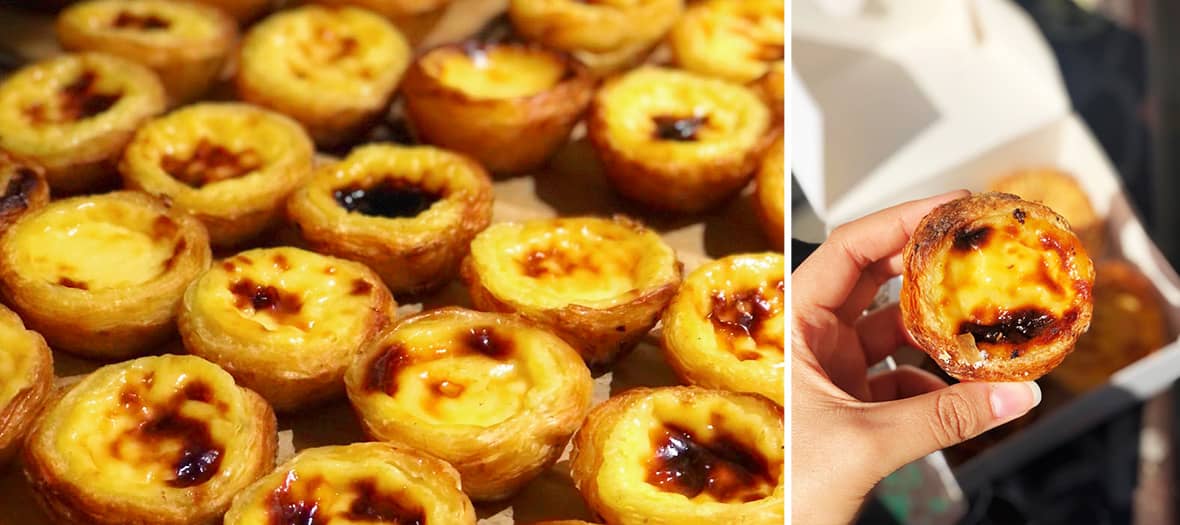 Pastel de Nata is to Portugal what croissant is to France: more than just a pastry, it's a national pride.
-At Comme à Lisbonne, you can enjoy this irresistible little egg custard tart still warm, dusted with cinnamon. €12 for a box of 6, located at 37 Rue du Roi de Sicile, Paris 4th.
-In addition to the classic recipe, DonAntónia Pastelaria offers the famous tart with chocolate-hazelnut filling, pumpkin jam filling, and even coconut rock filling! Prices start from €2, located at 8 Rue de la Grange aux Belles, Paris 10th. Open from Tuesday to Friday, from 8:30am to 7pm, and Saturday to Sunday, from 9am to 7pm. (Visuals pending/Photo credits: © DonAntonia Pastelaria / Facebook and © sousouloveseating / Instagram)
-Under the direction of Natalia for 23 years, Pastelaria Belem is as authentic as it gets, offering homemade products for indulging in a delicious cream cake in a charming traditional decor adorned with azulejos. €2.30, located at 47 Rue Boursault, Paris 17th. Open from Tuesday to Sunday, from 8am to 8pm.