When you declare yourself a 'house of pleasures' by featuring only vegetable-based dishes on your menu, it's about embracing that claim! No pretense here; Faubourg Daimant lives up to its title. Here, vegetarian cuisine flirts with bistro-style creativity and a fierce indulgence, enhanced by playful sauces. Led by Alice Tuyet and her team, who are already known for their Plan D counter, this tantalizing establishment located near the Grands Boulevards has conquered our appetites!
All the Charm of the Retro Era
You could easily imagine yourself in a bourgeois bistro from the early 20th century. Refined, sleek, and luminous, Faubourg Daimant boasts a long room with a glass kitchen and a charming terrace covered by a glass roof. Dark brown oak chairs and tables, tiled white walls, and shelves filled with vintage items: the decor aims for elegance and tells a story. Upstairs, a small jewel of a room with low ceilings, intimate and cozy, features a black parquet floor. Best spot? The back table on the large leather banquette. We love the charming antique candleholders.
A Restaurant Dream Come True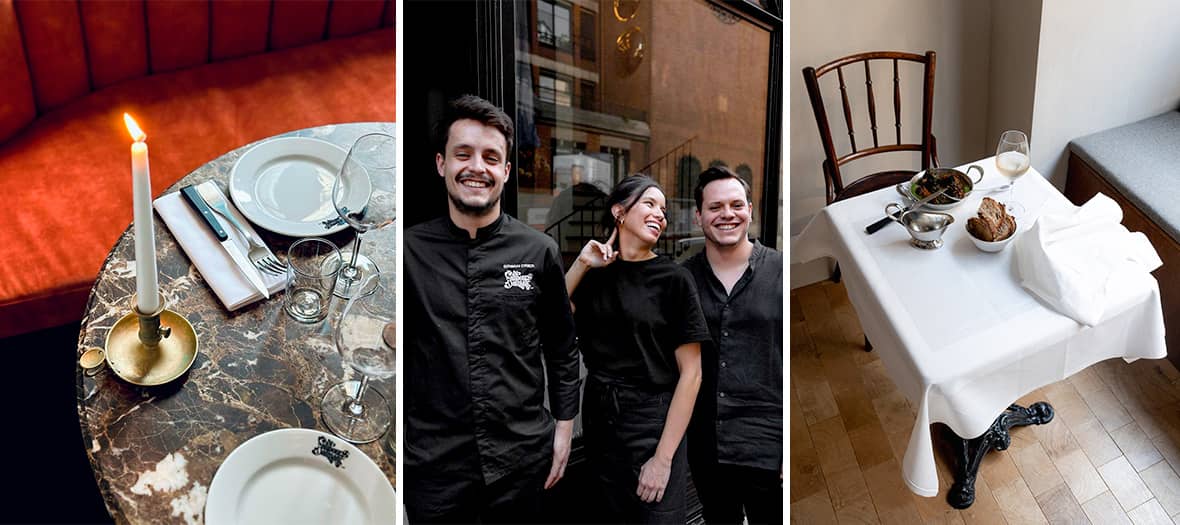 Faubourg Daimant was Alice Tuyet's initial project. Caught off guard by the health crisis, she switched to Plan B and opened her Plan D counter on Canal Saint Martin, where she offered gourmet vegetarian street food with seasonal vegetable wonders and an oat milk sundae that won over many! In 2023, the green light shines: Faubourg Daimant is born and realizes Alice Tuyet's dream of crafting vegetarian cuisine in the style of French haute cuisine, complete with sexy sauces, in a chic setting inspired by classic bistros. An establishment firmly aligned with the current and future trends, conscious of ecological issues and respectful of all living beings.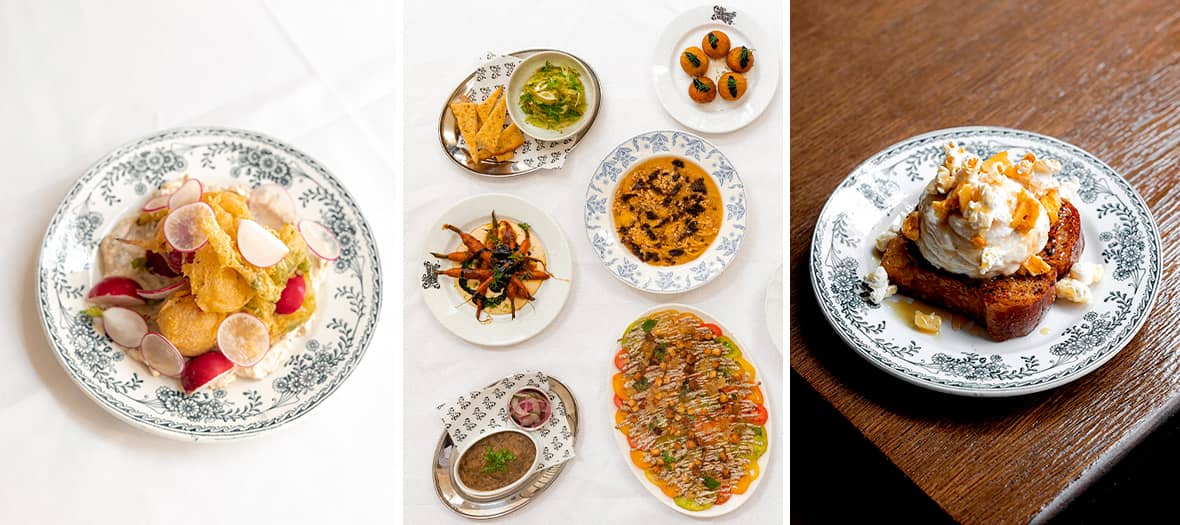 We promise flavors and fun, let's dive in! It starts off remarkably well with the 'radishes without butter but better,' arriving in tempura with a tartar sauce perfect for sopping up with bread (€11). The 'naughty croquettes' are coated in a crispy breadcrumb crust, filled with mushrooms and smoked soy paste: when dipped in ravigote sauce, the flavors explode! (€14). As for the broccoli guacamole, it's amped up with zesty sweet pepper pickles, basil, and scallions, and it's scooped up with thin slices of toasted pita bread (€12). Before dessert, a refreshing moment with heirloom tomato carpaccio and its iodized mayo (€20). And then, here comes the crazy lost brioche with popcorn, drizzled with a corn cream and miso caramel that leaves no crumbs behind! (€13).
An enjoyable cocktail menu completes the experience, adding to the pleasure and playfully nodding to previous centuries with names inspired by famous courtesans: Otero, Valtesse, and Deslions (starting at €11). Additionally, there are herbaceous and flavorful mocktails, as well as a meticulous selection of red, rosé, orange, and white wines (starting at €7 per glass).
Open from Monday to Friday from 12:00 PM to 2:30 PM and from 7:00 PM to 10:30 PM, and on Saturday and Sunday from 12:00 PM to 3:00 PM and from 7:00 PM to 10:30 PM.
© Leo Kharfan and Alice Tuyet
Also, check out our reviews of this new spot in the 11th district and Choukran: the Moroccan restaurant that's making waves in the 9th.