Elegant, creative, slick, welcoming, happy-go-lucky… If the perfect guy existed, it would be Robert. However, since we did not find the ideal partner, we did find the new restaurant that is creating the buzz in the trendy 11th. And we are sure it will  be a perfect match.
Make a beeline for the rue de la Fontaine-au-Roi in a natural, timeless and refined decor: counter in patinated metal, tables in light wood, retro mirrors, vintage pieces. But the real attraction takes  place behind a large window opening on the kitchen. The talented chef Australian chef Peter Orr (ex-Au Passage) cuts, chops, slices and presents live facing the dining room. A real eyeful.
A Moscow Mule later (€10), the serious stuff begin. Rillettes of rabbit and super sexy foie gras (13€), white tuna, in-house coconut cream, radish (€14),remarkable line fished hake, squid, fregola (€26), and of course the signature dish, terrific raviolis of ricotta, nuts, eggplant dipped in an amazing tomato sauce (€23). For the story, before landing in Paris, the chef, a native of Adélaide Australia started out in trendy Italian restaurants in London.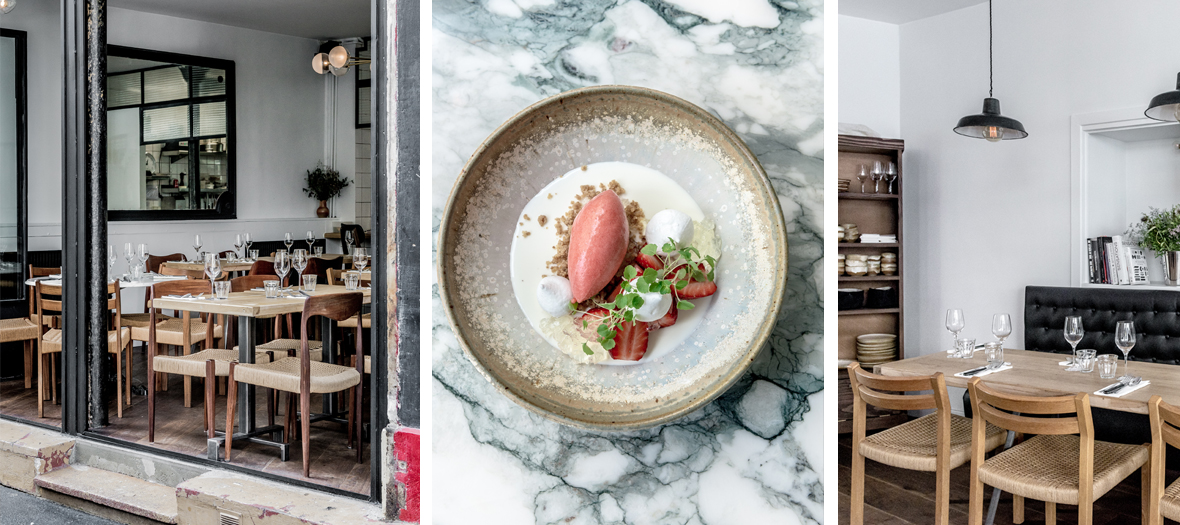 The perfect match?Natural wines sourced from small producers my Elise Doan, the in-house sommelière.
For a grand finale, try the a marzipan tart with apricot escorted by an impeccable sorbet yogurt (€8) et l'affaire est pliée. One last  question : Robert, when can we see you again?
Open Wednesday to Saturday lunch and dinner
crédit photo Caspar Miskin
Also check out Le Petit Panisse and the 10 best bistrots in Paris.