A fresh start for this institution in the chic 7th arrondissement which is beginning a new chapter in its history. Retaining its family DNA now embodied in the beautiful energy of Jeanne , the daughter of the Boudon family , the former Café de L'alma, renamed L' Alma , plunges into modernity in terms of decor and cuisine. A charming table.
Over here the new one!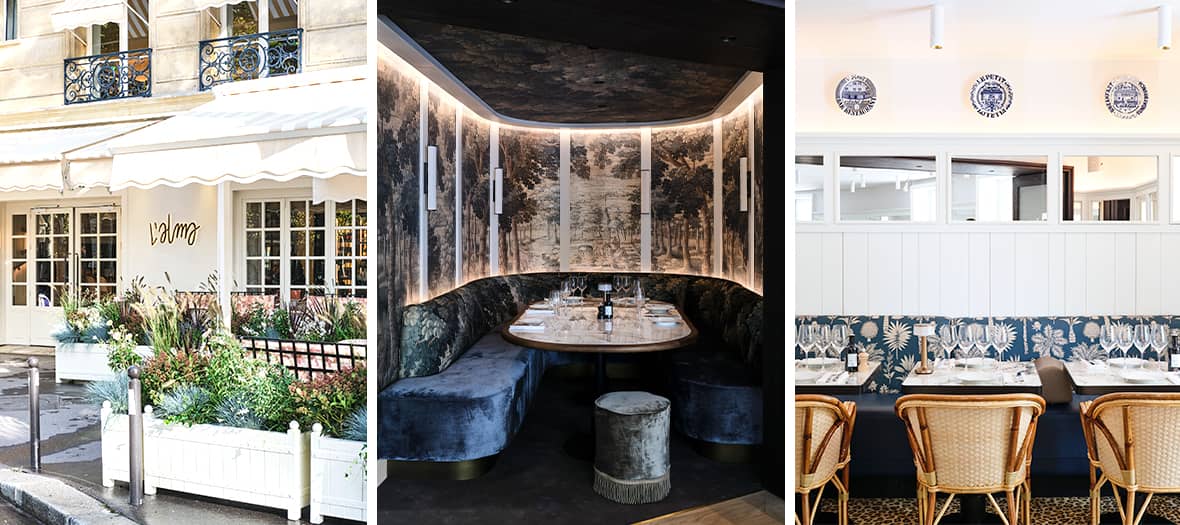 From its illustrious past, a bistro already more than fifty years ago, then from the time when Jeanne's parents, Christiane and Jacques Boudon ( La Fontaine de Mars , Le Petit Lutetia ) were in charge, only the soul remains . In 2022, Le Café de L'Alma is revamping its copy and soaring into the era under the impetus of a successful father-daughter transfer. Jeanne, nourished by rich experience in the restaurant industry (Ducasse, Experimental Group), London and New York references, accompanied the metamorphosis of this family brasserie alongside the talented duo of architects, Dorothée Boissier and Patrick Gilles .
Resolutely urban and Parisian, the aesthetic of the Alma takes pride in a little English cottage side revisited with Hamptons sauce . Warm, it frees up intimate alcoves, comfortable benches, offers an exotic floor dressed in a leopard carpet and fabric of tropical blue palms... And the highlight, the pretty terrace taking its ease in an XL space where the 'we enjoy prolonging the moment.
Modern brewery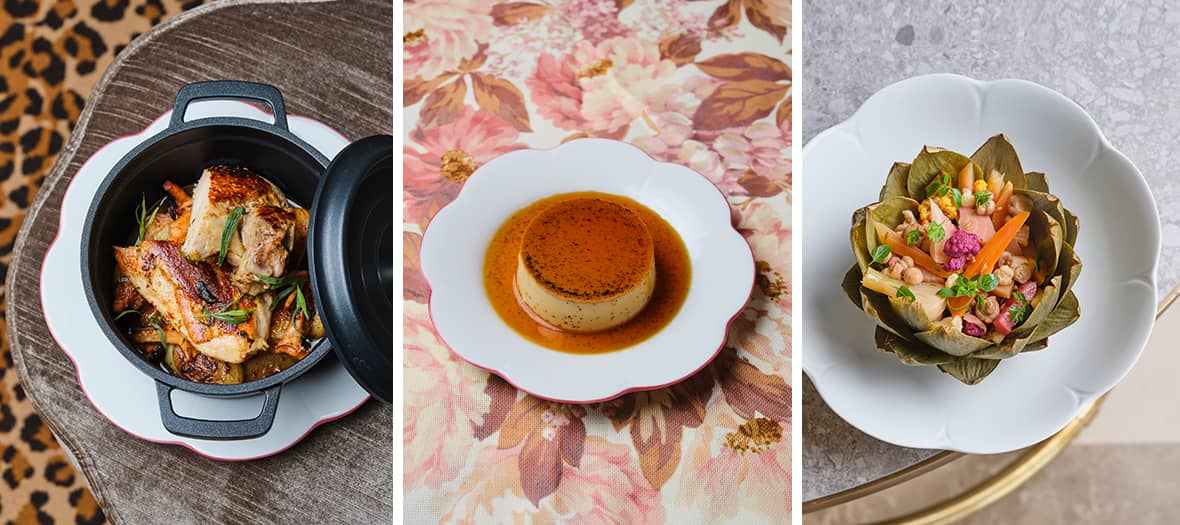 In the kitchen too, there is a creative synergy with the signature of consultant chef Flora Mikula (L' Auberge Flora ) who co-created L'Alma's menu and, behind the stoves, a regular in the house, chef Joris Eddahri who officiates for the Boudon family for nearly 10 years. The menu compiles the essentials of brasserie cuisine, unleashes certain classics in a beautiful inspiration by promoting new ideas even if it sometimes struggles to meet expectations and establish a real identity. Time to…
It does the trick with the joyful and graphic fine tarte Niçoise style, tuna in tataki (€20). It crashes on the slightly dry chickpea falafel (€12) and on the beef tartare, which could be improved. Among the must -try items, the fillet of beef with pepper sauce and homemade fries (€44) seemed to delight a nearby table. We have set our sights on fish. Ginger miso salmon, sesame and fragrant rice (€34): perfectly cooked. Grilled sea bass fillet with 3 fennels (€34) and its creamy mash: convincing. In the sweet section, the melting crème caramel is a delight (€12) and the pavlova to share (€30) can easily satisfy a whole host of gourmets! For those who would like to go light, the minute homemade sorbets (€12) ensure that there is no feeling of guilt.
We liked : the warmth and the smile of the service, irreproachable.


Open Monday to Friday non-stop from 7:30 a.m. to 11 p.m., Saturday from 8:30 a.m. to 11 p.m.

Also discover  Braise: the table that aristocratizes the barbecue and 5 kebabs that will make you addicted