At the foot of Palais Galliera, in a tree-lined square facing the Eiffel Tower, it's hard (impossible?) to find a more wonderful location than Les Petites Mains, the ephemeral terrace of Paris' most fashionable museum. After hosting Justine Piluso last year, a formidable trio takes up residence all summer: Geoffrey Lengagne in the kitchen, pastry chef François Daubinet, and mixologist Sébastien Foulard, founder of Jefrey's Bar, are responsible for giving us a delightful taste of vacation.
Reservation is mandatory to secure a good spot on the most sought-after terrace in the western part of Paris, open for lunch... and now also for dinner. Our favorite spot? Under the columns, at the top of the stairs, to overlook the garden with an incredible view of the Iron Lady .
Once seated, we promptly order a "herbal" lemonade with hibiscus flowers, rosemary, and agave syrup (€8), or a perfectly chilled cocktail named after fashion icons (Donatella, Thierry...), with a preference for the refreshing Raf made with rum, pineapple juice, Campari, lime juice, and coconut syrup (€16)... all while keeping in mind to use another restroom beforehand to avoid the only downside: the not-so-sexy portable toilets.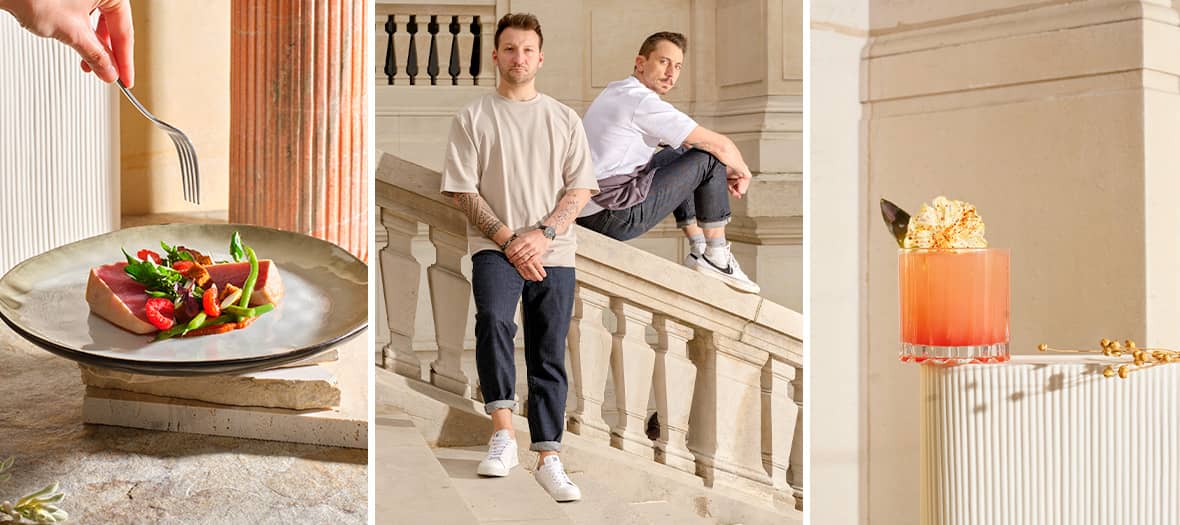 In the open-air kitchen, Geoffrey Lengagne's brigade is busy preparing beautiful dishes that are as satisfying as they are Insta-friendly. It starts with marinated shiitake mushrooms, buffalo mozzarella, chimichurri, and lomo (€12), as well as white asparagus with tuna cream and trout roe (€14), followed by a supreme of farm-raised chicken with freekeh, apricots, and oyster mushrooms (€24).
For desserts, the talented François Daubinet, known for his work at Taillevent, presents a generous garden of French strawberries with creamy pistachio to share (€24), or a citrus tart with fluffy meringue shards (€14).
Killing Two Birds with One Stone
Of course, it's the perfect opportunity to visit the Palais Galliera's special exhibition: 1997 Fashion Big Bang, showcasing why this particular year revolutionized the fashion world.
Open every day from 12 PM to midnight until October 31st (open throughout the month of August). Drinks, cocktails, and snack plates are available in the afternoon. © Pierre Lucet-Penato

Discover our favorite Parisian terraces and the best guinguettes in Paris as well.