If you like Darjelling Limited by the inimitable Wes Anderson, are passionate about cheese-naans and cannot resist cocktails: your paradise is at 7 rue du Faubourg Saint-Martin at Baranaan.
On the outside, a baroque coffee-shop with a furiously Bollywood spirit (chaï latte on the slate, Indian frescoes on the wall). A nice beginning, but the best is yet to come…
A bar psychedelic bar is hidden in the back boutique. The decor? An express train wagon linking Bombay to Calcutta in a futuristic mood. On board, a huge mirror ball, a DJ, a naan oven and a mixologist to keep the troops going in liquids.
While we are on the subject. Potions play the fusion card: tonic Bharat (a spicy gin tonic), the Salaam Bombay (a revisited punch) and the Ganda Martini (a Dirty Martini with fennel). For nibbles? A bunch of naan breads cooked on the spot (goat cheese, honey, sweet potato—special kudos for the one with truffle oil) and tasty skewers.
The plus: the smoke room to take a few puffs while staying in the ambiance.
A last piece of advice, go there at the end of the week when things get pretty wild.
Cocktails 8,50€-14,50€.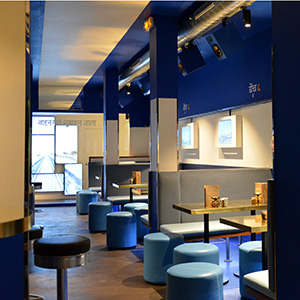 Also discover Piadinera 14.07, the best piadinas in Paris and the naans recipe.