Where to nestle listening to the crackling sound of a fireplace when temperatures start to seriously drop and snow is not far? For a brunch, a dinner with your gang, to work with wi-fi, flirt or network, Do it in Paris has selected its 12 favourite places by the fire.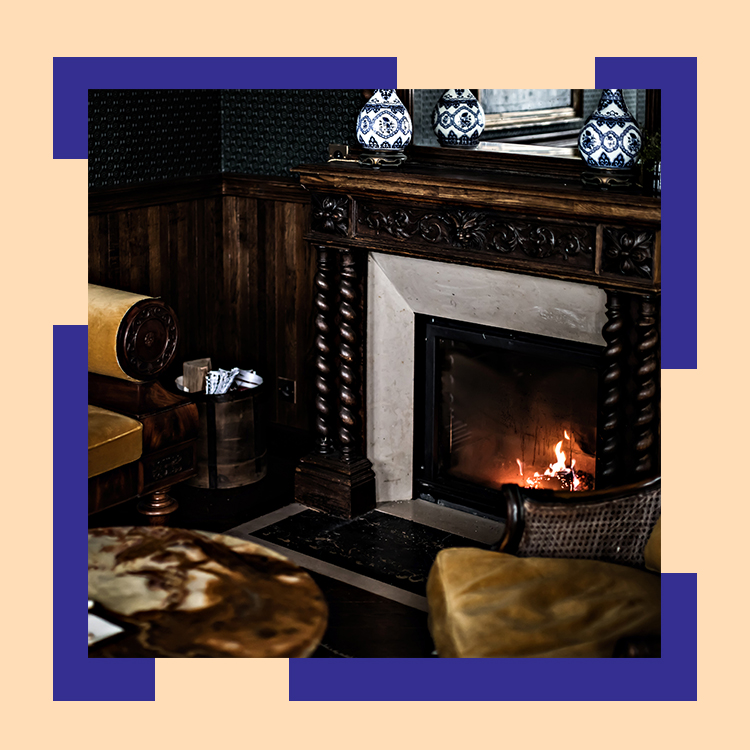 Keeping warm! General quarters of hype in the Eastern part of Paris, no need to mention the heated terrace of Providence. What is less well known, is that the very  British style terrace shelters an adorable fireplace. Think of booking the next door table.
We like: snuggling in front of the fire for a delicious French style dinner. All the Parisian musts are on deck: eggs mayo with truffle (€7), Angus prime rib of beef and mashed potatoes (€20), on the spot panned tuna served with avocado (€20) or an apple tarte tatin!
Hôtel Providence, 90 Rue René Boulanger, 75010 Paris. 01 46 34 34 04. Open every day.© Benoit Linero
© Benoit Linero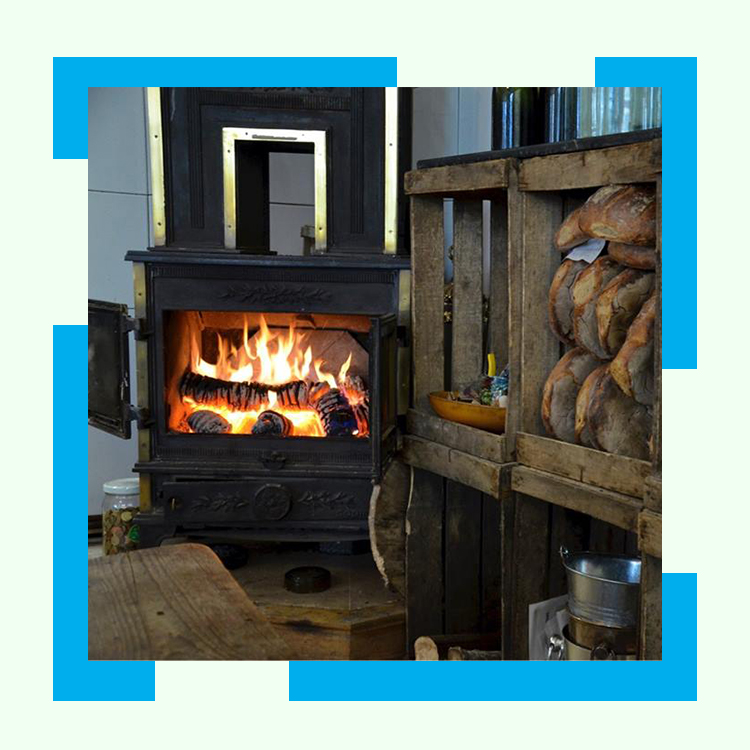 Keeping warm! This eating cellar as we love them in the 11th is just what East Side bobos enjoy: small bistronomic plates and natural wines. The decor is also right on target: a large wooden communal table next to a wood burning stove. Guaranteed warm feeling!
We like: everything is tops. Comfort dishes such as bœuf bourguignon and creamy polenta (€14), the lunch formula: starter + dish + dessert at €20 or yummy dinners: broiled veal roast and chestnuts or gnocchi with white truffle. Yummy!
La cave de l'insolite, 30 Rue de la Folie Méricourt, 75011 Paris. 01 53 36 08 33. Monday to Saturday, lunch and dinner, closed on Sunday.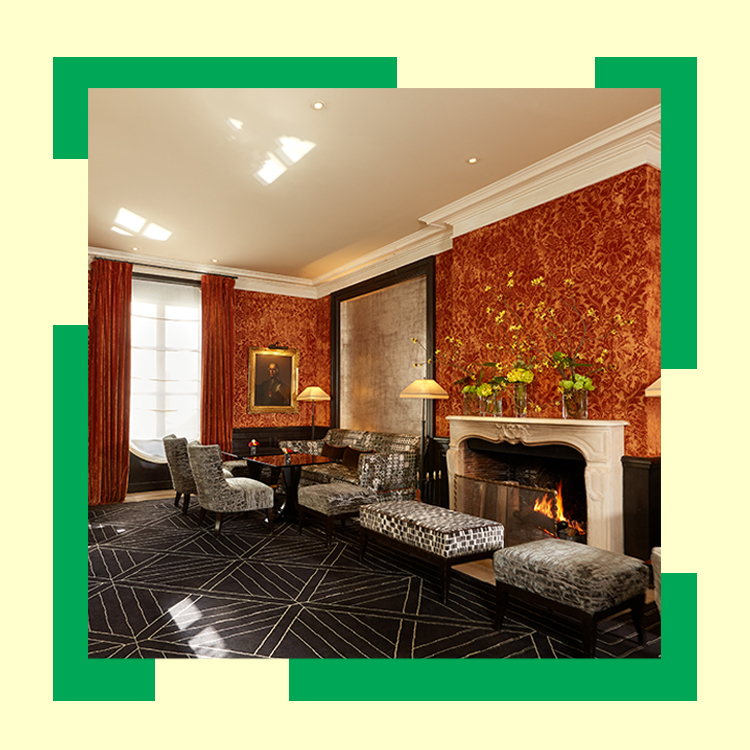 Keeping warm! It's the best kept secret in the Marais. This house with a garden, hidden Place des Vosges, is no other… than a 5 star boutique hotel—ultimately chic and discreet! Its small super cosy salon is concentrated around a large friendly fireplace. The promise of a fairy tale moment on a cold day.
We like: snuggling in the large armchairs for afternoon tea or improvising a dinner by the fireplace. À la carte: stylish cocktails (€22), croque-monsieur with Beaufort (€22) and a glass of wine (12). Joyful!
Pavillon de la Reine, 28 Place des Vosges, 75003 Paris. 01 40 29 19 19. Open every day.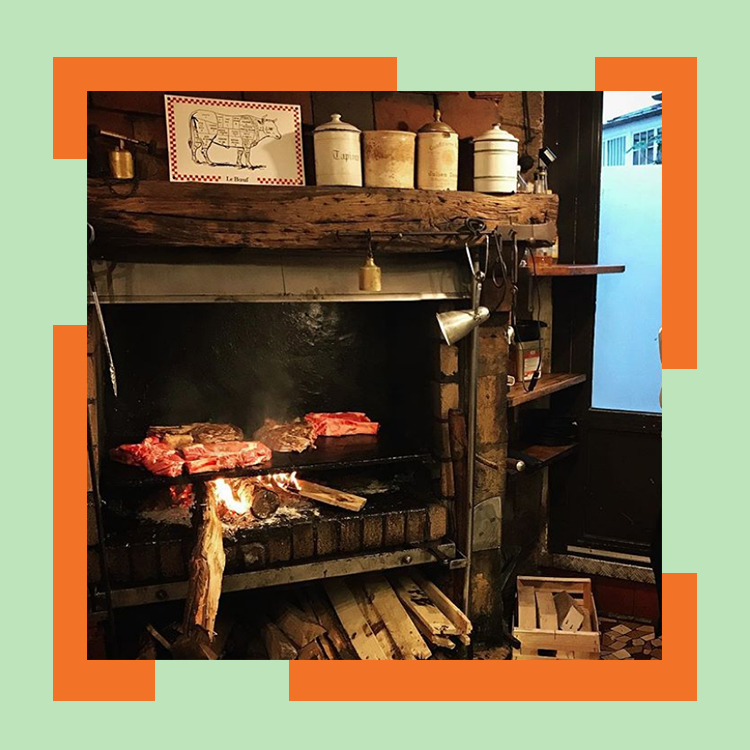 Keeping warm! Check it out: a small adorable vintage dining room at the heart of the Marais with its old Parisian stones and large wooden tables, in front of a hearth with a roaring fire in which top notch meat is on the grill. Cooked right in front of you: a prime rib of beef (€52), lamb or an andouillette (€17) served with delicious sautéed potatoes or nice veggies.
We like: their lunch formula during the week at €14 (starter and main dish of the day or main dish of the day and cheese or dessert).
Robert et Louise, 64 Rue Vieille-du-Temple, 75003 Paris. 01 42 78 55 89. Open every evening, and lunch and dinner during the weekend.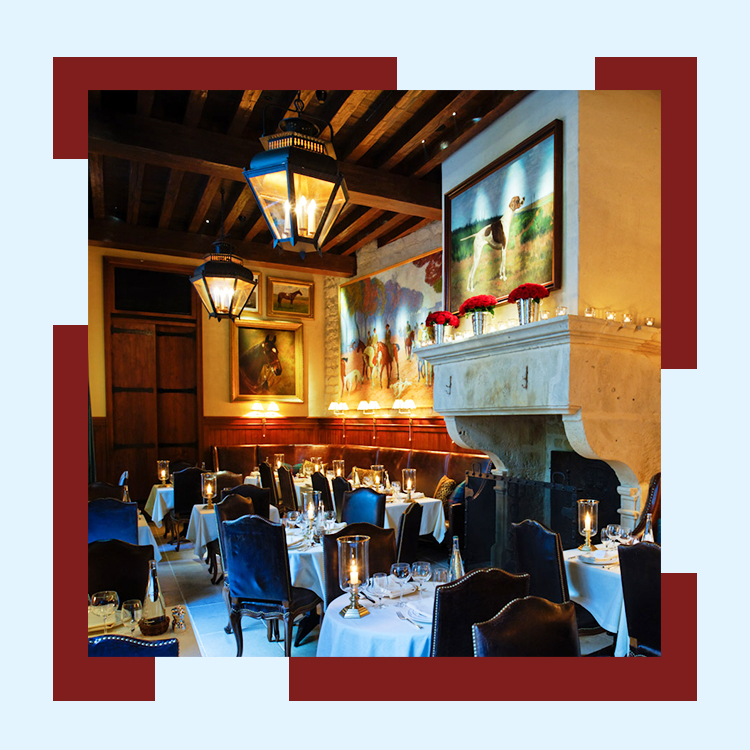 Keeping warm! Transport yourself in the dining room of Ralph Lauren's ranch with Chesterfield sofas, tartan cushions and hunting paintings! A chic and comfy setting where the elegant dwellers of Saint-Germain-des-Prés like to spend quality time.
We like: taking advantage of lunch time by the crackling fireplace to dig into the iconic Ralph's burger (€31), lobster salad (€38) or Chicken Paillard (€36).
Ralph's, 173 Boulevard Saint-Germain, 75006 Paris. 01 44 77 76 00. Open every day for lunch and dinner.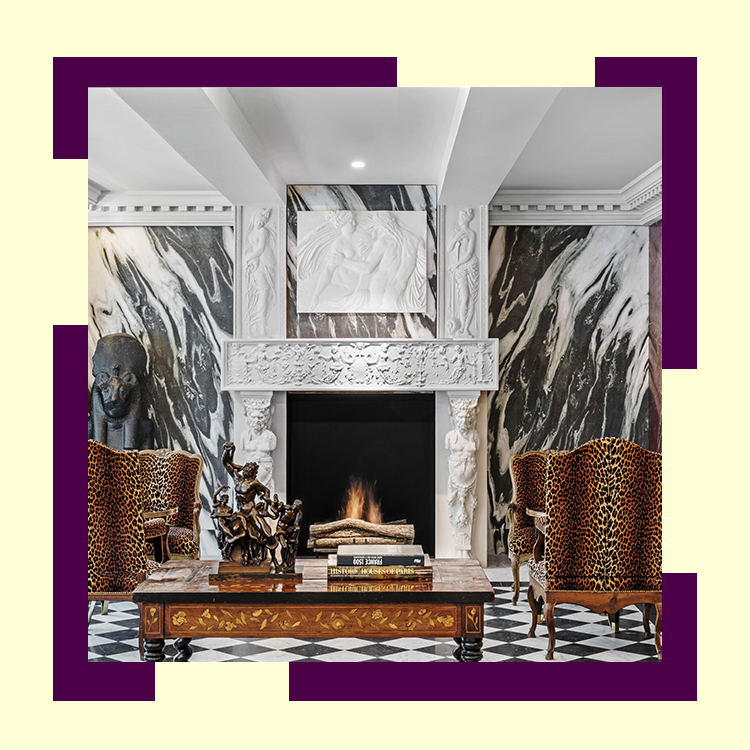 Keeping warm! Freshly opened, the most trendy hotel in the 8th imagined its address like a true expression of Parisian life. Aside from its handsome rooms, its stylish bar and their wonderful Italian restaurant, facing its entrance, the hotel offers a very unusual small salon with large leopard armchairs, a fireplace with mouldings, marble walls and a checker floor.
We like: a wonderful place to come solo between two rendezvous in the area, and take advantage of the wifi to work with your laptop and a nice cup of coffee. Do you need a refill? Ring the bell to warn the bar directly.
Hôtel de Berri, 18-22 Rue de Berri, 75008 Paris. 01 76 53 77 70. Open every day.
©Eric Laignel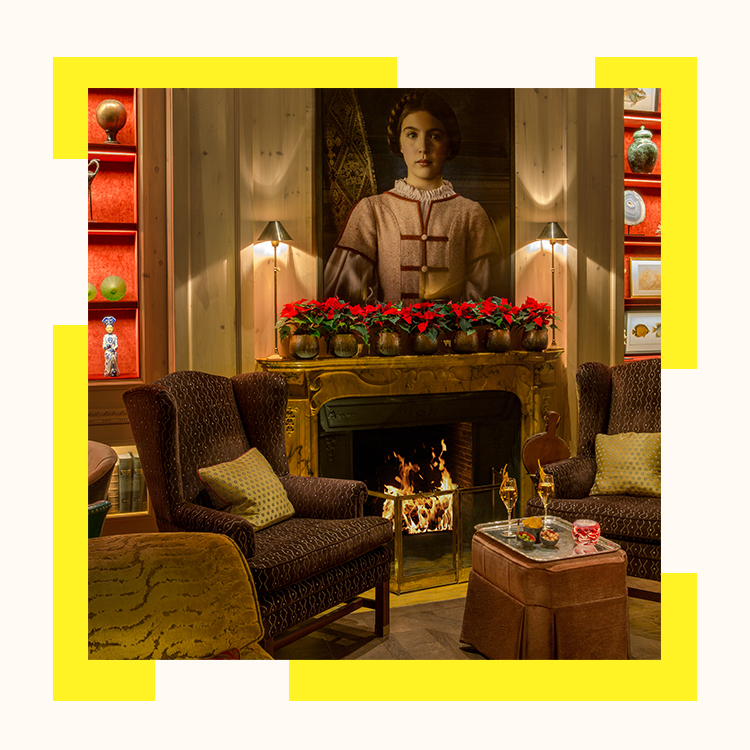 Keeping warm! It is without contest the most intimate hotel bar in Paris, where one runs into all the far-flung Gotha in town for the holidyas. And with reason: the wood-panelled decor and large carpets was conceived like a glamour and cosy cabinet of curiosities, around the superb fireplace in marble from Sienna.
We like: the DJ set option of the "Bristol After Dark" evenings each Thursday, Friday and Saturday starting at 9:30pm, to enjoy creative cocktails such as the famous Sea Vesper or the Vraiment Chou (€27), then indulge in the Eric Frechon's high end tapas (starting at €15).
Le Bristol, 112 Rue du Faubourg Saint-Honoré, 75008 Paris. 01 53 43 43 00. Open every day.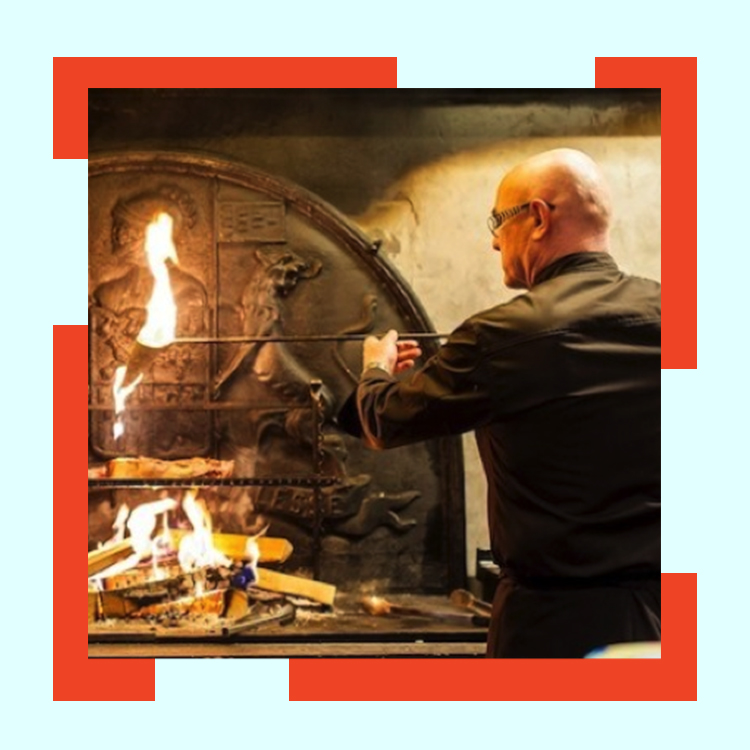 Keeping warm! A rôtisserie, a real one, or rather a "flamboire" as they say in the Aveyron region. This fireplace, where meat is cooked, happens to be the soul of this very earthy restaurant where trendies of the 9th come indulge in their carnivore urges.
We like: the menu features the best meats of the Aubrac. And with reason: prime ribs of beef, lamb or veal from Conquet, without forgetting the andouillette or the kidneys— all served with delicious sauces and small potatoes. For non-meat eaters: the fish option is just as successful.
Flamboire, 54 Rue Blanche, 75009 Paris. 06 95 01 77 38. Open every day except Sunday.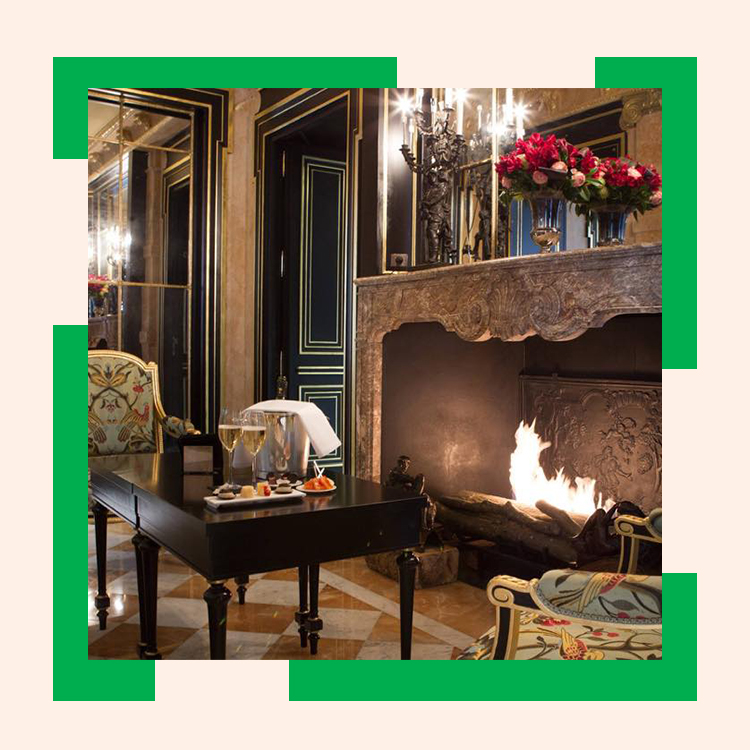 Keeping warm! A skip and a hop from the Champs-Elysées, the most secret palace of the capital welcomes its guest as though this was their home. For drinks or an afternoon tea, the fireplace corner is particularly pleasant, and the service is quasi aristocratic. A must-try small luxury.
We like: pretending to be a regular, settling in the ground floor library and or a  "Goûter gourmand" solo (€50) or to share (€75) with a hot drink, savoury treats, mini-pastries by chef Adrien Salavert, cake and scones.
La Réserve Paris, 42 Avenue Gabriel, 75008 Paris. 01 58 36 60 60. Open every day.

CHALET DES ILES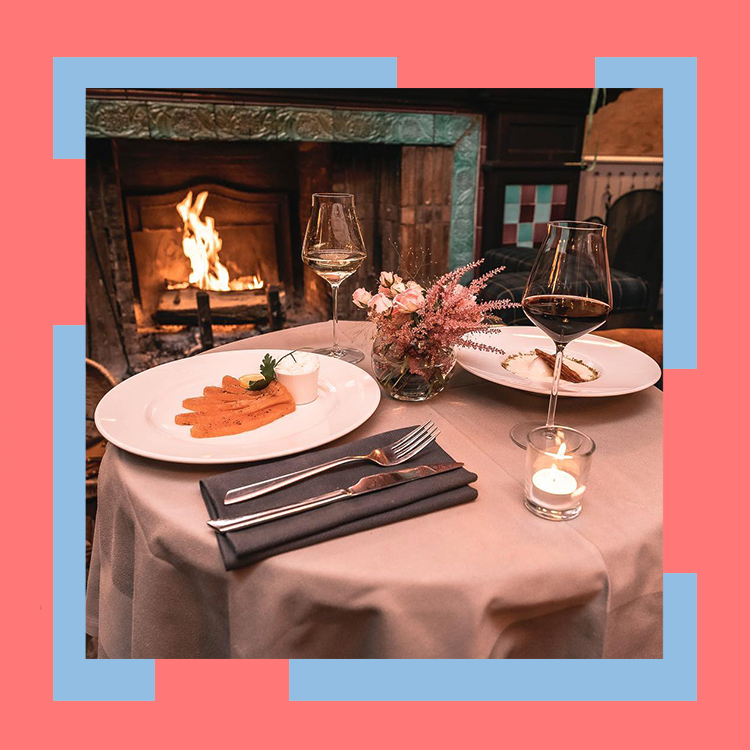 Nice and warm! Just like Empress Eugénie before us, we come to enjoy a long luncheon or a romantic dinner sitting by the superb fireplace of the Chalet des Iles after the short crossing by shuttle boat on the Bois de Boulogne lake.
We like: feel good dishes, coquillettes pasta with ham, comté and truffles (€32), a velvety pumkin soup (€12) just like home or then fondue Savoyarde cheese delight on le Tuesday and Wednesday evenings (€35).
Chalet des Iles, 14 Chemin de Ceinture du Lac Inférieur du Bois de Boulogne, 75016 Paris.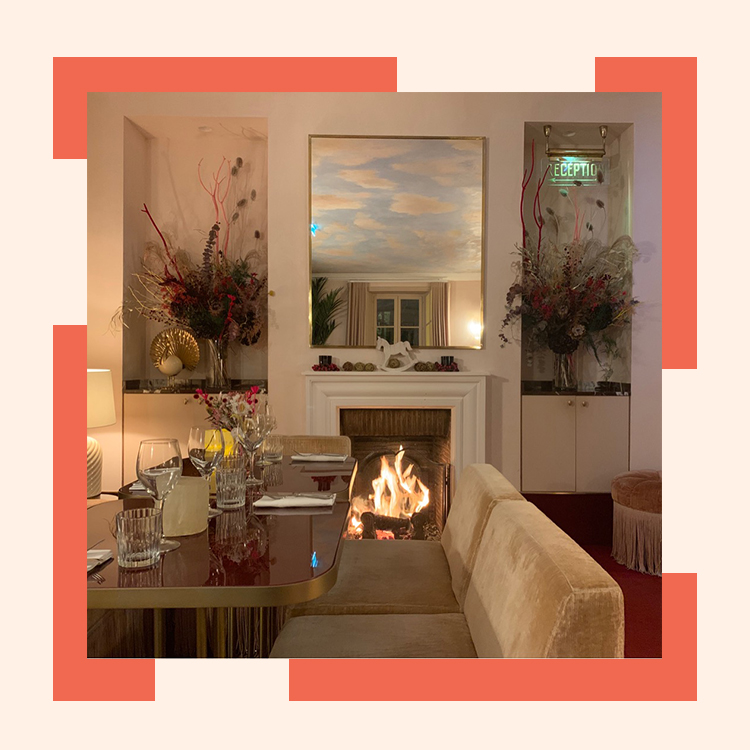 Keeping warm! As its name indicate, this private mansion bordered by an amazing garden and having belonged to the Hermès family remains the most coveted address of Montmartre. Its "Grand Salon" has just reopened its doors after a boudoir-style princess lifting, all in pink velvet. To emulate the chic country house ambiance, a fireplace warms the atmosphere.
We like: nestling in the large sofas and cocotte armchairs around the fireplace, to appreciate the signature cocktails  of Guillaume Castaignet (ex Castor Club) or a comfort dish (catch of the day à la plancha €27, raw tartare of milk-fed veal €19).
Hôtel particulier, Pavillon D, 23 Avenue Junot, 75018 Paris. 01 53 41 81 40. Open every day
BRASSERIE BARBÈS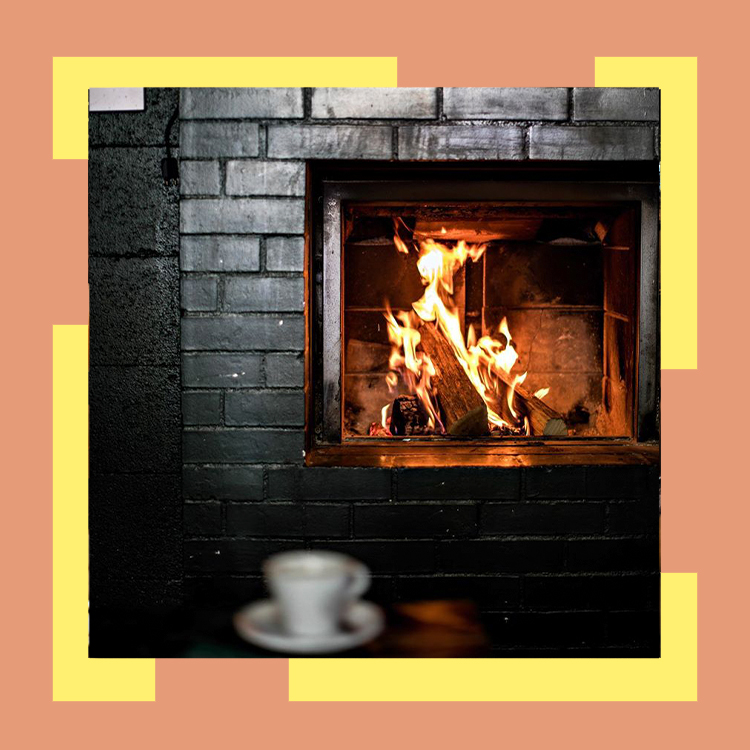 Nice and warm! The emblematic Brasserie Barbès has never stopped seducing Parisiennes. We already knew their patio, its rooftop in Summer and now its fireplace corner, which is going to make all those chilly-willy gals  happy all winter long.

We like: settling in one of the large leather armchairs on the 1st floor near the fireplace to work all afternoon, snuggling warm, reserving for a lunch with the gals and sharing a sirloin tip (€34) or digging into a prime rib of beef with Padron pimentoes (€19).

Brasserie Barbès, 2 Boulevard Barbès, 75018 Paris. 01 85 15 22 30. Open every day from 8am until 2 :30 am.
Also check out the best raclette in Paris